New York Mets Prospects Who Could Be Called Up in the Second Half
Scott Cunningham/Getty Images

Nearing the halfway point of the season, it's become clear that the New York Mets are headed for another summer of losing baseball.
The Mets currently stand at 30-42 despite winning six out of nine games and taking road series from the Phillies and Braves. The Mets are in fourth place in the NL East, where they've finished each of the last four seasons and are likely to remain this season.
However, there's hope for the future in Flushing. Matt Harvey has quickly become one of the best pitchers in the game and should anchor the rotation for years to come. During his first career start, Zack Wheeler flashed the promise the Mets saw when he was acquired in 2011.
For the first time in years, the Mets plan to add veteran talent in free agency in the upcoming offseason. The second half of the season provides New York an opportunity to evaluate players and determine who is integral to the success of the organization.
Before the end of the season, expect the Mets to take extended looks at a number of their minor league prospects.
With that in mind, here's a list of six Mets' prospects who can expect a big league call-up in the coming months.
Begin Slideshow

»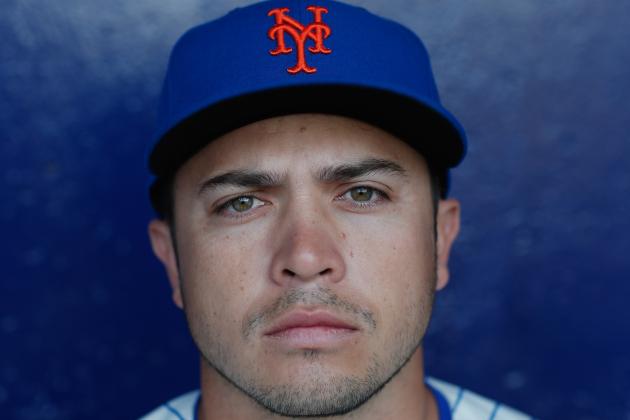 Chris Trotman/Getty Images

The Mets acquired Travis d'Arnaud from the Blue Jays in exchange for Cy Young Award winner R.A. Dickey to be their catcher of the future. That plan hit a snag when a foul ball fractured a bone in d'Arnaud's left foot on April 17.
The 24-year-old managed just 36 at-bats at Triple-A Las Vegas before suffering the injury. In the past few seasons, d'Arnaud has endured a slew of injuries which have caused many to question his durability at the game's toughest position.
However, d'Arnaud is rehabbing his foot and expects to be back on the field in the near future. If true, that makes him a strong candidate to join the 40-man roster in September.
Current catcher John Buck is under a one-year contract and unlikely to return with d'Arnaud waiting in the wings. The Mets need to find out whether d'Arnaud will be ready to take over the role as everyday catcher in 2014.
Jack Leathersich has struggled since being promoted to Triple-A, but remains a good option for New York's undermanned bullpen.
The left-hander allowed at least one earned run in each of his first three appearances for Las Vegas, but has still managed to strike out 11 batters in 6.1 innings pitched.
Prior to his promotion, Leathersich allowed just five earned runs and struck out 54 batters in 29.1 innings pitched for Double-A Binghamton.
Earlier this year, J.P. Ricciardi, special assistant to GM Sandy Alderson, noted that he wouldn't be surprised to see Leathersich join the Mets this season, according to MetsBlog.:
I think he's one of the guys who could get a taste of the big leagues at some point this year. It's nice to have a left-hander with a 'strikeout-ability.'
Leathersich's promotion becomes even more likely given the struggles of the Mets' relief pitching. New York's bullpen currently sports a 4.32 ERA, second-worst in the NL.
Meanwhile, New York's top lefty out of the pen is Scott Rice, whose 41 appearances lead MLB. Calling up Leathersich would serve to lighten Rice's load and provide the 22-year-old with valuable big league experience.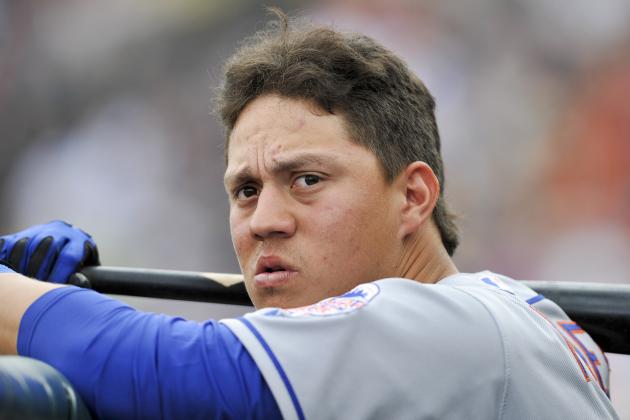 Jerome Miron-USA TODAY Sports

Wilmer Flores is big-league ready but the Mets could be storing him in Triple-A to raise his trade value while preventing his exposure to major league pitching.
So far this season, Flores has feasted off pitching at Las Vegas' hitter-friendly park. He's currently hitting .338/.365/.573 with five homers and 31 RBI at home, but still sports a strong .759 OPS in away games.
New York is hitting just .229 as a team, worst in the NL, and could really use Flores' bat in the lineup.
The problem for Flores is that he doesn't have a position with the Mets. He's played second base almost exclusively at Las Vegas this season and that spot is currently occupied by Daniel Murphy in New York. That could make the 21-year-old Flores trade bait this summer.
With Lucas Duda hitting the DL,the Mets could've moved Murphy to first base and promoted Flores. Instead, the Mets recalled Zach Lutz.
For now, New York's plans for Flores are unclear, but he's certainly proven to be ready for his big league debut.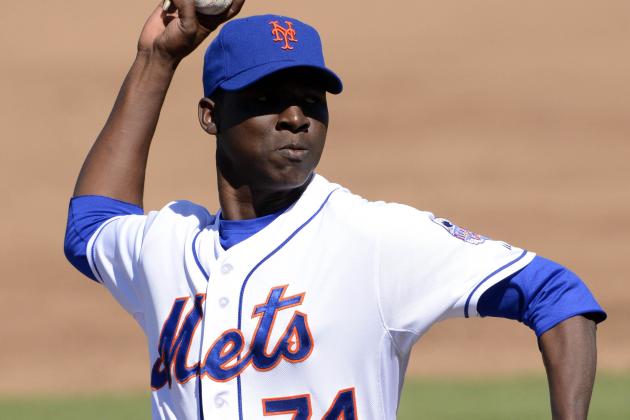 Brad Barr-USA TODAY Sports

Rafael Montero continued his rapid rise through the Mets farm system with his promotion to Triple-A earlier this season. Unlike Jack Leathersich, Montero hasn't had much trouble adjusting to the tougher level of competition.
In his first three starts for Las Vegas, Montero compiled a 3.18 ERA with a 6.33 SO/BB ratio. Those are impressive numbers for a pitcher who doesn't turn 23 until October.
The Mets still have question marks concerning starters Dillon Gee and Jeremy Hefner, who have pitched better of late. However, Montero's path to the majors might be fast-tracked if Jonathon Niese is forced to missed any extended time with a torn left rotator cuff.
Either way, expect to see Montero get a couple of spot starts later in the season.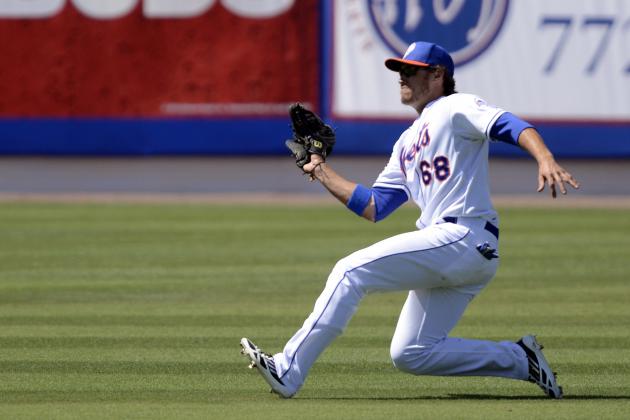 Brad Barr-USA TODAY Sports

den Dekker's path to the majors was derailed when he broke his wrist while diving for a ball during Spring Training.
The 25-year-old just recently began a rehab assignment with Single-A Port St. Lucie where he's hitting .241 in just seven games. In 2012, den Dekker hit just .220/.256/.373 in 317 plate appearances for Triple-A Buffalo.
Despite his struggles at the plate, den Dekker might be the most talented defensive outfielder in the organization, including the Mets. Once he returns to form, expect the Mets to call up den Dekker and platoon him alongside Juan Lagares and recently acquired Eric Young, Jr.
Sandy Alderson and his staff need to see what they have in den Dekker before pursuing a veteran center fielder in free agency this upcoming offseason.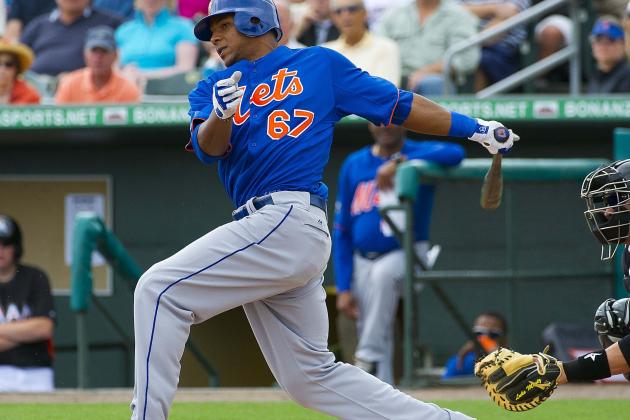 Scott Rovak-USA TODAY Sports

Cesar Puello continues to mash Double-A pitching. Through 57 games, Puello is hitting .335/.405/.613 in 212 at-bats. He's also hit 14 home runs, including a recent streak of four homers in four games.
The Dominican native should expect a promotion to Triple-A Las Vegas before too long and possibly get a taste of the majors later this summer.
Unfortunately, Puello could face a 50-game suspension from his reported connection to Anthony Bosch's Biogenesis Clinic in Miami.
The Mets currently employ one of the game's least productive outfields and could certainly use some power from the corner positions.
Puello is still young at 22 years old, but should be a September call-up if he continues to hit at his current pace.