2013 NBA Draft: Playing Boom or Bust with Top Incoming Prospects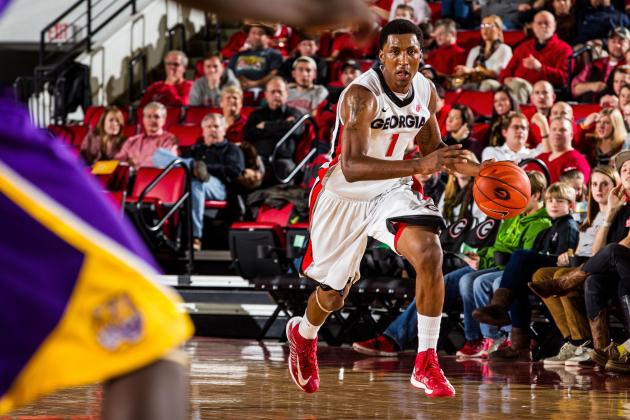 USA TODAY Sports

Just for one day, let's pretend like no middle ground exists, and the top prospects in the 2013 NBA draft are all going to boom or bust.
Some of them will morph into the next set of professional superstars, terrorizing defenses with their offensive prowess and shutting down everyone who tries to score against them. The rest will flame out quickly, failing to live up to the expectations associated with their lofty draft spots.
In this article, I'll be looking at the top 15 players in this drat class, as determined by B/R's Jonathan Wasserman in his latest big board. The point of this exercise is not to look at the order of the prospects, which is why I'm not allowing my opinion to shape the rankings here.
With that in mind, let's play boom or bust with these guys.
Begin Slideshow

»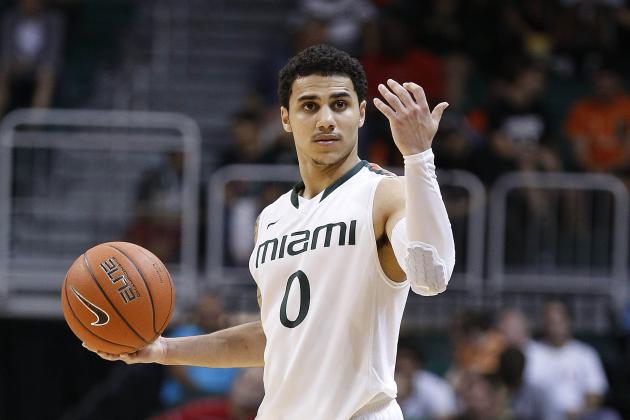 USA TODAY Sports

Shane Larkin's game seems perfectly suited for the NBA, with one small exception. Well, actually it's a big exception, but it involves the diminutive nature of the former Miami floor general.
At only 5'11", Larkin will have trouble seeing over defenses at the NBA level, and that's a dangerous attribute for a player with developing court vision, rather than an established pair of assist-seeking eyes. His wingspan, one that falls just shy of 5'11", won't help him compensate for his tiny frame in the other aspects of the game either.
Larkin is an incredible athlete (44-inch max vert at the pre-draft combine) who thrives in pick-and-roll sets. He ran the NBA's favorite play quite often under Jim Larranaga, and the results were usually positive. He has a remarkable ability to make the right decisions and either find his open teammate or terrorize defenses with his improved jumper.
The point guard's early professional career will be a constant tug-of-war between his size and skill. Expect the former to win out over the latter early on, then the skill to take over in a few years as Larkin morphs into an offensive spark plug off the bench.
Prediction: Slight Bust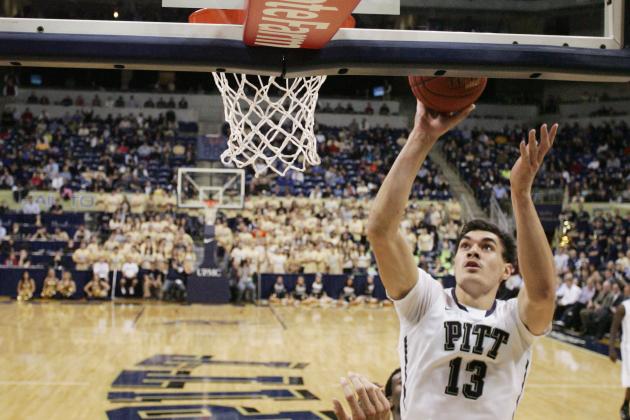 Charles LeClaire-USA TODAY Sports

Steven Adams is bound to have an interesting career arc for a lottery prospect.
The Pittsburgh 7-footer is incredibly raw, coming out of school after averaging just 7.2 points and 6.3 rebounds as a freshman. He'll take a long time to develop into the center he can become, but it's a process many NBA teams should be willing to deal with.
Adams' athleticism is stunning, and he's so big and physically gifted that he can make a sizable impact even without many workable skills. Once those skills develop, the sky is the limit.
As a rookie, Adams won't make much noise. He'll be fixed to the end of a bench, getting minutes only when the outcome of the game has already been decided. A few years down the road, we may even look at him like he's a bust.
But remember, the Pittsburgh product is only 19 years old.
Once he has time to get his feet wet in the basketball-playing world, Adams will remind everyone why he was drafted in the lottery. There will be a season when he breaks out and makes basketball fans scratch their heads, trying to remember where he came from.
Prediction: Bust and then Boom
Dennis Schroeder needs to bulk up a bit more to withstand the 82-game rigors of the NBA season, but he's already decently sized for a point guard in the Association. His 6'2" frame is tall enough for high-level success, and it's wide enough that he can support more weight than the 165 pounds he currently lays claim to.
The German point guard is 19 years old, and he's already quite adept running the pick-and-roll. When he curls around a screen, he can torture defenses with his jumper or find the open man in the blink of an eye.
Schroeder has incredible physical tools as well. His first step often leaves defenders in the dust, and his speed in the open court is perhaps even more impressive. If he can find a team willing to give him major minutes as a rookie, his speed could make him a threat from day one.
Despite what Tony Barone says in the embedded video, Schroeder does play a lot like a more athletic version of Rajon Rondo. It will be a few years before he's able to challenge the Boston Celtics floor general in the rankings of point guards, but he'll start reminding fans of Rondo as soon as he gets some playing time.
Prediction: Boom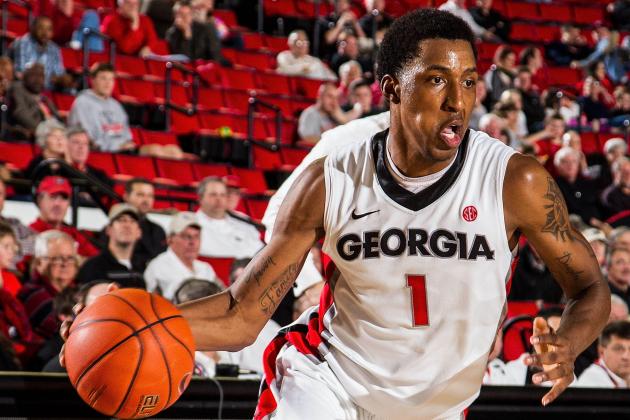 USA TODAY Sports

Kentavious Caldwell-Pope has all the tools necessary to be the next great shooting guard in the NBA, even if not every team has realized that quite yet.
The Georgia Bulldog's worst-case scenario involves him becoming a dynamic catch-and-shoot threat, one who spaces out defenses because they can't possibly justify leaving him open on the perimeter. But if his best-case scenario comes true, watch out.
KCP has long arms, a 6'6" frame and endless reserves of athleticism. He occasionally thrilled the "crowds" at Stegeman Coliseum with a highlight-reel dunk, but he usually stuck to his biggest strength: using that silky smooth shot from the outside.
The shooting guard has two-way potential, projecting out as a scorer and top-notch perimeter defender, and he'll be even more deadly if he can create his own shot. That's commonly viewed as his biggest weakness, yet it's an area in which KCP is a bit stronger than typically believed.
Without many quality teammates surrounding him in Athens, Caldwell-Pope was the subject of a ridiculous amount of defensive pressure. Once that's no longer the case, his dribbling skills will only look better.
Prediction: Boom
Every year, an international player bursts onto the scene late in the draft process and elevates further and further up the draft boards.
This year, it's Giannis Adetokunbo, the Greek forward with enough skills handling the rock that he can also use his 6'9" frame as a point guard. He's incredibly raw—like only-played-basketball-for-a-few-years raw—and his physical skills are just leaving scouts drooling.
Adetokunbo's hands are so inordinately large that they make the basketball look like a tennis ball. He's sure to join Kevin Garnett and Kawhi Leonard on the All-Palming team as soon as he earns a spot in the rotation.
The 18-year-old has passed all the eye tests so far, but he's also done so against remarkably low-level competition. When you watch his highlights, it's almost like he's Moses parting the Red Sea, given how easily the defense splits as he attacks the basket.
Once he reaches the NBA, he'll be playing against guys who know how to exploit every one of his weaknesses. And given his experience, or lack thereof, there are a lot of holes in his game.
I'd love to see Adetokunbo thrive in the Association, but I can't shake the feeling that he's going to follow the same path as Bismack Biyombo, climbing up the boards into the lottery and then making everyone wonder why that happened.
Prediction: Bust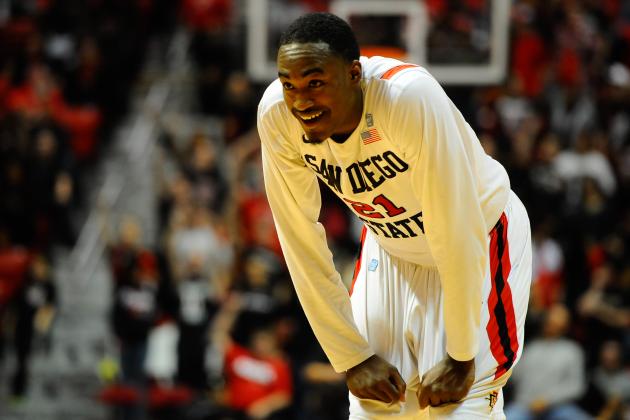 USA TODAY Sports

Jamaal Franklin is bound to succeed in the NBA because he can contribute to his team's cause in so many different ways.
Need the San Diego State product to morph into a scorer? Sure, no problem!
He averaged 16.9 points per game during his final season in college, showing off a nice inside-outside blend with his ability to attack the rim in transition and drill three-pointers in the half-court set. Franklin's perimeter shooting could still use a lot of work, but he's also added more post moves to his arsenal as his collegiate career progressed.
Need the San Diego State product to morph into a defender? Sure, no problem!
Franklin has steadily improved as a perimeter defender, and he actually led the Mountain West in both defensive rating and defensive win shares during the 2012-13 season. He has the athletic tools and lateral quickness necessary to be a premier point-stopper at the NBA level.
Need the San Diego State product to morph into a rebounder or glue guy? Sure, no problem!
Even at just 6'5", Franklin thrived on the glass thanks to his inexhaustible motor. He averaged 9.5 rebounds per game for the Aztecs, often displaying the instincts necessary to anticipate exactly where the ball would end up.
You name it, and this versatile forward can do it.
Prediction: Boom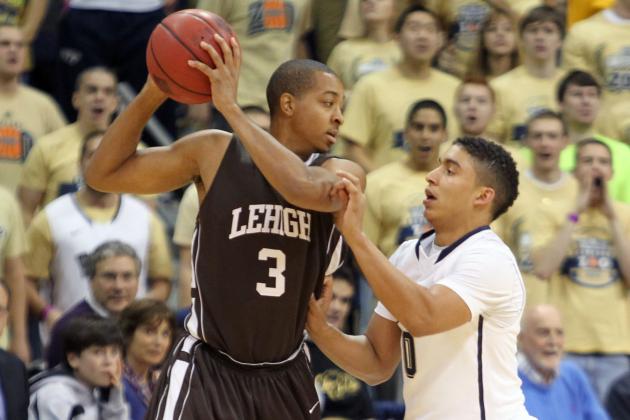 Charles LeClaire-USA TODAY Sports

As soon as C.J. McCollum hits the NBA, we'll be left wondering how a small basketball school like Lehigh could have produced a talent like this.
McCollum might be a combo guard, but he has the skills necessary to play either guard position in the Association. His passing skills didn't show up in college, but he's a smart player who can create for his teammates when he's not asked to score in bunches. He was asked to score in bunches for Lehigh.
Shooting is definitely McCollum's No. 1 strength, and he can drill shots from just about anywhere on the court. Few players come into the NBA more adept at pulling up and finding the bottom of the net off the dribble.
Expect to see a few moves that remind you of Stephen Curry throughout his rookie season. He'll create three-pointers in one-on-one situations, and he'll thrive as a shooting ball-handler in pick-and-roll sets.
McCollum should start his professional career off by truly competing for Rookie of the Year, then he'll continue blowing away the expectations for the next decade or so.
Prediction: Boom
Victor Oladipo is one of the safest picks in this draft class because he has a floor higher than most prospects' ceilings.
The Indiana product is a great outside shooter—assuming this past year wasn't just one massive fluke—and he can attack the rim in both half-court sets and the transition game. If he continues developing offensive consistency, he could become a potent scorer.
But let's assume that Oladipo's offense doesn't translate, and he's left as a liability on that end of the court.
Even if that's the case, the former Hoosier is still nearly guaranteed a prominent spot in the rotation because of his defensive prowess. He's the best perimeter defender in this class, as he possesses the size, instincts, athleticism and lateral quickness necessary to shut down even the best shooting guards at the professional level.
At worst, Oladipo will turn out like Tony Allen. And as the Memphis Grizzlies have shown us, that's a valuable type of player to have on your squad.
Prediction: Boom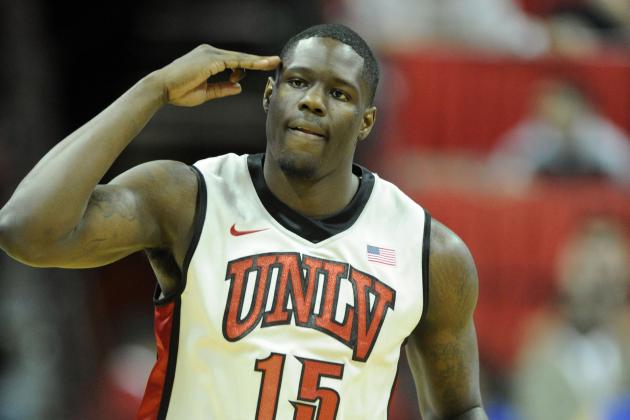 USA TODAY Sports

At times, Anthony Bennett seems like he has the talent necessary to be the No. 1 pick in the draft.
The UNLV forward may be undersized, but he has a tremendous combination of athleticism and finesse. On one play, he'll overpower his defender through his sheer strength and physicality. On the next, he'll step outside and knock down a deep two-pointer.
Bennett's biggest problem lies between his ears.
He often fails to take over games, and his motor occasionally sputters. He doesn't have the typical mentality of an undersized forward.
Bennett enters the NBA as a bit of a tweener. Given his 6'7" frame, he seems like he should be a small forward, but he doesn't possess the ball skills and perimeter game of a typical 3. It's more likely that he settles in as a power forward, although NBA players at the 4 would tower over him.
To succeed as an undersized power forward, a player either needs to have an unstoppable motor that allows him to bang around in the post without quitting, or a deadly shot from the outside. Bennett could have the latter one day, but that day has not yet arrived.
Prediction: Slight bust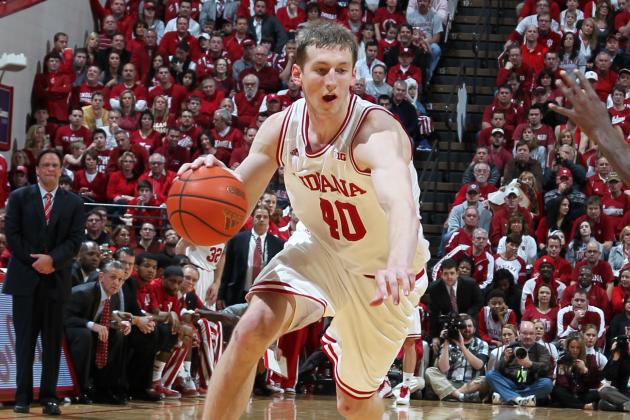 Brian Spurlock-USA TODAY Sports

It wasn't long ago that Cody Zeller sat atop a number of big boards.
After his sophomore season at Indiana, that's no longer the case. The big man failed to take over games and couldn't live up to the ridiculously high expectations.
Zeller's lack of a takeover mentality played a large part in his decline, but his game is also better suited for the NBA than the NCAA. The 7-footer is an exceptional athlete, and he wasn't given a chance to show off his soft touch from the outside. Additionally, defenses could collapse around him when he received the ball in the post.
Now Zeller is shaping up to be a major steal in the 2013 NBA draft. It will be a travesty if he somehow falls out of the top 10. Once he has a chance to show off his jumper and post moves that are aided by the expansion of the three-point line, he'll prove to a number of teams that he shouldn't have been passed on.
It will be tough for the Indiana product to live up to the pre-sophomore-year expectations, but it will be easy for him to shatter the post-sophomore-year ones.
Prediction: Slight boom
Nerlens Noel has the potential to develop into a quality NBA big man, but that's not going to happen for a few years.
Given the rehab from his torn ACL, his status as a beanpole and a lack of high-level experience, Noel isn't ready to make a huge impact during his rookie season. As soon as he's healthy, he'll start protecting the rim with the best of them, but that's where his contributions will be isolated.
Noel's frame indicates that he can take on a lot more weight without losing his remarkable athleticism, but that's a process. He won't bulk up overnight.
And while he's a great defensive prospect, he didn't show many hints of an offensive game while at Kentucky. He'd score every now and then, but his points generally came when a Wildcat teammate set him up for an easy look at the rim or he grabbed an offensive rebound and finished the play with a dunk or simple layup.
It's tough to be a defensive specialist and live up to the expectations that come with a top-five pick, so Noel will need to grow a lot to make good on them.
Prediction: Slight bust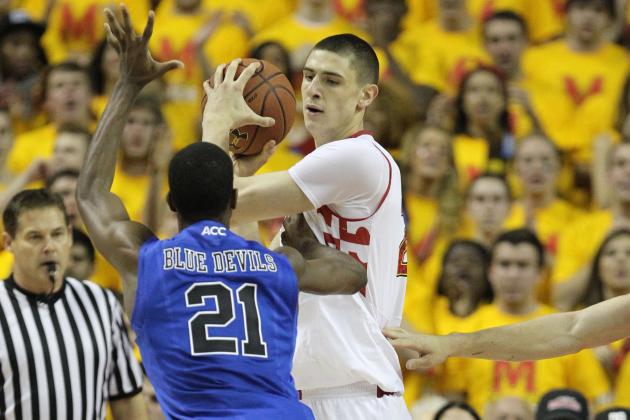 Mitch Stringer-USA TODAY Sports

Alex Len has the size, physical tools and long-term upside of a No. 1 pick, but the mentality is missing.
Given his 7'1" frame and solid athleticism—the Maryland product didn't have a chance to perform at the combine due to the stress fracture in his foot—Len should have been far more successful for a Maryland team that needed more scorers. Instead, he averaged 11.9 points and 7.8 rebounds per game.
The problem is Len's lack of aggressiveness.
He would often go to work in the paint and seal off his man deep in the paint, setting him up perfectly for an easy look close to the rim. However, he'd fail to demand the ball and would give up the position, limiting the impact he could make on the offensive end.
Len never displayed an ability to completely take over a game, and it was rare that he showed a desire to do so in the first place. For all his physical talents and long-term upside, that leaves me pretty worried about his chances to thrive in the mentally grueling NBA.
Prediction: Bust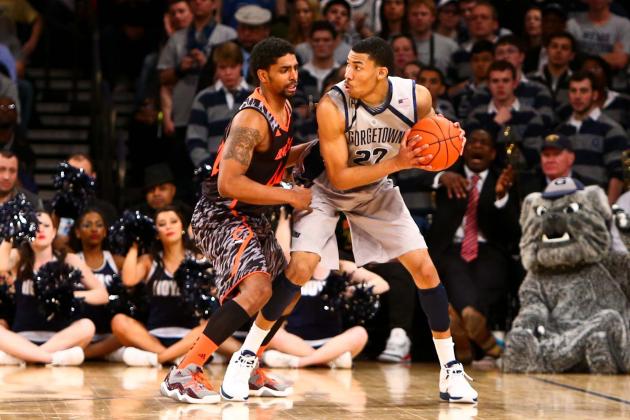 USA TODAY Sports

Otto Porter might not have the high upside of the other players surrounding him as potential lottery picks, but he's a safe selection in the top three because of his well-rounded nature.
The Georgetown product excels in every area, save his ability to create shots off the bounce. He'll need to work on his ball-handling skills over the offseason, but he's already quite adept as a catch-and-shoot scorer. Porter can drain shots from the outside, and he thrives as a mid-range specialist who uses his unorthodox form to great success.
Porter is also big for a small forward, checking in at 6'9" with a wingspan just below 7'2".
That lankiness will serve him well on both ends of the court. Porter rarely gets his own shot blocked, and those long arms give him a chance to become a great defensive player. He can disrupt passing lanes and close out on shots effectively, both of which allow him to make up for his lack of elite-level lateral quickness.
Porter is ready to contribute from day one, and he'll help out his team in a multitude of ways.
Prediction: Boom
Trey Burke is the top point guard in this draft class, and it's not even close. Even if you consider C.J. McCollum more of a point guard than a shooting guard, Burke is in a class of his own.
Watching him play at Michigan, I was constantly reminded of Chris Paul. And that's not just because they have the same number, but rather because Burke often appears completely in control of the basketball game. Whether he's functioning as the go-to scorer (his favorite role) or a distributor, Burke thrives.
The former Wolverine doesn't have the elite athleticism you might expect from a 6'1" top prospect, but he can still occasionally play above the rim. Just ask Peyton Siva, who is probably still trying to figure out how exactly this play was called a foul.
As B/R's Jonathan Wasserman said:
If limited athleticism is the reason you're not too fond of his NBA outlook, you might be looking too hard. I'd feel confident taking him No. 2 overall as my future starting point guard.
Burke has every tool you could ask for in a point guard, and he possesses that fiery mentality that won't allow him to fail. Expect this guy to be around for a long time as a starting floor general in the Association.
Prediction: Boom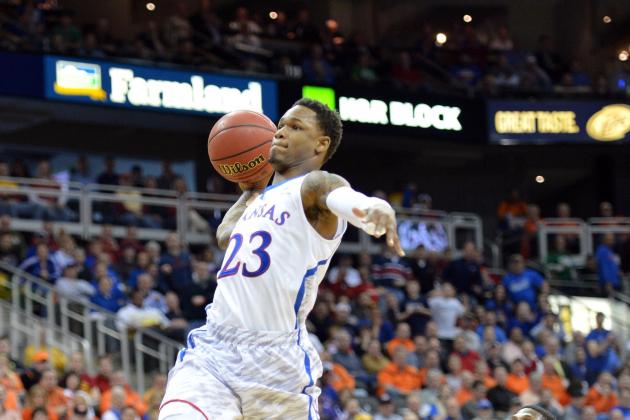 Peter G. Aiken-USA TODAY Sports

Ben McLemore has been compared to Ray Allen a lot, both by myself and other draft analysts around the web. It's a legitimate comparison, except McLemore is even more athletic than Allen was in his prime.
The Kansas shooting guard is the total package, and he's one of the few players in this draft class who will become an All-Star down the road. That's assuming he develops a bit more consistency, which should come with more high-level experience.
McLemore is a lights-out shooter from downtown with form that deserves to be on the cover of every basketball-teaching guide. His shooting stroke is one that other prospects just dream of.
He's also a highlight reel waiting to happen, elevating until his head is even with the rim and throwing down thunderous dunks. Add in some top-notch defensive ability, and you can see why he's No. 1 here.
McLemore could stand to get better at creating his own looks, but he's so good at curling off screens that it hasn't mattered at this stage of his career. Just as is the case with everyone else, he's not the perfect prospect.
He's just the best one in this draft class.
Prediction: Boom