The Miami Heat beat the San Antonio Spurs in seven games to repeat as NBA champions, which will raise the franchise's third banner since 2006. LeBron James keyed the victory with another NBA Finals MVP performance, while getting key contributions from Dwyane Wade, Chris Bosh and others.
On Monday, the party was on in South Beach as the team's victory parade kicked off. The Heat's official website and Fox Sports Florida had the live stream during the event, while the broadcast was on NBA TV.
Following the parade was a ticketed rally in the team's home, AmericanAirlines Arena, and there is some brief footage of the packed crowd's pandemonium below (h/t South Florida Sun Sentinel):
As might be expected on such a jubilant occasion, plenty of fans and media were on hand to witness the triumphant celebration. The route of it can be seen below, courtesy of Turner: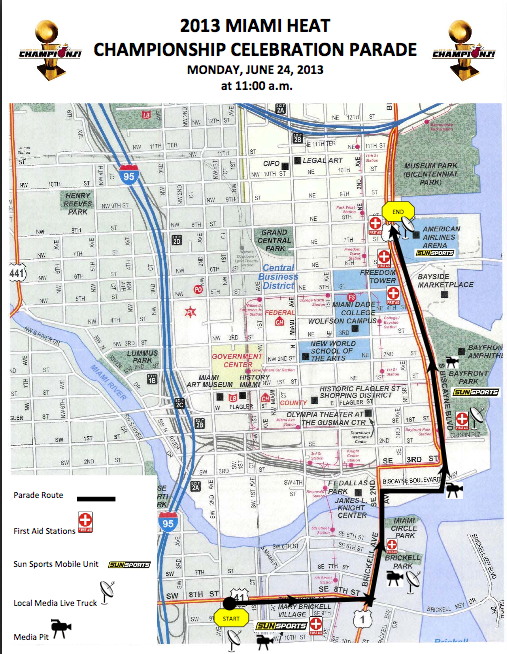 Jawan Strader of NBC 6 South Florida captured the early-morning scene; spectators arrived hours in advance to be a part of Heat history:
Take a look at the fans making their way to Downtown Miami for the Heat Parade. Team coverage on @nbc6 at 11am pic.twitter.com/S7V6mqmigf

— Jawan Strader (@JAWANNBC6) June 24, 2013
Even some youngsters looked to be playing hooky from school on this day, per NBC 6 photographer Adam Rice:
#MiamiHeat fans ready for the #Parade #Nbc6 https://t.co/JoCuRoAfPP

— Adam Rice (@livetvat6) June 24, 2013
However, the parade met a little bit of adversity. Rain in the area pushed back the start time by approximately half an hour, according to CBS Miami's Josh Benson:
BREAKING: #HeatParade delayed 30 minutes due to weather. We're still going live at 11:00. @CBSMiami

— Josh Benson (@jpbenson) June 24, 2013
NBC 6's Courtney Fallon was on the scene to describe the weather in a humorous way:
Mother Nature starting to "rain on the Heat's parade." Drizzling in downtown Miami.

— Courtney Fallon (@CourtneyNBC6) June 24, 2013
Plenty of pictures captured the anticipation before the Heat finally reached the heart of the city, provided by NBC 6's Adam Kuperstein, ESPN's Michael Wallace and the Heat's Instagram page:
Can't get a much better view of the Heat Parade! I'll be anchoring our live coverage on @nbc6. Hope you can tune in! pic.twitter.com/KAXwTMV6mk

— Adam Kuperstein (@AKuperstein) June 24, 2013
Scene a few minutes ago outside arena for Heat championship parade. pic.twitter.com/EuKn9Mlu0P

— Michael Wallace (@WallaceNBA_ESPN) June 24, 2013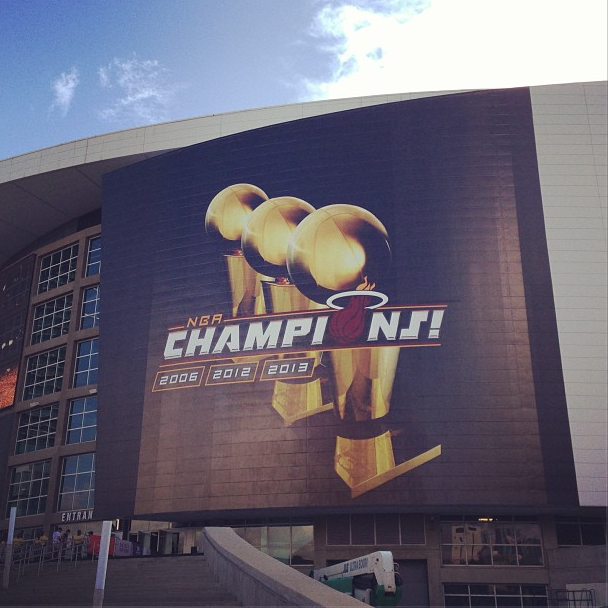 The overhead view was also fascinating to see—even before the players officially arrived: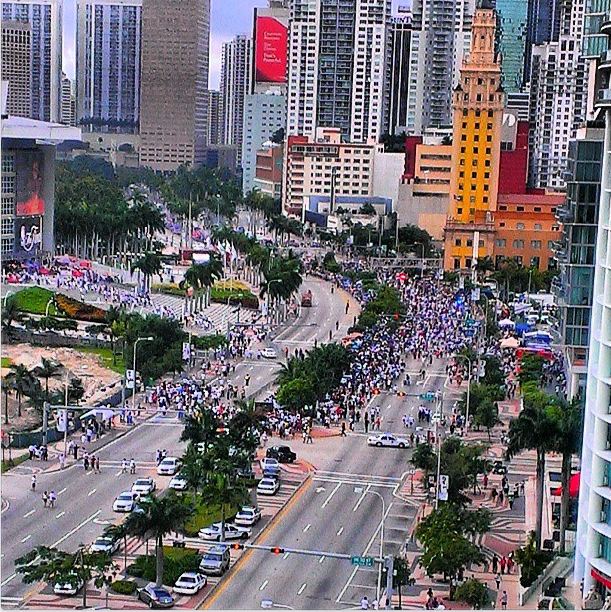 NBC 6 photographed Heat star forward Chris Bosh clutching the Larry O'Brien Trophy, accompanied by the appropriate hashtag, "#LarryLovesMiami":
PHOTO: @ChrisBosh holding the Larry O'Brien Championship Trophy at the #HeatParade. @CourtneyNBC6 #LarryLovesMiami pic.twitter.com/O08Km0vW0l

— NBC 6 South Florida (@nbc6) June 24, 2013
The Miami Herald noted how sharpshooting swingman Mike Miller was having some fun with fans, spraying them with a water gun as the team approached the beginning of the route:
#Heatparade: Mike Miller had a water gun and is using it on a grateful crowd.

— The Miami Herald (@MiamiHerald) June 24, 2013
Unfortunately for some, as the Herald also documented, there was only so much room for Heat enthusiasts to view the parade. Many who sacrificed the day to attend were completely stuck in traffic. It also couldn't have helped those attempting to run errands—or actually get to work:
Missing the #Heatparade: Hundreds stranded in bumper-to-bumper traffic north of NW 135 St. & I95/CMGuerrero pic.twitter.com/hIkjxxE6Li

— The Miami Herald (@MiamiHerald) June 24, 2013
Beyond The Buzzer showcased all of the Heat stars, including James and Wade:
Heat Championship Parade underway in Miami: pic.twitter.com/SigebHUH12

— Beyond The Buzzer (@BeyondTheBuzzer) June 24, 2013
Hardly anyone could blame James for treating himself to a victory cigar as he continues to enjoy his reign as the King with his second straight ring, via the Heat's Instagram page: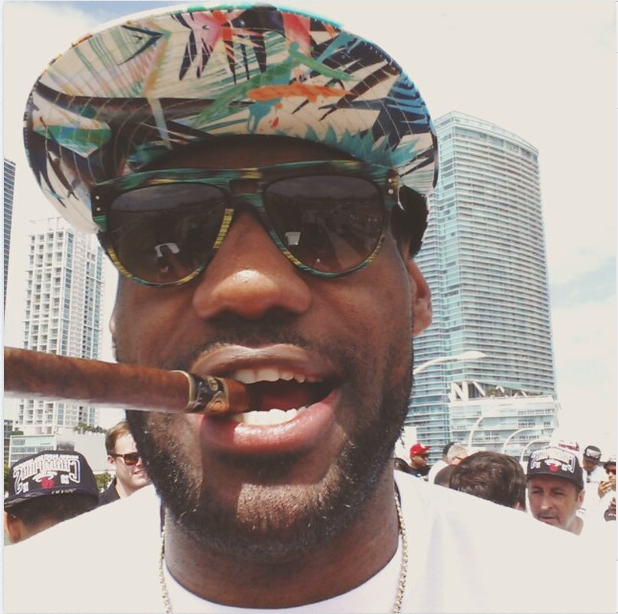 The turnout was solid indeed, as the team's official Twitter depicted:
An awesome #HEATParade turnout in downtown Miami! https://t.co/unHuljls5t

— Miami HEAT (@MiamiHEAT) June 24, 2013
Mascot Bernie held up a golden title belt to commemorate the magnificent finals run: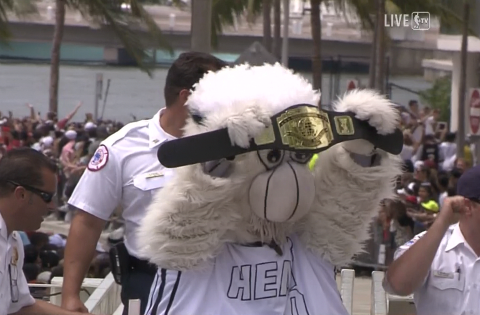 There was also an Erik Spoelstra sighting; the head coach was near the front of one of the buses: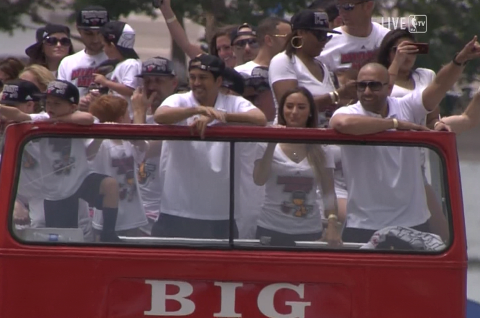 That location proved dangerous at times. Unexpected potential hazards were encountered along the way too for the perpetually stereotyped tall basketball players. James and others had to duck to avoid colliding with a bridge at one point due to the height of the buses: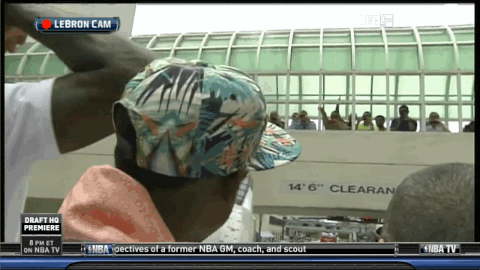 Fox Sports' Chris Tomasson also felt Bosh may have been asking for trouble with regard to his personal safety:
Chris Bosh is holding Larry O'Brien Trophy at front of double decker bus a bit loosely. If driver hits the brakes, it's hitting the asphalt.

— Chris Tomasson (@christomasson) June 24, 2013
Fellow big man Joel Anthony and Jarvis Varnado joined Bosh to soak in the atmosphere: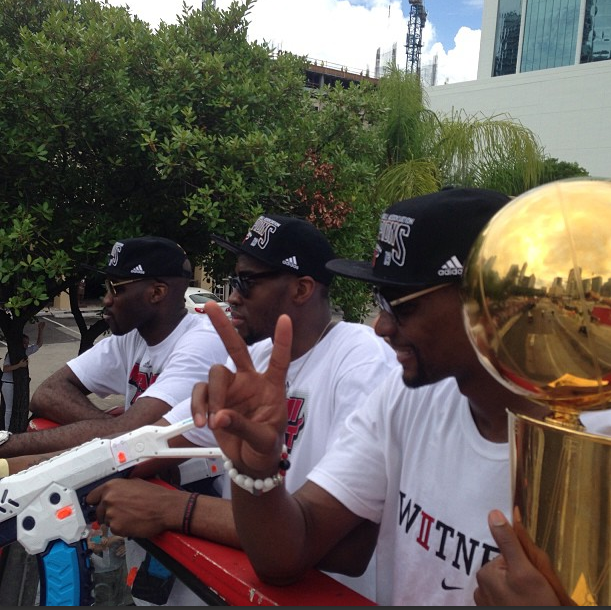 Chris "Birdman" Andersen and Miller were also clearly in a laid-back, worry-free type of mood: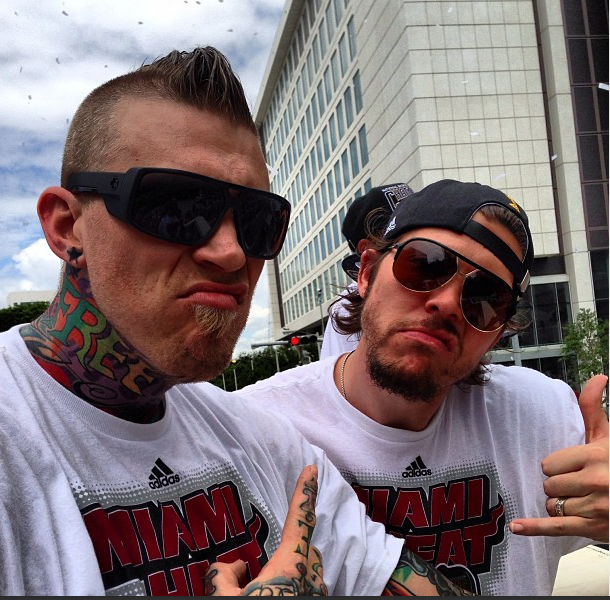 Later on, of course, Birdman spread his wings—and his supporters followed suit:
Bird flapping down Biscayne Boulevard! #HEATParade https://t.co/3nyUeRlTd7

— Miami HEAT (@MiamiHEAT) June 24, 2013
The Heat are certainly soaring as a franchise right now, arguably as a dynasty—especially if a three-peat is on the horizon.
It would be appropriate. After all, team president Pat Riley did trademark the term back in 1989.
When the rally at AmericanAirlines Arena got underway, it was clear Riley could still bust some moves, too. Whether they were necessarily graceful is another matter, though: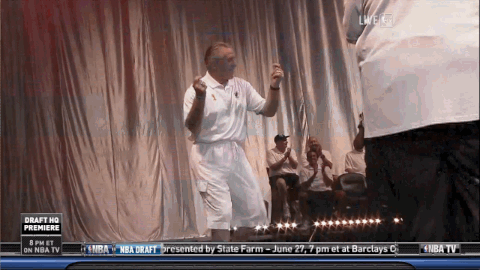 To be fair, Riley did provide some wonderful context for what the Heat have achieved since the Big 3's inception, per the South Florida Sun Sentinel's Ira Winderman:
Pat Riley, on three straight Finals, "It's been 337 games in the last three years. A lot of people don't understand how much it takes."

— Ira Winderman (@IraHeatBeat) June 24, 2013
Another key comment by Game 6 hero Ray Allen was logged by Winderman, as the prolific three-point shooter proclaimed his overtime-forcing shot in that contest to be the biggest of his career:
Ray Allen, on his Game 6 overtime-forcing shot, "After Game 7, I'd have to say that is the biggest shot I ever hit in my career."

— Ira Winderman (@IraHeatBeat) June 24, 2013
Ethan Skolnick of the Palm Beach Post gave some interesting insight as to the parade compared to those actually in attendance for postseason games:
If the people along the parade route were the ones that got into playoff games, this would be the best home court advantage in the country.

— Ethan J. Skolnick (@EthanJSkolnick) June 24, 2013
Below is a look inside the arena from the ground level in front of the main stage, followed by a picture of the championship trophy (h/t Bleacher Report via NBA TV):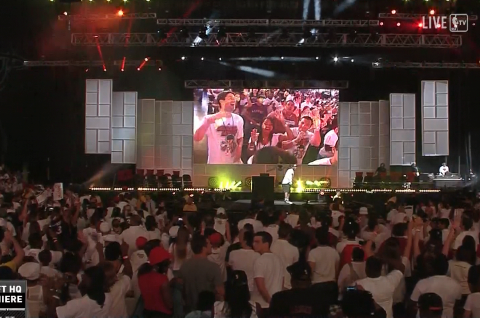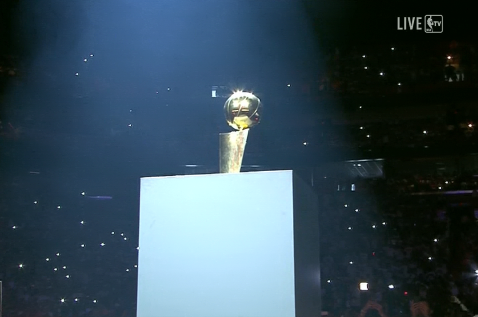 James expressed how grateful he was to be a part of such a special achievement in the history of the Association:
LeBron, during the parade: "This is unbelievable to be part of such a great franchise."

— Tim Reynolds (@ByTimReynolds) June 24, 2013
Spoelstra, via Skolnick, summarized the day well:
Erik Spoelstra: "Miami parties better than any city in the world."

— Ethan J. Skolnick (@EthanJSkolnick) June 24, 2013
For now, the celebration in South Beach is palpable and should rightly continue throughout the day for the two-time reigning NBA Finals winners.