A Pair of 10s Could Be Mourinho's Winning Hand at Chelsea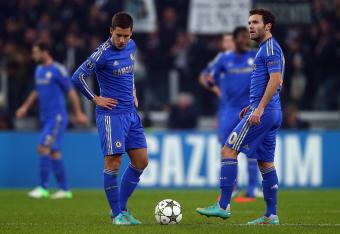 What's best for Juan Mata and Eden Hazard
Clive Rose/Getty Images
It's very rare that I take any inspiration from the opinion of Britain's tabloid journalists, but one comment made recently by the Daily Mirror's Martin Lipton really got my mind doing overtime.
In his column, Lipton broke the news that Juan Mata will indeed stay at Chelsea next season, despite the same writer claiming just two days before that the Spaniard was on his way to Barcelona following a contract dispute with Jose Mourinho.
But, rest assured, I'm not here to go over the non-story that was Mata's imminent departure from Stamford Bridge, instead Lipton's other revelation was that:
"Mata—currently on Confederations Cup duty in Brazil—is thought to have been concerned at the suggestions that he might be surplus to requirements under Mourinho, with Eden Hazard earmarked for the playmaker 'No. 10' role."
It's difficult to accept Lipton's version of events as gospel, considering the massive reverse turn he swung over the Mata situation, but could Mourinho actually be lining Eden Hazard up with a more central and integral role at Chelsea? And, if so, how would that impact Mata and the rest of the team?
Ordinarily it wouldn't be a move which I would approve of, but once I thought about the logistics I came up with a few solutions which could see two of Chelsea's "Three Amigos" deployed as No.10s.
Out of the two of them, I firmly believe Mata is the more natural playmaker, and if it was a case of one or the other, then the 25-year-old former Valencia man should certainly get the nod.
Not only does Mata's haul of 20 goals and countless assists (via whoscored.com) for the Blues last season highlight his suitability to play as the main man, but the fact that Chelsea struggled so badly without their diminutive schemer shows how influential he is to the way the team functions.
Across a mammoth 2012/13 Mata didn't start seven games between Roberto Di Matteo and Rafa Benitez, and in those matches Chelsea registered only five goals and picked up a total of just four points.
Mata's cerebral style in dominating and dictating play regularly set the tone and tempo for the Blues, and without him prompting possession and linking things together, it's highly doubtful Chelsea would have achieved what they did.
For that reason alone I would advocate keeping Mata as playmaker in chief, but this is not a slight on Hazard's abilities to do likewise.
The Belgian was entrusted with Mata's job away to Basel in the Europa League semi-final and put in a dangerous shift, operating just off Fernando Torres. Hazard didn't score but was a persistent problem for the Swiss, frequently picking the ball up in no man's land and squirming towards goal, leaving a trail of destruction.
The method was more direct than Mata's, with darting dribbles replacing delicate deliveries, but the penetration was just as effective and, on that display, allowing Hazard a more central role could pay dividends.
Infographic: Most club assists in Europe's top 5 leagues this season pic.twitter.com/t048jwlqig [by @fiazhamsath] #fcblive #iniesta #mata #ozil

— barcastuff (@barcastuff) June 6, 2013
However, replacing Hazard with Mata as the fulcrum of the side brings about two very pertinent issues. First and foremost is what to do with Mata if he swaps roles with Hazard.
While Hazard is just as comfortable operating out wide as through the center, Mata is very much a man for the middle and I feel that allocating him one of the berths on the wing would not only limit the Spanish star's effectiveness, but it would also reduce some of the much needed width often gained when Hazard patrols the touchlines.
So a straight swap would be counterproductive, and I also think that bringing Hazard in from the flanks would place restrictions upon his game.
I've never quite understood why players are given absolute autonomous licence to roam and wander wherever they feel the need for extra responsibility.
For the majority of his debut season Hazard was allowed to drift from side to side all across the front so he could influence proceedings and give Chelsea an x-factor in the final third that much of Mata's industry deeper down the pitch had brought.
In name alone, the No.10 or "playmaker" position appears to give the holder free reign to do as he pleases, but the same freedom has been granted to those in Chelsea's wide forward slots.
It's the same with Cristiano Ronaldo at Real Madrid. The Portuguese superstar rarely plays through the middle as a playmaker or central striker, but this does not impinge on his freedom to stray wherever he deems necessary to score and create goals.
Hazard and Ronaldo are given similar remits within their lineups, and I suspect Mourinho will try to utilise Hazard and bring his game on to replicate what Ronaldo did at the Bernabeu.
13 goals during his first campaign in England was a healthy return for the two-time Ligue 1 Player of the Year, but given his talent and offensive dictate, I fully expect the 22-year-old to be threatening the 20-goal mark next year—regardless of his functioning.
So how could Mourinho implement equal responsibility to both Mata and Hazard, without lessening either's impact or impeding the team shape?
Well I've come up with two tactics which seem to me to grant both Mata and Hazard a similar standing in the side, while also giving a very solid structure from top to bottom.
The first is to shape Chelsea up into a 4-3-2-1 formation, known many a moon ago as the "Christmas Tree," and more recently used in some variation by Brazil. It would look something like this: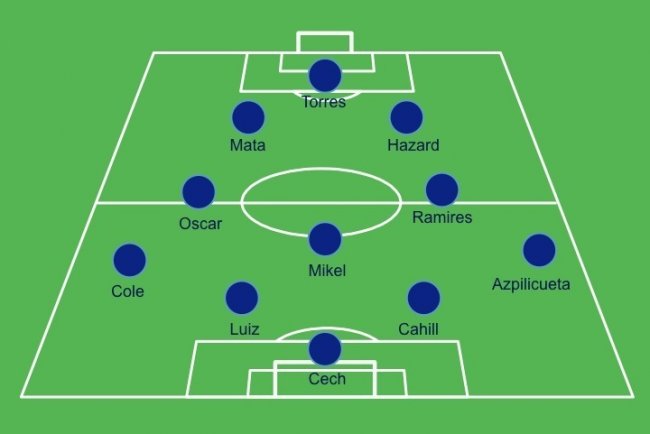 Effectively this would allow Mata and Hazard equal rights ahead of a midfield three and behind the customary sole striker. Given there would be an anchor at the base of the trio, the dynamic duo could be given complete independence to operate as the floating two off a central striker, thus giving Chelsea some permutation of a 4-3-3.
Given that they would be working in much the same space, each would have to partition off one side at regular intervals with Hazard looking after the center to right, and Mata doing likewise towards the other way.
The fluency of this system means overlap and interchange would be inevitable, but devoid of natural width, both would require a responsibility to move into the channels and braid play between the fullback's and right and left central midfielders.
As there's no out and out winger designated in this ploy, it could spell bad news for Andre Schurrle and Victor Moses, but given that the Blues' striking stocks appear to be hitting a dead end, the German could easily play as the spearhead to give movement and variation to the flow.
The deep lying pivot of the team would also allow his two central midfield accomplices protection to get forward, and this plan may bring the strengths of Oscar and Ramires into play.
Ideally this would be better designated away from home against stronger opposition and in the Champions League, as it would give Chelsea a firm backbone, while not reducing any of their forward threat.
Mata and Hazard could easily drop in to make a midfield five which becomes a three on the break, and certainly this appeared to be the way Di Matteo lined them up in impressive away victories against Arsenal and Tottenham at the beginning of last season.
But the other alternative—and my personal suggestion—would be to mould things into a quasi 4-2-3-1/4-3-3 with Mata and Hazard once again give fairly equal stature in the attacking midfield trident.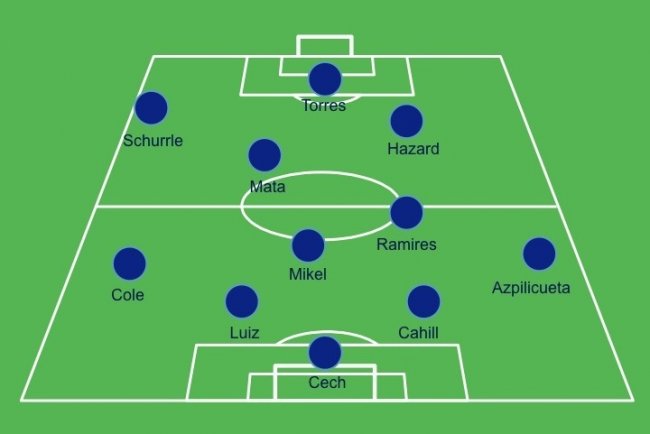 This setup follows a familiar Mourinho modus operandi through having his much-loved midfield anchor in place, as well as width from one winger and a striker leading the line. This hybrid look would need Mata to start off slightly deeper in order to knit everything together, with Hazard stationing himself more centrally off one of the flanks.
The plus side of this is that there's natural width coming down one side, with Mata still integral through the middle and a defensive man giving the back four a shield.
If anything, Mata's overall forward intentions would need to be tapered slightly, but this would invariably give him greater control overall in playmaking for the team, and much of Mata's work comes in and around these areas anyway.
Using Mata in this way would empower him as the conductor of the entire orchestra, and the Spaniard's selfless style and footballing intelligence would be ideally suited to the role of Mourinho's on-field general.
Hazard too would undoubtedly prosper through being allowed to forage as an inverted winger, and in my eyes the £32 million man would be best deployed as a free spirit off the front rather than being burdened with making play in midfield.
The other beauty of this formation is that by having two floaters, endless "triangles" which are crucial to a fluid structure become apparent, as the below graphic demonstrates.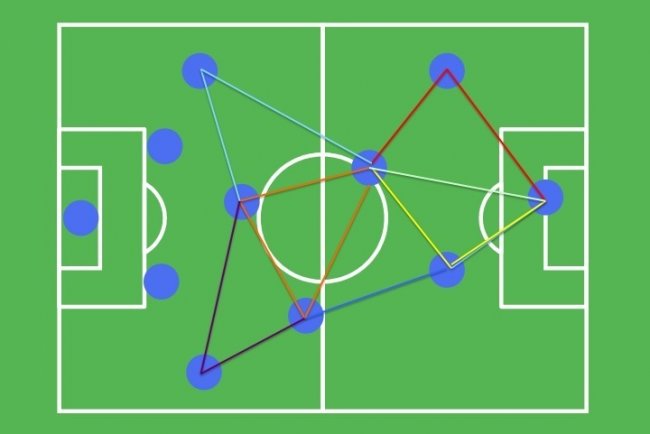 Yet little blue dots on a hypothetical green pitch don't really consider the perpetual movement of modern day football, but using these as base positions on which to build gives a good idea of how Chelsea could line up with Mata and Hazard prominent in a well-rounded overall team shape.
However, Mourinho getting the setup right is only part of the battle and much more important is that the "Special One" instills some fluency, understanding and cohesion into the squad. If he does that, the rest will follow.
What do you think? What is the best formation for Jose Mourinho to put into place for Chelsea next season, and could he use both of Juan Mata and Eden Hazard as playmakers?
Let me know in the comments below, or join my growing army of followers on Twitter @bainesyDiego10
This article is
What is the duplicate article?
Why is this article offensive?
Where is this article plagiarized from?
Why is this article poorly edited?

Chelsea: Like this team?