Things an Oakland Raiders Fan Says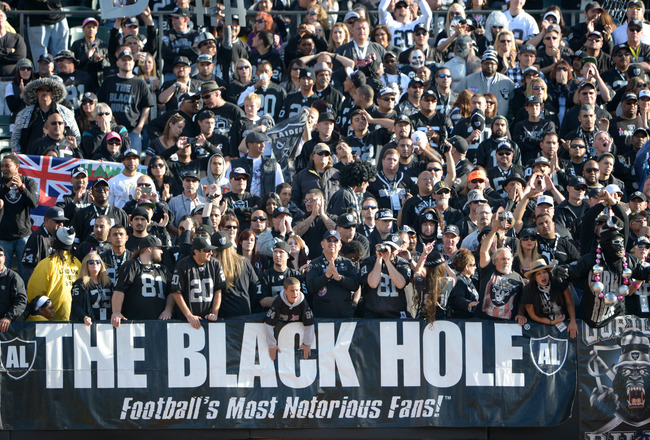 Kirby Lee-USA TODAY Sports
With the Raider Nation, the Oakland Raiders easily have one of the most passionate and dedicated fanbases in the world of sports.
Like any group of fans, Raiders fans have many things they have become known for, including much more than their game-day attire.
If you consider yourself a die-hard Oakland Raiders fan, you just may find yourself saying these five things quite often.
"Just Win, Baby."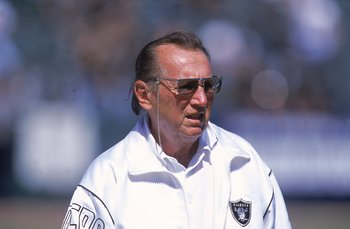 Stephen Dunn/Getty Images
There is not likely to ever be a more famous team slogan than Al Davis' "Just Win, Baby" for the Oakland Raiders.
For decades on end, this motto represented so much of what Davis was to not only the Raiders and their fans, but also to the game of football as a whole.
Yes, the Raiders were often known as the "Team of the Decades" and certainly enjoyed what was some significant success in the 1970s and '80s in particular. But it was about much more than that when looking back at Davis' impact on the game.
The "Just Win, Baby" mantra also represented Davis' focus on football and what was a resultant progressiveness in regards to important issues like diversity.
For Davis, it was about winning. If you could play, you could play. If you could coach, you could coach. Race was never an obstacle.
Al Davis was a maverick in more ways than one, and the NFL undoubtedly would not be where it is today without his lasting impact. With every reference to his most coined phrase, that should be remembered.
"There Is Only One Nation."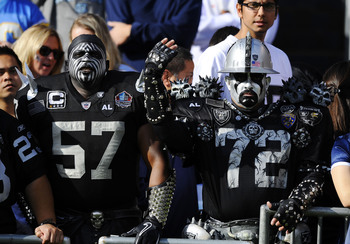 Christopher Hanewinckel-USA TODAY Sports
Over the years, seemingly every fanbase across the sporting world has referred to itself as its team's "nation" at one time or another.
Well, if you ask Raiders fans, there is only one nation: Raider Nation.
The Raider Nation is home to one of the most dedicated and widespread group of fans there is, and they are extremely proud of it.
This is a fanbase that now most certainly extends worldwide, and within it comes a relative sense of family in collective love for the silver and black.
Despite years of struggles since the last Super Bowl appearance, the passion that Raiders fans have for their team has remained strong. And each and every one one of them will tell you the Raider Nation was the first and only.
"Once a Raider, Always a Raider."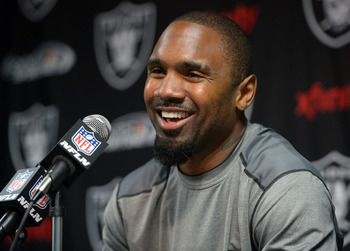 USA TODAY Sports
Going along with the passion that comes with being a Raiders fan is the respect and admiration for the players and other members of the organization who have been a part of the Raider family.
While of course there are exceptions to the rule, this has long been a tradition held by the Davis Family and inherited by Raiders fans as well.
Possibly the greatest recent example of this idea was the welcoming that Charles Woodson received from the Raider Nation on his free-agent visit this offseason.
After signing with the team, Woodson conceded that the presence of fans at the team facility and the welcoming feeling created by it did indeed play a part in his signing.
Again, this speaks to the loyalty that both the Raiders organization and Raiders fans have for players both past and present, and of course the sense of family that is created among all of them.
"It Was a Fumble!"
Ezra Shaw/Getty Images
One of the most talked-about controversies in the history of football, the "Tuck Rule" game will always be a sore spot for Raiders fans.
This call not only robbed the Raiders of what was a great chance at a Super Bowl season, but also signaled the end of Jon Gruden's tenure in Oakland, as well as kick-starting what would become a dynasty for the New England Patriots.
Although the call was technically correct based on what the NFL Rulebook stated at the time, the fact that the rule was ever in place makes little sense to say the least.
Earlier this offseason, the "Tuck Rule" was eliminated by league vote, but that will hardly be considered a consolation prize for the silver and black.
This game will always represent an element of "what if" in Raiders history, and every Raiders fan knows that all too well.
"JaMarcus, Who?"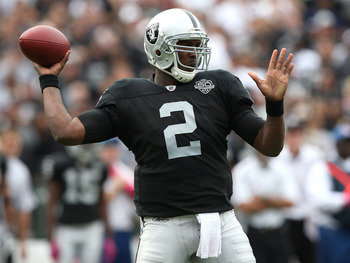 Jed Jacobsohn/Getty Images
The Raiders' struggles throughout the 2000s are well documented, and only now are they in the process of a true and much needed rebuild.
In 2007, No. 1 overall pick JaMarcus Russell was chosen with hopes of turning the franchise around, and as we all know, it did not exactly turn out that way.
Although there were plenty of problems and poor decisions made within the organization around the time, missing on a pick of that magnitude, coming with the contract value it did, stands out in a big way.
Fair or not, this pick takes a lot of the blame for the Raiders' continued struggles over recent seasons. Although he is now on the comeback track to the NFL, Raiders fans will likely never be too fond of Russell.
Dan Wilkins is an Oakland Raiders Featured Columnist. You can follow him on Twitter here.
Keep Reading

Oakland Raiders: Like this team?