Sacramento Kings fans are used to being involved in the excitement that is the NBA draft. After all, the Kings have drafted in the lottery the previous six seasons. While they have had a few good picks, such as Tyreke Evans and DeMarcus Cousins, they also have had their fair share of busts.
However, the real drama lately has come surrounding the Kings' star player, Cousins. According to the Sacramento Bee's Jason Jones, Cousins is seeking a maximum extension and could request a trade if one is not completed.
Should Sacramento trade DeMarcus Cousins?
Based on pure talent and numbers, Cousins' play most definitely warrants a maximum deal, but there are other factors that will give the Kings' new ownership pause. Cousins has frequently scuffled with coaches and players. His attitude has started to outweigh his talent, and may be a reason the Kings refuse to offer him a long-term deal.
In December, Cousins was suspended by Sacramento. USA Today had a rundown of the events that resulted in Cousins' suspension.
The third-year big man had a verbal altercation with coach Keith Smart during halftime of the Kings' loss at the Clippers on Friday and was left in the locker room for the entire second half as a result. Two people with knowledge of the incident told USA TODAY Sports that nothing of a physical nature occurred between Cousins and his coach and that the yelling went back and forth between both men. Cousins, according to one of the people, used extensive profanity while sharing his latest frustrations.
Furthermore, the Sacramento Bee went into more details about Cousins' treatment of his teammates.
"It's not something that just showed up yesterday, last year or two years ago or five years ago," [Petrie] said. "But he's our player so we want to work with him to get past this so he can be what everyone sees is possible."

Cousins has alienated teammates with his verbal tirades to the point players give him the ball rather than feel his wrath.
Should management explore trading the mercurial center, there will be a handful of suitors, according to ESPN's Chad Ford.
The Cavs won't be the only team calling the Kings once they get a new GM in place. Sources say that the Charlotte Bobcats and Dallas Mavericks also will have interest in Cousins if Sacramento's new management decides to cut ties with Cousins.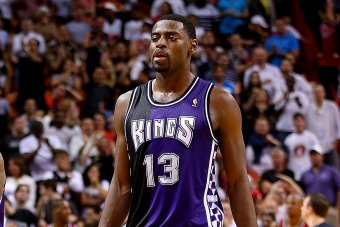 Mike Ehrmann/Getty Images
While there appears to be no consensus No. 1 pick in this draft, the Cleveland Cavaliers could put together an interesting offer, starting with the first pick in the draft. The Kings could conceivably unload Tyreke Evans and Cousins this offseason and start from scratch.
That might be not the plan of action, but there should be a considerable market for guys like Evans and Cousins. Sacramento tried building around those two, and it clearly has not worked. Albeit, dealing Cousins and not paying him, then watching him mature elsewhere could come back to haunt the Kings.
Still, the Kings desperately need talent, and not paying one of the most productive young players in the league is not the best way to turn around a franchise. The Kings need to hold Cousins accountable, but also be able to surround him with more talent.
Cousins aside, the Kings have some decisions to make about their own pick and if they should move down to acquire additional picks or stay put. According to Fox Sports' Sam Amico, the Kings are considering trading back in the draft to pick up additional picks.
Still seeing what they can get for 7th pick. I expect them to have at least 5 new guys next yr. RT @jacobfagan: Latest rumors with Kings?

— Sam Amico (@SamAmicoFSO) June 21, 2013
Sitting seventh in this draft is not exactly the place the Kings want to be. Other than Trey Burke falling to them, Sacramento could presumably trade back into the middle or end of the first round. The talent level in the later parts of the first round could produce better value, especially if they can pick up two picks.
Players such as Reggie Bullock, Sergey Karasev and Jeff Withey could fill some major holes on the roster. They might not have the upside that the Kings are looking for, but look the part of quality role players, something the Kings do not have enough of currently.
The Sacramento Kings will have plenty of options to consider on draft night. The future of the franchise is at stake this offseason. Fans in Sacramento deserve a team they can be proud of. But will management have to tear this one down in order to accomplish that?