Odds for Each Shocking MLB Breakout Season Continuing in the Second Half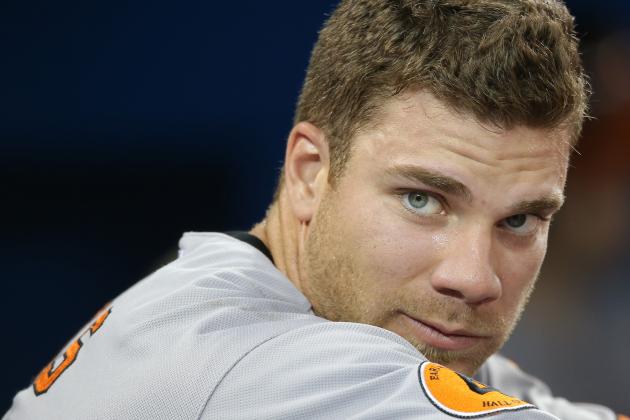 Tom Szczerbowski/Getty Images
Chris Davis might be shocked at his own success so far in 2013.
It happens every baseball season: Players have amazing first halves.
Somehow, light-hitting infielders swat a dozen home runs or a notoriously ineffective pitcher all of a sudden becomes the reincarnation of Randy Johnson. But for the most part, these unlikely heroes revert back to their middling career rates as the season winds on.
Yet every so often, there is the exception—like Jose Bautista in 2010, for instance. After being organizational fodder for several years, the then-29-year-old bashed 24 home runs in the first half of the season. Now, he's one of the best sluggers in the game.
Following are 25 major league players enjoying shocking, breakout first halves and the odds of them continuing their dynamic play in the second part of the season.
All statistics updated through June 23 according to Fan Graphs, Baseball Reference and Cot's Baseball Contracts.
Begin Slideshow

»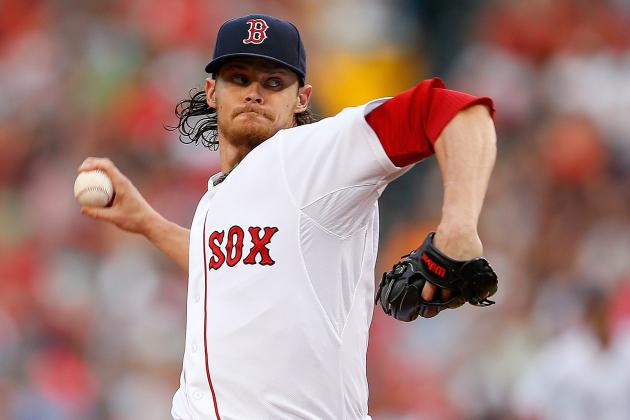 Jim Rogash/Getty Images
Clay Buchholz is leading the American League with a microscopic 1.71 ERA.
It might not be fair to include a pitcher like Clay Buchholz, who finished sixth in the 2010 AL Cy Young Award voting, but considering the righty has been plagued by injury and mediocrity over the past two seasons (4.24 ERA, 1.32 WHIP, and 1.99 K/BB), few people expected Buchholz to lead the American League with a 1.71 ERA in 2013.
Buchholz's ascension back to elitehood comes thanks to his best K/9 ratio since 2008. The 28-year-old has sat batters down at a dominant 8.6 K/9 clip. Buchholz has also seemed to cure his bout with "gopheritis" (1.2 HR/9 over the past two seasons), limiting opposing hitters to a league-leading 0.2 HR/9 in 2013.
Some regression is expected, as Buchholz's xFIP sits at 3.22—a full 1.50-point difference from his ERA—but the Boston Red Sox's playoff hopes likely sit on his shoulders.
Odds for Second-Half Success Continuing: 65 percent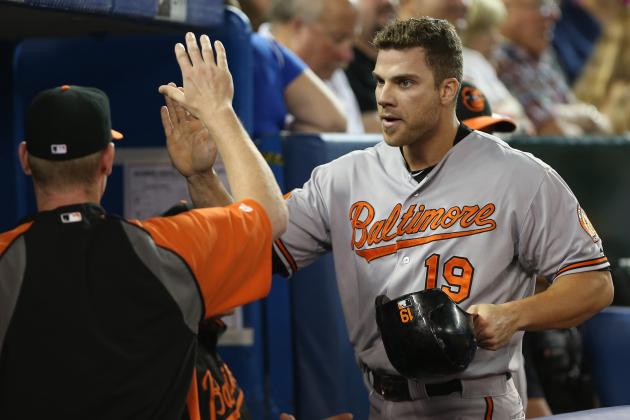 Tom Szczerbowski/Getty Images
Chris Davis high fiving a teammate after hitting the ball approximately 900 feet.
Chris Davis was very good last year (33 home runs, .270 batting average, 120 wRC+), but in 2013, he's become elite.
The Baltimore Orioles first baseman has already hit 27 home runs, boasts a .336 batting average and even improved his walk rate (from 6.6 percent in 2012 to 10.5 percent) and strikeout rate (from 30.1 percent in 2012 to 26.0 percent) in 2013. Davis' park-adjusted 199 wRC+ supports his outbreak too.
Needless to say, there are few people out there who do not think Davis is for real.
Odds for Second-Half Success Continuing: 95 percent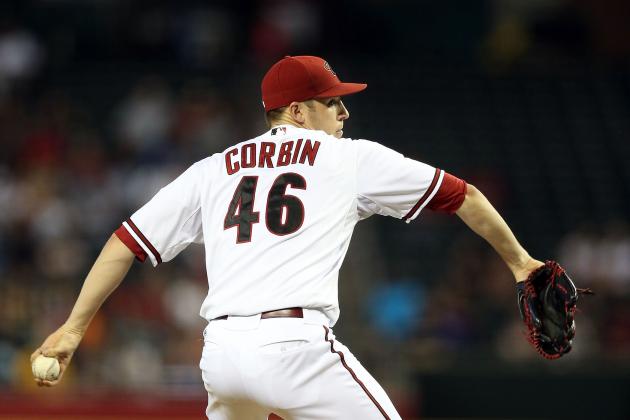 Christian Petersen/Getty Images
Patrick Corbin has yet to lose a game in 2013, boasting a perfect 9-0 record.
Patrick Corbin went from mediocre in 2012 to perfect in 2013. Corbin is sporting a sparkling 9-0 record with a 2.19 ERA (vs. park adjusted 3.76 xFIP), 1.00 WHIP and 2.93 K/BB.
Yet with only one other season under his belt, it's difficult to set boilerplate peripherals. For instance, Corbin's .243 BABIP this season is a whopping 74 points below his rate from last season. His 82.3 percent rate of stranding baserunners is also 11.1 percent better than in 2012.
While a lot of Corbin's success in 2013 is due to his reduced HR/9 ratio (from 1.18 in 2012 to 0.53), given his inexperience, lack of dominating skill set (6.93 K/9 in 2012) and unchanged ground-ball rate (45.7 percent in 2012 vs. 45.3 percent in 2013), it's likely Corbin's ERA will soar to the mid-3.00 range.
Odds for Second-Half Success Continuing: 35 percent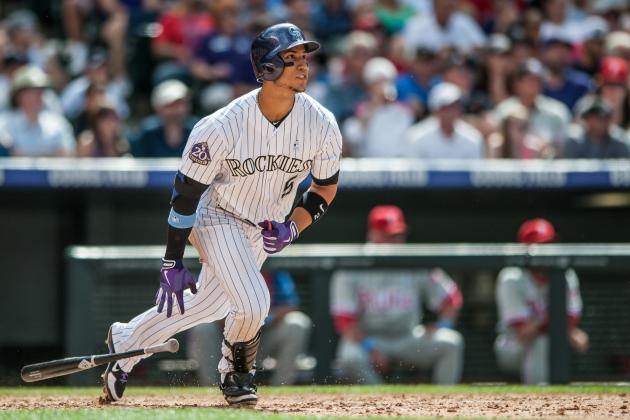 Dustin Bradford/Getty Images
Cargo has been that good type of baggage in 2013.
Prior to 2013, Carlos Gonzalez was unfairly labeled as an elite hitter.
Sure, CarGo did well at home in Colorado with a career .333 batting average and a park-adjusted 145 wRC+, but everywhere else, he was pedestrian with a career .264 batting average and park-adjusted 104 wRC+.
However, in 2013, the Rockies slugger has reversed the trends. Gonzalez has swatted a .310 batting average and park adjusted 174 wRC+ away, and a .291 batting average and park-adjusted 141 wRC+ at home.
Odds for Second-Half Success Continuing: 95 percent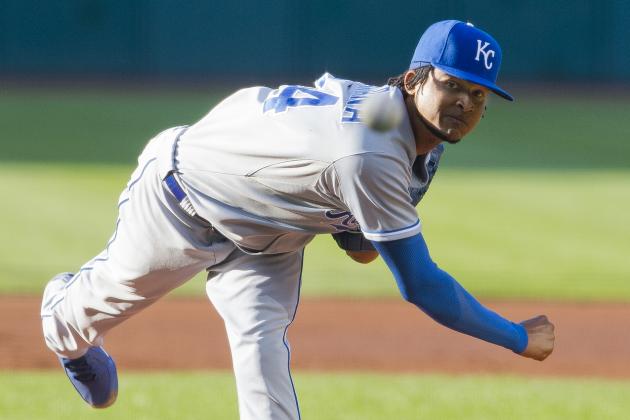 Jason Miller/Getty Images
Ervin Santana is currently spinning a 2.64 ERA. Yup, it's hard to believe.
Ervin Santana is one of most inconsistent and befuddling pitchers in baseball.
Santana notoriously could rank among the league leaders in ERA one year, only to sport a 5.00-plus ERA the next.
| | | |
| --- | --- | --- |
| Year | ERA | xFIP |
| 2006 | 4.28 | 4.84 |
| 2007 | 5.76 | 4.7 |
| 2008 | 3.49 | 3.48 |
| 2009 | 5.03 | 4.55 |
| 2010 | 3.92 | 4.31 |
| 2011 | 3.38 | 3.93 |
| 2012 | 5.16 | 4.48 |
| 2013 | 2.64 | 3.45 |
After 12 years in the Los Angeles Angels organization, the Angels dealt Santana to the Kansas City Royals before 2013 began. Few people thought the 30-year-old would succeed with the Royals, but his amazing 2.64 ERA (vs. park-adjusted 3.46 xFIP) speaks otherwise.
Even though Santana has limited walks this season (1.36 BB/9), his .246 BABIP is 40 points below his career rate.
Regardless, as his solid park-adjusted 3.45 xFIP suggests, the Royals got themselves a solid pitcher for 2013—just perhaps not an ace.
Odds for Second-Half Success Continuing: 60 percent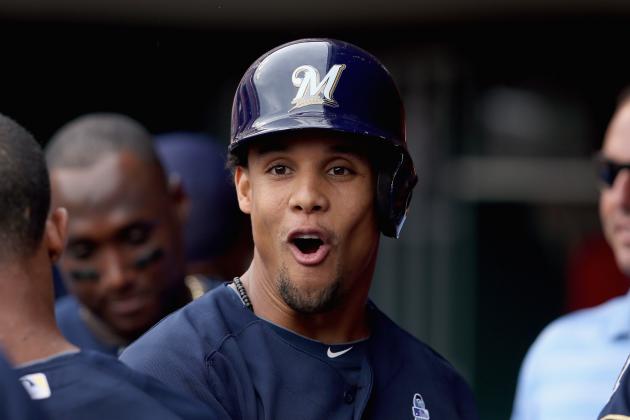 Andy Lyons/Getty Images
"No way! I have 12 home runs already this season?"
A lot of critics cried "fluke" when Carlos Gomez slugged 19 home runs in 2012, but the Milwaukee Brewers center fielder has been even more dynamic in 2013.
Gomez has posted a .314 batting average (and park-adjusted 153 wRC+), 12 home runs, 14 stolen bases and a Gold Glove-worthy 27.6 UZR/150 so far this season.
While his power, speed and glove are for real, considering Gomez's BABIP is 76 points above where it was last season (from .296 in 2012 to .372), his batting average will likely fall off in the second half.
Odds for Second-Half Success Continuing: 70 percent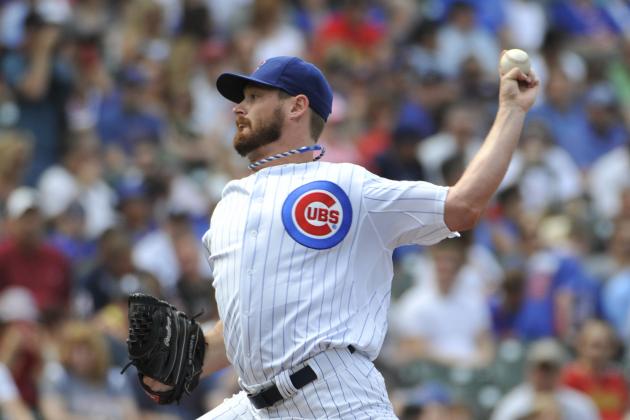 David Banks/Getty Images
Travis Wood has easily been the best wood since Kerry to hit Chicago.
Travis Wood has been one of the few bright spots for the otherwise horrendous Chicago Cubs. Wood has spun a 2.85 ERA (vs. park-adjusted 4.34 xFIP), 1.00 WHIP and 2.38 K/BB.
Wood can thank a few blatant reasons for his success in 2013, the first of which is that his .222 BABIP is 56 points below his career average rate. Also, the 26-year-old has suddenly cured his penchant for giving up home runs (career 1.08 HR/9), as he has only served up 0.64 homers per nine innings in 2013.
It's possible that if Wood can continue to limit the long ball, his sterling 2013 first half will continue into the second half, but it's unrealistic to think the right-hander won't start surrendering more hits overall.
Odds for Second-Half Success Continuing: 55 percent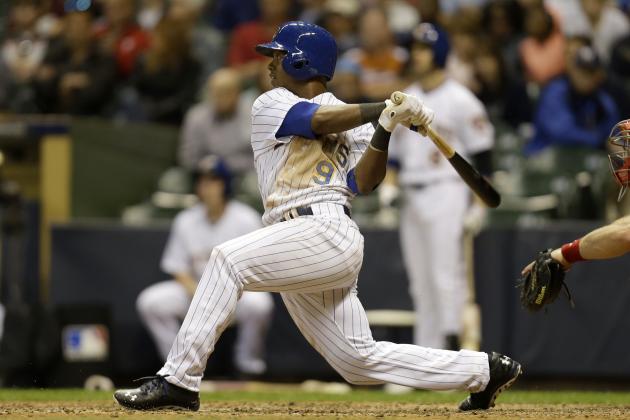 Mike McGinnis/Getty Images
Jean Segura had zero home runs in 2012, but has swatted 11 so far in 2013.
Perhaps some of Carlos Gomez's magic rubbed off on Jean Segura, as the 23-year-old has emerged as a slugging machine.
Despite never exhibiting much home run power in the minor leagues, Segura has already slugged 11 home runs in 2013. The shortstop is also hitting .334 with a park-adjusted 148 wRC+ and 22 stolen bases.
It's difficult to properly evaluate Segura, as the youngster only accumulated 166 plate appearances in 2012—but there are two red flags: his inflated BABIP (from .302 to .351) and walk rate plunges (from 7.8 percent to 3.9 percent). Hitting 11 home runs isn't a fluke necessarily, but pitchers in the second half might not be so willing to throw him as many strikes, and/or just give him a heavy dose of curveballs. Segura has only been worth -3.0 runs above average against curveballs.
Odds for Second-Half Success Continuing: 55 percent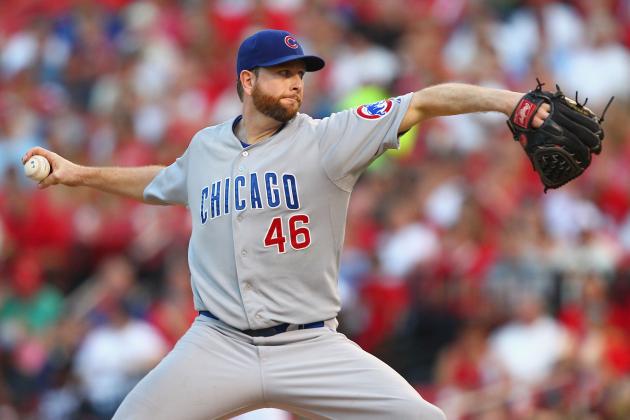 Dilip Vishwanat/Getty Images
Scott Feldman is loving his time in the windy city.
Scott Feldman went from Texas Rangers' castoff to Chicago Cubs' hero. Feldman actually had a solid season for the Rangers in 2012—or at least according to his peripherals. Despite posting a dismal 5.09 ERA, the right-hander also spun a park-adjusted 3.87 xFIP.
Considering Feldman now sports a similar 3.39 ERA (vs. 3.92 xFIP), it's obvious the pitcher needed out of Texas. However, the one peripheral that doesn't add up in 2013 is that Feldman is garnering more ground balls than he did in 2012 (from 42.4 percent to 50.0 percent), yet his .255 BABIP is 63 points below his rate from last season—and 43 points below his career rate.
Slight regression is expected due to the above, but it could be close to what his 3.92 xFIP suggests.
Odds for Second-Half Success Continuing: 65 percent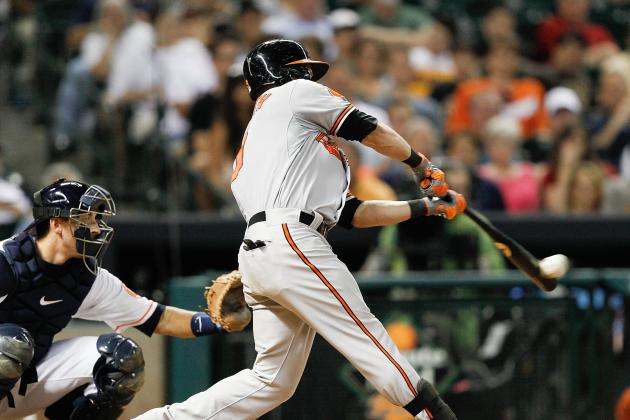 Bob Levey/Getty Images
Nate McLouth doesn't want to just be a platoon player.
One of the biggest surprises of 2013 has been the re-emergence of Nate McLouth.
Despite once being known as a burgeoning young outfield star with the Pittsburgh Pirates, McLouth endured several years of lackluster play in between until the Baltimore Orioles picked him up last season.
After a solid season in 2012, the Orioles tabbed McLouth as their starting left fielder before the 2013 season; merely expecting a solid left-handed hitting platoon option. However, McLouth has become a fixture atop the Orioles lineup, sporting a .290 batting average with a park-adjusted 116 wRC+, four home runs, 24 stolen bases and a 10.9 percent walk percentage.
McLouth's career-best batting average might not be for real, as his .316 BABIP is 39 points above his career average rate, but his great stolen base total is for real.
Interestingly enough, even though the Orioles sit McLouth against most lefty pitchers, the left-handed batter has actually enjoyed hitting against his own kind in 2013, with a .278 batting average and park-adjusted 137 wRC+.
Odds for Second-Half Success Continuing: 75 percent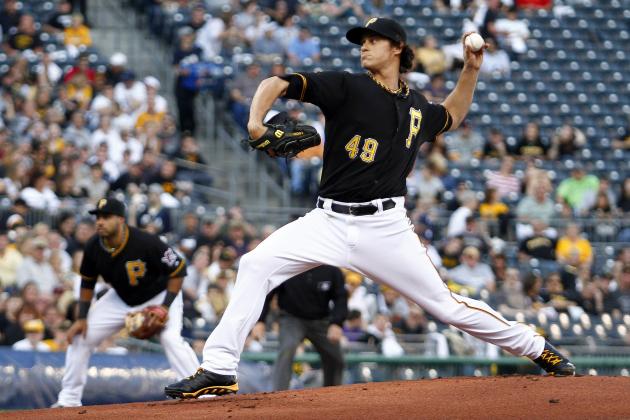 Justin K. Aller/Getty Images
Jeff Locke is leading the league with a 2.01 ERA. His prior career ERA was 5.82.
Jeff Locke was the headliner prospect that the Pittsburgh Pirates acquired in the trade that sent Nate McLouth to the Atlanta Braves in 2009. It's taken Locke a few years to hold down a steady job for the Pirates, but given the way he's pitched so far in 2013, the Pirates couldn't care less.
Locke has a National League-leading 2.01 ERA (vs. ballpark-adjusted 4.06 xFIP), 1.13 WHIP and 1.62 K/BB. The left-handed pitcher's average strikeout (6.35 K/9) and walk (3.93 BB/9) ratios make his success a little permeable. In addition, Locke's career .314 BABIP (albeit a small sample size of just 51.0 innings from 2011 to 2012) suggests his .231 rate his season could be a tad unsustainable.
The 25-year-old is pitching well, but perhaps not this well.
Odds for Second-Half Success Continuing: 30 percent
Elsa/Getty Images
Matt Carpenter has emerged an important part of the post-Albert Pujols offense in St. Louis.
The St. Louis Cardinals always seem to find a diamond in the rough. This year's jewel on offense has been Matt Carpenter.
Carpenter has posted a .318 batting average with a park-adjusted 145 wRC+, five home runs and a 10.2 walk percent over 323 plate appearances.
While his season certainly qualifies as a "breakout," people seem to forget the second baseman also enjoyed a terrific year as a part-time player in 2012 too with a .294 batting average, park-adjusted 125 wRC+ and six home runs over 340 plate appearances.
Carpenter has simply become a more controlled hitter (from 18.5 percent strikeouts in 2012 to 12.7 percent) and an improved fielder (from a substandard -0.8 dWAR in 2012 to a well above-average 0.7)
Odds for Second-Half Success Continuing: 90 percent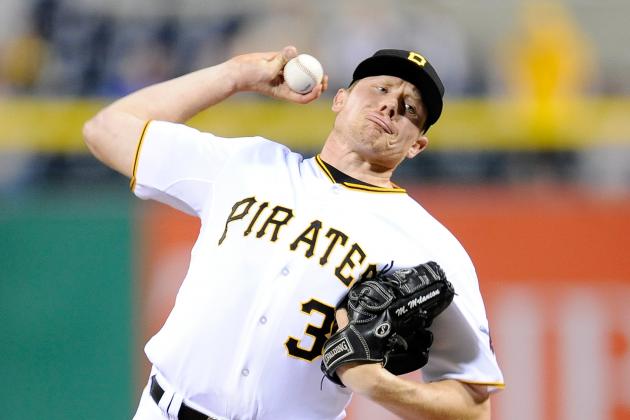 Joe Sargent/Getty Images
"Try hitting this one, fellas!"
One has to think that Pittsburgh Pirates general manager Neal Huntington looked at Mark Melancon's peripherals from 2012 before acquiring him this offseason.
Melancon had one of the most unfortunate seasons in recent memory last year, posting a 6.20 ERA, but a park-adjusted 3.45 xFIP. The reliever's season stats became massively skewed as he surrendered an astounding 11 earned runs in his first three innings (that's a 49.50 ERA, folks).
Yet, Melancon went from a lost cause in 2012 to one of the game's best in 2013. Melancon has a 0.99 ERA (vs. park-adjusted 1.97 xFIP), 0.88 WHIP and 9.75 K/BB. Unlike 2012, when he surrendered 1.6 home runs per nine innings, the 28-year-old has shrunk his rate down to a mere 0.2 homers per nine innings.
If not for the arguably more dominant Jason Grilli, Melancon would surely be a fine closer for the Pirates.
Odds for Second-Half Success Continuing: 90 percent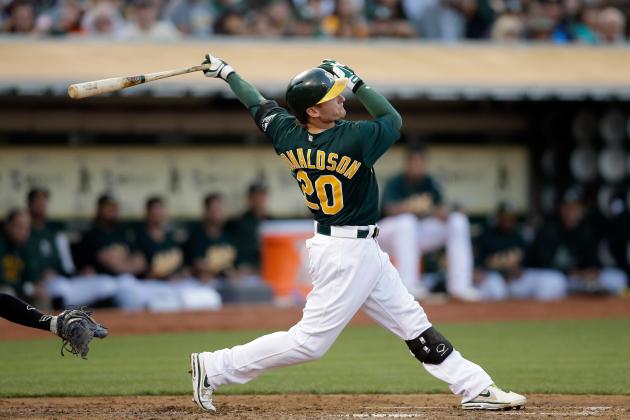 Ezra Shaw/Getty Images
Josh Donaldson teeing off, one-handed.
Josh Donaldson finally got a shot to start for the Oakland Athletics in 2013, and boy, is he producing.
Donaldson, who is the last remaining piece of the trade that sent Rich Harden to the Chicago Cubs in 2008, is hitting to the tune of a .307 average with a park-adjusted 139 wRC+, 10 home runs and a 9.4 walk percent. The home run power isn't much of a surprise, as the 27-year-old swatted nine home runs in 294 plate appearances last season and has hit as many as 18 home runs in a minor league season (at Triple-A in 2010).
The only issue with Donaldson's breakout is his batting average. The third baseman's .350 BABIP is 72 points above his .278 rate from last season. Donaldson hit .241 in 2012.
Odds for Second-Half Success Continuing: 45 percent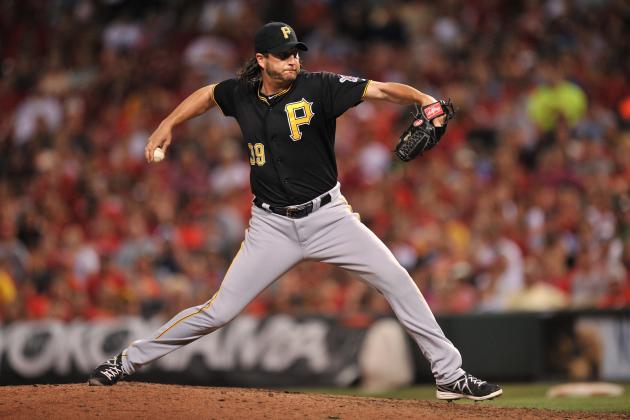 Jamie Sabau/Getty Images
Whoever he's facing here probably didn't get a hit.
Jason Grilli has arguably been the best closer in baseball so far in 2013. Grilli has a 1.07 ERA (vs. park-adjusted 1.73 xFIP), 0.74 WHIP, 8.00 K/BB and a league-leading 26 saves.
The 36-year-old has been devastating with a 14.97 K/9, 1.87 BB/9 and 0.27 HR/9. He's about as unhittable as a reliever gets.
Even though Grilli has shaved off 39 points from his 2012 BABIP, in his case, you just have to tip your cap.
Odds for Second-Half Success Continuing: 95 percent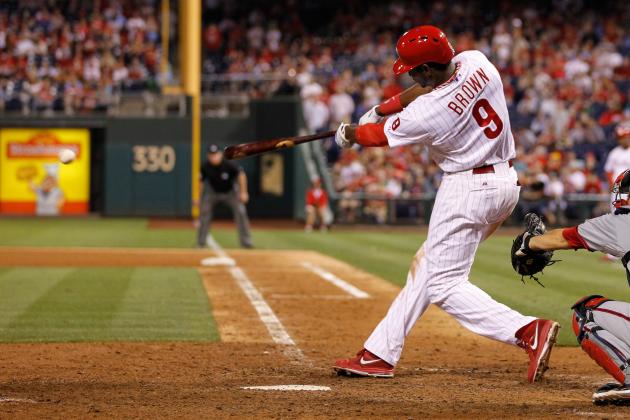 Brian Garfinkel/Getty Images
Domonic Brown seeing the ball and then hitting the ball.
After disappointing cups of coffee in 2010, 2011 and 2012, the Philadelphia Phillies have finally witnessed Domonic Brown live up to his big prospect status.
Brown is hitting .279 with a park-adjusted 136 wRC+, 19 home runs, eight stolen bases and a 6.2 walk percent.
The left-handed hitter's power is exciting because it's real. While he has regressed in his number of walks (from 9.9 percent in 2012 to 6.2 percent) and strikeouts (from 16.0 percent in 2012 to 19.3 percent) at least his BABIP peripherals hold up (career .269 BABIP vs. .271).
Odds for Second-Half Success Continuing: 85 percent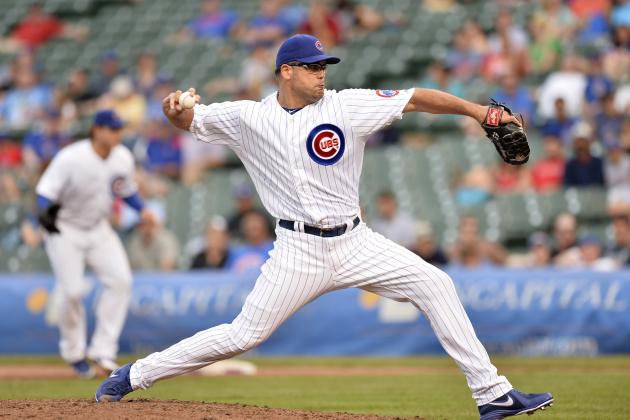 Brian Kersey/Getty Images
Can anyone believe this guy is closing games—and doing it well?
What happens when both Carlos Marmol and Kyuji Kujikawa are ineffective as closers? Answer: the Chicago Cubs bring in Kevin Gregg to do the job.
Despite owning an abysmal 4.95 ERA (vs. park-adjusted 4.80 xFIP), 1.69 WHIP and 1.54 K/BB last season, Gregg was still on the Cubs' radar, and by April 23, was closing games for them.
To Gregg's credit, the maligned 35-year-old has never looked better. His 1.11 ERA vs. park- adjusted 3.05 xFIP are his career best surface vs. peripheral comparison stats. Some other highlights include a 9.62 K/9 (career best), 2.59 BB/9 (best since 2006) and a 0.37 HR/9 (best since 2008).
But all good things do come to an end, as Gregg's .246 BABIP is 48 points below his career mark and he's also stranding 14.9 percent more runners than usual.
When push comes to shove, it's Gregg.
Odds for Second-Half Success Continuing: 15 percent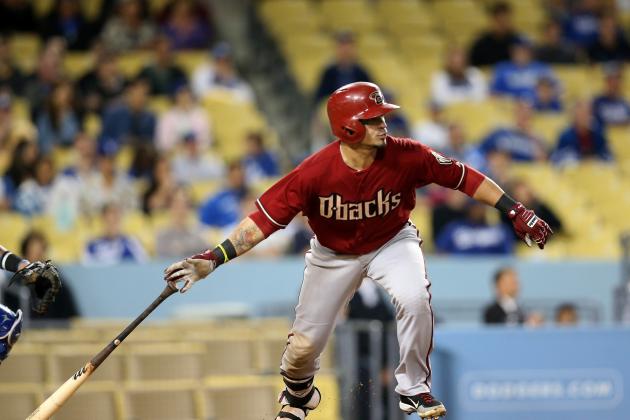 Stephen Dunn/Getty Images
Gerardo Parra watches as his star rises.
Due to a preseason injury to Adam Eaton, the Arizona Diamondbacks called on Gerardo Parra to take over as theor starting center fielder.
Even though Parra had long been known for his terrific glove, the right-handed hitter's bat—or lack there of—prevented him from securing a full-time starting gig. But so far in 2013, Parra has proven to be an asset on offense too.
The 26-year-old has posted a .313 batting average with a park-adjusted 131 wRC+, seven home runs, six stolen bases and a 9.1 walk percent. Parra's BABIP has been slightly bloated (career .334 BABIP vs. .354 in 2013), but the disparity isn't as apparent as other breakout players'.
Seeing as Eaton recently endured a setback in his rehab, Parra might not lose his starting job so soon after all.
Odds for Second-Half Success Continuing: 80 percent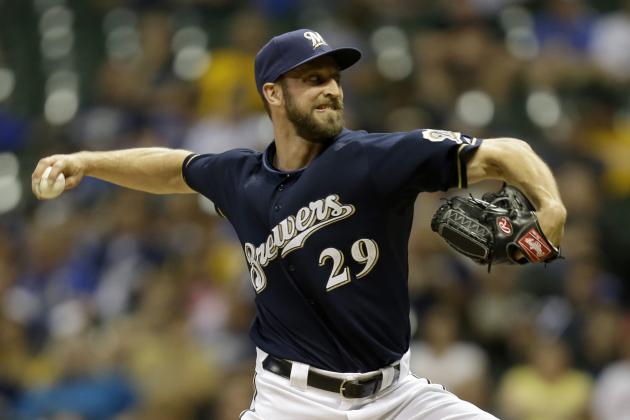 Mike McGinnis/Getty Images
You don't mess around with Jim [Henderson].
It wasn't shocking to finally see John Axford get axed from the closing duties in Milwaukee.
The only question was: Who's going to take over? Given his 3.52 ERA (vs. park-adjusted 2.73 xFIP), 13.21 K/9 and 0.29 HR/9 last season, Jim Henderson was certainly the most deserving candidate.
The Brewers handed Henderson the reins in 2013 and he didn't give them up until falling prey to injury on May 24. Regardless, on the season, Henderson has posted a magnificent 1.75 ERA (vs. park-adjusted 2.92 xFIP), 0.93 WHIP, 4.14 K/BB and 10 saves.
The 30-year-old is in the process of winning back the job from Francisco Rodriguez, who has been his vintage self (0.59 ERA vs. park-adjusted 3.11 xFIP), but manager Ron Roenicke made it seem like Henderson is still the guy.
Odds for Second-Half Success Continuing: 75 percent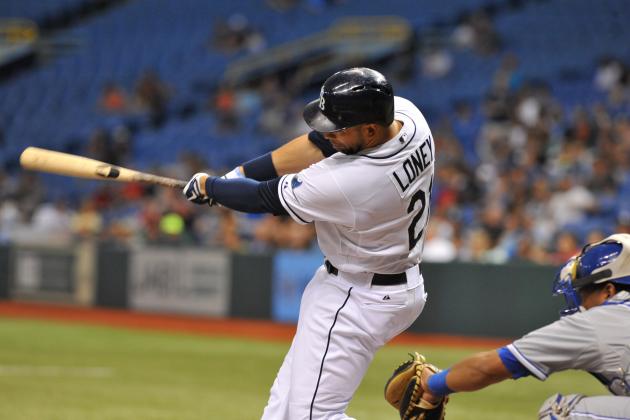 Al Messerschmidt/Getty Images
James Loney hasn't played this well since 2007.
The Tampa Bay Rays raised a lot of eyebrows when they inked light-hitting first baseman James Loney to a major league contract this past offseason. Loney posted a brutal .249 batting average, park-adjusted 70 wRC+, six home runs and 6.0 walk percent in 2012. Yet, the longtime Los Angeles Dodger has been a godsend for the financially strapped Rays.
Loney has swatted to the tune of a .297 batting average with a park-adjusted 127 wRC+, eight home runs and a 8.4 walk percent so far in 2013. The 29-year-old's moderate .317 BABIP (vs. career .305 BABIP) supports his good batting average and his great wRC+ makes a 15-home run season within reason.
Odds for Second-Half Success Continuing: 75 percent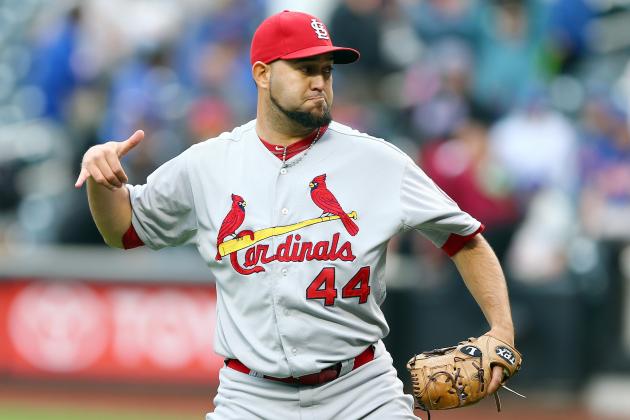 Elsa/Getty Images
Edward Mujica has slammed the door so many times, Ty Pennington might need to build him a new one.
The St. Louis Cardinals are always prepared for the worst-case scenario.
The Cards lost their slam-dunk closer Jason Motte for the year even before the season started. While Mitchell Boggs was next in line, he coughed it up (11.05 ERA vs. park-adjusted 6.18 xFIP) almost as soon as he received the honors.
Sure, the Cardinals could have easily given the ninth-inning duties to dynamite farmhand Trevor Rosenthal, but instead, Edward Mujica became their go-to.
Mujica, who only totaled four career saves prior to 2013, has thrived in his new role. The 29-year-old has posted 21 saves with a 1.97 ERA (vs. park-adjusted 3.13 xFIP), 0.65 WHIP and 27.00 K/BB.
Mujica's 0.28 BB/9 is obviously a career best—but so is his microscopic .190 BABIP. Considering that's 102 points below his career rate, there's little chance Mujica continues to be this dominant.
Odds for Second-Half Success Continuing: 45 percent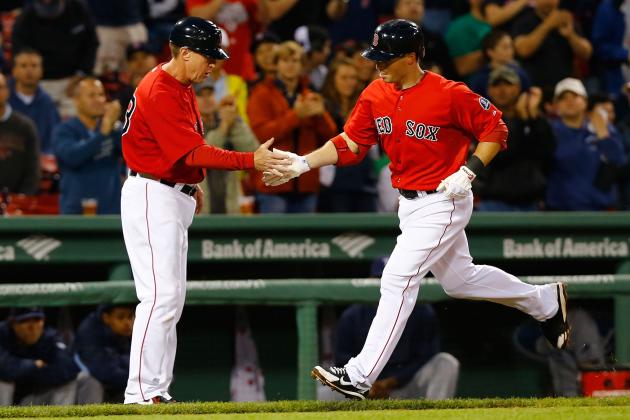 Jared Wickerham/Getty Images
Daniel Nava knocking one out of the ballpark.
With the loss of outfielders Cody Ross and Carl Crawford to free agency and trade, respectively, the Boston Red Sox really needed their internal options to rise to the occasion.
Luckily for the Red Sox, Daniel Nava got the memo.
Over 287 plate appearances, Nava has posted a .275 batting average with a park-adjusted 121 wRC+, 10 home runs and a 11.8 walk percent. The platoon of Nava (against right-handed pitchers) and Jonny Gomes (against left-handed pitchers) has been a successful one, as Nava has a particularly strong .289 batting average and park-adjusted 136 wRC+ against right-handers.
Nava's improved approach versus left-handed pitchers (from park-adjusted 65 wRC+ in 2012 to 81 wRC+) has lifted his overall production in 2013.
Odds for Second-Half Success Continuing: 85 percent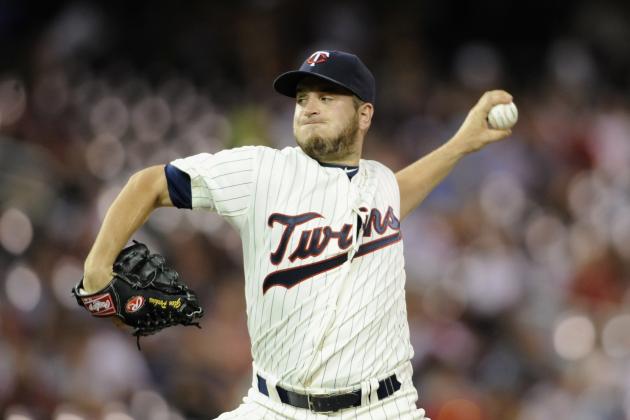 Hannah Foslien/Getty Images
Glen Perkins and his park adjusted 2.09 xFIP are dominating this season.
Perhaps Glen Perkins shouldn't even be on this list. After all, he did post a 2.56 ERA with 16 saves in 2012. However, few people expected him to truly emerge as one of the game's best closers in 2013.
Perkins has pitched to the tune of a 2.28 ERA vs. adjusted 2.09 xFIP, meaning his already elite ERA should actually be even better. His 13.01 K/9 this season is also a whopping 6.76 points better than his career rate. And even though his .236 BABIP is 42 points below his rate from 2012, Perkins is allowing 9.2 percent less ground balls this year than he did last (from 42.5 percent in 2012 to 33.3 percent).
It's safe to say that Perkins and his 18 saves will improve as the year goes on.
Odds for Second-Half Success Continuing: 95 percent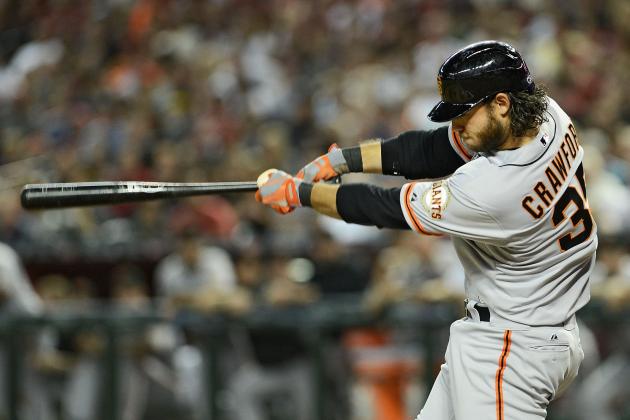 Jennifer Stewart/Getty Images
Just how good are you, Brandon Crawford?
The San Francisco Giants knew Brandon Crawford had a tremendous glove at shortstop (10.0 UZR/150 in 2012), but the 26 year old was a dud with the bat (.248 batting average and park adjusted 79 wRC+). Yet, somehow in 2013, Crawford has begun to hit.
In 276 plate appearances, Crawford has posted a .283 batting average with a park adjusted 111 wRC+, five home runs and a 7.6 percent BB%. It's hard to quantitate whether Crawford's batting average spike is for real, as the hitter's career BABIP is the sum of a .228 BABIP season in 2011 and a drastically superior .307 BABIP season in 2012. The large disparity makes his 2013 season a bit hard to project.
Odds for Second Half Success Continuing: 50 percent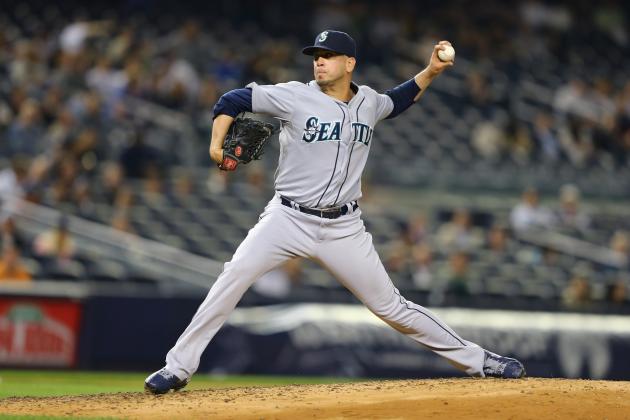 Al Bello/Getty Images
Really...him?
Former Mets' financial albatross Oliver Perez has completely reinvented his pitching career as a middle reliever. Perez, who once signed a three-year, $36 million contract as a starting pitcher with the Mets, is currently dominating out of Seattle Mariners bullpen (and only earning $1.5 million in doing so).
After toiling in the minor leagues for parts of about two years, the Mariners called Perez up in mid-June 2012. Perez rewarded the Mariners with a 2.12 ERA (vs. park adjusted 4.37 xFIP).
But Perez has been even better in 2013. The southpaw has pitched to the tune of a 1.05 ERA (vs. park adjusted 3.24 xFIP) with a 12.62 K/9 and amazing 99.3 percent strand rate. The former maligned pitcher has even notched a save and could be in line for more.
Given Perez's shaky history, it's highly unlikely he'll continue pitching at this torrid pace.
Odds for Second Half Success Continuing: 20 percent