NHL Draft 2013: Final Look at Tampa Bay Lightning's Best Options in 1st Round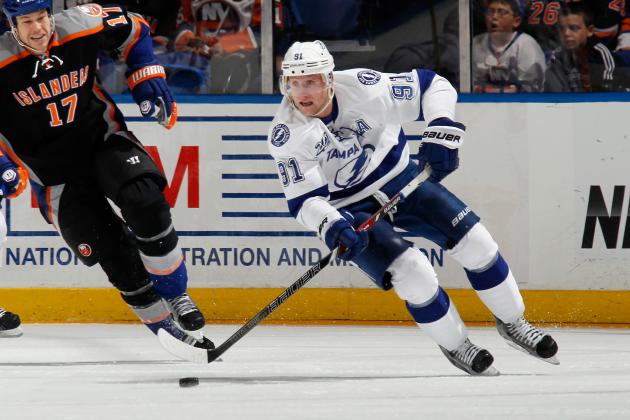 Bruce Bennett/Getty Images
The future of the Lightning franchise rests squarely on the shoulders of Steven Stamkos, but the 2013 draft could take some of the load off.
The Tampa Bay Lightning have the No. 3 pick in the 2013 NHL Entry Draft—that's all that anyone knows at this point. They will be choosing from some very talented players. With the seasons and the combine finished for the prospects, the Lightning look toward their best option in the first round.
Speculation continues to swirl around the No. 1 pick in the draft, which has caused uncertainty for the Lightning. While it could be a bit of gamesmanship, the Colorado Avalanche have all but ruled out drafting the top defenseman in this year's class, Seth Jones.
However, the Avalanche are still open to trading their top pick, which could lead to another team swooping in and taking Jones before he gets to the No. 3 spot. Basically, any one of the top five prospects could be available to the Lightning.
With that in mind and the draft a week away, here is a final look at the best first-round options for the Lightning.
All scouting reports courtesy of EliteProspects.com
Begin Slideshow

»
The NHL's Central Scouting still feel like Seth Jones is the No. 1 prospect in this year's draft. With defensemen at a premium in the NHL, Jones' size and skating ability make him a valuable addition.
Tampa Bay finished 26th in the league in goals against last season (3.06 per game). Adding another defenseman—especially with Brian Lee's knee surgery—would only help with depth and skill.
Scouting Report from EliteProspects.com:
A defenseman with an excellent frame. Jones' athleticism allows him to be a very good skater for a player of his size. He has excellent mobility and is solid both offensively and defensively. Jones gives a smart first pass and is also capable of utilizing his skating ability to bring the puck up himself. He has good hockey sense and is an asset on the power play thanks to his mobility, puck handling and a very dangerous slap shot. - Matias Strozyk, 2012
The most frustrating thing about the Colorado Avalanche leaning toward a forward with the No. 1 pick is that the Lightning could go from having a choice of exciting scorers to none. If the Avs select Nathan MacKinnon and the Florida Panthers select Jonathan Drouin, the Bolts' decision would be pretty easy.
However, if a high-level scorer like MacKinnon is available, the Lightning need to give it a serious look. MacKinnon is the No. 2-rated North American skater and the No. 1-rated forward. The fact that he is a center makes things more interesting with the speculation surrounding Vincent Lecavalier's buyout.
Scouting Report from EliteProspects.com:
A superstar in the making since an early age, MacKinnon provides a very complete combination of speed and skill. He is an amazing skater with fantastic puckhandling. MacKinnon has the ability to make quick plays and score flashy goals, but isn't shy about battling for the puck in front of the net either. He is surprisingly physical and owns a great shot to go along with quick hands. - Matias Strozyk, 2012
Fear not, Lightning fans; if these two aren't available, there is still some North American flavor available. Jonathan Drouin is just as good as the players mentioned earlier.
Drouin is an enticing pick because he is a talented left-winger. Adding some secondary scoring from that side of the ice would be a great addition to the Bolts. He could easily slide into the second line with Lecavalier and another young player like Richard Panik.
Scouting Report from Elite Prospects:
Agile forward, Drouin is very creative and a good skater. He is an extremely offensive player with fantastic hands and excellent on-ice-vision. Drouin has a good shot but is best used as a playmaker and is very dangerous on power play. Drouin is not a large player or an explosive skater, but he is very agile and able to play his way out of tight spots thanks to his hockey sense. - Matias Strozyk, 2012
Moving overseas, Valeri Nichushkin has eased some of the worry that surrounds drafting a Russian player. Fear of losing the pick to the Kontinental Hockey League is always worth noting, but Nichushkin has said he is serious about coming to the NHL.
A highly skilled right wing, Nichushkin doesn't have the numbers to support his case—yet. At 6'3" and 201 pounds, he is a big presence with solid hands and a lot of upside.
Scouting Report from EliteProspects.com:
Nichushkin is a winger with the size, speed, and raw skill to become a big-time scorer. He has great scoring and playmaking ability.
He has become a bit of a dark horse for the Lightning despite being the top-rated European skater, but Aleksander Barkov is the real deal. He is skilled on offense, and is a center which ties back to the Lecavalier issue.
He had seven points for Finland in the U-20 World Junior Championships this year and 48 points in 53 games for Tappara in Finland's SM-Liiga. At 6'2", he commands attention in front of the net, but do the Lightning need another player who isn't solid on defense?
Scouting Report from EliteProspects.com:
A very calm center who uses his vision well, Barkov has an excellent offensive game and good size. His very good passing and puckhandling combined with great hands and hockey sense make him a big offensive threat. He plays with high confidence and never seems to be under pressure. Barkov is a creative with a very solid overall package and the skill set to compensate for his below-average skating, making him one of the top prospects for the 2013 NHL Draft. - Matias Strozyk, 2012