Chicago Blackhawks: Who Suits Up If Jonathan Toews Misses Game 6?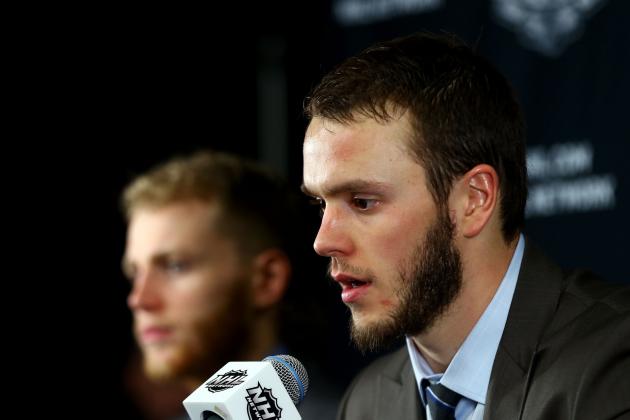 Bruce Bennett/Getty Images

Chicago Blackhawks captain Jonathan Toews missed the last 20 minutes of his team's Game 5 victory on Saturday. Of course, no one is going into much detail as to the extent of the injury. As per the secretive nature of the NHL injury report, we aren't even sure what the problem is.
Good luck getting details from the 'Hawks. All we know is that coach Joel Quenneville was optimistic that Toews could see action in Game 6. Whether the area of concern is his shoulders, head or elsewhere, I imagine that Toews will play if he can and sit if he is required to.
It would be great to see Toews in the lineup Monday night when Chicago and the Boston Bruins square off in Game 6 of the Stanley Cup Final. The big question is how Quenneville would choose to fill the spot vacated in the event that Toews is not able to go.
No matter what player is tapped for that role, Chicago loses one of the game's best two-way centers. All the 'Hawks can do is dress a player who can add something to the mix.
Quenneville could bring in another center from his reserves. He could also move one of his current skaters (Patrick Sharp, anyone?) to the middle and go with an extra wing.
With that in mind, here are some names that could factor into Game 6 if Quenneville has to replace Toews. Hopefully he'll allow them a warm-up.
Begin Slideshow

»
Jonathan Daniel/Getty Images

Mayers is a veteran and knows how to handle himself in the physical atmosphere that has marked this series. The hope would be that the 38-year-old Mayers comes up with one last big game.
If this was the 2011-12 Mayers who was so effective for the 'Hawks, he'd be a welcome addition. However, Mayers had just 19 appearances in the regular season and no playoff ice time.
Mayers can take and win a draw, which would come in handy since losing Toews means losing Chicago's best faceoff man. Quenneville is also very familiar with Mayers and may choose to go with experience.
Scott Rovak-USA TODAY Sports

Smith was a surprise replacement for Marian Hossa in Game 3. Seeing him in Game 6 in lieu of Toews is also a strong option available to Quenneville.
Smith is not a huge guy, but is a heady player who will battle for the puck and get to the front of the net. He played pretty well considering he was called down to the locker room minutes before the start of Game 3 without the benefit of skating the warm-up.
Quenneville could choose to go with a player who played in front of the TD Garden crowd just last week. The former Boston College captain could find himself on the ice again Monday.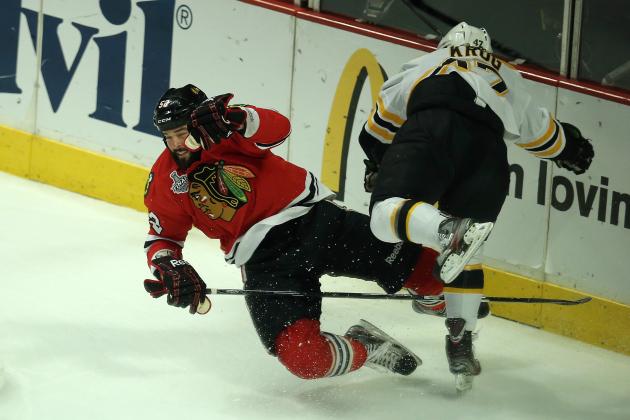 Jonathan Daniel/Getty Images

Bollig played in the first two games against Boston. He doesn't add much in the way of skill, but he is capable of delivering some hits.
Quenneville may decide that since Toews' skill can't be replaced, another banger in the lineup might come in handy. The argument against Bollig playing can easily be made but Quenneville has gone with him recently. It can't come as a total shock that he'd send Bollig out in Game 6.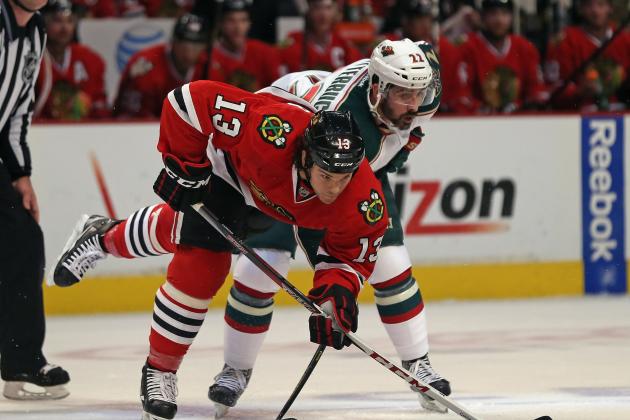 Jonathan Daniel/Getty Images

We haven't seen Carbomb since the Minnesota series. Like Bollig and Mayers, Carcillo will be comfortable mixing it up with the Bruins from a physical standpoint.
You might say that Carcillo is a little penalty prone, though. That could be a detriment when a team is trying to clinch the Stanley Cup on the road.
Again, a down and dirty player might come in handy as a desperate Boston team tries to knock the 'Hawks off their game. Quenneville might have better options in this phase of the game, however.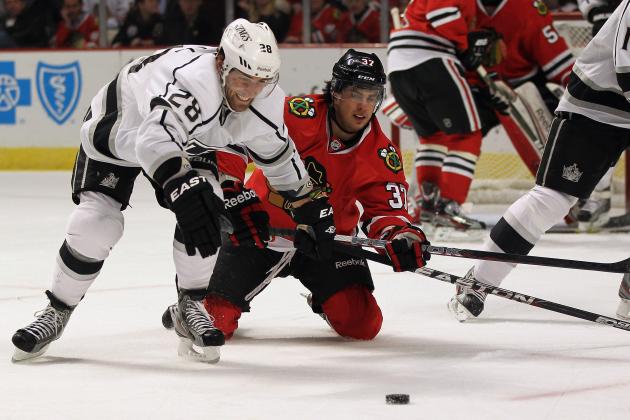 Jonathan Daniel/Getty Images

Pirri is a long shot for an appearance in Game 6. He led the AHL in scoring this past season and is a natural center. However, there is little chance that Quenneville will go with Pirri.
This has been a defensive-oriented series and Pirri does not have the confidence of the organization in this area quite yet. It's a stretch to think Quenneville would press Pirri into service. He's a talented player who you might see next season, but he isn't a fit against the Bruins.
Why include him on this list? Skill-wise, he might be the best center on the roster not currently skating for the 'Hawks.
In what direction will Quenneville choose to go? Hopefully he doesn't have to make a decision and Toews is ready to skate come Monday night. If that doesn't happen, I'd expect Mayers or Smith to be out there. It's the coach's call, though, and we can expect anything from Quenneville at this point.