2013 NHL Draft: Playing "Boom or Bust" with All the Top Prospects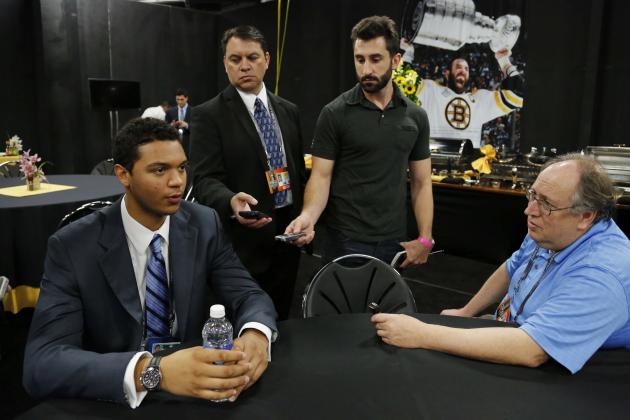 Greg M. Cooper-USA TODAY Sports
All eyes will be on Seth Jones and his counterparts at Sunday's draft.
There will barely be time for the Stanley Cup party to wind down before all 30 NHL teams get to work Sunday at the NHL draft.
While it's believed the talent pool is deep this year, it takes time to properly assess a draft class. To remind us of the vast spectrum of possibilities that could await this year's draftees, let's take a quick look at the fates of the top 10 picks from the class of 2010. (All game totals are NHL regular-season only.)
1. Taylor Hall, LW, Edmonton Oilers: 171 NHL games played, 145 points
2. Tyler Seguin, C, Boston Bruins: 203 NHL games played, 121 points
3. Erik Gudbranson, D, Florida Panthers: 104 NHL games played, 12 points
4. Ryan Johansen, C, Columbus Blue Jackets: 107 NHL games played, 33 points
5. Nino Niederreiter, LW, New York Islanders: 64 NHL games played, 3 points
6. Brett Connolly, RW, Tampa Bay Lightning: 73 NHL games played, 16 points
7. Jeff Skinner, C, Carolina Hurricanes: 188 NHL games played, 131 points, won 2011 Calder trophy
8. Alexander Burmistrov, C, Winnipeg Jets: 194 NHL games played, 58 points
9. Mikael Granlund, C, Minnesota Wild: 27 NHL games played, 8 points
10. Dylan McIlrath, D, New York Rangers: zero NHL games played, missed entire 2012-13 season after dislocating a kneecap during the Rangers' 2012 prospect development camp
While players like Hall and Seguin have become trusted NHL regulars, prospects like Johansen and Granlund are still struggling to find their NHL footing, while McIlrath may never play an NHL game. Out of the gate, the best of the bunch was Carolina's Jeff Skinner, who picked up 63 points in his rookie year to win the Calder Trophy.
Scouts can do their best to assess the potential of young hockey players but at 17 and 18 years old, the hands of fate will have plenty of opportunity to dictate the paths of these prospects.
Based on what we know today, here's a look at ten of Central Scouting's top prospects for the 2013 NHL draft, with a "Boom" or "Bust" rating for each.
Begin Slideshow

»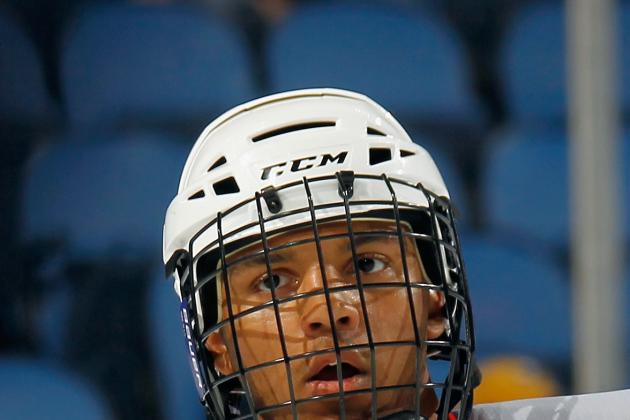 Bruce Bennett/Getty Images
Seth Jones.
6'3" 208 lbs.
Defense - Portland Winter Hawks (WHL)
Projection: BOOM
Seth Jones had a tremendous season coming into the draft, winning gold with Team USA at the World Junior Championship and reaching the final of the Memorial Cup with the Portland Winterhawks.
With good size and great mobility, he has all the tools he'll need to be logging big minutes on an NHL blue line in the not-too-distant future.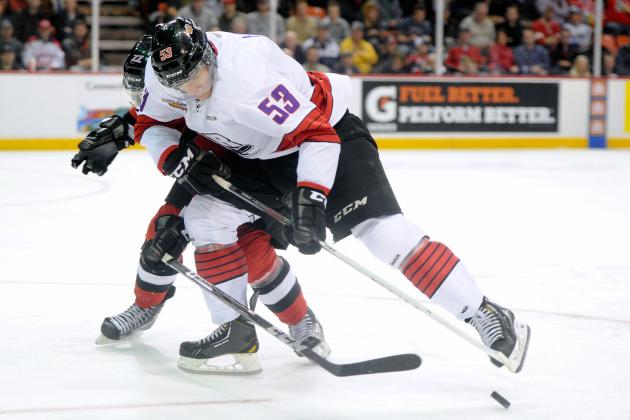 Richard Wolowicz/Getty Images
Nathan MacKinnon.
6'0" 182 lbs.
Center - Halifax Mooseheads (QMJHL)
Projection: BOOM
Nathan MacKinnon is a strong two-way center who put his team on his back in the 2013 Memorial Cup final.
Hailing from Sidney Crosby's hometown of Cole Harbour, Nova Scotia, MacKinnon has big skates to fill but appears to be up for the task.
Ryan Kennedy of The Hockey News ranks MacKinnon No. 1 overall in the draft, ahead of Seth Jones.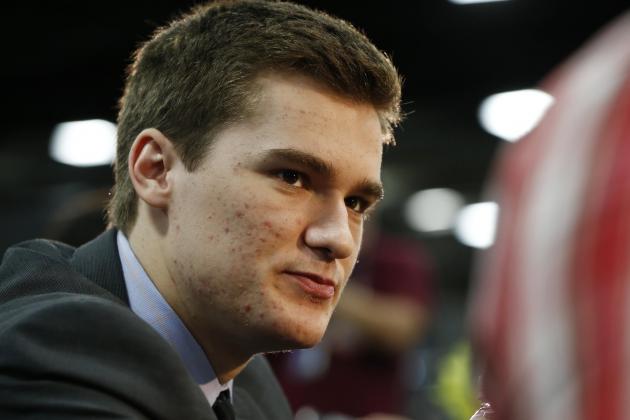 Greg M. Cooper-USA TODAY Sports
Jonathan Drouin
5'11" 185 lbs.
Left Wing - Halifax Mooseheads (QMJHL)
Projection: BOOM
Going into the draft, Drouin's projections are running neck-and-neck with his center, MacKinnon.
Both were standouts on their Memorial Cup-winning Mooseheads. Drouin is the more creative offensive force, putting up 105 points in 48 games during the regular season.
Some say Drouin might be too small to get into the dirty areas in the NHL, but with a similar build to Patrick Kane and a creative streak to match, it's likely that he'll be able to generate chances even at the game's top level.
TSN's Craig Button has ranked Drouin No. 2 among all draft prospects, ahead of MacKinnon.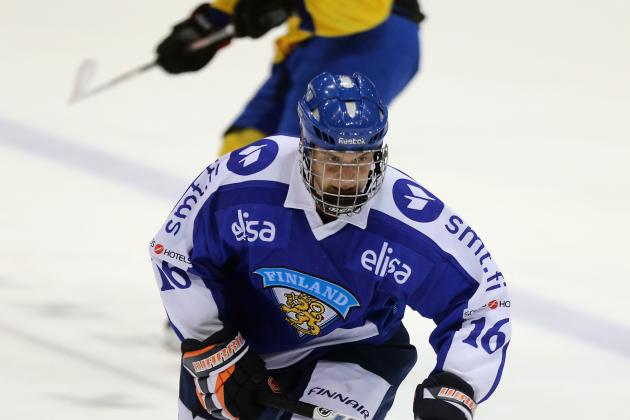 Bruce Bennett/Getty Images
Alexsander Barkov
6'2" 205 lbs.
Center - Tappara (FIN)
Projection: BOOM
Despite all the hype surrounding Jones, MacKinnon and Drouin, Barkov may be the most talented player available in this year's draft.
At just 17 years old, he finished in the top ten in scoring in the Finnish Elite League. Considering he's not yet fully developed, there's plenty of room for Barkov to add even more grit to his game.
A big body with soft hands is high on the wish list of most any NHL team.
6'4" 196 lbs.
Left Wing - Chelyabinsk (RUS)
Projection: BUST
Of the top five prospects, Nichushkin is the gambler's choice.
He's a big center with tremendous puck-control abilities who could, at best, turn out to be the next Evgeni Malkin or Jaromir Jagr. Or, he could be a lumbering behemoth whose European game doesn't translate well to the smaller NHL ice surface.
Like Barkov, Nichushkin spent last season playing in a senior men's league—in his case, the KHL. His rights are now held by Moscow Dynamo. According to Kevin McGran of the Toronto Star, Dynamo has agreed that he can play in North America next year if he's drafted—but only in the NHL, not one of the development leagues.
Nichushkin has said that he's ready and willing to come to the NHL. He'll have to make an immediate impact to have success.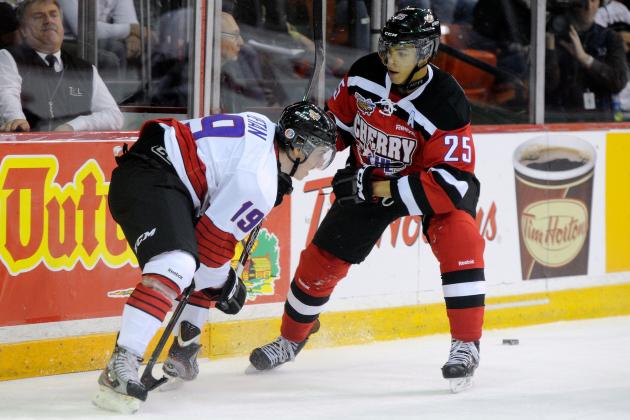 Richard Wolowicz/Getty Images
Darnell Nurse.
6'3" 189 lbs.
Defense - Sault Ste. Marie (OHL)
Projection: BUST
In the OHL, Nurse has been able to play a physical game while also contributing on the scoresheet.
At this point, however, his frame's not ready to bring that pounding style to the NHL. While Central Scouting has Nurse ranked as the No. 4 North American skater, TSN's Craig Button dropped the defenseman from sixth to eighth on his final draft list.
Nurse will need to fill out and acquire more seasoning before he's ready to make an impact with the men. His next couple of years of development will be critical to his future NHL chances.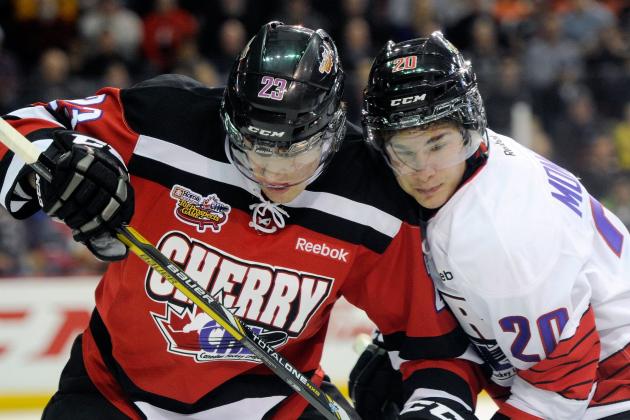 Richard Wolowicz/Getty Images
Sean Monahan.
6'2" 186 lbs.
Center - Ottawa (OHL)
Projection: BOOM
Craig Button has moved Sean Monahan up one notch in his overall player rankings. The captain of the Ottawa 67's had a strong season on a weak team this year. His two-way game is effective and he brings good size to his center position and good leadership to his team.
Monahan's not flashy, but as one of the older players in the draft his development might be ahead of some of his counterparts. He'd suit a third-line role which could help him transition to the NHL effectively.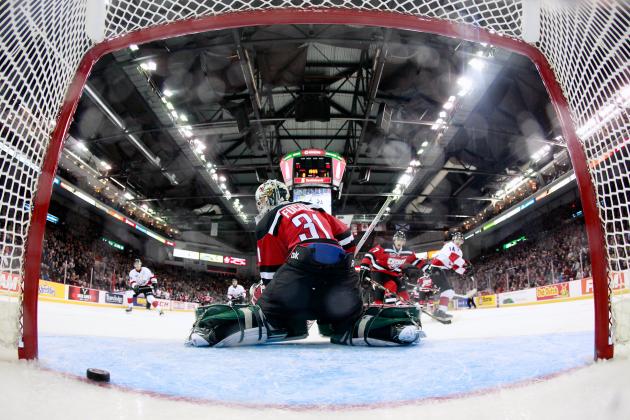 Richard Wolowicz/Getty Images
Zachary Fucale
6'1" 181 lbs.
Goaltender - Halifax (QMJHL)
Projection: BUST
Goaltenders. Every successful team needs a good one, but they're the toughest position of all to project.
In his second year with the Halifax Mooseheads, Zachary Fucale made the QMJHL first all-star team and backstopped his squad to a win at the Memorial Cup.
TSN's Craig Button has pushed his ranking all the way up to No. 7 overall, while others have him projected as a late first-rounder.
With such a long stretch of development still ahead, the likelihood is high that Fucale won't become the next Corey Crawford or Tuukka Rask. Approach with caution.
5'11" 181 lbs.
Center - Brynas (SWE)
Projection: BOOM
Elias Lindholm is a shifty center who just completed his first year in the Swedish Elite League. Lindholm is a skilled playmaker who excels in the transition game. He plays a heady style that keeps opponents guessing and should mesh well in the NHL.
A second-generation NHL-er, Lindholm's father Mikael was drafted by the Los Angeles Kings in 1987 and played 18 games for the club during the 1989-90 season.
Lindholm may not join the NHL ranks immediately, but he has the tools to be a valuable asset for years to come.
5'11" 174 lbs.
Center / Left Wing - Medicine Hat (WHL)
Projection: BUST
Hunter Shinkaruk will tease scouts with his scoring skills and big offensive numbers with the Medicine Hat Tigers, but his two-way game needs work.
In today's NHL, not many players are given license to create offense at the expense of their defensive responsibilities. Those are the lessons Shinkaruk will need to learn in the next phase of his development.
At just 174 pounds, Shinkaruk will also need to bulk up before he can be considered NHL-ready. A big change in his body style could wreak havoc on the nifty moves he's using to score goals at the junior level.
Shinkaruk is a highlight-style player but will need to add more to his game if he is to succeed.