9 Things a Minnesota Vikings Fan Says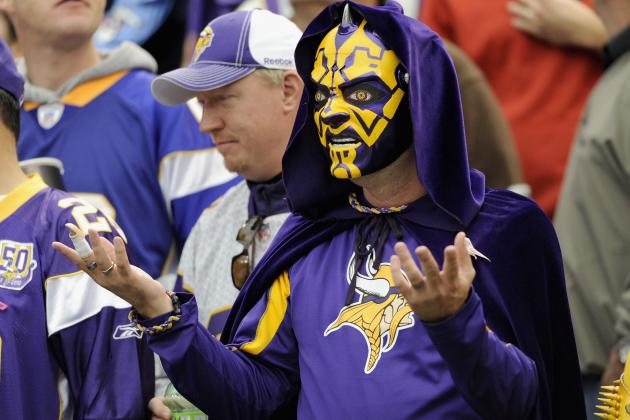 Hannah Foslien/Getty Images

Fan bases across the sporting world come together over the history of their team and the common characteristics they possess as people.
That's what we're looking at here. The focus is on what Minnesota Vikings fans might talk about in their spare time relative to the team and its history as well as what Vikings fans have in common as people.
The material in here (for the most part) doesn't relate to the current roster. It relates to bigger moments or players in franchise history and some of the more unique things that have occurred, on and off the field.
Some of these are serious. Some of these are sarcastic. I hope you can tell the difference.
I welcome Vikings fans to post comments about what type of material they would have put in here.
I look forward to reading your comments and gathering your insights.
But for now, check out my thoughts.
Begin Slideshow

»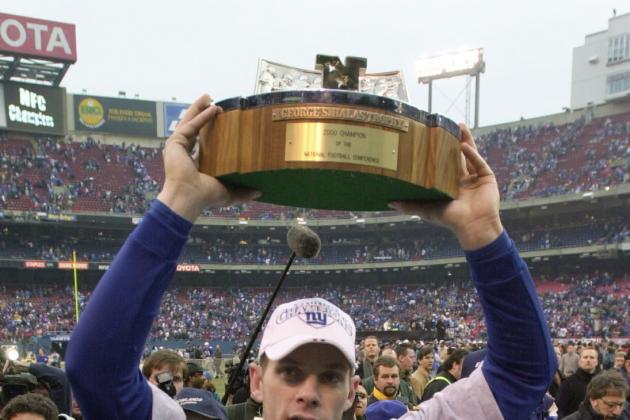 Ezra Shaw/Getty Images
Kerry Collins celebrates his New York Giants' 41-0 victory over the Minnesota Vikings in the 2001 NFC Championship game.
This is a phrase many Viking fans can lean on after losing any tightly contested affair.
It's tough for it to get worse for Vikings fans than it was on Jan. 14, 2001, when their club lost 41-0 in the NFC Championship game to the New York Giants.
It makes losing four Super Bowls in the 1970s look easy because, hey, at least you were in the Super Bowl and (for the most part) competitive.
Losing 41-0 on national television in the largest media market in the United States with the entire country watching is humiliating. There's no way to defend it.
So, when Vikings fans are feeling down. They remember, it could always be worse.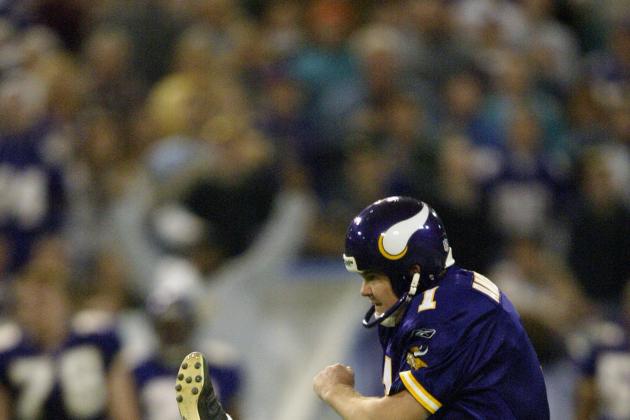 Elsa/Getty Images
Gary Anderson was 39 of 40 on field goals in 1998. His one miss came in the NFC Championship game, which would have given the Vikings a Super Bowl berth.
But then there was this game.
That previous slide would be a tough sell for Viking fans trying to feel better about the 1999 NFC Championship game.
Minnesota finished the 1998 regular season 15-1, boasted what was then the NFL's best scoring offense ever and went on to host the Atlanta Falcons with the opportunity to get to the Super Bowl.
Gary Anderson, Minnesota's kicker, was 35 of 35 in the regular season and 4 of 5 in the postseason.
That one miss? It came in this game with an opportunity to clinch a trip to the Super Bowl. Instead, it was his lone miss of the season and was a major reason why Minnesota hasn't been to a Super Bowl since Bud Grant last coached.
A reference of the kick made it onto CBS's "How I Met Your Mother" and is considered one of the biggest disappointments in NFL history, according to the NFL Network.
It's kind of a big deal and a touchy subject for fans across Viking Nation.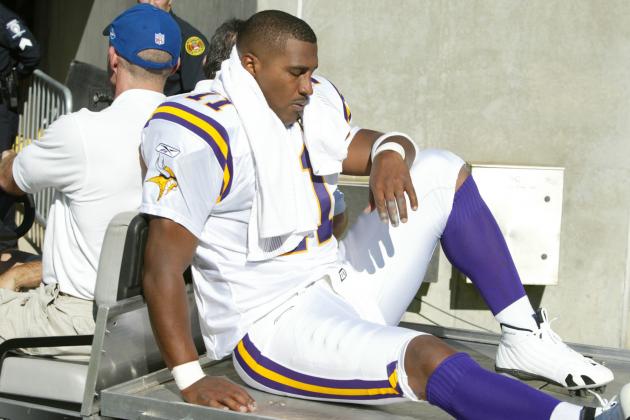 Craig Jones/Getty Images
A serious knee injury in 2005 derailed Daunte Culpepper's career.
Daunte Culpepper was a bit of an up-and-down player during his time with the Minnesota Vikings.
He was an MVP candidate in 2004 with 39 touchdown passes with 4,717 yards. Now, the turnover bug always bit hard. While playing a full 16-game season, he never had fewer than 11 interceptions or four fumbles.
But he had the potential to be a franchise-altering quarterback.
That all crashed after a knee injury ended his 2005 season and career in Minnesota (Brad Childress didn't appear to want to work with Culpepper after he was hired for the 2006 season). His career was never the same after that injury.
Had he stayed healthy in 2005, would he still be in Minnesota today? Would Mike Tice still be the coach? Would he have overcome his turnover demons? Had he done that, would he have led Minnesota to a Super Bowl?
Instead, Culpepper is out of the NFL and Minnesota is still looking for its franchise quarterback.
Sort of.
The film "Fargo" is based in Minnesota and is filled with characters personifying the stereotypical Minnesotan accent. And many people who haven't been to Minnesota or haven't experienced Minnesotans believe that citizens of the state talk just like the characters in Fargo.
Now, not all Vikings fans are from Minnesota but the majority are, which means many people think most Vikings fans sound like Fargo characters.
Of course, there are some Minnesota fans who will sound like the characters from Fargo. But not all of Viking Nation does.
Because no one was injured in the incident, the collapse of the Metrodome during the 2010 season is one of the greatest literal displays of a season gone wrong.
The 2010 campaign was one of the biggest disappointments in Vikings history and the collapse of the roof was just the icing on the cake.
Had someone been injured in the incident or had the Metrodome been a newer entity, the story would be different. But because the Vikings were "in need' of a new stadium and no one was injured (and now that it's in the past), it's an incident fans across Viking Nation can poke fun at.
It's tough for another coach to leave behind a legacy similar to that of Bud Grant, but he has been the most successful coach in franchise history.
He had 18 years to generate his impact, an amount of time no other coach in the franchise has been allotted, which gives him an unfair advantage over the competition.
But Grant is the only man who has led Minnesota to a Super Bowl and boasts a career .622 winning percentage.
Now, Minnesota fans don't literally want Grant to return to the sidelines (the man is 86 years old). But they are clamoring for another coach to leave a lasting positive impact on the franchise.
Lord knows Dennis Green, Mike Tice and Brad Childress didn't have it in them.
Time will tell if Leslie Frazier does.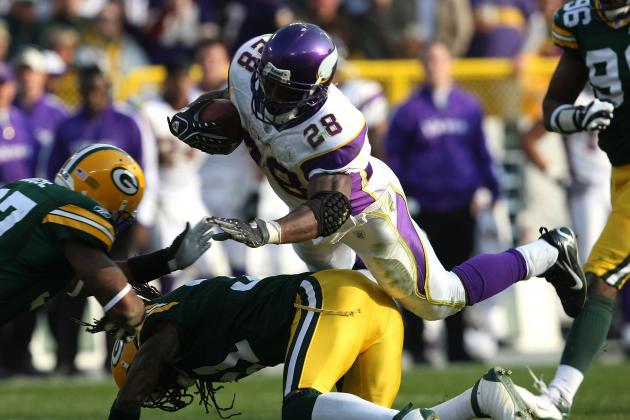 Jonathan Daniel/Getty Images
Adrian Peterson returned to the field less than 10 months after tearing his ACL.
This is a topic that more than just Vikings fans have discussed.
But it's a valid question.
Adrian Peterson has just about rewritten the book on recovering from a torn ACL.
Friends of mine on the path to receiving doctorates in physical therapy say their professors explicitly discussed Peterson's recovery, stating that the industry's professionals must do their best to temper the expectations of clients who think they can recover from the injury like Peterson. It's just not normal.
Peterson played football less than 10 months after undergoing surgery to repair his torn ACL and nearly rewrote the NFL single-season rushing record book while he was at it.
He's clamoring for 2,500 yards this season. Should he get that, this discussion will go a step further.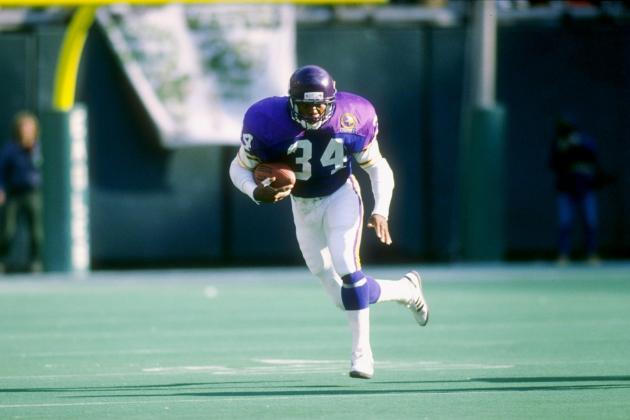 Rick Stewart/Getty Images
The Vikings dealt the kitchen sink for Herschel Walker and got a wrench in return.
Could have been worse
Set the franchise back...a bit
Is in the dictionary as an example of "horrible"
Can't be undone, get over it
Was AWESOME!
You get the idea.
From the optimists, the pessimists and the sarcastic, everyone has some form of a twist on the trade with the Dallas Cowboys that brought running back Herschel Walker to Minnesota.
It empowered the Cowboys to select Emmitt Smith and Darren Woodson, among other notable players.
Walker played just over two seasons in Minnesota and never rushed for 1,000 yards. He wasn't the running back that the organization coveted.
Ironically, of course, Smith could have been that guy...
It's easy to see how this topic gets Vikings fans talking.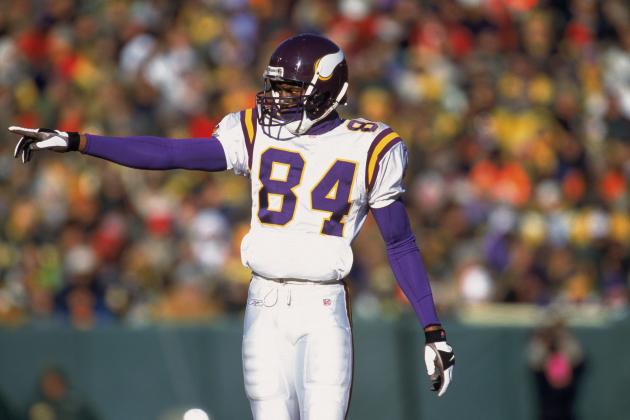 Jonathan Daniel/Getty Images
Prior to the 2002 season, then-coach Mike Tice stated that 40 percent of passes should go to Randy Moss.
Since the "Randy Ratio" died after the 2002 season, Minnesota fans have tried to keep it alive.
The premise of the Ratio was to get Randy Moss the ball on 40 percent of Minnesota's passing plays.
Because Minnesota fans bleed purple and gold and understand the beauty of former coach Mike Tice's plan (Moss recorded what was then his career low in touchdown receptions that season), they've tried to keep the Ratio living all these years later.
Not only does it pay homage to one of the game's greatest receivers, but it also allows them to keep their friends, family and co-workers involved in their lives.
Here are some of the best uses:
Allow Joey to mow 40 percent of the lawn
Have Joey fill 40 percent of the gas tank
Leave only 40 percent of the Pepsi for Joey
Offer Joey 40 percent of your day
Allow Joey to do 40 percent of the project while the five other teammates do the rest
You get the idea. Have other suggestions?
Post them below.