Texas Rangers vs. St. Louis Cardinals: Live Score, Analysis and Reaction
W: Robbie Ross (4-1)
L: Adam Wainwright (10-5)
SV: Joe Nathan (25)
Final: Rangers 2 Cardinals 1
Follow Zachary on Twitter at @ZacharyKrueger
Kozma hits a sharp liner to third that is caught by Beltre, lining into a double play as Robinson is caught out of position and tagged out at second. Rangers sweep the Cardinals, winning this game 2-1.
Allen Craig singles to left field, moving Robinson to second base. One out in the inning, and the Cardinals now have the winning run on first. If Nathan gets a save tonight, it won't come easy. Kozma now up. It would be a great way for him to redeem himself of his error in the seventh with a big hit here.
Adams wastes no time at the plate, singling to right field on the first pitch he sees from Nathan. Shane Robinson on to pinch run for Adams.
Molina pops out to Kinsler for the first out in the ninth. Here comes Matt Adams.
Matt Adams will pinch hit for Choate. The big left-handed hitter is hitting .306 on the season. Molina still at the plate.
Martin strikes out on three pitches. Molina, Choate and Jay will start off the bottom of the ninth for the Cardinals, although Choate will almost certainly be pinch hit for. Nathan coming on for the save.
Choate also facing lefty Leonys Martin here in the ninth. So far, so good as he has retired the first two hitters of the inning.
Choate staying on to face lefties Moreland and Murphy. Moreland grounds out for the first out of the ninth. Joe Nathan warming in the bullpen. Looking to make his fourth save in four days.
Allen Craig grounds out to end the eighth inning. Texas now trying to increase it's lead heading into the ninth.
Holliday pops out in foul territory to Moreland for the second out of the inning.
Beltran hits a sharp grounder to first on the first pitch he sees. Texas was unable to draw the double play as Scheppers was unable to cover first base after the throw by Moreland.
Neal Cotts opens the eighth inning to face lefty Matt Carpenter. Carpenter plays the mismatch well, hitting a blooper into left field for a single. Ron Washington now taking a chance, bringing on righty Tanner Scheppers to face Beltran, who has had more success hitting righties this season than he has lefties.
Choate strikes out Pierzynski to end the top half of the eighth.
Beltre strikes out swinging to end his at-bat. Pierzynski now coming on as the Cardinals will bring on lefty Randy Choate to face him.
Seth Maness in to pitch the eighth inning for the Cardinals. Nelson Cruz starts the inning off with a deep fly ball to right field. Beltre up next.
Kozma unable to atone for his error in the seventh inning, Cardinals go down in order following a groundout by Descalso.
It really is amazing to see how many fans are still at this ballpark at 12:25 a.m. Most probably arrived at 4:30-5 p.m.

— Buster Olney (@Buster_ESPN) June 24, 2013
Cotts makes quick work of Jon Jay, striking him out in four pitches.
Neal Cotts now on the bump for Texas here in the bottom of the seventh inning.
7th inning stretch in STL. Up next for Cardinals - Jay, Kozma, & Descalso.

— Texas Rangers (@Rangers) June 24, 2013
Rosenthal strikes out Andrus to end the inning, but not before the damage was done. Rangers up 2-1.
St. Louis pulled a double-switch when they opted to bring in Rosenthal for Wainwright. Wainwright now in line for a loss after Martin scored.
Double switch: Trevor Rosenthal in to pitch (batting 6th). Daniel Descalso in defensively at 3B (batting 9th). David Freese out.

— St. Louis Cardinals (@Cardinals) June 24, 2013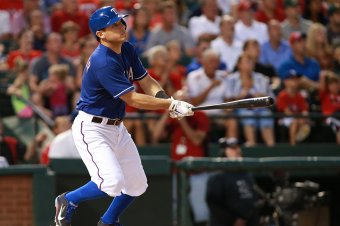 Rick Yeatts/Getty Images
Kinsler singles home Martin to put the Rangers up 2-1. The error my Kozma now becomes a costly one as the inning should be over. Texas started this rally with two outs and nobody on.
This article is
What is the duplicate article?
Why is this article offensive?
Where is this article plagiarized from?
Why is this article poorly edited?