Cristiano Ronaldo's Move to Manchester United Would be Great for Premier League
David Ramos/Getty Images
Real Madrid's Cristiano Ronaldo, one of the two best soccer players on earth no matter how you slice it, may be on the market this summer, and one of his most-rumored suitors is also one of his once-jilted teams.
Manchester United has long been linked to re-acquiring Ronaldo, who played for the Red Devils from 2003-09 before making the switch to La Liga. And now, according to the Daily Star, those talks might be getting closer and more specific—potentially even involving United stalwart Wayne Rooney:
Wayne Rooney and Cristiano Ronaldo have been linked to a sensational £90million swap deal between Man United and Real Madrid.

Ronaldo would cost a cool £60m and his return to the club where he made his superstar name would delight the faithful.

It would also soften the blow of losing such an icon as Rooney, who has two years left on his current United deal.
Let's ignore, for now, the impact of losing Rooney and focus of the man being acquired.
Though Ronaldo's return would be divisive for many reasons, the pros seem to outweigh the cons. Bringing Cristiano to Manchester would be like bringing LeBron to the Lakers or Albert Pujols (circa 2009) to the Yankees. Even soccer-hostile SportsCenter wouldn't be immune to the story's allure; it would be a media spectacle the likes of which England has rarely seen.
Though not always the case, the media attention focused on United would be a good thing. It's a time of change at Old Trafford: They'll have a new manager for the first time since 1986 after Sir Alex Ferguson's retirement, and with Rooney one foot out the door, the on-field face of their franchise would need a replacement as well.
What's the best way to avoid talking about what you've lost? Divert attention to the shiny new toy that you acquired!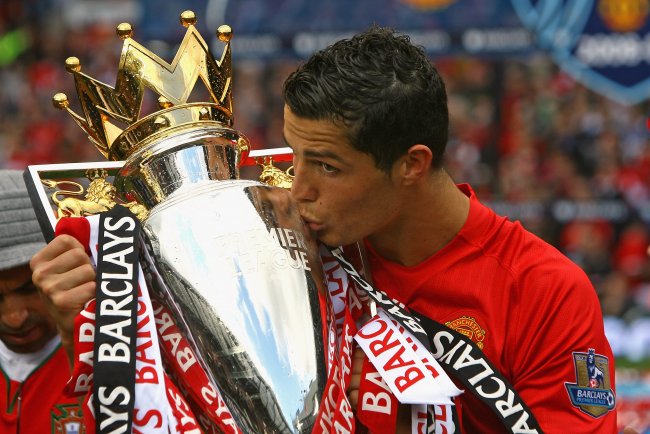 Alex Livesey/Getty Images
Ronaldo would give United fans immediate hope in the wake of losing their incredible knight/manager. Here is a striker that has scored 50-plus goals in three straight club seasons, a man capable of playing both within the bounds of a team, but also of taking over by himself. With a top-two player in the world donning the famous red jersey, it hardly matters which man is donning the suit and tie on the sideline.
Acquiring Ronaldo would have a major impact on English soccer as a whole, too. The Premier League is in desperate need of an image overhaul, especially after this year's Champions League. The All-German final was preceded by an All-German-and-Spanish semis, a two-country showdown that England missed out on entirely.
But that's not the worst of it. The quarterfinal round, soccer's elite eight, was also without a team from the Premiership. Relative underlings like Malaga from Spain or Galatasaray from Turkey made it further than any team from England. Manchester United and Arsenal both ducked out one round earlier while Chelsea and Manchester City didn't even make it past group play.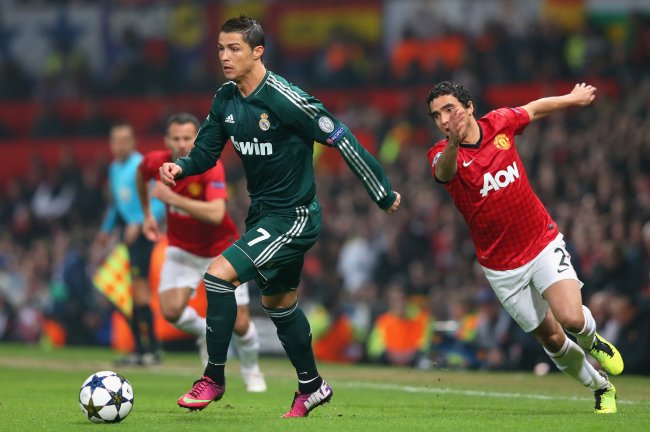 Alex Livesey/Getty Images
Manchester United is always a contender in the Champions League, but adding Ronaldo to the mix would make them an instant favorite. The narrative next year would be less about "whether England can redeem last year's failings," and more about "whether Cristiano can lead United back to glory." See the difference there? The whole league could spin a positive story in place of a negative one.
It could spare itself, and all of its entrants in next year's Champions League, the added pressure of having to vindicate its country. The clubs could just go out there and play—it's what they do best, after all, is it not?
Intrinsically, Ronaldo's addition might cause a small shift in the balance of power. United, for those who don't know, did run away with the league crown in 2013, finishing 11 points clear of second-place Manchester City. There's a chance this would only make the rich richer, that it would be adding a veritable fortune to Warren Buffet's bank account.
Ronaldo to Manchester United Would be ___ For the Premier League?
But the Premier League has bigger extrinsic problems than intrinsic ones. Still the world's deepest league, and still the world's most popular league, domestic issues are not their primary concern. Until one team's domination affects ratings and attendance, it isn't a real problem at all.
The Premier League's problem is that despite being deeper and more popular, it is no longer considered better than the world's other divisions. One down year in the Champions League is enough to do five bad years-worth of damage.
La Liga has already gotten stronger with Neymar's move to Barcelona this summer. Bayern Munich is gearing up for a run at repeat.
If the Premier League wants to keep up, adding Ronaldo to its strongest side—while, in turn, taking him away from Spain—is the best thing it can do.
This article is
What is the duplicate article?
Why is this article offensive?
Where is this article plagiarized from?
Why is this article poorly edited?

Manchester United: Like this team?