Oregon Football: 5 Players We Are Most Excited to Watch in 2013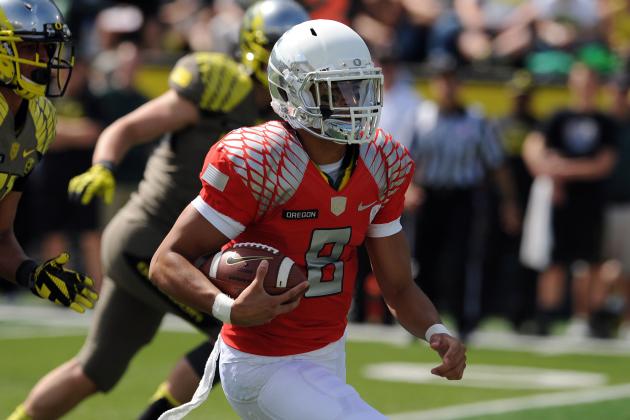 Steve Dykes/Getty Images
What will Mariota do for an encore this season?
There will be no shortage of exciting players to watch throughout the Ducks' 2013 season. In fact, few teams boast as much electrifying talent as Oregon, making the team must-see television on both sides of the ball.
But if you had to narrow down the list, which guys are you most excited to see? It could be an incoming player with a tremendous amount of hype. It may be a proven talent who, despite having made every play imaginable on a football field, still gets you pumped up when he touches the ball.
It might also be a player who has seemingly just begun to scratch the surface of his enormous potential, and the excitement lies in the anticipation of what improvements he'll have made for 2013.
In any case, Oregon has plenty of excitement surrounding the team and its players. Here are the five we are most excited to watch in 2013.
Begin Slideshow

»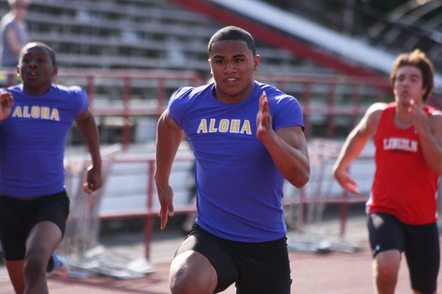 Thomas Tyner via 247sports.com
He hasn't played a down of major college football, but Thomas Tyner will arrive at Oregon with the most hype of any incoming player in recent memory.
Fans think they know what the Ducks have in Tyner, but the excitement here is created by the sheer potential of what the offense could become if the 5-star talent picks things up from the start.
You've surely read all about Tyner; about his size, his speed and the numerous records he set in the state of Oregon during high school.
But if he can make an impact immediately, the offense suddenly goes from a couple great running backs in De'Anthony Thomas and Byron Marshall (projecting a little with Marshall, obviously, but I think he'll do just fine) to having a full-blown, three-headed monster in the backfield.
And even without having played a down of college ball, Tyner is still going to be faster than most players he comes across—or simply runs around.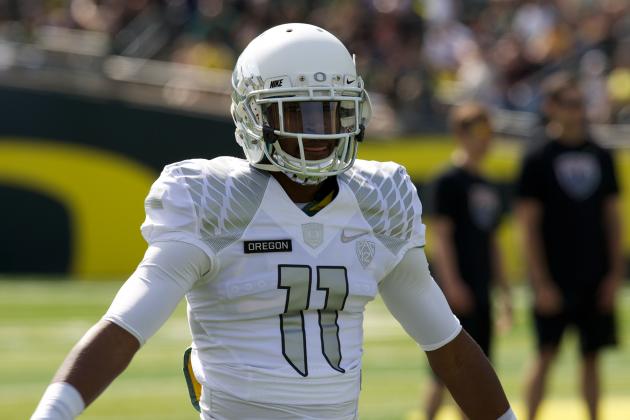 USA TODAY Sports
WR Bralon Addison
The Ducks certainly have more proven playmakers at the wide receiver position—Josh Huff, for one—but it's the sensational sophomore Bralon Addison who makes the list of top five players we are most excited to watch in 2013.
The thought here is that Huff will be fantastic as a senior, but I think we know what that looks like. He may have struggled through a rash of injuries, but we've seen Huff at his best and know how scary he can be for opposing defenses.
But I'm not sure Bralon Addison has even sniffed his full potential, and therein lies the excitement. If you saw the spring game, you saw a player who looked as though he had put in some serious work throughout the winter. He appeared to be much faster and showed confidence in his routes.
On several plays, Addison had defenders on skates trying to catch him. And if the speedy sophomore makes the step forward that I think he will, the Ducks' receiving core instantly becomes one of the league's best.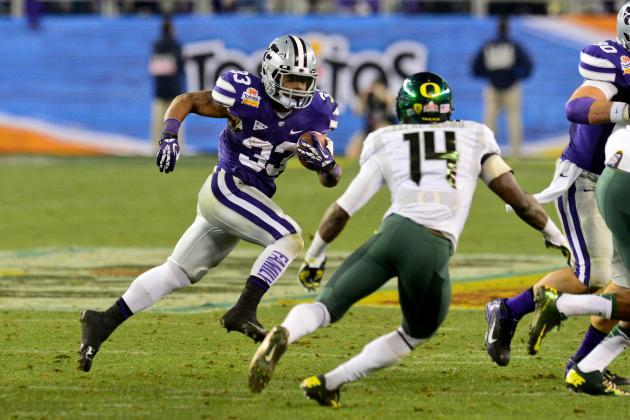 Matt Kartozian-USA TODAY Sports
Ifo Ekpre-Olomu tracks down the ball-carrier.
The list just wouldn't look quite right without one of the most electrifying cornerbacks in the country.
Entering last season, it was Terrance Mitchell, not Ifo Ekpre-Olomu, receiving a considerable amount of hype. And Mitchell certainly played his part, at least when quarterbacks weren't afraid to throw at him.
But the real standout was No. 14 Ekpre-Olomu, who emits the perfect blend of talent, confidence and swagger necessary to be elite at the position.
It started with the Arizona game when he had two interceptions, including one that he took to the house. But it continued throughout the rest of the year, and the Ducks now enter the 2013 season with one of the best corner tandems in team history.
If Ifo Ekpre-Olomu continues to improve and maximizes every ounce of talent within him, well, that's got to be a pretty exciting prospect for Ducks fans, huh?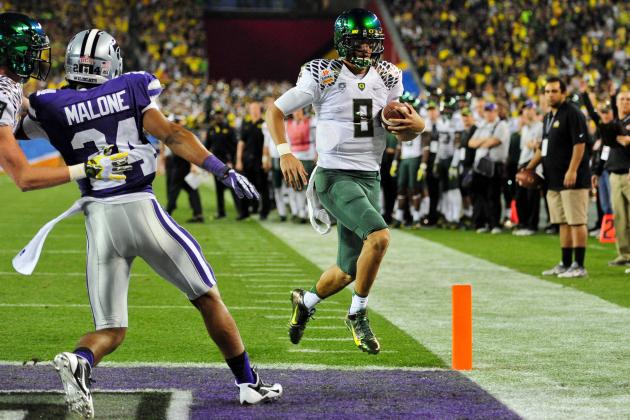 Matt Kartozian-USA TODAY Sports
QB Marcus Mariota trots into the end zone.
Gosh, enough of this guy already, right?
Apologies to those growing tired of Marcus Mariota talk (though I can't imagine that would include any serious Ducks fans out there), but this list would look pretty stupid without his name on it.
What's to be excited about? H'm, where do I begin?
For starters, the prospect of him actually getting better in year two despite having one of the greatest seasons by any quarterback in school history. Or maybe it's his skill set in general, which means his speed on the ground, accuracy with the football and decision-making during plays.
But I think beyond Mariota as an individual player, the excitement comes from what he means to this team. The Ducks have a great offensive line, uber-talented running backs, solid wide receivers and a wild beast at tight end. With Mariota, the offense might be more complete than it has ever been.
The craziest statistic in my mind is the one that shows Mariota only throwing a single pick in the entire second half of the season, when the schedule was much tougher. He'll be on many preseason Heisman lists, and there's no limit to what he can do on offense.
Pretty exciting stuff if you ask me.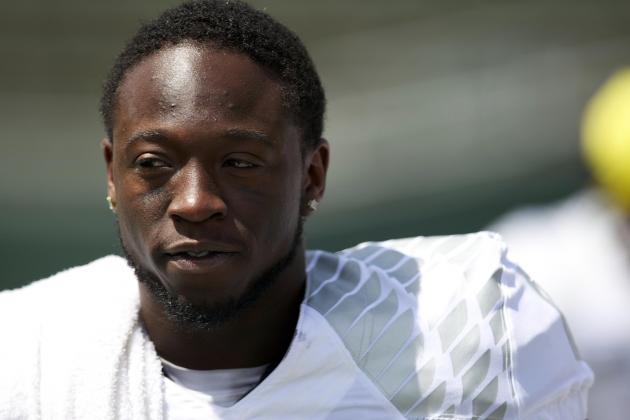 USA TODAY Sports
The Black Mamba!
The Black Mamba heads up this list and just about any other that ranks the most exciting and electrifying players in college football.
Above anything else, his instincts with the football are incredible. But when you add that to his unique ability to cut without slowing down, you get the Black Mamba in full.
After he burst onto the scene in 2011, he put up a similar 2012, which is to say that he was great but not quite as good as some had hoped.
That will change in 2013, when he'll become a focal point of the running game and perhaps the most explosive receiver on the team as well, though Josh Huff may have something to say about that.
De'Anthony Thomas can do anything he wants on a football field, and without Kenjon Barner or LaMichael James, don't be surprised to see him get 15-20 touches per game (carries/receptions combined) from now on.
And if that is the case, his 2013 highlight reel will be as exciting as there is in all of college football.