Confederations Cup: Rating Spain's Players in Their 3-0 Victory over Nigeria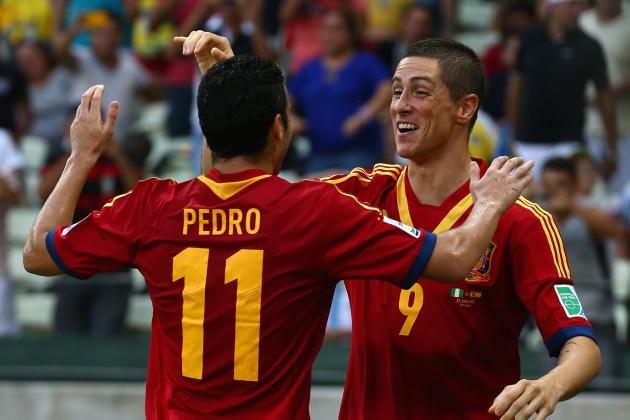 Robert Cianflone/Getty Images

Spain secured the top spot in group B with ease after a comprehensive victory over Nigeria. An early moment of brilliance from Jordi Alba gave the Spaniards all the cushion they needed to take a stranglehold on the game.
Nigeria flirted with the goal on occasion but were unable to put one past Victor Valdes. They kept things lively throughout the first half but withered in the second after chasing the ball most of the match.
Fernando Torres continued his scoring form with a terrific header that put the game out of reach, and Alba exposed a defensive lapse late on for his second of the day to kill off any chance of a comeback.
All in all, this game appeared to be something of a formality for Spain, who meet Italy in a semifinal clash on Wednesday.
Read on to see ratings for each player.
Begin Slideshow

»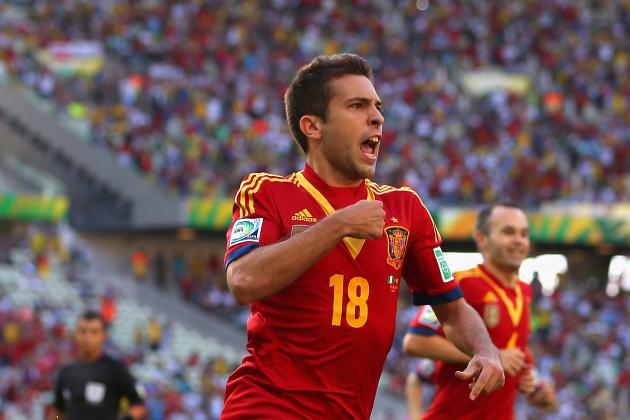 Clive Rose/Getty Images

Victor Valdes (6/10)
Valdes—like most Spanish keepers—had a comfortable afternoon. Nigeria threatened here and there but were unable to put their chances on target. When they did manage to put it on goal, Valdes looked strong and composed, securing a clean sheet.
Alvaro Arbeloa (6.5/10)
The Real Madrid man had another great game for La Roja. His athleticism allows him to roam up and down the pitch with ease, transitioning from defense to attack fluidly.
He had a few disappointing decisions in the attacking third—and had a rather lazy giveaway that brought pressure on late—but overall another solid performance at right-back for Alvaro Arbeloa.
Jordi Alba (8.5/10)
Two goals from a left-back is something special. Alba reminded the world that he is one of the best attacking fullbacks on the planet. He made the whole side of the pitch his domain and roamed freely on the wing.
The fullback was caught out a few times, but he more than made up for any defensive lapses this game.
His first goal was magnificent. Receiving the ball from Andres Iniesta on the corner of the box, Alba cut past four Nigerian defenders, caught a fortunate bounce and swept the ball home to put Spain up after just two minutes.
But Alba wasn't done for the day. He recognized a momentary lapse following a Nigerian corner kick and leaked out near the halfway line. David Villa played him through, and Alba showed great composure to round the keeper and kill the game in the 88th minute.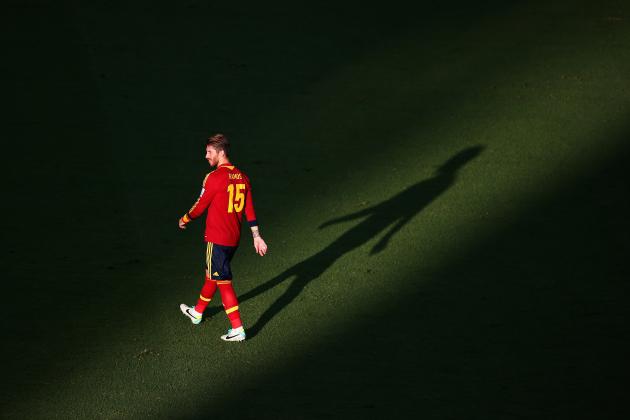 Clive Mason/Getty Images

Sergio Ramos (6.5/10)
Sergio Ramos put in another good shift at the back. His ability to win balls in the air is welcome in a side littered with diminutive talent—though Nigeria looked dangerous on a few crosses.
Ramos was called upon to make a key block as Nigeria brought the game to them for spells in the first half.
Gerard Pique (5.5/10)
The Spanish defense looked more porous than usual this afternoon, but Nigeria failed to capitalize. Pique lost his man in the box on a few crosses and a chip over his head put Joseph Akpala through on goal.
The Barcelona man was strong on the ball, however, and by the end of the match he passed with ease against an exhausted Nigerian side.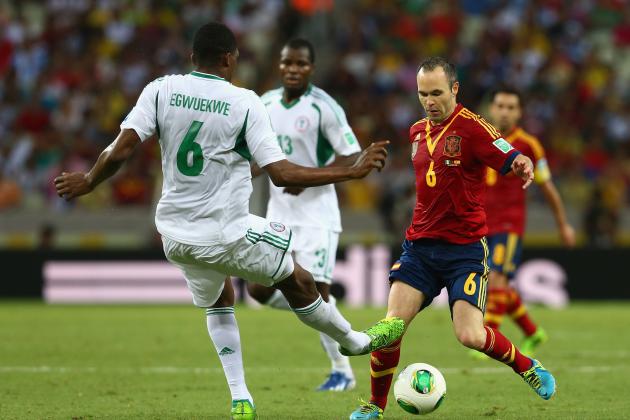 Robert Cianflone/Getty Images

Xavi (7/10)
Xavi was his usual self, dictating possession with his magical feet. He did not get too high but calmly distributed throughout the side in clockwork fashion.
Xavi was tested defensively as Mikel's speed down the center of the pitch caused some problems.
Sergio Busquets (6.5/10)
Sergio Busquets was solid on the ball, and his physicality was needed against an athletic Nigerian midfield. His partnership with Xavi focuses heavily on possession, but the moments without the ball were a bit worrisome when Nigeria was pressing in the first half.
Andres Iniesta (7/10)
Iniesta was the most advanced of this trio and consistently found himself searching for a killer pass in the final third.
His assist to Alba started things off early, and his bursts of energy helped run the offense for Spain. Iniesta's clever decisions on the ball are terrific to watch, and Nigeria was chasing him for much of the game.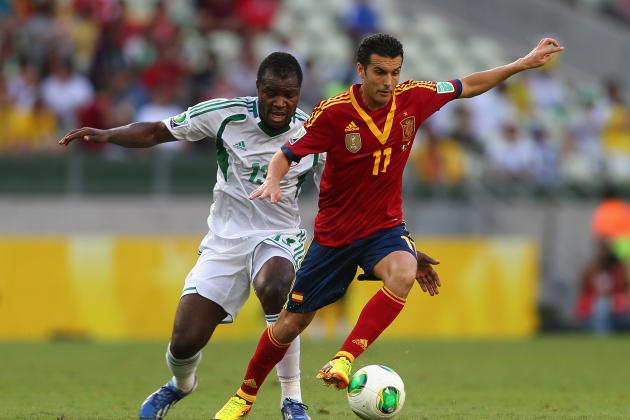 Clive Rose/Getty Images

Cesc Fabregas (5.5/10)
Cesc Fabregas is enjoying a role in the starting lineup due to his versatility—but he will know he could have done better today.
The playmaker was typical in his passing and creativity, but a beautiful cross from Roberto Soldado really should have been finished off. Instead, it came back off the post, and Fabregas was substituted for David Silva.
Pedro (6.5/10)
Pedro showed his pace on the flank this match finding himself with loads of space. He made the most of it on several occasions, most notably on his cross to Torres to put the Spanish up 2-0.
He showed good skill to create a chance for himself in the second half but could not find the net in a crowded penalty area.
Roberto Soldado (4.5/10)
Several good runs showed the benefit to having a true striker in the side. Soldado was able to get behind the Nigerian back line on more than one occasion—but he could not convert.
He wasted two chances in the first half, which marred an otherwise decent outing. He should have recorded an assist as well after his pinpoint cross found Fabregas in the box, but he was unable to take the chance.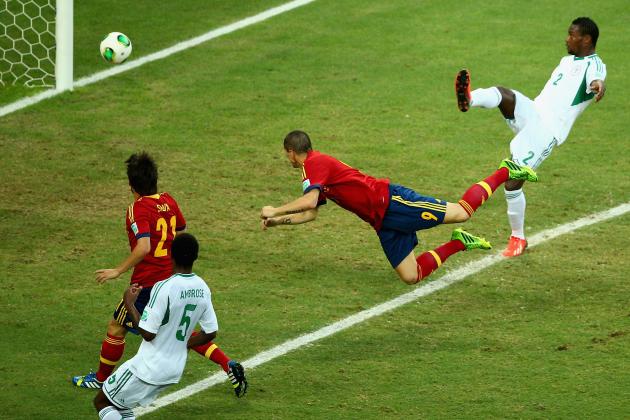 Clive Mason/Getty Images

Fernando Torres (8/10)
Torres was brought on to finish off the game. He did.
Pedro served a quick ball in from the left, and Torres did well to jump in front of his man and head home from six yards.
The striker is bursting with confidence after a four-goal display against Tahiti. His movement was welcome, and he may have earned a starting role after another good performance.
David Silva (6/10)
Silva did well to get involved in the attack. He had most of the second half to work with and certainly made his mark on the game.
He is terrific on the ball and always seems to be searching for a creative pass to play a man through.
David Villa (6.5/10)
Another striker with something to prove, Villa came on and did well enough. His movement off the ball was solid and he did well to get into scoring positions.
That being said, Villa will need to finish more of his opportunities to see more time on the field. He did well to create a little bit of space in the box late in the match but lifted his shot well over the bar.
Villa capped off his performance with a wonderful assist to help put the game to rest. He took a quick free kick at the back that sent a streaking Jordi Alba through on goal to score Spain's third.
How would rate the players? Does Torres deserve to start against Italy? Share your comments below.