The Perfect Team Fit for the Top 2014 NFL Draft Prospects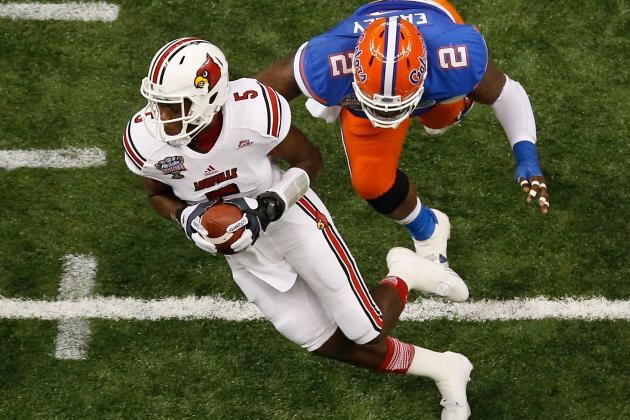 Chris Graythen/Getty Images

The 2013 NFL season is a few months away, but it's clear that certain teams still have holes which weren't filled this offseason.
The following slideshow features 15 of the top draft-eligible prospects and three teams which are already in need of their services.
Many of these prospects still have a lot to prove during the 2013 season, but their skill sets fit what each of these teams is looking for and could potentially be first-round targets a year from now.
Begin Slideshow

»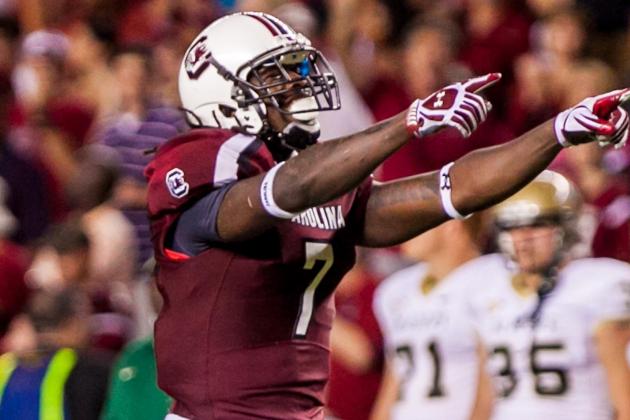 Jeff Blake-USA TODAY Sports

Jadeveon Clowney is the premier pass-rusher in the 2014 draft class and arguably the top overall prospect.
A player of Clowney's caliber can fit in any system, but he perfectly fits the mold of a dominant edge-rusher in a 4-3 system.
Clowney's blend of power and speed makes him a nearly impossible one-on-one assignment for any offensive tackle. In a traditional 4-3 scheme, he could immediately step into a role similar to Julius Peppers in Carolina and Chicago.
Best fits: Bills, Jaguars, Titans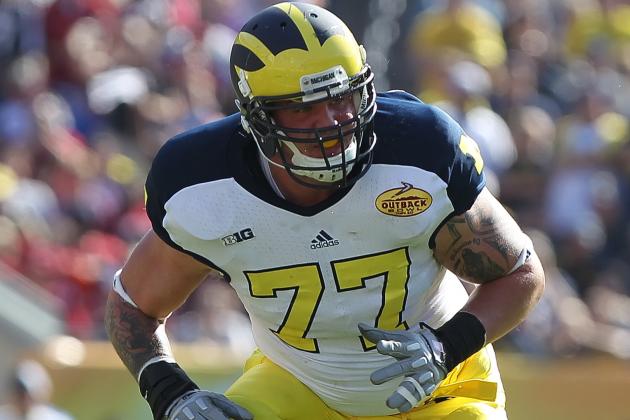 Kim Klement-USA TODAY Sports

Had Taylor Lewan entered the 2013 NFL draft, he would have been a top-10 lock and may have been in the mix to go No. 1 overall.
Lewan has the power and athleticism to project as a franchise left tackle at the next level.
The 2013 class was short on true left tackles, which means a number of teams will still be in the market for prospects such as Lewan in 2014. Barring injury, he should solidify himself as a top-10 selection.
Best fits: Cardinals, Lions, Bills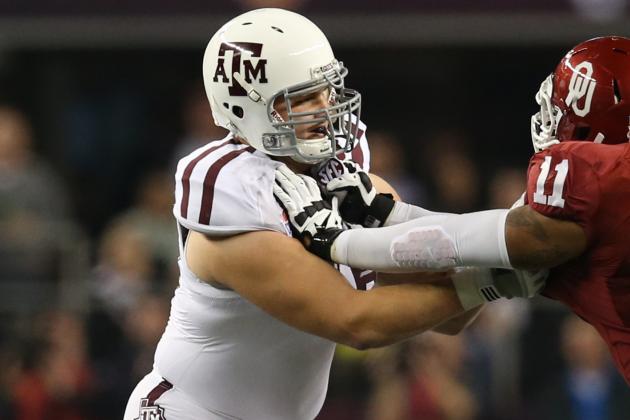 USA TODAY Sports

Jake Matthews would have a been a first-round pick had he entered the 2013 draft, but his stock could fluctuate this season depending on how he handles the transition to left tackle.
If Matthews establishes himself as a potential franchise left tackle, he should emerge as a top-10 prospect. If he falters, however, he may slide into the late first round.
Regardless of his future position, Matthews is a polished product and should be viewed as an immediate starter at the next level.
Best fits: Chargers, Cardinals, Dolphins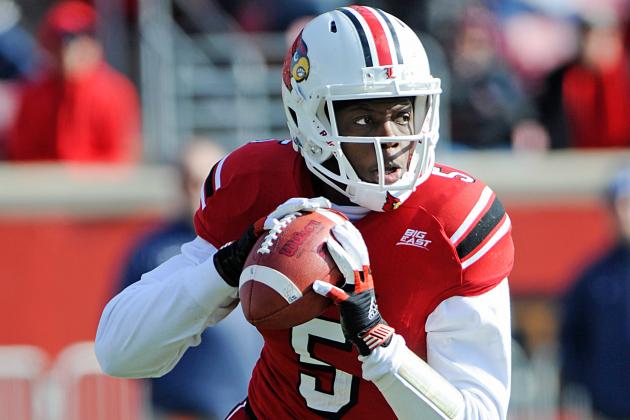 Jamie Rhodes-USA TODAY Sports

Teddy Bridgewater enters the 2013 season as the premier quarterback prospect, but he still needs to prove he can repeat his second-year performance.
Bridgewater primarily operates from the pocket in Louisville's system. But he has the athleticism to work in a system similar to what the Seahawks and Redskins have developed for their young quarterbacks.
He may not be the ideal quarterback for every system, but it's a copycat league and certain teams will view Bridgewater as the next great new-age quarterback.
Best fits: Browns, Jets, Titans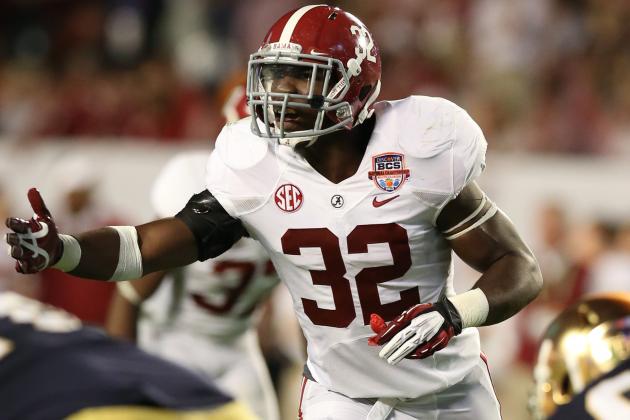 Matthew Emmons-USA TODAY Sports

C.J. Mosley started for Nick Saban as a true freshman and has continued to improve throughout his career.
He is a prototypical inside linebacker who excels in coverage. He could potentially emerge as a Patrick Willis-type playmaker early in his career.
Any team in need of an instant-impact linebacker and a leader on defense will be interested in adding Mosley to the fold.
Best fits: Jaguars, Bengals, Bears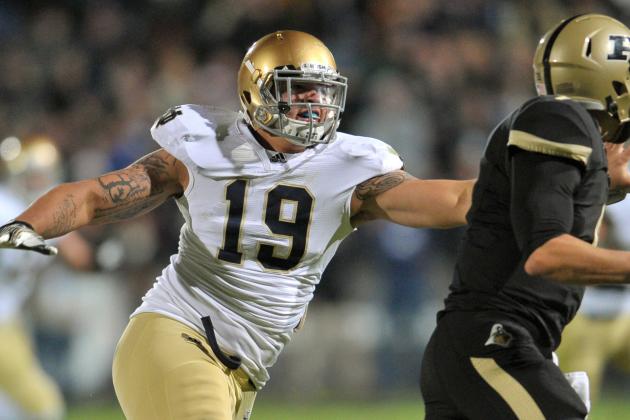 Matt Cashore-USA TODAY Sports

Aaron Lynch only has one year of experience under his belt and sat out the 2012 season after transferring from Notre Dame. But Lynch showed enough during his freshman year with the Irish to be viewed as a legitimate first-round prospect already.
Lynch has the length and athleticism to develop into an elite pass-rusher off the edge. He could be one of the fastest-rising prospects if he continues to show development during the 2013 season.
While he may be raw, Lynch will intrigue any team looking for immediate help in the pass-rush department.
Best fits: Falcons, Jaguars, Titans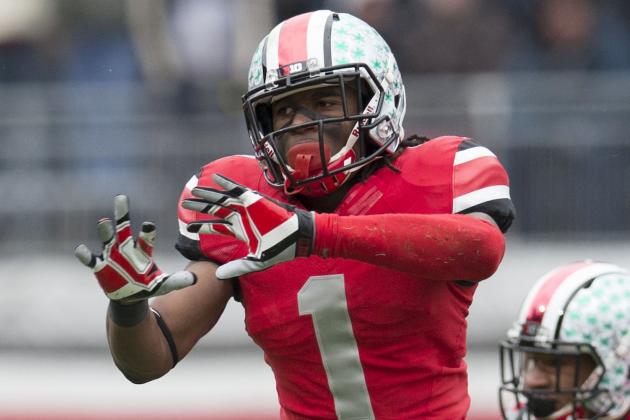 Greg Bartram-USA TODAY Sports

Bradley Roby is entering his third year as a starter for the Buckeyes and has all the traits of a true shutdown cornerback.
As he develops, quarterbacks are becoming more and more cautious when throwing his direction. He will likely be tested on only rare occasions during the 2013 season.
At this early stage of the draft process, Roby appears to be one of the safest prospects and should be viewed as an immediate starter with legitimate star potential.
Best fits: Panthers, Lions, Colts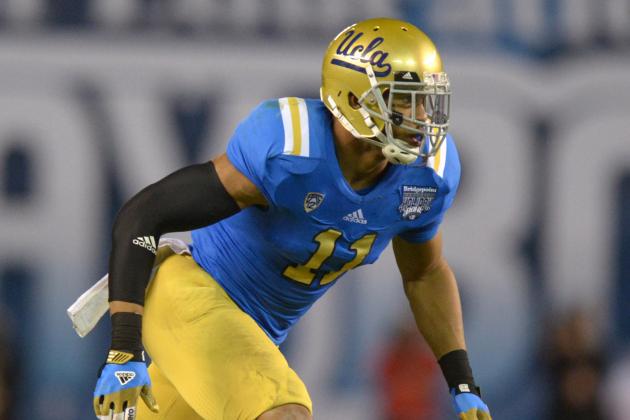 USA TODAY Sports

Anthony Barr is extremely raw and only has one full year of experience on the defensive side of the ball. However, Barr showed steady improvement throughout his junior year and has high expectations for his senior season.
Even if Barr fails to develop into a truly dominant college pass-rusher, his raw potential should force teams to view him as this year's Barkevious Mingo.
He may not be an immediate starter at the next level, but he will make an immediate impact as a situational pass-rusher.
Best fits: Cardinals, Colts, Jaguars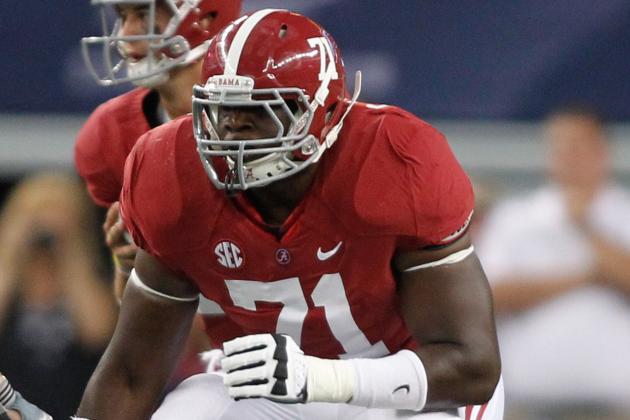 Tim Heitman-USA TODAY Sports

Cyrus Kouandjio held down the left tackle position for the Crimson Tide at the age of 19 in 2012.
He's an impressive physical specimen already and has the frame to continue to grow and refine his functional strength and athleticism.
If Kouandjio leaves early, he'll be just 20 at the time of the draft. But with two years of starting experience in the SEC, he will be viewed as an immediate starter and should be a top-10 selection.
Best fits: Cardinals, Chargers, Dolphins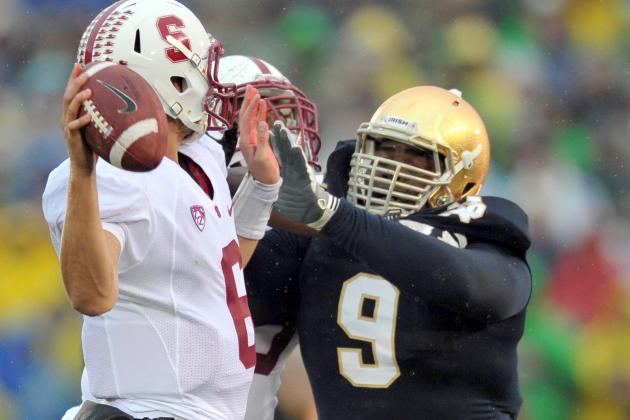 Matt Cashore-USA TODAY Sports

Louis Nix may be this year's Star Lotulelei.
Like Lotulelei, Nix has the size to play the traditional nose tackle role but is also athletic enough to wreak havoc in the backfield.
With his rare combination of size and strength, he will be a target of teams running both the 3-4 and 4-3 system. He's the early favorite to be the first interior lineman off the board.
Best fits: Cowboys, Chargers, Steelers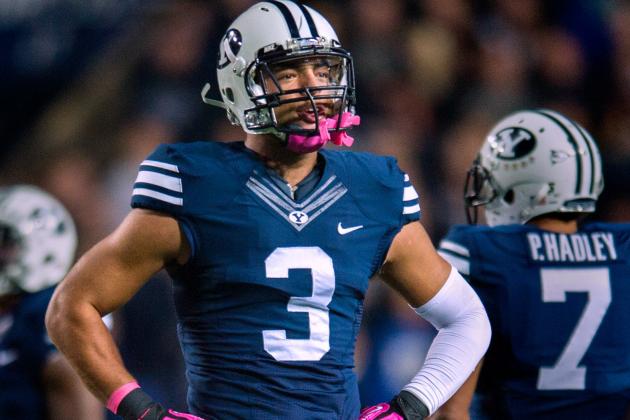 Douglas C. Pizac-USA TODAY Sports

Ziggy Ansah received most of the hype on the BYU defense last year, but Kyle Van Noy was actually the more productive playmaker.
Van Noy is a versatile defender who could potentially play any of the three positions in the 4-3 defense.
In the 3-4 scheme, he fits best on the inside but possesses the natural pass-rushing skills to play on the outside if he bulks up.
Best fits: Colts, Broncos, Ravens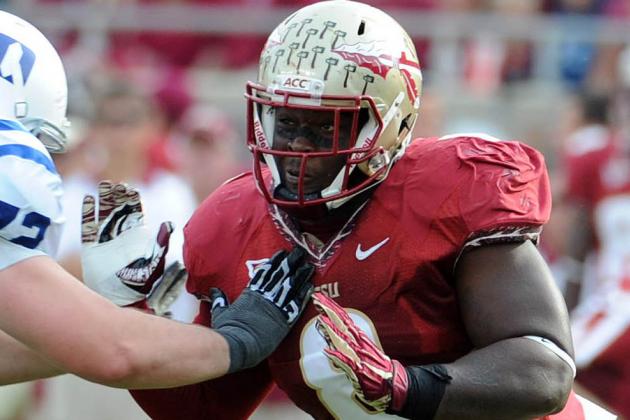 Melina Vastola-USA TODAY Sports

Timmy Jernigan has relatively limited experience and benefited from playing alongside Bjoern Werner and Tank Carradine early in his career. But his natural athleticism is rare for an interior lineman, and he has shown enough flashes of dominance to be viewed as a potential early first-round pick.
Jernigan is a prototypical 3-technique tackle and may be the best interior pass-rusher available in the 2014 class.
3-4 teams may also be interested in Jernigan as a defensive end, but at 6'2", he is slightly shorter than the average 3-4 end.
Best fits: Buccaneers, Raiders, Colts
Mike Carter-USA TODAY Sports

Ryan Shazier is 2014's Arthur Brown.
Like Brown, Shazier is undersized, but he has the speed and recognition skills to fly around the field making play after play.
His limited measurables will be a knock against him in the eyes of certain talent evaluators, but his natural playmaking skills will endear him to a handful of teams that aren't scared off by undersized athletes.
Best fits: Vikings, Bills, Broncos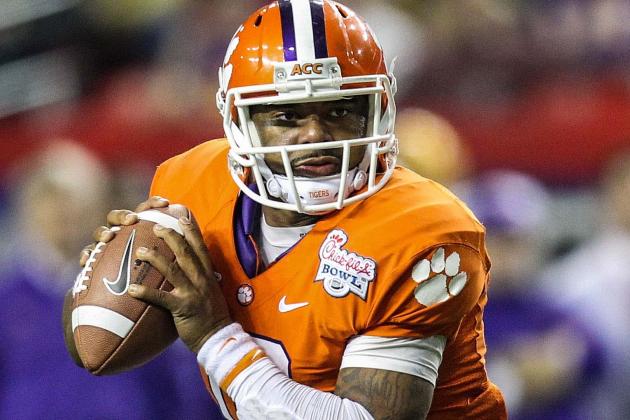 USA TODAY Sports

Bridgewater is the premier quarterback prospect in the draft, but with another strong season Tajh Boyd could enter the conversation as a potential top-10 selection.
Boyd is slightly undersized. Yet he has demonstrated the athleticism and pocket presence to run a read-option offense at the next level.
Clemson has a few tough tests this season against Georgia, South Carolina and Florida State. How Boyd holds up against those defenses will go a long way towards determining his draft stock.
Best fits: Browns, Raiders, Jets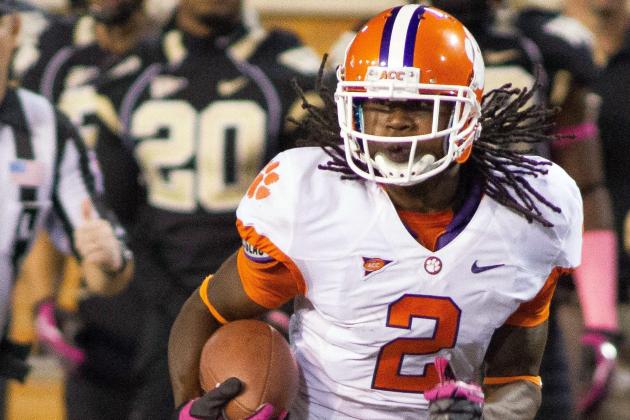 Jeremy Brevard-USA TODAY Sports

Sammy Watkins may be a taller version of Tavon Austin, at least in terms of how he's viewed as a prospect.
Watkins isn't a traditional No. 1 receiver, but he's an elite playmaker who can cause mismatches for defenses.
Any team looking to add a new dimension to its offense should be intrigued by Watkins' speed and ability to create plays in the open field.
Best fits: Jets, Patriots, Panthers