Two high-octane matches commenced in the 2013 Confederations Cup on Sunday.
Spain battled spirited Nigeria, while Uruguay embarrassed Tahiti with a thumping that still has the losing side seeing stars.
Here's a look at how the action went down in the group stage of the 2013 Confederations Cup.
Spain 3, Nigeria 0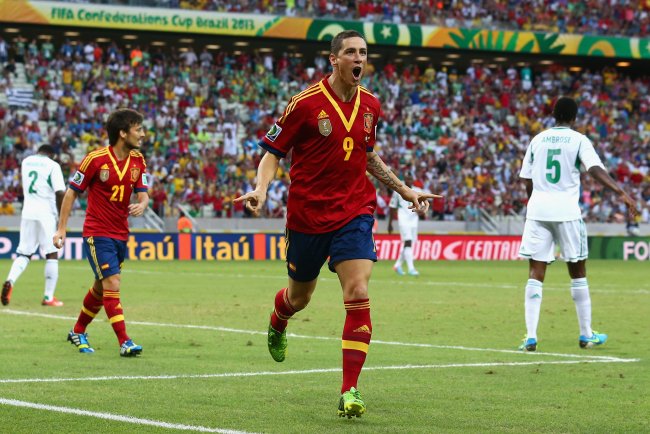 Robert Cianflone/Getty Images
Spain scored early in Sunday's match, courtesy of Jordi Alba. Alba skipped through the heart of the Nigerian defense in the third minute, eventually finishing with the right foot on goalkeeper Vincent Enyeama.
Alba's score was not just a quick moment for Spain on the pitch, either. The Spanish continually held possession, with Andres Iniesta also forcing Enyeama into a diving save in the first minute.
In the ninth minute, Cesc Fabregas almost scored, exchanging passes with Iniesta before his attempt was poked away by Enyeama for a corner kick.
Nigeria had a shot to tie things up in the 11th minute. John Obi Mikel found Joseph Akpala right at the edge of the box, but Akpala's shot was blocked and Sergio Ramos swung in to keep Mikel from connecting on the rebound.
That started a bit of a run for the Nigerians, whose attacking style of play won some support in Fortaleza. Sunday Mba almost scored in the 20th minute, his curling strike saved beautifully on a dive by Spain goalkeeper Victor Valdes.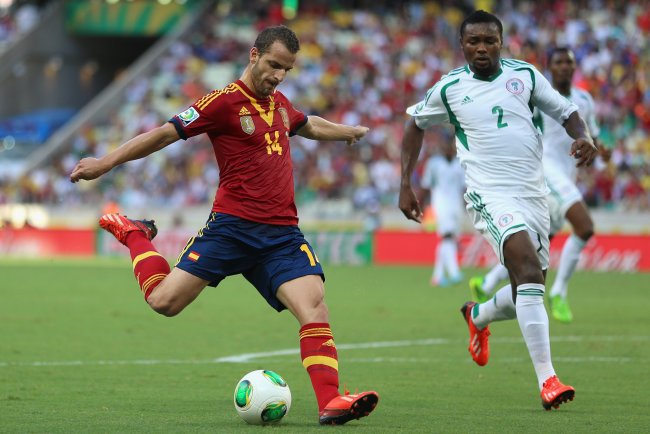 Jasper Juinen/Getty Images
Roberto Saldado missed an opportunity to increase Spain's lead in the 26th minute when Ramos found him down the pitch.
In the 29th minute, Nigeria pressed again, as Ahmed Musa found Akpala on a beautiful cross, only to see Valdes make another great save.
In the 40th minute, Fabregas' attempt hit the post off a nice feed from Soldado.
In the 41st minute, Nigeria had its best chance to score, as Mba found Ideye on a nice cross, but Ideye flubbed the strike with a gaping hole in the goal inviting him to finish.
After one half of play, Spain was leading, 1-0. Both teams had prime opportunities to score, with the Nigerians perhaps catching the Spanish off-guard in the first half. Nigeria was well within reach after the first 45-plus minutes.
In the second half, Fernando Torres added to Spain's lead. After subbing onto the pitch in the 60th minute, Torres scored two minutes later on a beautiful header off a pass from Pedro Rodriguez.
It was 2-0, Spain.
Alba collected his second goal of the game in the 88th minute, as Spain weathered some attacks by Nigeria to eventually go on to a 3-0 victory on Sunday.
Uruguay 8, Tahiti 0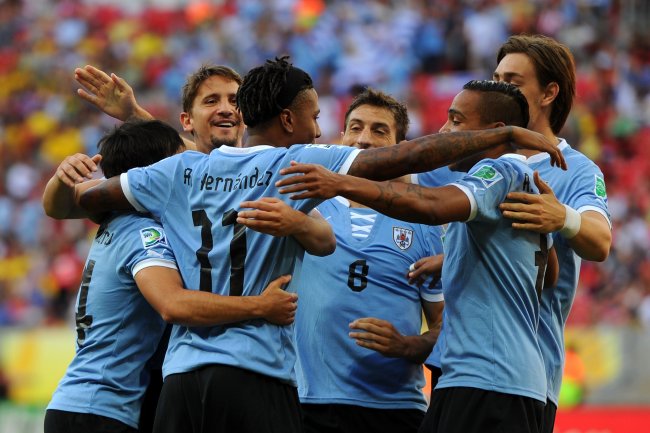 Michael Regan/Getty Images
This match may as well have been over before it started.
Uruguay scored as early as the second minute, as Abel Hernandez capitalized on some sloppy defensive play by Tahiti to score on an uncontested header at the back post.
Hernandez set a record in the process, per Goal.com India:
NEW RECORD: Abel Hernandez's goal for Uruguay after 1 min 19 secs is the fastest ever at the #Confeds #UruTah http://t.co/fBrFCDU89t

— Goal.com India (@Goal_India) June 23, 2013
Tahiti appeared to be sitting back and hoping to take away Uruguay's chances early on, rarely pressing or holding the ball enough to create many scoring opportunities itself. Despite the defensive strategy, it didn't seem to work, as Uruguay went on to score three more goals before the half closed.
Hernandez scored in the 24th minute, Diego Perez scored in the 27th minute and Hernandez scored again in stoppage time off a feed from Walter Gargano. Hernandez had a hat trick before the second half even started.
At halftime, Uruguay led, 4-0.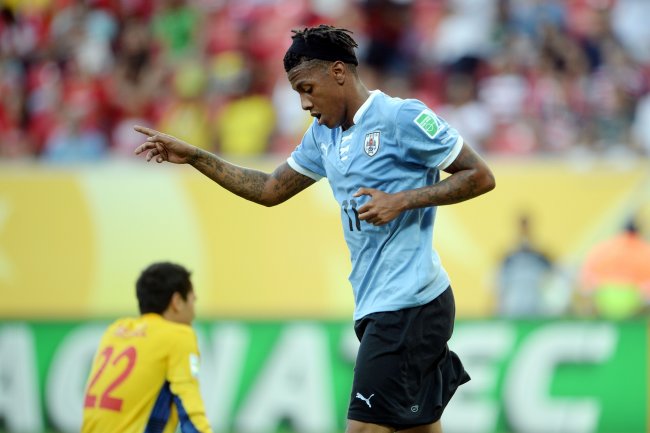 Michael Regan/Getty Images
Uruguay didn't waste much time getting on the board again in the 61st minute, as Nicolas Lodeiro scored off another feed from Gargano, who proved to be a mighty dangerous passer in this game.
In the 66th minute, Uruguay received a penalty shot off of more sloppy play by Tahiti. Steevy Chong-Hue foolishly shoved Matias Aguirregaray to the ground, earning a yellow card in the process.
Hernandez (who else?) sent Tahiti goalkeeper Gilbert Meriel the wrong way, notching his fourth goal of the match to give Uruguay a 6-0 lead.
In the 82nd minute, it was Luis Suarez's turn to score for Uruguay, juking Henri Caroine before swinging the ball past Meriel.
Suarez scored again in the 90th minute off a feed from Hernandez as Tahiti looked to tire late.
When all was said and done, Uruguay had gone on to a convincing 8-0 victory over overmatched Tahiti.
What's Next?
Brazil, Spain, Uruguay and Italy have advanced to the semifinals of the 2013 Confederations Cup. Nigeria, Tahiti, Mexico and Japan have been bounced from the tournament.