The FIFA Confederations Cup rolls on as Uruguay and Tahiti faced off on the pitch on Sunday. It came as no surprise when Tahiti, a team that lost a match to Spain by a score of 10-0, went on to get rolled again, this time by a margin of 8-0 against Uruguay.
The game got off to a record-setting start, as Abel Hernandez was able to find the back of the net just over one minute into the contest.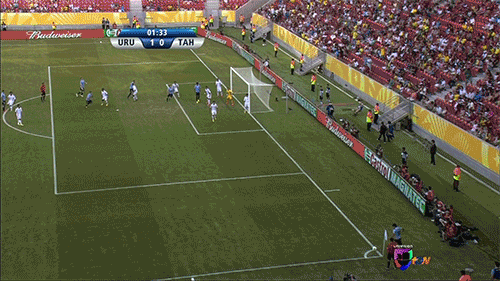 Hernandez would keep it rolling, as he would find the net again just 20 minutes later for his second goal of the first half.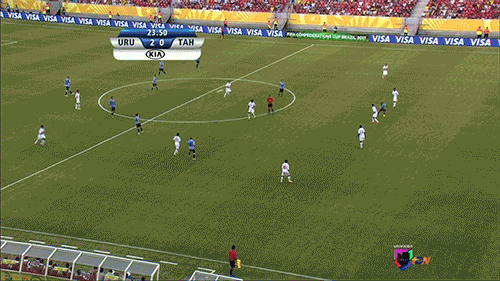 Surprisingly, Hernandez didn't score the third goal, but in the 27th minute, his teammate Diego Perez knocked one home to bring the lead to 3-0 in favor of Uruguay.
The floodgates have opened!!! Diego Perez heads against the post, but follows up to net an easy rebound. 3-0 Uruguay #Confeds

— Daniel Edwards (@DanEdwardsGoal) June 23, 2013
The fourth goal of the half went to Abel Hernandez once again, giving him a first-half hat trick.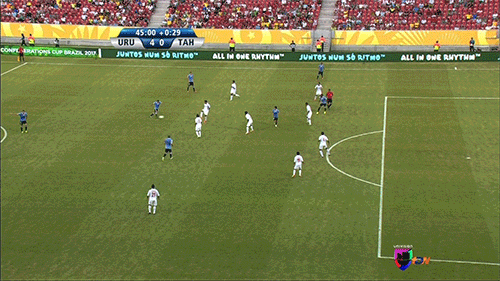 At halftime, Tahiti was down 4-0, and things looked gloomy for a team that has struggled pretty heavily.
GOAL Uruguay 4-0 Tahiti. Tahiti have now conceded 20 goals in the tournament, a goal every 11 minutes

— Genius Football (@GeniusFootball) June 23, 2013
The second half was more of the same for Uruguay and Tahiti. Nicolas
Lodeiro
was able to sneak one by the Tahiti goalie in the 61st minute to bump the score up to 5-0, which was followed quickly by Abel Hernandez notching his fourth goal of the night on a penalty kick.
61' GOAL! Nicolas Lodeiro makes it 5-0 after tapping in Gargano's low cross.

— Football Uruguay (@footballuruguay) June 23, 2013
From there, Uruguay would bring in a few subs and take the pressure off. That is, until Luis Suarez came in. Suarez would sub in and score two goals in the last 10 minutes of the match to bring the final score to a nice and round 8-0 in favor of Uruguay.
Tahiti #ThankYou pic.twitter.com/sr0yRHTDG9

— Genius Football (@GeniusFootball) June 23, 2013
Tahiti was eliminated from contention, and while they didn't have the best showing in the Confederations Cup, they at least left with a great display of sportsmanship by coming out to thank the Brazilian fans for their support.
Tahiti also holds up a banner that reads "OBRIGADO BRASIL:" THANK YOU BRAZIL.

— FOX Soccer Trax (@FOXSoccerTrax) June 23, 2013
Awesome of the Tahiti players to bring out a big banner thanking the Brazilian fans for their support after their Confederations Cup finale.

— Jonathan Tannenwald (@thegoalkeeper) June 23, 2013
Score
Uruguay 8, Tahiti 0
Player Grades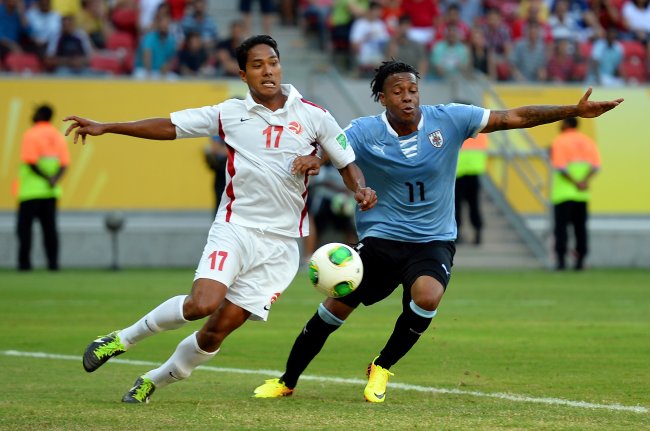 Laurence Griffiths/Getty Images
Abel Hernandez
Talk about a game. Abel Hernandez had a first-half hat trick and would add a penalty kick to give himself an even four goals on the day. Hernandez was obviously too much for Tahiti to handle, as he not only found the net four times but also assisted on a goal.
Hernandez played great but also found himself offside twice in the game, put up nine shots and committed a foul, but those minor lapses can't take away an amazing overall performance by Hernandez.
Player Grade: A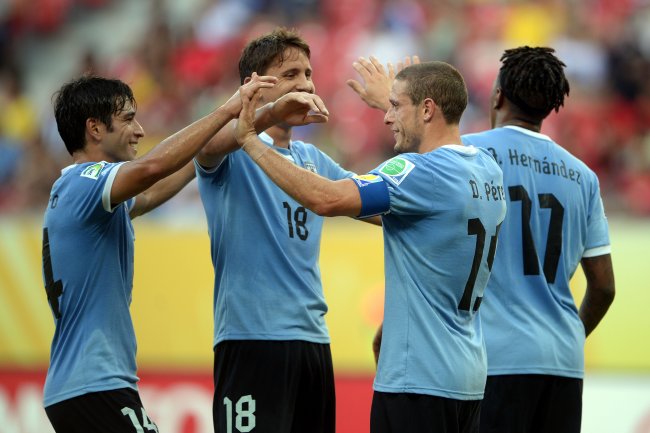 Michael Regan/Getty Images
Nicolas Lodeiro
Lodeiro didn't play up to the standards of his teammate Hernandez, but he had a solid game considering Abel's performance. Lodeiro scored in the 61st minute and contributed two assists en route to Uruguay's huge victory.
Lodeiro committed a couple fouls, but overall he had a great support game for Abel Hernandez on his big day.
Player Grade: B+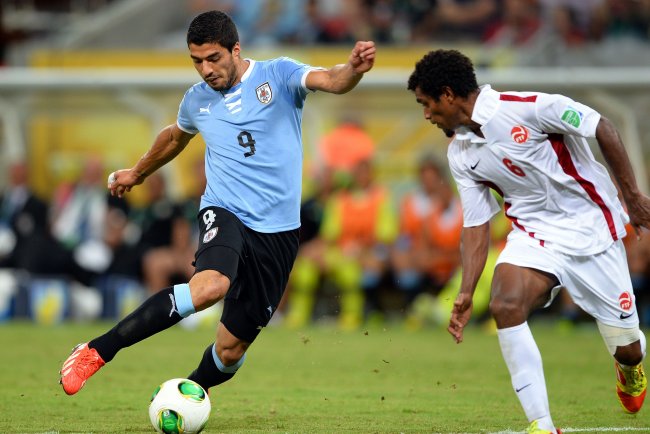 Laurence Griffiths/Getty Images
Luis Suarez
Suarez came into the game during the 69th minute and made a big impact. While he doesn't usually find the net that often, he was able to come in off the bench and have a chance to really play. He was in the game until the end and made use of the time he was given.
He knocked home not one, but two goals off the bench on two shots taken. Props to bench players who make plays when they get a chance.
Player Grade: B
Uruguay Grades
Player
Grade
Martin Silva
A
Sebastian

Coates



C
Matías

Aguirregaray



B

Andr

és Scotti

B-
Walter

Gargano



B+
Á

lvaro

Pereira



C

Gaston Ramirez (Off 69')

B-

Sebasti

án

Eguren



C+
Diego Pé

rez



B
Abel Hernandez

A

Nicolás

Lodeiro




B+

Substitutes
Luis

Su

á

rez



B
Tahiti Grades
Player

Grade
Gilbert Meriel

D

Teheivarii

Ludivion



D+
Nicolas

Vallar



D
Ricky

Aitamai

(Off 53')

C-
Jonathan

Tehau



D
Simon Vincent

D+


Marama

Vahirua



C
Henri

Caroine



D+

Steevy

Chong

Hue

D+
Lorenzo

Tehau

(Off 71')

D
Samuel

Hnanyine

(Off 88')

D
Substitutes

Edson

Lemaire

D

Tihoni

Yohann



D
Stanley

Atani



D+
What's Next
Tahiti will pack their bags and head home. Uruguay secured their place in the semifinals of the Confederation Cup.