Despite looking far from their usual dominating selves, Spain advanced to the semifinals of the 2013 FIFA Confederations Cup with a 3-0 victory over Nigeria on Sunday.
The result meant the end for Nigeria in the Confederations Cup, as they failed to make it out of Group B.
Spain didn't waste any time impacting the score line. In the third minute, a brilliant display of passing from Andres Iniesta gave Jordi Alba room on the left side. Alba dribbled through three Nigerian defenders before putting away the match's first goal.
Here's a look at Alba's goal, which showcased the defender's immense attacking ability, courtesy of 101 Great Goals.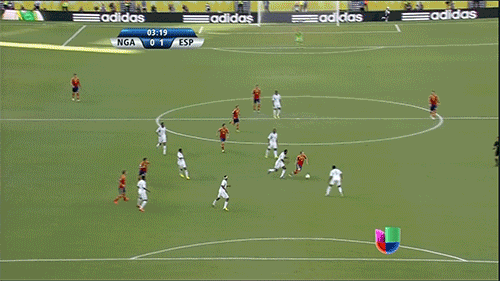 That was just the first of many great chances the Spaniards had in the opening half. Nigeria's defense simply couldn't keep up with their opponents' speed and swift passing.
It took Cesc Fabregas hitting the post late in the first half and a slew of missed chances by striker Roberto Soldado for Nigeria to enter the locker room at halftime with only a 1-0 deficit.
Soldado was replaced by Fernando Torres in the 60th minute, and on his first touch of the match, Torres was able to do what Soldado couldn't: score a goal. After a lovely cross from Pedro, the Chelsea striker headed it home to give Spain a 2-0 lead.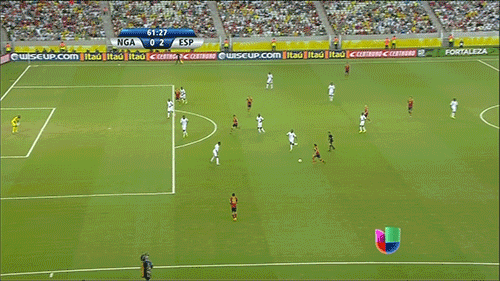 Nigeria had their fair share of solid scoring chances. They were aggressive throughout the entire first half, picking up four corner kicks to Spain's three.
But that aggression left things open for the Spanish side, which is never a good thing. However, Spain wasted a handful of opportunities to blow things open and didn't look like they wanted to capitalize on odd-man rushes that Nigeria often left open.
That changed late in the second half, when Spain looked to be the aggressors, and Alba notched his second goal of the game in the 88th minute to complete the match's scoring.
Nigeria's ability to put shots on goalkeeper Victor Valdes cannot be understated, though. ESPN Stats and Information pointed out an incredible statistic about Nigeria's success. (Note: This stat was from halftime and doesn't reflect the final shot total.)
Spain allowed 3 shots on goal in its first 2 matches. Nigeria has 7 shots already.

— ESPN Stats & Info (@ESPNStatsInfo) June 23, 2013
Tommy Smyth of ESPN noticed a different mindset for the Spaniards on Sunday, as compared to their style of play against Tahiti earlier in the week.
Spain are just doing enough to hold on to 1 goal. As expected they are not as eager 2 go forward as they were in last game.No 10 goals today

— Tommy Smyth (@TommySmythESPN) June 23, 2013
Fox Sports summed up the implications of Sunday's result:
FT Nigeria 0 Spain 3. Spain finish top of the group, will play Italy in Thursday's semifinal

— FOX Soccer Trax (@FOXSoccerTrax) June 23, 2013
Player Grades
Roberto Soldado: C+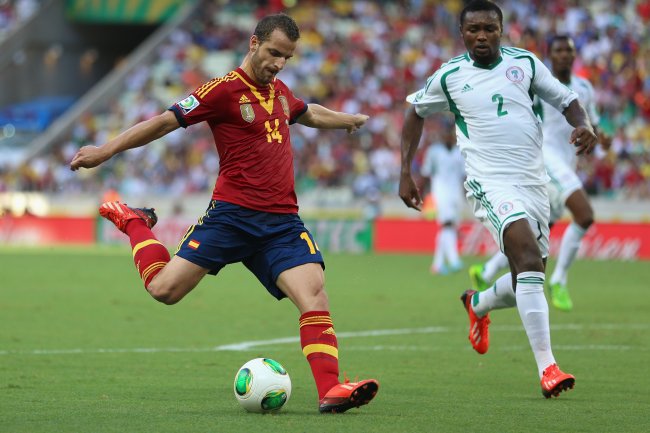 Jasper Juinen/Getty Images
Vicente del Bosque put a lot of faith in Soldado by giving him his second start in three matches, but the 28-year-old didn't do much with his plethora of perfect opportunities.
Soldado was one-on-one with Nigerian goalkeeper Vincent Enyeama constantly throughout the match, and he wasn't able to put one past him despite his teammates putting him in the perfect position numerous times.
Fernando Torres scored four goals in his lone start at the Confederations Cup (against Tahiti, mind you), and Soldado's ineffectiveness in the finishing position might force Del Bosque's hand in making a switch before the semifinal round.
Sure, it takes skill to put yourself in the position to score, but strikers get more playing time and more money by scoring goals. Soldado didn't do that against Nigeria.
Ahmed Musa: B
Clive Mason/Getty Images
The CSKA Moscow striker was all over the place in the first half, which is a feat in and of itself against Spain.
The Nigerian did what no other player has been able to do thus far in the Confederations Cup, which is generate scoring chances against Spain. He forced Victor Valdes' hand in making big saves on multiple occurrences that could've drastically changed the outcome of Sunday's match.
None of them ended up reaching the net, but the effort and display that it took to penetrate Spain's defense cannot be understated.
Jordi Alba: A-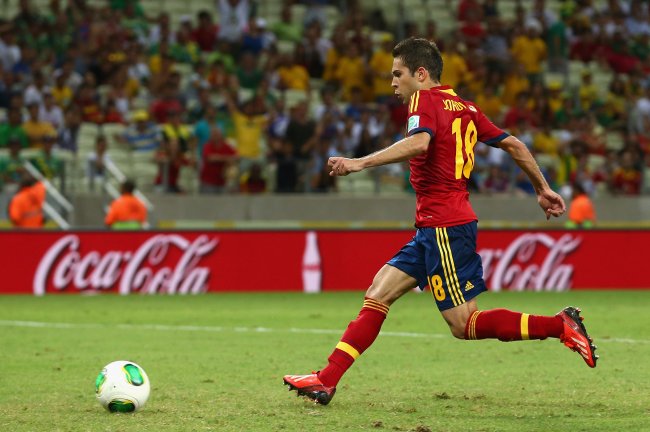 Robert Cianflone/Getty Images
The 24-year-old Barcelona man has emerged as a prime candidate to shore up the left-back position for Spain in the 2014 World Cup and beyond. He proved why on Sunday.
Often known for getting after it offensively on the wing, Alba was the final recipient of a passing spectacle in the third minute. However, nothing was given to him as he danced through three Nigerian defenders on his way to an early 1-0 lead for his team.
He wasn't done after that, going for a long run down the middle of the pitch and dribbling the breakaway past Nigeria's goalkeeper for his second goal.
Spain are known for their possession-obsessive behavior on the pitch, but aggression offensively hasn't always been there. Alba is a major cog in that department, and he proved it against Nigeria.
Nigeria Grades
Player
Grade
Vincent

Enyeama

B

Efe

Ambrose
B-
Godfrey

Oboabona

C+
Kenneth

Omeruo

(off 11')
C+

Elderson

Uwa

Echiejile

B-
Kenneth

Omeruo

C+
John Obi Mikel

B-

Fegor

Ogude

C+
Sunday

Mbah

(off 64')
C+
Joseph

Akpala

(off 71')
B-

Ahmed Musa

B

Ideye Brown

D+
Substitutes

Azubuike

Egwuekwe

C+

John

Ogu

C+


Gambo

Mohammed
B-
Spain Grades
Player
Grade
Victor

Valdes

B

Jordi

Alba
A-
Gerard Pique
B-
Sergio Ramos
B+
Alvaro

Arbeloa

B
Sergio

Busquets

B+

Xavi

B
Andres

Iniesta

B+
Pedro (off 75')
B+
Cesc Fabregas (off 54')
B
Roberto

Soldado

(off 60')
C+
Substitutes
B
David Silva
C+

Fernando Torres
A-
David Villa
B-


What's Next?
Sunday's final result shouldn't come as a shock to any Spain players or fans, but it brings nothing but despair and heartbreak for Nigeria.
Spain won Group B with the victory, meaning they'll advance to the semifinal round where they'll face Italy. Nigeria, on the other hand, are eliminated after losing their last two matches in the group stage.