Top 10 Memorable Moments of Miami Heat's 2013 Postseason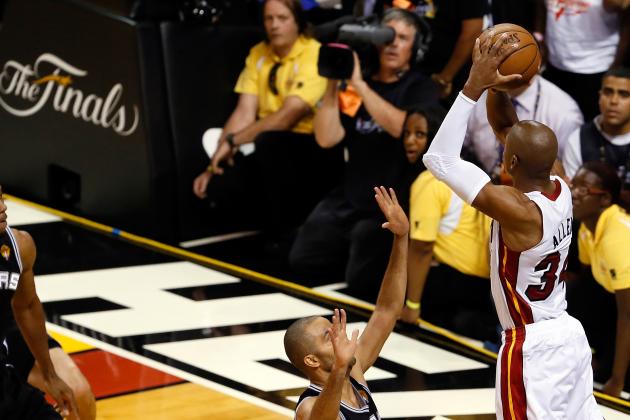 Kevin C. Cox/Getty Images

The Miami Heat's 2013 championship run was full of incredible moments.
We've decided to put a list together of the most memorable, the plays that will enter our minds years from now when the topic of the 2013 Heat comes up. That means don't expect to see any plays on here that didn't come in high-stakes situations.
Plays from the Heat's series against the Milwaukee Bucks and Chicago Bulls? Nope.
Plays from the Heat's series against the Indiana Pacers and, especially so, the San Antonio Spurs? You bet. These are the plays that affect legacies and will ultimately stick with us.
Begin Slideshow

»
There are two reasons why this shot will be remembered: Chalmers was lucky, and it was an important shot.
Any time someone banks in a three-pointer it's a lucky shot, let alone a 30-footer to end a quarter. There is novelty in a play like this.
Also, rather than the Heat entering the final quarter of the 2013 season trailing, Miami led.
Consider it another play that adds to the finals-legend of Super Mario Chalmers.
Even if Mike Miller hadn't lost one his shoes, this would have been a memorable play because of the game situation.
In the midst of the Heat's fourth-quarter comeback in Game 6 of the finals, Miller cut the deficit to four. The Triple A went into a frenzy, and Spurs coach Gregg Popovich was forced to call a timeout.
Although Miami didn't immediately go on a run and take the lead, this shot helped the Heat hang in there. They never trailed by more than five points after this shot.
It was an impressive play by Miller to keep his balance without his shoes, and it just proves once again how great a shooter he is.
This three capped off a truly incredible Game 7 performance from Shane Battier. It wasn't long ago that the Heat forward had been taken out of the rotation because of his inability to hit three-pointers.
In Game 7 of the Eastern Conference finals, Battier received a DNP-CD. One Game 7 later, he was a hero.
Battier knocked down 6-of-8 three-point shots, including this one that gave the Heat a six-point lead with a little more than three minutes remaining. It wasn't a dagger by any means, but it was a shot that made you confident Miami was going to win this game, and thus the title.
In actuality LeBron losing his headband had no impact on his late-game performance in Game 6. But for some reason, headband-less LeBron resonated with us, and we'll never forget.
LeBron struggled and was passive for the first three quarters of Game 6. In the fourth quarter, he turned into the aggressive and unstoppable LeBron we all know. It's just a coincidence that LeBron lost his headband in that fourth quarter.
After the game, even after one of the greatest comebacks in NBA history, the headband was what a lot of people wanted to talk about. LeBron actually had to address whether he would wear it for Game 7.
Ridiculous, but funny and memorable.
You might as well call this play "The Play Before The Play."
Still, if LeBron James misses this shot, the Heat's season is almost certainly over. Actually, he did miss the shot. But Mike Miller got the rebound and let LeBron give it another try.
The play came on the heels of two poor possessions from LeBron: one turnover and one air ball that came about from miscommunication with Chris Bosh.
LeBron really need this shot to fall.
This make put the Heat into a position where one missed San Antonio free throw would put them right back into the game, which is exactly what happened.
And we all know what happened next.
This play was the topic of discussion following the game, but it was centered on what the Pacers didn't do. Why wasn't Roy Hibbert in the game? Why did Paul George just let LeBron go left?
But James obviously deserves plenty of credit for this play, even if it did boil down to a layup anyone could make.
For James to be able to get to the basket so quickly is impressive and to have the internal clock to beat the buzzer is as well. James had a split second after catching the ball to decide whether to attack or take a jumper. He attacked, and he was right.
This play further ended the debate of whether or not LeBron was capable of coming through in big situations. But more importantly, it gave the Heat a 1-0 lead in a series that eventually lasted seven games.
For the first five games in the finals, Danny Green eviscerated the Heat. On the day of Game 6, Chris Bosh said that Green wouldn't be open as he'd been in the prior games.
On the final play of Game 6, Bosh lived up to his word and made it happen himself. Bosh was all over Green and sent his shot packing and the Heat to a Game 7.
Bosh was a defensive monster at the end of a Game 6. It was very fitting the game concluded with two Ray Allen free throws and a block by Bosh.
"The Block." Years from now when someone brings up the 2013 NBA Finals and mentions "The Block," you'll know exactly what they're talking about.
Tiago Splitter went up strong and confident for the slam in Game 2. LeBron had other ideas. James has had some tremendous blocks in his career, but this one was his greatest feat. James might be the only player in the league that has the power and athleticism to make this play.
Even LeBron was impressed with the play. He didn't get back on offense because he was too busy soaking in the admiration he was receiving from the Miami crowd. Still, not surprisingly, when James did eventually make his way down the court, he racked up an assist on a Ray Allen three.
If Bosh's Game 6 block was fitting, James closing out the Spurs with a jump shot is as well.
The Spurs had dared LeBron to take mid-range and three-point jumpers all series. It was a strategy that ignored that LeBron had spent the past couple of years working on his jumper. Shooting is now a strength of LeBron's, and the Spurs played him as if it is still a weakness.
Still, for the first six games of the series, LeBron didn't take advantage of the strategy. He seemed confused by the strategy and lost confidence in his shot.
But one Game 7 three-pointer turned into five, and James believed in his shot again. The Spurs were in deep, deep trouble.
To show the Spurs one last time that he's not the same player he was when San Antonio swept his Cleveland Cavaliers in the 2007 finals, James knocked down a mid-range shot to give the Heat its second straight title.
You could very well argue that James' title-clinching jumper deserves the top spot, but LeBron doesn't get the opportunity to take that shot without Ray Allen's game-tying shot late in Game 6. The Spurs were five seconds away from celebrating their fifth title in South Beach on Tuesday night.
We were five seconds away from a summer of people talking about how the Heat need to break up the Big Three, how LeBron is 1-3 in the finals and can never catch Jordan. As we've gone over, LeBron had two mistakes in the final minutes of Game 6. That's what we'd be talking about if not for this play.
LeBron's legacy and the success or failure of the Big Three came down to this one shot ironically not taken by James, Wade or Bosh.
LeBron's clutch now! He can catch Jordan now! The Heat can be a dynasty!
All that's possible because Allen, without looking down, knew the exact spot in the corner to get to with five seconds left and drilled a jumper.