The Chicago Blackhawks were able to earn a hard-fought victory over the Boston Bruins in Game 5 of the Stanley Cup Finals, but the series is far from over.
As both teams prepare for Game 6 on Monday night, they will have to make adjustments after five exciting games. Now, as we get into Game 6 and the possibility of a Game 7, every single trip down the ice becomes more important than the last.
There are certain things each team must do if they want to take Lord Stanley's Cup home. Here are the X-factors for the Chicago Blackhawks and the Boston Bruins in Game 6.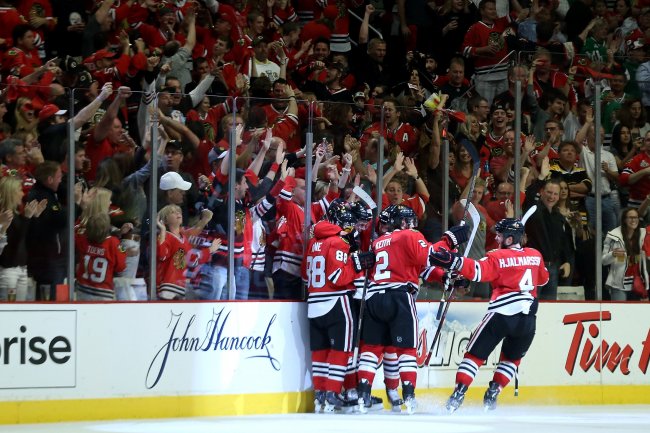 Bruce Bennett/Getty Images
Chicago Blackhawks
The Hawks took home a crucial Game 5 victory to put themselves just one win away from taking home the Stanley Cup. If they want to keep things rolling into Game 6, they need to do just what they did on Saturday: Keep the offense going and play tough defense.
Patrick Kane came through for the Hawks, netting two goals in Game 5, which—paired with a two-assist night for Jonathan Toews—was exactly what the doctor ordered on Saturday.
If the Hawks want to take home the trophy, they'll need Kane and the Hawks offense to keep the pressure on Boston. They'll also need more solid play in goal from Corey Crawford, who kept 24 Boston shots out of the net.
Offense and defense are obviously important, but the biggest X-factor for the Hawks isn't on the ice. During their win, the Blackhawks lost one of their main weapons, Jonathan Toews, to an upper-body injury.
#Blackhawks optimistic Jonathan Toews will play in game 6. 'We'll see how he is tomorrow' - Coach Quenneville

— NHLEXPERTPICKS.COM (@NHLexpertpicks) June 23, 2013
It's not yet clear whether Toews will play, but either way one of the biggest X-factors in Game 6 will be if they can adjust their game plan accordingly. If they can cope with the injury to Toews, they could very well be raising the Stanley Cup on Monday night.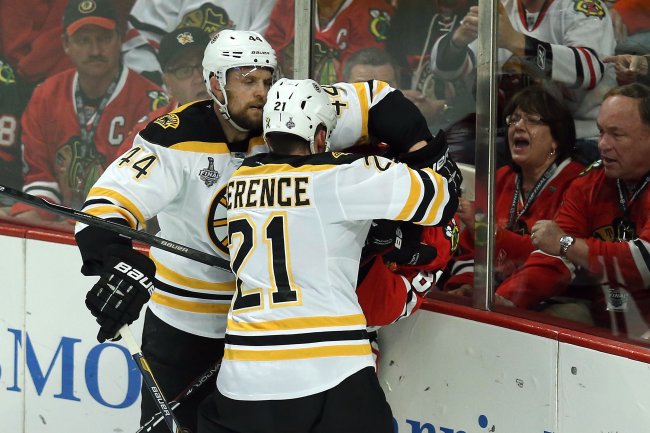 Jonathan Daniel/Getty Images
Boston Bruins
The defensive-minded Bruins have dug themselves a hole after the loss in Game 5. If they want to push the series to a Game 7, they may have to do it without their top center Patrice Bergeron. (Bergeron was taken to a Chicago hospital during Game 5 due to an injury.)
A source told me #Bruins Bergeron may have suffered a spleen injury. Team reported he was taken by ambulance for observation at nearby hosp

— Nick Kypreos (@RealKyper) June 23, 2013
The Bruins certainly were the better team in the early part of this series, but they haven't been able to make it happen as of late, especially in Games 4 and 5.
If the Bruins want to keep their hopes alive, their defense will have to dial into their earlier mindset earlier and keep the Chicago playmakers at bay. Zdeno Chara and the Bruins defense will have their hands full, especially after allowing two goals from Patrick Kane in Game 5.
If the Bruins want to push this series to Game 7, they'll have to deal with an uncertain Bergeron and step up their defensive efforts—efforts that have allowed 14 goals in the first five games of the series.