Ranking Best Bargain Bin Options for Miami Heat in 2013 Free Agency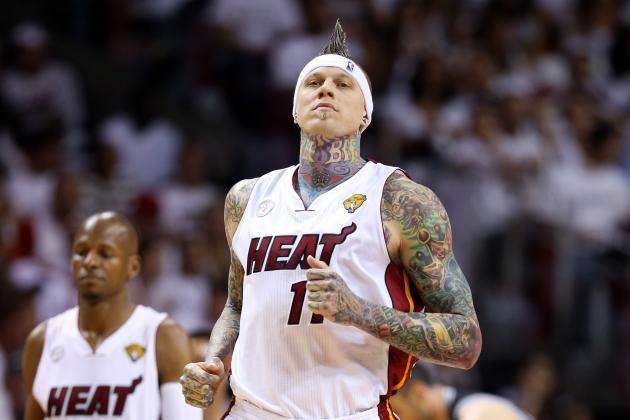 Christian Petersen/Getty Images
Miami Heat's Chris "Birdman" Andersen
On January 20, 2013, the Miami Heat signed unrestricted free agent Chris "Birdman" Andersen to a 10-day contract.
After being waived by the Denver Nuggets on July 17, 2012, Andersen re-entered the league with the Heat from the unemployment ranks. He'd sign another 10-day contract on January 30 before inking a deal that kept him in Miami for the duration of the season on February 9.
For the bargain-bin NBA price of $540,872, Birdman went on to make critical plays down the stretch in a supporting role to help Miami win the 2013 NBA championship.
As the Heat attempt to three-peat in 2014, they will enter the summer with approximately $75.5 million in guaranteed salary. The only free agents they are in a position to target are those, like Birdman, who could be signed for a similar price of $1 million annually or less.
This list is ranking those potential bargain-bin free-agent options in terms of financial fit and projected impact in 2014.
Begin Slideshow

»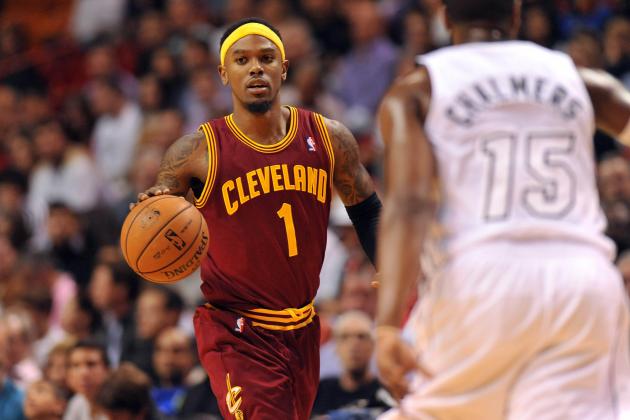 Steve Mitchell-USA TODAY Sports
Cleveland Cavaliers' Daniel Gibson
Shooting Guard/Point Guard
The Miami Heat hold a team option on Mario Chalmers in 2013-14 for $4 million. If his option is picked up, the $75.5 million the Heat currently owe in guaranteed salary quickly approaches $80 million.
With luxury tax penalties set to increase, Miami may be forced to let Chalmers walk in favor of a bargain-bin option at the backup point guard spot.
In a scenario where Norris Cole steps into the starting role, Daniel Gibson is an unrestricted free agent who could potentially be acquired for $1 million or less in 2013-14 to provide depth in the backcourt.
Though he's coming off a year where he earned $4.8 million as a member of the Cleveland Cavaliers, Gibson only averaged 5.4 points on 34 percent shooting in 2012-13.
Playing alongside LeBron James in Cleveland, however, Gibson proved his ability to knock down big shots. His ties to James, along with the playoff experience he's had earlier in his career, could make Gibson an inexpensive replacement for Chalmers.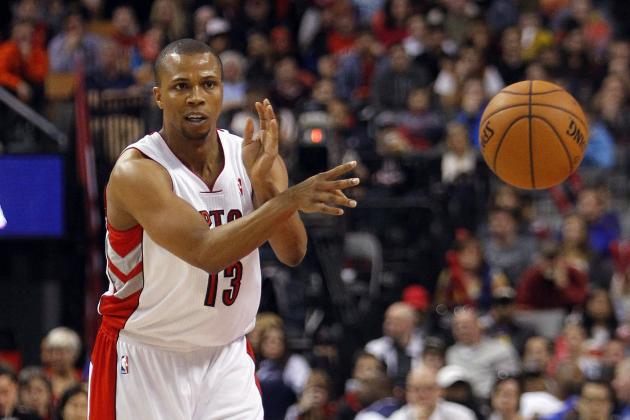 John E. Sokolowski-USA TODAY Sports
Toronto Raptors' Sebastian Telfair
Point Guard
Sebastian Telfair didn't live up to the hype and expectations surrounding his jump from high school to the league in 2004.
Despite that, however, he is still a 28-year-old point guard with nine years of NBA experience.
If the Miami Heat decline Mario Chalmers' team option for $4 million, Telfair is an unrestricted free agent who could be acquired inexpensively to spell Norris Cole.
Though he struggled to close out the 2012-13 campaign with the Toronto Raptors, Telfair turned in a solid effort with the Phoenix Suns in 2011-12 relieving Steve Nash. He played in 60 of 66 games that year, averaging 6.1 points and 2.3 assists in 14.9 minutes of work.
Assuming a similar role in the stable, championship environment the Miami Heat organization offers, Telfair—who earned $1.6 million last season—could be a bargain-bin option worth taking a chance on.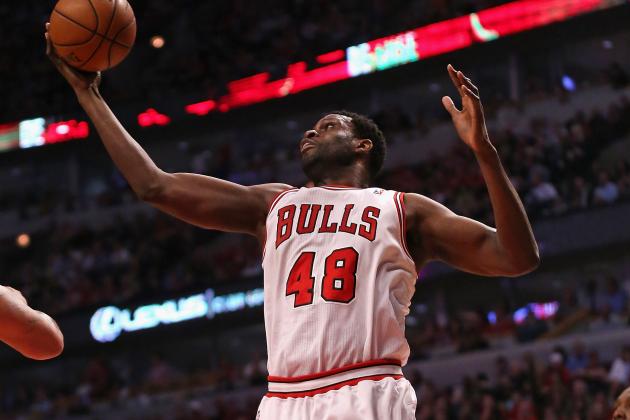 Jonathan Daniel/Getty Images
Chicago Bulls' Nazr Mohammed
Center
During Game 3 of the Eastern Conference semifinals, Chicago Bulls center Nazr Mohammed was ejected for shoving LeBron James.
Assuming James and the Miami Heat dismissed any lingering ill-will during the championship celebration that ensued last week, Mohammed is an inexpensive free-agent option worth pursuing.
The 35-year-old, 6'10" center, appeared in 12 postseason games for the Bulls in 2013.
While contributing on the defensive end primarily, Mohammed also shot 51.2 percent in the playoffs and collected 2.7 rebounds in 9.5 minutes per night.
This summer, Mohammed is an unrestricted free agent coming off a season where he earned $1.4 million with the Bulls. He could potentially add interior defense and depth up front for less than $1 million in 2013-14.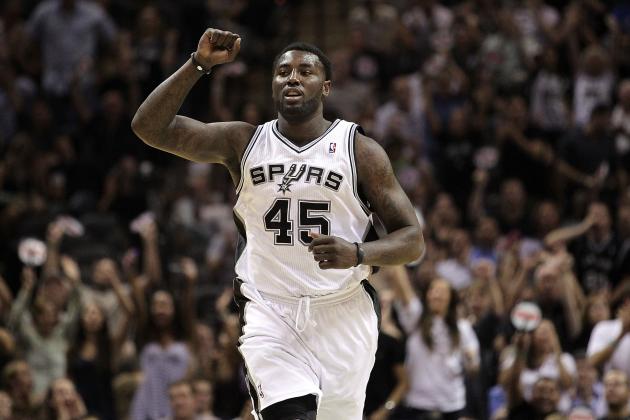 Ronald Martinez/Getty Images
San Antonio Spurs' DeJuan Blair
Power Forward/Center
DeJuan Blair appeared in all four games for the San Antonio Spurs during their opening-round sweep of the Los Angeles Lakers.
Making the most of his minutes, Blair averaged 6.5 points and 3.3 rebounds on 70.6 percent shooting during 11.3 minutes of work in the series.
He only checked into eight of his team's next 17 games from there, however, averaging 6.3 minutes during the 2013 playoffs in total.
As an unrestricted free agent this summer, Blair is not expected to re-sign with the Spurs. After earning $1 million in 2012-13, though, he could be a bargain-bin option for the Miami Heat.
While providing energy and toughness around the rim, the 24-year-old big would help improve the Heat's rebounding effort specifically. If he is willing to sign with Miami for about the same money he earned this year, it could be an ideal fit for both sides.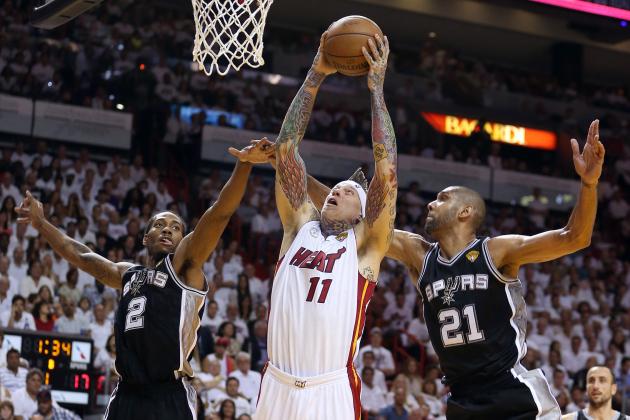 Christian Petersen/Getty Images
Miami Heat's Chris Andersen
Power Forward
Chris Andersen shot 80.1 percent in the postseason for the Miami Heat. He also averaged 6.4 points and 3.8 rebounds in only 15.2 minutes of work on a nightly basis.
During those 20 playoff games, however—more than any statistical contribution—Andersen also provided a defensive toughness the Heat front line simply lacked prior to his arrival.
As a featured member of Miami's supporting cast, the lift Andersen delivered off the bench was ultimately critical in helping the Heat repeat as NBA champions in 2013.
If he is looking for his next contract to be in the $2 million-and-up range, the Heat might not be able to afford Andersen in 2013-14 due to luxury tax implications.
But if the 34-year-old power forward will accept a $1 million deal from the team who helped extend his career, expect the Heat to do everything in their power to bring Andersen back for another season.
All salary information via Hoopsworld.com and Spotrac.com