The 2013 NBA draft is just a few days away (Thursday, June 27), but the madness surrounding the event and the trade rumors that have taken over the basketball world have fans everywhere at a fever pitch.
The following deals could come to fruition on draft day and would shake the first round to its core. For the sake of chaos, let's hope a few blockbuster deals get done.
Cleveland Looking to Trade for Boston's Paul Pierce?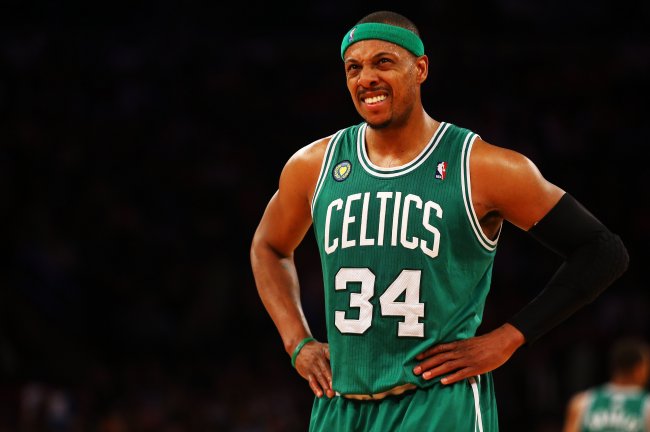 Al Bello/Getty Images
The Cleveland Cavaliers are becoming one of the more brazen teams in the NBA, and the franchise has enough cap space and willingness to make a blockbuster move on draft day.
The latest report is that the organization is offering several picks to the Boston Celtics in return for veteran small forward Paul Pierce, according to Cavaliers insider Bob Finnan of The News Herald:
The Cavs have likely spoken to the Celtics about small forward Paul Pierce's availability. The latest rumor is the Cavs offering their two second-round picks for the 35-year-old Pierce. Pierce's $15.3 million contract for next year would become guaranteed if he's dealt.
There is little doubt going to Cleveland would be a less-than-ideal fit for an aging veteran looking to win another title, but it would give Pierce a chance to shine in a smaller market and become a team's true leader.
With a great point guard in Kyrie Irving and a plethora of solid role players who are looking for guidance and a true veteran presence, Pierce could be the piece to the puzzle the franchise has lacked since LeBron James left for Miami.
Houston Rockets Dealing Thomas Robinson for First-Round Pick?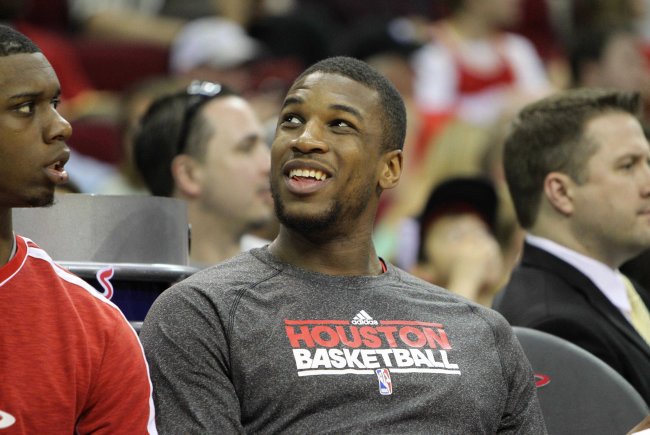 Brett Davis-USA TODAY Sports
Power forward Thomas Robinson has already had a wild NBA ride in his short time in the league, being drafted fifth overall by Sacramento, playing 51 games with the Kings and being traded to the Houston Rockets.
After one of the wildest freshman seasons in history, Robinson is back on the trade block.
ESPN's NBA insider Marc Stein talks about a potential deal that would send the former first-round pick to his third team in less than a year, how it would happen and why a mystery team would want to pursue a trade like this:
Some draft scuttle: Rockets have been offered chance to shed contract of PF Thomas Robinson for first-round pick in next Thursday's draft

— Marc Stein (@ESPNSteinLine) June 21, 2013
Rockets, I'm told, have eyes on fistful of international players they'd draft with a first for Robinson to keep overseas and avoid cap hit

— Marc Stein (@ESPNSteinLine) June 22, 2013
I'm no @chadfordinsider, so hope I'm getting these names right. Players on Rockets' radar: Adetokunbo, Gobert, Karasev, Nogueira, Schroeder

— Marc Stein (@ESPNSteinLine) June 22, 2013
Robinson is a talented player with plenty of potential—he averaged 4.8 points and 4.5 rebounds per game this season—but with an expensive contract allotted to the fifth overall pick, teams are finding it easy to justify moving the forward because of the price tag.
Houston is looking to make some space under the cap, so trading Robinson for a pick the team can use on a foreign-born player is the smart move. This is also a great deal for the mystery team looking to add some serious grit in the low post with the former Kansas star.
Philadelphia 76ers Looking to Jump into Late First Round?
The Philadelphia 76ers have a huge decision to make with impending free agent Andrew Bynum, but whether or not they attempt to re-sign him, the team must be looking to add size and depth in the low post.
Per Alex Kennedy of Hoopsworld, if the 76ers don't find the big man they were looking for at No. 11—or a value pick falls to the franchise—there is a chance Philadelphia would trade back into the first round:
The Philadelphia 76ers are one of several teams that are interested in acquiring a late first-round pick, according to sources close to the situation. If Philadelphia doesn't select a center with the 11th pick, they may try to acquire one of the final picks in the first round to select a big. In recent weeks, they have expressed interest in a number of centers projected in that range such as Brazilian center Lucas Nogueira and French center Mouhammadou Jaiteh among others.
The need for depth at center and power forward is obvious, but it's the team's overall lack of size that has hurt them over the last several seasons. With Bynum a clear bust and likely to leave the city without ever playing a game in a 76ers uniform, the franchise must start looking to the future.
Philadelphia should be looking to draft Indiana center Cody Zeller at No. 11 overall.