Boston Red Sox vs. Detroit Tigers: Live Score, Analysis and Reaction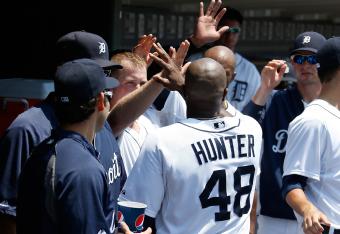 Gregory Shamus/Getty Images
The Red Sox lose a controversial game in Detroit. After losing three of four to Detroit, the Red Sox look to regroup at home with two against the Colorado Rockies starting Tuesday and then the resurgent Toronto Blue Jays come to Fenway Park for a four-game set.
Hunter ends the threat for the Red Sox with a diving catch to rob Drew of extra bases. Tigers win 7-5.
Gomes keeps the rally going with a RBI double down the right field line to score Pedroia from second. It is now 7-5.
Napoli hits it hard, but right at Jackson for the second out of the final frame.
Benoit able to strike out Ortiz for out No. 1 of the ninth.
Pedroia starts the ninth with a single off Benoit.
Double play off of Breslow's glove to shortstop Drew to end inninng after Tigers take 7-4 edge. The Tigers may not have scored at all if the umpires saw a replay of that catch by Nava.
Fielder delivers with a base hit up the middle to score Holaday and Jackson to make it 7-4. The intentional walk to Cabrera does not pay off.
Cabrera is walked intentionally after 2-0 count from WIlson. Craig Breslow now in with bases loaded and one out to face Fielder after botched call on Nava's catch to start the frame.
Hunter gives Tigers 5-4 lead with sacrifice fly to center off WIlson. Holaday moved to third on flyball too.
Alex Wilson warming in Red Sox bullpen as Miller fails on throw to first on sacrifice bunt for Holaday.
With runners on first and third with no one out. Miller walked Jackson.
Wilson on to face Hunter with bases loaded and nobody out.
Lower back tightness forced Victorino's exit.

— Ian Browne (@IanMBrowne) June 23, 2013
Nava bobbled a ball on the transfer, but the umps are saying he dropped it. Garcia at second and Farrell ejected with Holaday coming up to the plate against Miller.
Benoit strikes out Nava with pitch in dirt. Tigers sending Garcia, Holaday and Jackson up in the eighth.
Ellsbury steals second on a close play thanks to Holaday's throw. That's the 32nd steal for Ellsbury with Nava still at the plate.
Nava in to pinch-hit for Victorino.
Joaquin Benoit now in after Ellsbury singled to left with two outs in the inning. Time to see if Ellsbury can steal a base or two to make this inning interesting.
Lavarnway gave that one a ride, but flies out to Garcia on the warning track for the first out of the eighth as Smyly gives the Tigers some great work out of the pen.
Infante grounds into fielder's choice to third, but Tigers tie game 4-4 on hit batter with bases loaded. Miller had two strikes on Peralta when he hit him.
Miller went too far inside with that pitch. Peralta plunked on the knee to drive in the tying run with the bases still loaded for the Tigers. The run was charged to Bailey.
Swing and a miss!
Martinez strikes out swinging for the second out of the inning. Can Peralta deliver again in the clutch?
Miller gives up hit to Fielder to load bases. Look like it is up to Martinez to get the Tigers on the board in the seventh.
Interesting break there for the Tigers. With Jackson on first, Hunter lined to Pedroia who had the ball glance off the side of his glove.
Pedroia ran to second and tagged both runners. Hunter was the only one called out because the umpire felt that Pedroia did it on purpose.
Cabrera lined a ball to right to put runners on first and second.
Farrell out to make the pitching change. Andrew Miller in to face Fielder with two on and one out.
Andrew Bailey in for the seventh inning. First appearance since his blown save on Thursday night.
Drew pops to short to end the scoring chance for the Red Sox.
This article is
What is the duplicate article?
Why is this article offensive?
Where is this article plagiarized from?
Why is this article poorly edited?

Boston Red Sox: Like this team?