Building the Perfect UFC Featherweight Fighter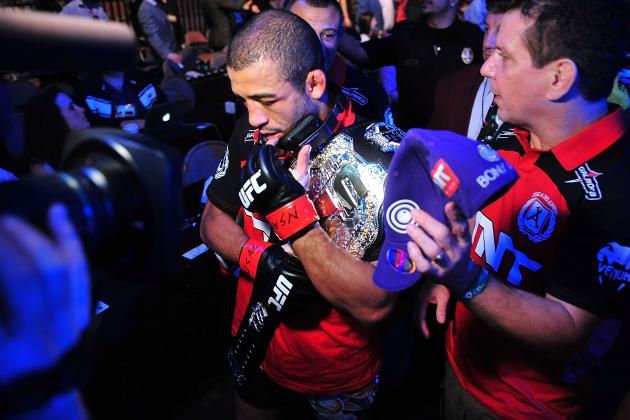 Gary A. Vasquez-USA TODAY Sports

Jose Aldo has dominated the featherweight division over the past three-and-a-half years. With another win or two, the Brazilian may decide to test himself in the lightweight division.
Despite his success at 145 pounds, Aldo is not without flaws. He puts everything together better than any featherweight, but there are better wrestlers and fighters with more impressive conditioning within his own division.
While Aldo is about as close to unbeatable as a featherweight fighter could be in reality, let's have some fun and imagine a 145-pound competitor who is truly untouchable in all areas by combining assets from some of the best in the division.
Begin Slideshow

»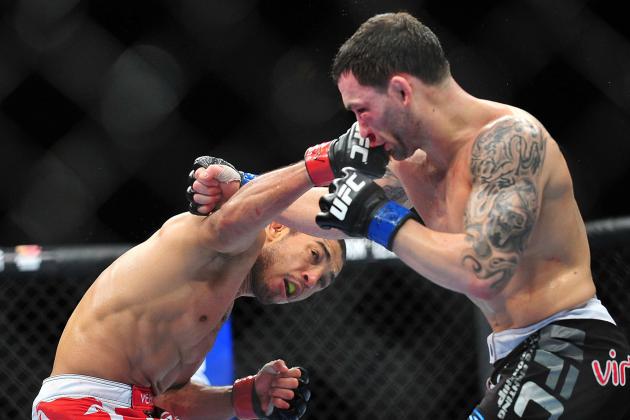 Gary A. Vasquez-USA TODAY Sports

Jose Aldo is nearly untouchable when standing. The champion successfully defends 73 percent of strikes thrown at him and is usually only grazed when his opponents do connect to the head.
Offensively, Aldo's stand-up is equally astonishing.
In his four UFC appearances, the Brazilian has faced two very solid MMA boxers in Frankie Edgar and Mark Hominick—and made both look like they weren't sure what to do with their hands. Aldo's boxing left Hominick with a massive hematoma and led him to a fairly clear decision win in a superfight of sorts with a former lightweight champion in Edgar.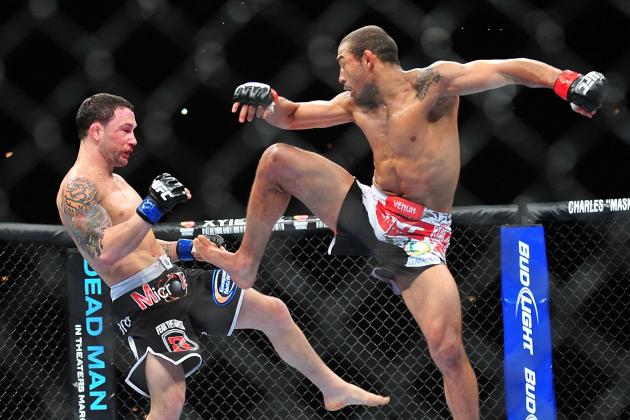 Gary A. Vasquez-USA TODAY Sports

While Jose Aldo's punches are damaging, his kicks and knees are even more dangerous.
In his first defense of the WEC featherweight title, Aldo did this to Urijah Faber with an unhealthy dose of leg kicks over five rounds. While that was clearly the most extreme example of his kicking power, Aldo has also utilized leg kicks to his advantage in several other bouts.
Aldo's knees have also helped him to the top of the featherweight division. His double flying knee against Cub Swanson remains one of the most impressive knockouts in MMA history, and a knee to the head of Chad Mendes helped Aldo dispose of an opponent who was expected to present serious challenges.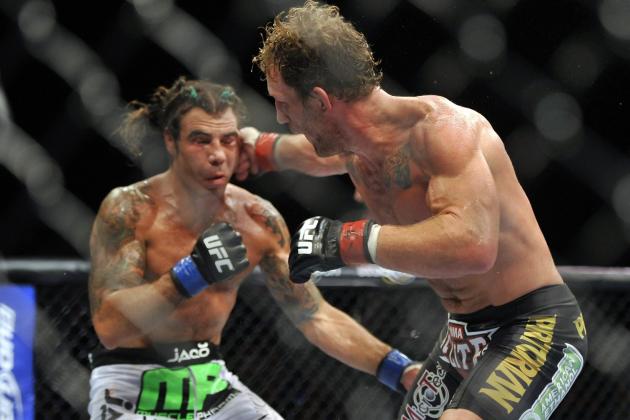 Joe Camporeale-USA TODAY Sports

Clay Guida has gone 43 professional MMA fights without being stopped by strikes.
It's not that "The Carpenter" can't be knocked down—Benson Henderson and Diego Sanchez both put Guida on the canvas. It's that before you can follow him to the ground and look for the finish, Guida is already back on his feet and swinging.
Having taken big blows from some large lightweights, it's unlikely we'll see Guida knocked out for the first time while competing in the 145-pound division.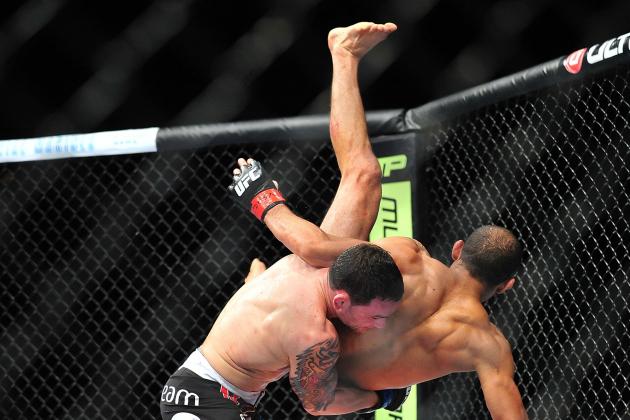 Gary A. Vasquez-USA TODAY Sports

Frankie Edgar was arguably the best wrestler in the lightweight division, with seven takedowns over the course of two fights against 155-pound champion Benson Henderson. So, as he tries to find his place in the 145-pound class, wrestling should play a big part in his success.
While he came up short against the featherweight champion, Edgar is the only UFC fighter to score multiple takedowns in a single bout with Jose Aldo.
Edgar's footwork and boxing have received a lot of credit for his past victories, but his takedowns have been equally important in many of his wins. If he wants to earn another featherweight title shot, Edgar will need to continue to try to mix in wrestling with his striking.
Kyle Terada-USA TODAY Sports

While Frankie Edgar's wrestling may be tops in the featherweight division, he frequently uses takedowns to score points rather than to control his opponents on the ground.
Chad Mendes, on the other hand, looks to shut opponents down once he drags them to the canvas. Takedowns and top control led Mendes to wins in his first two UFC bouts against Michihiro Omigawa and Rani Yahya, which earned him a title shot against Jose Aldo.
Although Mendes wasn't able to utilize his ground game against the 145-pound champion, he still has the ability to grind out just about any featherweight in the world.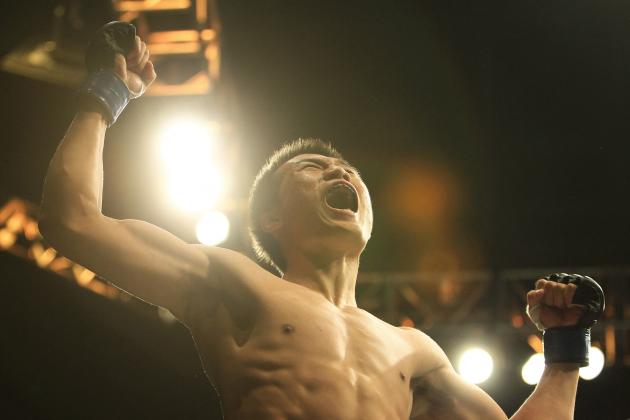 Tom Szczerbowski-USA TODAY Sports

With several submission wins prior to joining the UFC roster, Chan Sung Jung has always been a quality grappler. However, he seems to have stepped up his ground game to a new level inside the Octagon.
In three UFC bouts, Jung has already pulled off a twister and locked up a D'Arce choke on featherweight contender Dustin Poirier.
Preparing for a title shot against Jose Aldo, Jung will now have a chance to show just how good he is against the best in the world. Having been knocked out by the likes of George Roop, Jung's grappling and submissions may have to be better than ever in order to mount an upset against the champion.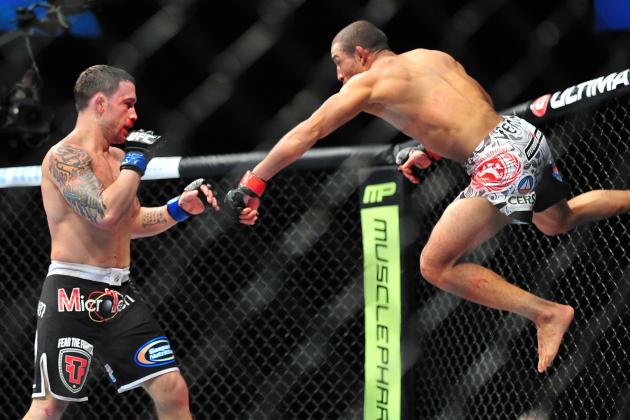 Gary A. Vasquez-USA TODAY Sports

More than just a master of technique, Jose Aldo is one of the most explosive fighters in the featherweight division.
Aldo once put Cub Swanson away with two knees in a single leap, a feat never seen inside the Octagon. The 145-pound champion also showed off his athleticism against Frankie Edgar, jumping off the cage into a superman punch to add an exclamation point to his decision win.
With his mix of skill and pure talent, it's tough to see many contenders having a realistic chance of dethroning Aldo in the featherweight division.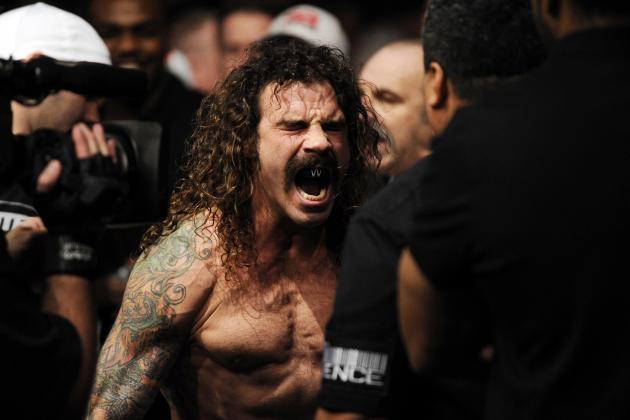 David Banks-USA TODAY Sports

Clay Guida's past two performances have not been impressive. He's played it safe and slow, which is a puzzling approach for a fighter possessing a great chin and outstanding conditioning.
A high-energy fighter who never fades, Guida would likely benefit much more from pressuring opponents and out-lasting them. He hasn't shown off his conditioning in recent appearances, but we've seen Guida keep a high pace all the way to the scorecards against Benson Henderson, Diego Sanchez and others.
One of the few flaws possessed by featherweight champion Jose Aldo is his conditioning. If he came into fights with the same amount of energy as Guida, he might be downright unbeatable.