Ranking the Best 5 Draft Picks in OKC Thunder History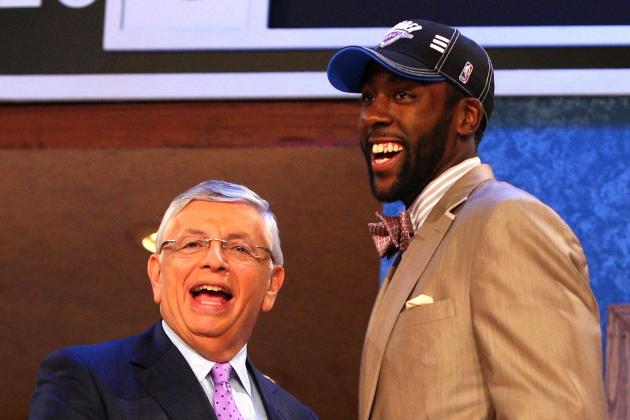 Jim McIsaac/Getty Images

The Oklahoma City Thunder have only been a team since 2008, but they have evolved from a helpless lottery team into a powerhouse contender seemingly overnight.
However, it wasn't quite as sudden as you may think. We know that the core of the Thunder consists of Kevin Durant, Serge Ibaka and Russell Westbrook. But these three didn't get together one offseason and decide to go to OKC. Rather, they were all assembled through the more traditional means of the NBA draft.
Yes, Kevin Durant did get drafted in 2007 when the Thunder were still the SuperSonics, but in the five years since then, Oklahoma City has had plenty of success of its own in the draft.
So without counting the Seattle history, let's see who makes the cut for being amongst the best players ever to be drafted by the Oklahoma City Thunder.
Begin Slideshow

»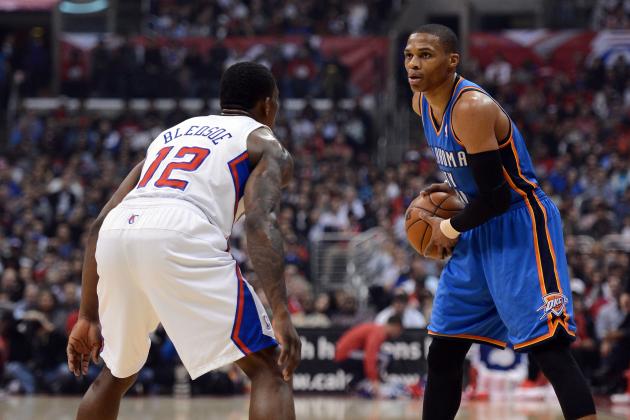 Harry How/Getty Images

I know what you're going to say. "Eric Bledsoe never even played for the Thunder!"
Trust me, I am fully aware that Bledsoe was dealt almost immediately after going up to the stage to get his Oklahoma City hat. Therefore, he's included on this list because he was drafted by the Thunder, even if he's made his career in Los Angeles with the Clippers.
This past season, Bledsoe enjoyed a mini-breakout campaign as he averaged 8.5 points, three rebounds, 3.1 assists and 1.4 steals per game. He seems to have benefited a lot from playing behind one of the best, if not the best, point guards in the league in Chris Paul.
Bledsoe has shown a lot of characteristics that explain why he appealed to the Thunder, including his great physical attributes as well as explosive athleticism. Though he isn't much of a shooter or playmaker as a point guard, Bledsoe has shown growth in those areas this past season.
Even if he never played for the Thunder, Oklahoma City GM Sam Presti surely drafted Bledsoe based on his potential. However, Presti also knew that Eric Maynor was already backing up Russell Westbrook and that Bledsoe wouldn't have had too much opportunity in that case.
In return, OKC did acquire a future protected first-round pick from the Clippers, which may not come into play until another few years down the road. When that day comes, though, maybe we'll finally be able to decide if Bledsoe was worth keeping or not.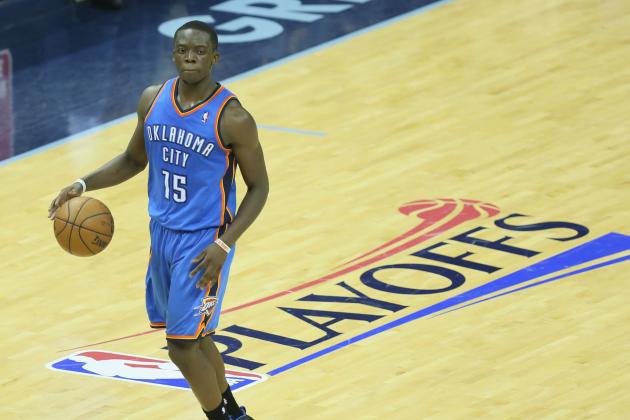 Nelson Chenault-USA TODAY Sports

Before this past postseason, a lot of NBA fans probably didn't know about Reggie Jackson.
It could be because he shares a name with a certain professional baseball Hall of Famer, but it's more likely due to a combination of limited playing time and the man who starts ahead of him, Russell Westbrook.
That changed, however, when Westbrook was hampered by a knee injury, forcing Jackson to step into the spotlight as the starting point guard for the Thunder. Jackson didn't shy away from this opportunity and contributed heavily during each of his nine starts.
For as good as Jackson looked in the playoffs this year, he looked equally as shaky during his rookie campaign last year. Going into the postseason in 2012, Oklahoma City didn't feel too comfortable having Jackson backing up Westbrook alone, which is why Derek Fisher was brought into the equation.
During the first half of his sophomore year, though, Jackson showed great progress in his game and earned sole possession of the second-string spot over a struggling Eric Maynor. This eventually opened the door for his chance to shine in the playoffs, where he proved that he was plenty worthy of being drafted in the first round, and then some.
The later picks of even the first round of any NBA draft can sometimes be a crapshoot, but Sam Presti showed his prowess once more by finding and taking an under-the-radar prospect with tons of potential.
After just two seasons, Jackson has shown that he can make significant contributions to an elite team and that he should be an important part of the Oklahoma City Thunder from here on out.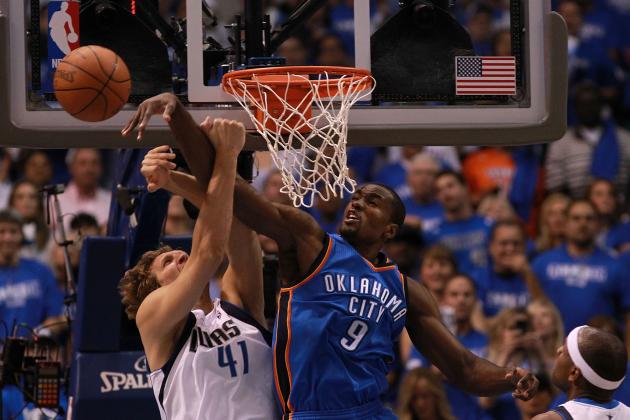 Ronald Martinez/Getty Images

While the Oklahoma City Thunder were still technically the Seattle SuperSonics during the 2008 NBA draft, the relocation was finalized before Serge Ibaka ever suited up in the green and yellow.
Either way, this was a great case of finding a diamond in the rough. With talented big men like Kevin Love, Brook Lopez and Roy Hibbert already off the board and way out of reach for the Thunder, they opted to go international and drafted Ibaka out of Spain.
Since then, Ibaka has proven himself to be quite a steal amongst the other bigs in his draft class as he's earned two All-NBA Defensive First Team recognitions along with leading the league in blocked shots for the past two seasons.
Ibaka has become a defensive anchor for the Thunder in the low post and has continued to show his offensive improvement in his young career. He's managed to transform from a 19-year-old kid from the Republic of the Congo into an explosive power forward and one of the best players on the Oklahoma City roster.
During the draft, we see a lot of international players get drafted and stashed by teams, hoping that they can make an impact sometime in the future. Ibaka, however, made his splash almost immediately and is still growing into one of the better players at his position.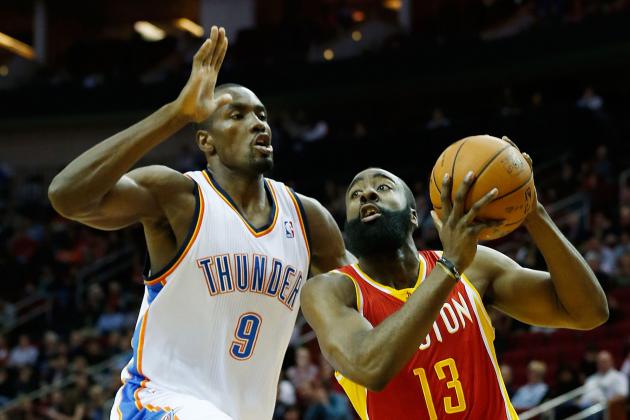 Scott Halleran/Getty Images

Though Thunder fans have been trying to repress memories of the once-beloved sixth man, there's still no argument that he was one of the best picks that Oklahoma City ever made.
In retrospect, the 2009 draft class was oozing with talent in the lottery picks, but there were also some teams that whiffed hard anyway. OKC was not one of those teams, as James Harden has blossomed into one of the top scorers in the game today.
The Thunder could have opted for Tyreke Evans, Ricky Rubio or Steph Curry at their No. 3 spot, but Harden's time in OKC proved that they made the right choice.
Serving primarily as a sixth man in Oklahoma City, Harden understandably wanted to spread his wings as a starter, which prompted a trade to the Houston Rockets. Harden's had plenty of great games for the Thunder, but he proved in Houston this past season that he is fully capable of big games on an almost nightly basis.
Though Harden only saw about seven more minutes on the court this season, his heightened role as the go-to scorer in Houston resulted in a scoring average increase from 16.8 points per game in 2011-12 to 25.9 points in 2012-13.
James Harden may not play for the Thunder anymore, but he was a crucial part to their recent success and will surely be remembered when looking back to the early days of this franchise.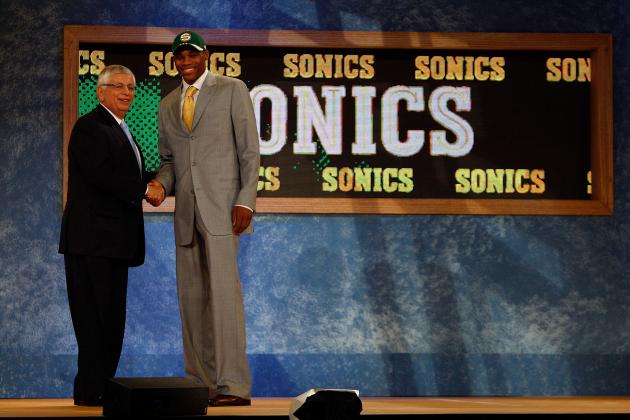 Nick Laham/Getty Images

Though Russell Westbrook's draft cap bore the Seattle SuperSonics' logo, this was still very much an informal Oklahoma City Thunder selection and their best pick to date.
What more could be said about what Westbrook's done for this Thunder team? He's shown himself to be one of the very best point guards in the entire world and has amazed crowds everywhere he goes with his athleticism, explosiveness and fiery personality on the court.
This past playoff run for the Thunder was played mostly without an injured Westbrook and served as a painful reminder of just how key he is to the overall success of the team.
There were some doubts about Westbrook when he was drafted. Some didn't think he had strong-enough playmaking abilities to play point guard, or that he wasn't skilled enough at creating his own shot to play the 2-guard spot, either.
Amongst all the doubt, though, Sam Presti saw a player with unlimited potential, which prompted his selection of Westbrook ahead of less-risky picks such as Kevin Love or Eric Gordon. Westbrook knew the expectations of a top-five pick coming into the league, but I'm sure he felt worthy of being picked even higher.
As a result, Westbrook's chip on his shoulder has motivated him to silence the haters, and it has shaped him into the passionate, elite player we see today. Though this past postseason was one filled with disappointment, Westbrook and his partner-in-crime, Kevin Durant, still have plenty of opportunity to capture their first NBA title and bring it back home to Oklahoma City.