It seems like it was just yesterday when LeBron James joined Chris Bosh, Dwyane Wade and the Miami Heat to form the NBA's newest Big Three. The trio came together in unexpected fashion, and the Heat quickly became the team that everybody loved to hate.
After watching Miami win its second consecutive title, nothing would make some fans happier than seeing the superstars go their separate ways. It's a topic that people love to discuss, and it's something that could happen sooner than we think.
Before we dive into the debate too deeply, let's make one thing clear: The Heat should not break up the Big Three just yet. Three straight championship appearances and two consecutive Larry O'Brien Trophies are evidence enough that buying a roster works. As long as owner Micky Arison is willing to cut the checks, there's no reason to fix what isn't broken.
That said, there will be obstacles along the way if Miami wants to keep its core intact, and you have to wonder how much time the Big Three has left.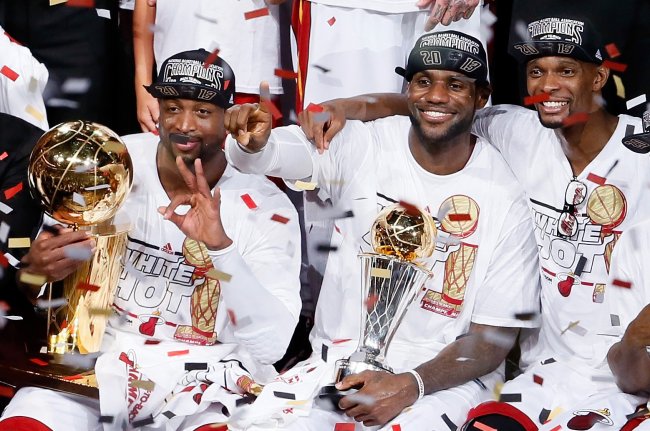 Kevin C. Cox/Getty Images
When James first arrived in South Beach, the question of whose team the Heat would be sparked legitimate debates. James was arguably, yet inconsistently, the game's best player, but Wade was the one who helped turn the franchise around so many years before.
Now, with Wade showing that injuries continue to be a problem, he could become expendable down the road in the eyes of management.
Dwyane Wade isn't giving Heat nearly enough. Age plus injuries really catching up. Can't imagine he'll be even this effective next year.

— Sam Amico (@SamAmicoFSO) May 25, 2013
To Heat fans, ditching Wade is borderline blasphemous. Nostalgia can blur the vision of any faithful follower, which is something that simply doesn't happen to smart organizations.
But while Wade should no longer be considered untouchable, the more likely scenario is that Bosh is the first to go. The big man didn't score a single point in Game 7 against the San Antonio Spurs, and while his ability to spread the floor is invaluable at times, he only averaged 12.1 points and 7.3 rebounds in the entire postseason.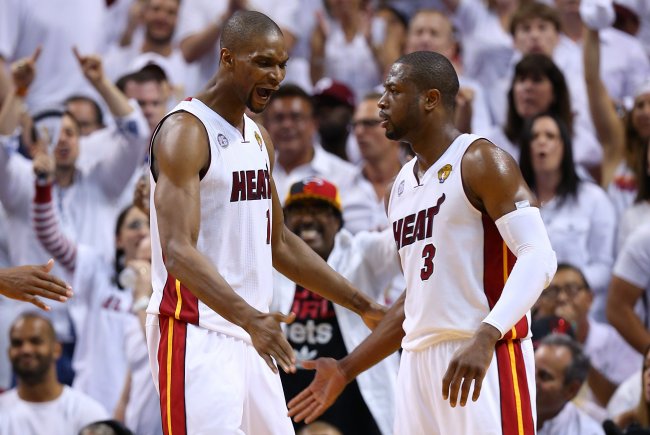 Mike Ehrmann/Getty Images
The beautiful part about this situation for Pat Riley is that there's almost no pressure to do anything drastic. A second straight championship validates the decision he made in 2010, and from a basketball standpoint, the team continues to get the job done.
Where Riley—and more specifically, Arison—will be burdened is with the team's payroll.
According to HoopsHype, Miami had the fourth-highest payroll during the 2012-13 season. That number will rise to No. 2 in 2013-14, as all three stars will be pushing $20 million per year.
From the perspective of fans, this much money going to three players means one thing: fewer role players. The Heat have done wonders throughout the years adding solid rotation guys behind the stars, but that's a category that could take a hit as salaries continue to rise.
The other perspective, which comes straight from the owner, has to be focused on the new luxury tax. Not only will Miami face big-time consequences based on the league's new penalty scale, but it will also be subject to a repeater tax for being over the salary cap four out of the past five years.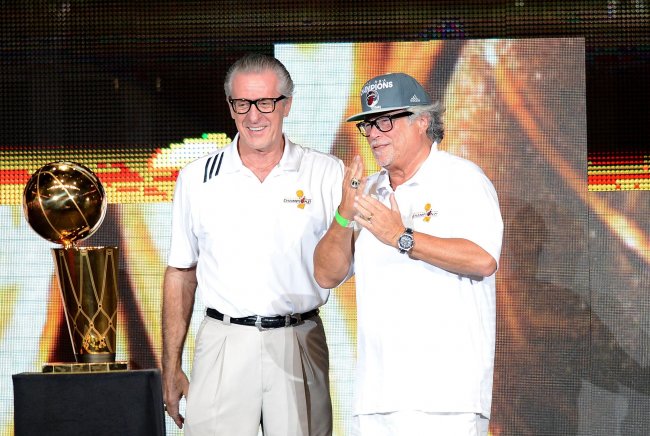 Steve Mitchell-USA TODAY Sports
Money aside, the other concern stems from free agency. The three stars are set to play with each other once again in 2013—so long as Riley and Arison choose to keep them together—but each player has the ability to opt out and test the market in 2014.
How long can the Big Three stay together in Miami?
A win-win situation for Miami would be all three players opting out, then quickly re-signing at a lower pay scale. This would allow the team to lock them up long term, while creating cap space to further bolster the bench.
But while all players re-constructing their deals is a possibility, there's another route this could go. All three players could choose to opt in, creating a tax situation that should scare any billionaire owner across the league.
Even scarier than that thought is the notion that James might leave in 2014. An older Wade and an underperforming Bosh may be what drives the MVP away, and if Riley can prevent that ahead of time, you'd better believe he's going to try.
To some, this kind of talk is premature. The team has done what it came together to do, and it has begun the process of establishing the game's next great dynasty.
To those, let me reiterate one important point: The Heat should not break up the Big Three. The time is not right, and the team is not broken.
But to ignore the fact that this is a conversation worth having is blindly accepting the present as a never-ending reality. This group will one day split up, and it's possible that the writing on the wall has already begun to show.
No team lasts forever, and at the end of the day, the Heat will be no exception.