MLB's Longest Home Run Blasts of the Week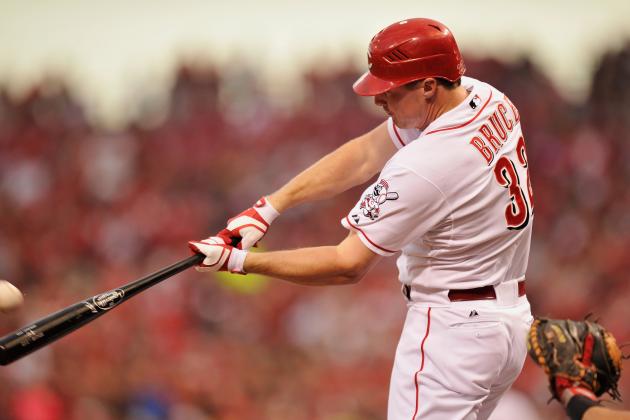 Jamie Sabau/Getty Images

If you're a fan of the long ball, then this past week of MLB action was right up your alley.
Balls simply couldn't stay on the field of play this week, with 203 home runs being smacked by 142 different batters off of 144 different pitchers. According to ESPN's Home Run Tracker, 40 of those batters went yard at least twice.
Not too shabby.
While the wait continues for another 500-foot home run—we haven't seen one since Adam Dunn (then with Arizona) crushed a pitch from Colorado's Glendon Rusch 504 feet into the night back in 2008—that doesn't make this week's list of long-ball hitters any less impressive.
Here's a look at the 10 longest home runs of the week.
Begin Slideshow

»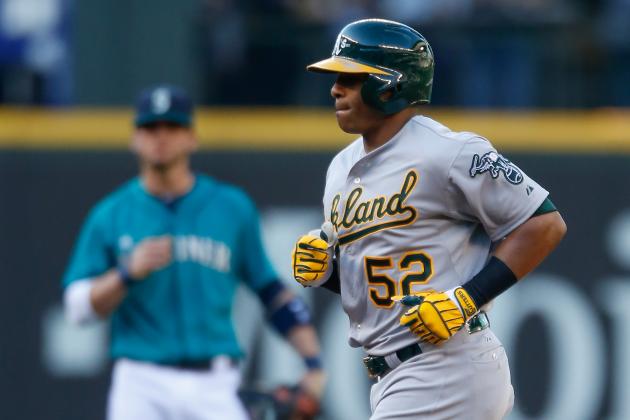 Otto Greule Jr/Getty Images

Date: June 21
Vs. Hisashi Iwakuma, Seattle Mariners
Season HR: 14
Career HR vs. Iwakuma: 3
There's something about playing Seattle that brings the beast out in Yoenis Cespedes.
Of the 36 home runs that he's hit since making his major league debut in 2012, 10 have come at the hands of Mariners pitching.
The biggest culprit?
Hishashi Iwakuma, who has surrendered three long balls to Cespedes, including this 440-foot, two-run shot in the top of the first inning this past Friday.
Not only did that give Oakland an early 2-0 lead, but, according to Susan Slusser of the San Francisco Chronicle, it was the longest home run hit at Safeco Field since 2008:
According to #Mariners notes, Yoenis Cespedes' 440-foot HR last night was the longest by an opponent here in 5 years (Napoli, 447', 2008).

— Susan Slusser (@susanslusser) June 23, 2013
Not to be outdone, Cespedes would hit another two-run shot in the top of the ninth inning, this one a 370-foot blast off Seattle closer Tom Wilhelmsen that extended Oakland's lead to 6-3, the eventual final score.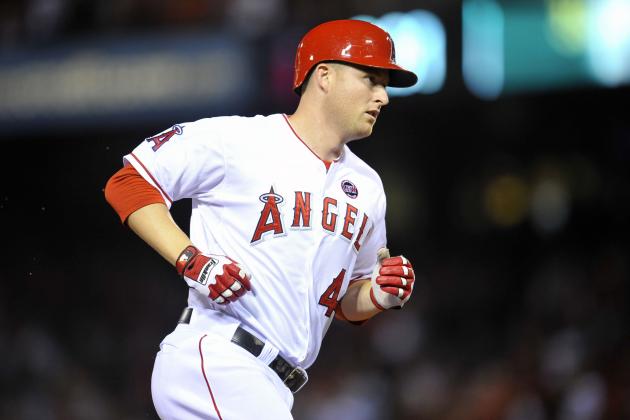 Gary A. Vasquez-USA TODAY Sports

Date: June 18
Vs. Jeremy Bonderman, Seattle Mariners
Season HR: 16
Career HR vs. Bonderman: 1
With all of the issues in Los Angeles this season, it's easy to overlook the season that Mark Trumbo has quietly put together.
The team's leader in home runs (17) and RBI (50), Trumbo's 441-foot solo shot off of Jeremy Bonderman in the bottom of the second inning on Tuesday cut Seattle's lead to 2-1, the third home run of the inning (Angels' starter Joe Blanton surrendered a pair of solo shots in the top-half of the inning).
The Angels would eventually lose by a score of 3-2.
Yet he's hitting only .258, a number that could lead to his being left off of the American League's All-Star squad. If that's the case, according to Mike DiGiovanna of the Los Angeles Times, we shouldn't get our hopes up of seeing Trumbo anywhere near Citi Field for the mid-summer classic:
#Angels slugger Mark Trumbo, who placed 3rd in HR Derby last year, will pass on the event if he's not an All-Star. http://t.co/9ZsE7Y8qwF

— Mike DiGiovanna (@MikeDiGiovanna) June 19, 2013
It would be a shame for fans to be deprived of the chance to see one of the American League's premier sluggers take his hacks in what has become the highlight of All-Star Weekend, the Home Run Derby.
Date: June 22
Vs.: Heath Bell, Arizona Diamondbacks
Season HR: 18
Career HR vs. Bell: 2
It's going to be nearly impossible for you to find a player who is more locked in at the plate this month than Cincinnati's Jay Bruce. Not only did Bruce hit seven home runs this week, but he's gone deep in four consecutive games and hit 10 of his 18 home runs on the season this month.
His two-run shot off of Arizona closer Heath Bell in the top of the ninth inning on Saturday night gave Cincinnati a 3-2 lead and, with Aroldis Chapman set to close things out, it looked like the Reds were about to snap their two-game losing streak.
But Chapman couldn't record an out, allowing two runs in the bottom half of the inning as the Diamondbacks won 4-3, setting Cincinnati up to be swept for only the second time this season (Pittsburgh accomplished the feat in mid-April).
David Kohl-USA TODAY Sports

Date: June 16
Vs.: Wily Peralta, Milwaukee Brewers
Season HR: 12
Career HR vs. Peralta: 1
Jay Bruce makes his second appearance on this week's list courtesy of this towering, 443-foot blast off of Milwaukee's Wily Peralta in the bottom of the third inning last Sunday, landing two-thirds of the way up the right field stands and giving Cincinnati a 3-1 lead.
It would be the 24th home run of his career that Bruce has hit against Cincinnati's division rivals, six more than he's hit against any other team. Houston and Pittsburgh, which have each surrendered 18 long balls to Bruce, sit in a tie for second place on that dubious list.
Date: June 18
Vs.: Chad Qualls, Miami Marlins
Season HR: 17
Career HR vs. Qualls: 1
Another player who hit multiple home runs this week (four) and makes more than one appearance on our list, Arizona's Paul Goldschmidt absolutely destroyed the second pitch that he saw from veteran reliever Chad Qualls on Monday night, sending the ball to straight-away center field, resulting in the first game-winning home run of his career. (Sorry, I refuse to use "walk-off," a term I simply cannot stand.)
It shouldn't be surprising that Goldschmidt found success against the Marlins—Miami is one of six teams that the 25-year-old first baseman has a career OPS over 1.000 against, while only the Los Angeles Dodgers and San Francisco Giants have surrendered more home runs to him than Miami has.
Date: June 21
Vs.: Curtis Partch, Cincinnati Reds
Season HR: 19
Career HR vs. Partch: 1
Prior to Friday night's game, Paul Goldschmidt had never hit a home run against the Cincinnati Reds.
By the end of the sixth inning, he'd gone yard twice. Cincinnati starter Johnny Cueto was the first victim, surrendering a two-run shot in the bottom of the fifth that traveled 393 feet to right field and gave Arizona a 5-3 lead, something that ESPN's John Buccigross notes that Goldschmidt has become adept at doing:
Paul Goldschmidt (ARI): 2 HR (18, 19). Goldschmidt: 12th HR this season to give Arizona lead, most in MLB #thelookofitthesmellofthetasteofit

— John Buccigross (@Buccigross) June 22, 2013
But it was his second home run of the game, this one a solo-shot off of Curtis Partch in his first career at-bat against the reliever, that was the more impressive of the two, distance-wise at least.
You knew the ball was gone as soon as you heard the crack of the bat; when it finally smashed against the batter's eye, the only question remaining was whether he beat his equally impressive blast against Miami a few days earlier. He did, by a mere two feet.
Despite all of his success this season, it does feel as if Goldschmidt continues to be overlooked, doesn't it?
Paul Goldschmidt is quietly having an AMAZING season! #Diamondbacks pic.twitter.com/hFA974Nawd
— MLB Memes (@MLBMeme) June 22, 2013
That's the price you pay for not playing in a major market, I suppose.
When he's named the National League MVP at the end of the season, perhaps then people will stand up and take notice.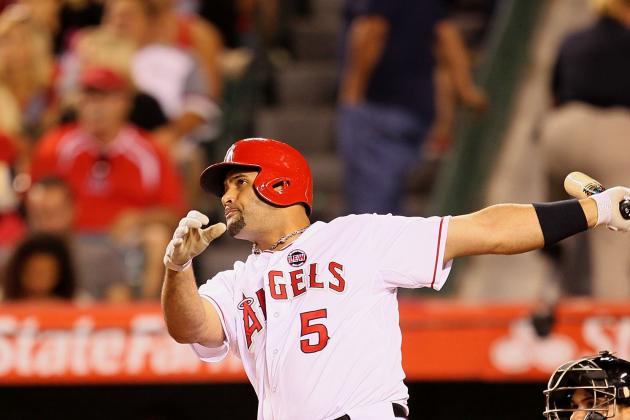 Victor Decolongon/Getty Images

Date: June 21
Vs.: Gerrit Cole, Pittsburgh Pirates
Season HR: 13
Career HR vs. Cole: 1
Despite his struggles in an Angels uniform, there's no shame in surrendering a home run to Albert Pujols, one of the great hitters of all-time.
At least that's the message that MLB.com's Alden Gonzalez was trying to get across to Pittsburgh phenom Gerrit Cole, who watched the three-time MVP launch a screaming 448-foot blast into the rocks in left-center field in the bottom of the seventh inning in his first taste of interleague play:
Gerrit Cole can always say the first homer he served up was to Albert Pujols. It took 18-plus innings, and it was followed by first ever BB.

— Alden Gonzalez (@Alden_Gonzalez) June 22, 2013
It was the 488th home run of Pujols' career, moving him within five home runs of tying Lou Gehrig and Fred McGriff for 26th place on the all-time leaderboard with 493 home runs, and 12 shy of becoming the 26th member of the 500 home run club, something he should be able to accomplish before the end of the season.
Date: June 16
Vs.: Carlos Marmol, Chicago Cubs
Season HR: 11
Career HR vs. Marmol: 1
After suffering through one of the worst seasons of his career in 2012, nobody expected much from Marlon Byrd when he showed up in spring training with the Mets this year.
Certainly, nobody expected Byrd, who hadn't reached double-digit home runs since 2010, to be sitting with 11 dingers before the end of June—but here we are, with the 35-year-old outfielder swinging the bat like it's 2010, when he made his only All-Star appearance as a member of the Chicago Cubs.
Byrd's continued success at the plate, especially if he continues to drive the ball with authority as he did against Chicago's Carlos Marmol, is only going to increase the number of suitors that come calling for his services as the trade deadline nears.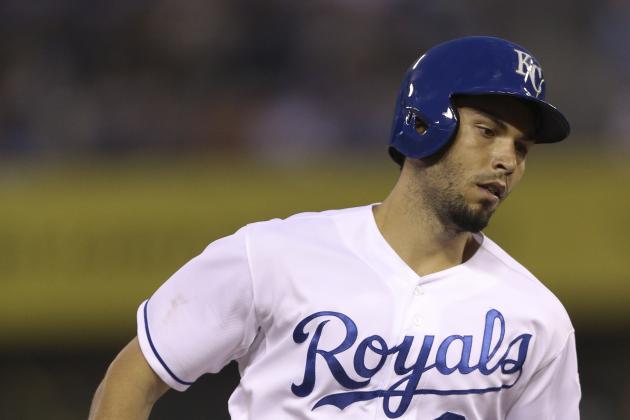 Ed Zurga/Getty Images

Date: June 21
Vs.: Hector Santiago, Chicago White Sox
Season HR: 3
Career HR vs. Santiago: 1
Whether it was George Brett being named the team's hitting coach, manager Ned Yost's decision to move him into the two-hole in the lineup or a combination of the two, Eric Hosmer has picked up his level of play over the past two weeks.
His hot hitting continued against division-foe Chicago this past Friday, as Hosmer got the Royals on the board against the White Sox with this mammoth 455-foot blast off of Hector Santiago in the bottom of the sixth inning, the only run Kansas City could muster in a 9-1 loss.
Not only did it serve as the only run that the Royals produced on the day, but it's the farthest that Hosmer has ever hit a ball in his three-year major league career:
Eric Hosmer's 6th-inning home run Friday was calculated at 455 feet. It is the longest home run of his career
— ESPN Stats & Info (@ESPNStatsInfo) June 22, 2013
To say that the Royals need Hosmer to continue hitting like this if they hope to get back over .500 and into the playoff race would be a massive understatement.
Kansas City isn't going anywhere if its first baseman isn't serving as a major contributor with the bat.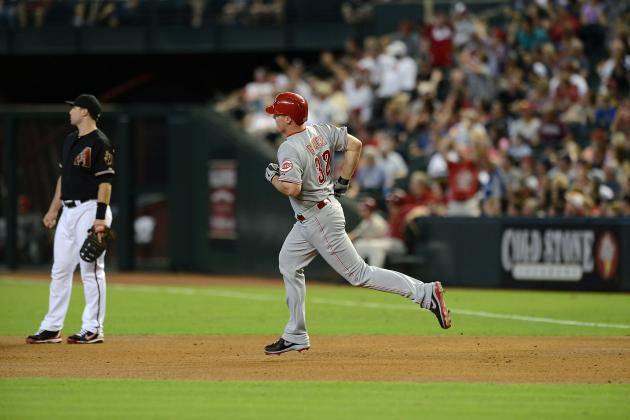 Norm Hall/Getty Images

Date: June 22
Vs.: Patrick Corbin, Arizona Diamondbacks
Season HR: 17
Career HR vs. Corbin: 1
We've been waiting patiently for someone to give Chicago's Anthony Rizzo and Los Angeles' Mark Trumbo a run for their money with the longest home run hit this season, and it's fitting that Jay Bruce, the man who knocked seven balls out of the park this week, was the one to do it.
Bruce's second-inning solo-shot off of Arizona's Patrick Corbin traveled 472 feet—the longest shot of his career and the third longest of the season, tying Boston's Mike Napoli, who hit an equally-impressive 472-foot blast on May 1.
Two of the five longest home runs hit in baseball this season have come off the bat of a Red, with Bruce joined by third baseman Todd Frazier, whose 470-foot blast off of Chicago's Jeff Samardzija on April 24 ranks fifth in baseball.