Grading Every Major Detroit Lions Offseason Move to Date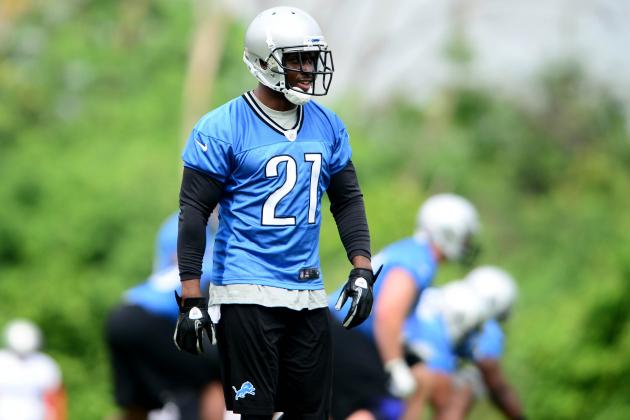 USA TODAY Sports

The Detroit Lions have been uncharacteristically busy during the 2013 offseason, and the early returns are very intriguing.
Perhaps, the 2012 offseason taught the Lions the dangers of not making big changes during the offseason, so they tried to make two offseasons' worth of changes in one year.
As a result, the Lions look completely transformed in almost every area, from the younger defense, to the transformed offense line, to the special teams battery, which is now missing the constant it has had since 1992.
Naturally, we won't know how good these changes have been until we see them in action, and even then, it will take time for everyone to grow together. But by this time next year, we'll be talking about the next crop of offseason moves, so it's better to examine this season's major free-agency moves and draft decisions while they're relevant, right?
Incidentally, if you're wondering what constitutes a "major" move, I'm defining it (somewhat subjectively) as moves in free agency that involve the signing (or departure) of a projected starter or primary reserve player.
If that's still unclear, you'll just have to look and see what I mean in more detail, so move along.
All stats in this article are courtesy of NFL.com and salary/contract figures are from Spotrac.com, unless otherwise credited.
Begin Slideshow

»
The Lions started the season with a trio of moves that saved a combination of money and face.
Defensive end Kyle Vanden Bosch and offensive guard Steven Peterman were cut early on because of the trifecta of declining performance, rising salaries and advancing age.
Vanden Bosch remains a free agent, while Peterman was signed by the New York Jets, which is the NFL's equivalent of getting a minor league deal.
Based on those outcomes alone, it's pretty easy to see the Lions made the right decisions to cut those players loose. They got younger and saved lots of money.
But wide receiver Titus Young is on a completely different level. It took all of a few months for his situation to devolve from being a malcontent on a Lions team to being a potential convict with a glaring mental health problem, per teammate Stephen Tulloch who discussed the health concern in an interview with the Detroit Free Press (h/t Fox Sports).
Whether Young's post-career discretions reflect poorly on the Lions directly or not is unclear and irrelevant. What is clear is that: 1) The Lions made the correct decision cutting Young when they did, and 2) The focus now should be on finding out what is wrong with Young and getting him the help he needs, or else, the end of his NFL career will be the least of his worries.
But from a strictly football-related sense, these were all cuts that made perfect sense and continue to months later.
Grade: A
One of the more notable moves the Lions made this offseason wasn't just about who the team added, but whom the team allowed to leave.
Defensive end Cliff Avril, now a Seattle Seahawk, is one of those moves.
What is interesting about Cliff Avril is that the Lions might actually have been able to afford the two-year, $13 million contract he eventually got from the Seattle Seahawks. Maybe this is just spin coming from the head coaches' seat, but it almost sounds like the Lions were fully prepared, even happy to move on from Avril.
More on that in a moment. As far as losing Avril, it looks a lot less devastating now than it would have in 2012, when he was coming off the best season of his career. Avril's output in 2012 was solid, but not the kind of thing that a player on the franchise tag needs to secure a megabucks deal.
Check the film here. Even in his best year, Avril's only move was pretty much to run wide around the outside of the offensive tackle and hope to get back around in time. He was good at it, but it was all he did. Willie Young does effectively the same thing, though he's far less proven.
Ultimately, the Lions could possibly have brought Avril back, but it was clear he'd overvalued himself and was paid appropriately. By the time things had gotten to that point, it was clear the Lions were looking elsewhere.
By no means would it be bad to have Avril still around, but the Lions deserve some credit for keeping Avril until the moment he began to look expendable.
Grade: C+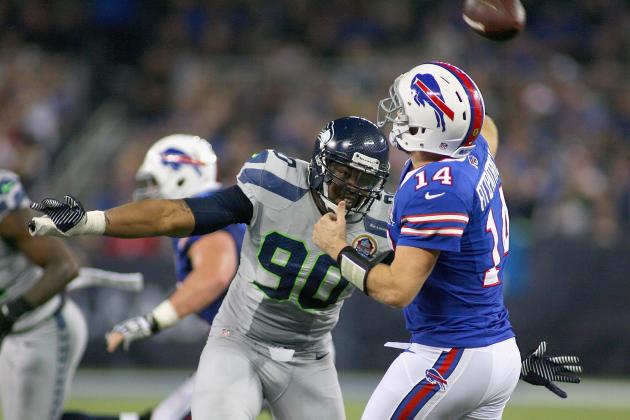 Rick Stewart/Getty Images

The decisions to sign defensive end Jason Jones and to not re-sign Cliff Avril are really just two sides of the same, single decision.
According to Tim Twentyman at DetroitLions.com, Lions head coach Jim Schwartz says Jason Jones is a better fit for the Lions' defensive scheme than Avril was, particularly as a piece for his defensive linemates to play off.
"We put Cliff in what we thought was the best position for him to be effective for him to help us. It didn't necessarily put Nick Fairley or Ndamukong Suh in the best position," Schwartz said in Twentyman's piece.
On one hand, this could be spin. No coach goes into the regular season saying this guy or that guy was an auxiliary option after failing to sign the guy they really wanted. Schwartz is going to sell Jones however he can, because the team has already committed money to him (and most likely a starting job).
But then again, what Schwartz says makes sense. If Avril's best (only?) move is to drive wide all the time, they have to adjust the line accordingly to allow him to do that. It stands to reason that would take opportunities away from Suh and Fairley.
Regardless, this is a risky move. Jones has only one season of experience at defensive end, and the Lions' confidence in him is based more on body type and skills than production. It's sort of like a really old draft pick.
Of course, Jones is making less than half of what Avril is making in Seattle, so at least the money is in the low-risk category. Jones doesn't have to be the star of the defensive line (he shouldn't be, since he'll be sharing it with a trio of top-15 draft picks), he just has to help the Lions' defensive line be effective.
As long as the line creates pressure, nobody will care where it comes from.
Grade: B-
Jonathan Daniel/Getty Images

This move is complicated, but not that complicated.
Over his first five years with the Detroit Lions, Gosder Cherilus struggled with consistency. When he was on, he was one of the better right tackles in football. Other times, he was a penalty magnet.
But by 2012, he was possibly the Lions' best offensive lineman overall (depending on who you ask, he might also have been fourth-best. It's very subjective). There's no doubt that the Lions would have liked to have kept him for the right price.
Five years for $34.5 million was nowhere near the right price. Half of that would have been questionable.
When it comes down to it, this was all about the money. It doesn't matter how bad a team wants a particular player if the money isn't right. That money has to also go to 52 other players.
The Indianapolis Colts paid Cherilus a lot of money, and the Lions were right to let him go. At it's core, it was barely even a judgement call, even with the shaky competition left in the wake of Cherilus' departure.
Grade: A-
USA TODAY Sports

This is as close to a perfect signing as the Lions could have made this offseason.
Granted, we haven't seen Reggie Bush play a snap yet for the Lions, so whether it actually works remains to be seen.
But in terms of scheme fit, mutual need, intangibles and money, everything seemed to work here.
The Lions needed a speedy pass-catching back to replace Jahvid Best and bring some explosion to their backfield—a role Bush is practically synonymous with.
Bush brings both veteran leadership, versatility and athleticism to the Lions' backfield, and all for a modest average of $4 million a year.
For those of you keeping score, that makes his average annual salary less than half that of Carolina's DeAngelo Williams. Which would you rather have?
This is the one free-agent signing the Lions could have overspent on without much complaint, and they didn't. Now the Lions just have to hope he lives up to his increasingly lofty expectations.
Grade: A+
This video package of safety Louis Delmas pretty much sums up everything about him.
In just one game, Delmas showed energy, vocal leadership, passion, good on-field communication, hard hitting and two instances in which he has to come off the field with injury.
That's who Delmas is in a nutshell, and as such, re-signing him qualifies him as a true risk-reward move. If he plays, he changes the nature of the defense for the better. If he doesn't, he puts them in a scramble trying to find a replacement.
That said, according to the Detroit Free Press' Dave Birkett, Delmas' contract is loaded with playing time incentives. If you read "playing time incentives" as "injury insurance for the team," then it makes a lot of sense for both sides.
The Lions want to see Delmas reach his potential, and Delmas wants to have a chance, and be rewarded for doing so. This deal satisfies both without putting the Lions in the hole if Delmas ends up on injured reserve again.
That said, this grade gets driven way down by the simple fact that Delmas is still hurt even now, and has shown alarmingly little progress with his knee over last year, despite not doing anything to re-aggravate it (h/t Chris McCosky, Detroit News).
If Delmas is healthy to start the 2013 season (and stays that way), pull this up at least a full letter grade.
Grade: C-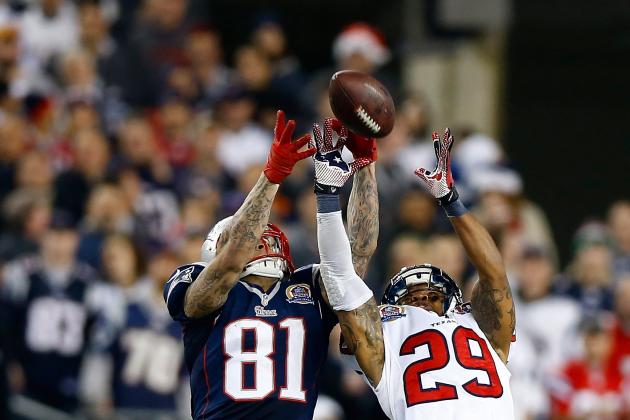 Jared Wickerham/Getty Images

In a perfect world, the Lions would have an ideal safety tandem.
Louis Delmas likes to hit, playing short routes and the run. Glover Quin is more comfortable playing coverage deep or patrolling in center field.
If they both play, they complement one another exceptionally well.
But the real value in signing Quin is if they don't both play. Quin isn't exactly a household name, even among NFL defensive backs, but he has started every single game for the Houston Texans over the last three years. More than any individual skill, what the Lions need in their defensive backfield is consistency.
This way, even if Delmas can't stay healthy, which has been the norm, they have one starting-quality player they can (most likely) rely on to be a fixture at safety.
Quin is making about $5 million a year on a five-year deal, and that's a bit steep for a position at which the franchise tag is just over $6 million, but the combination of talent and stability Quin brings should prove to be exactly what the Lions need.
Grade: B+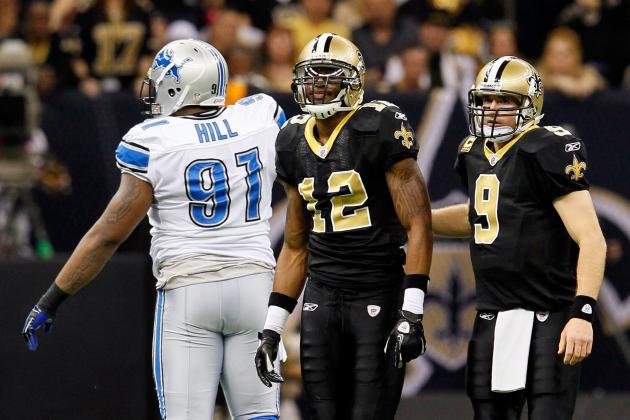 Kevin C. Cox/Getty Images

This one stings.
Perhaps, one of the most underrated players on the entire Lions team, defensive tackle Sammie Hill was a player who made the most of limited snaps and often gave the defense a lift when it most needed one.
The reality is, Hill was much too talented to be constrained to the situational backup role he was occupying with the Lions, but reserves are actually very important to the Lions' scheme, which requires a lot of rotation to keep the front of the defense fresh.
What the Tennessee Titans gave Hill was outside what the Lions could afford to pay him for the role they needed him for. Hill's $4 million signing bonus is more than what he made his first four years combined with the Lions. So realistically, it's unlikely that the Lions would have been able to bring Hill back for a price that made sense to both sides.
Still, despite not being a starter, the Lions may find themselves missing Hill's presence more than any of their other losses in free agency.
Grade: D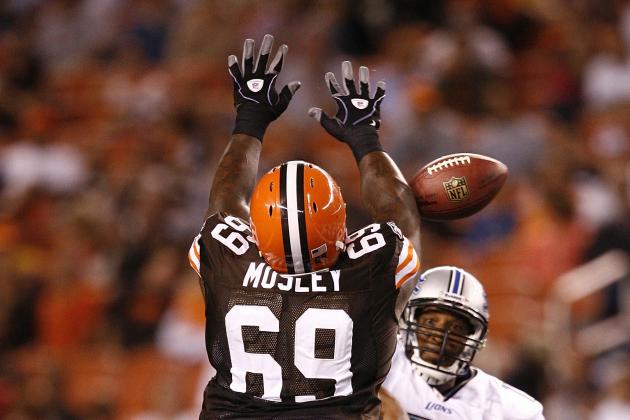 Matt Sullivan/Getty Images

The Lions will hope to get approximately the same thing out of C.J. Mosley that they would have requested from Sammie Hill: solid minutes as a reserve.
Still, with the way the Lions work on a rotation along the defensive line, the first reserve player at defensive tackle (which Mosley will be, barring a major roster move) is likely to get as much overall playing time as the starters.
That makes Mosley very important to the Lions. He's a decent talent, not overwhelming, who started 13 games for the Jacksonville Jaguars last season. Having a former starter as a reserve is always valuable, even when it's a former Jaguar starter.
This is a solid move for the Lions, and a necessary one, as the drop-off in talent after Ndamukong Suh and Nick Fairley previously required a bungee jumper to get to the next step.
Mosley's success this year will be measured partly in his own stats, but also in the percentage of snaps Suh and Fairley don't take. If the Lions trust him to perform well, he'll play and gave the starters valuable time to rest and stay healthy.
At the very least, we know for sure that Mosley knows how to hit quarterbacks, as discussed by Tim Twentyman of DetroitLions.com.
Grade: C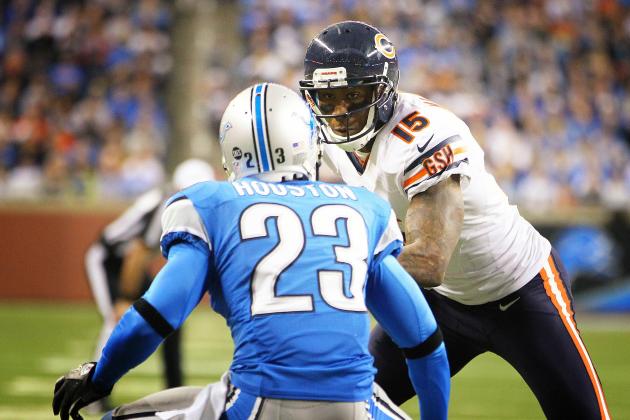 Mike Carter-USA TODAY Sports

It's set up beautifully, really.
The Lions have a steady veteran cornerback who can get the job done at one spot. At the other spot, they have open competition between a slew of talented first- and second-year players.
One (or more) of the youngsters will most likely rise up to starter status and grow from there, eventually matching or overtaking Houston in ability, and the Lions can continue to develop the secondary from there.
It makes sense. Perfect sense.
Now subtract Houston from the equation.
The Lions might have to start a rookie and a second-year player at cornerback! Nobody in the secondary has any experience! Will the Lions have to rely on Ron Bartell?
See how quickly the situation devolves into panic? Chris Houston might not be anyone's favorite option at cornerback, but he is better and more consistent than he gets credit for, and he is the one keeping the Lions together at cornerback until the younger players prove their mettle.
Put simply, bringing Houston back to the tune of $5 million a year was not only a good move, it was necessary. He's good enough to make quality starts, but not so good that he can't move aside if one of the Lions' young cornerbacks grows into stardom.
Grade: A-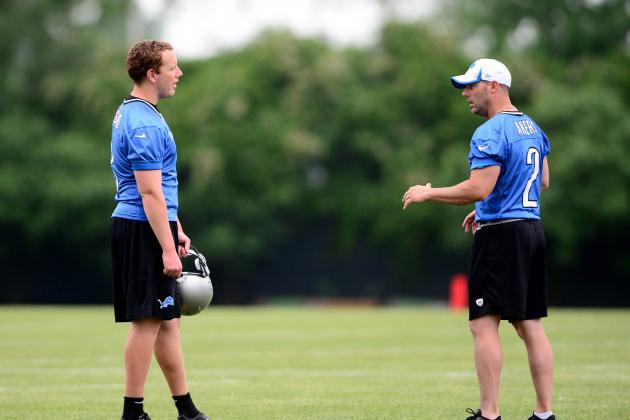 USA TODAY Sports

For a team that has gone through as much change (and as frequently) as the Detroit Lions over the last 20 years, the special teams units have gone through surprisingly little turnover—until now, anyway.
The Lions have been without a consistent punter for a couple seasons, but now-retired Jason Hanson has been a fixture at placekicker for two decades.
Now those positions are a pair of roster battles featuring highly intriguing participants.
At kicker, we have six-time Pro Bowler and aging veteran David Akers taking on viral video sensation Håvard Rugland of Norway, who has reportedly been exceptional, thus far, in camp, according to coach Jim Schwartz, per Dave Birkett of the Detroit Free Press.
At punter, we have fifth-round draft pick Sam Martin taking on relative unknown Blake Clingan. Considering the Lions thought enough of Martin to spend a draft pick on him, he's a near-lock for the job, so this battle is far less intriguing.
Theoretically, Rugland should be completely outmatched in the kicking battle, but he has breezed through his early tests and has to be considered a serious candidate for the job now.
I'm not sure about the decision to spend a draft pick on a punter, but if he locks down the job for a decade, it'll be hard to complain about.
The Lions have done what they've needed to do to bring pieces into camp that could lock down their kicking specialist roles for at least a few years each, regardless of who wins the jobs. That alone is worthy of praise, but they also get bonus points for re-signing Pro Bowl long-snapper Don Muhlbach.
Grade: B-