2013 NBA Draft: Ranking the Most Athletic Prospects
Joe Robbins/Getty Images

The athletic ability of prospects in the 2013 NBA draft will often make the difference in the eyes of front-office personnel. Athleticism is not the only factor involved when scouting players, but leaping ability, lateral quickness and overall comparisons to rubber bands draw the attention of scouts, for better or worse.
With less than a week before Thursday's draft, general managers around the league are aiming to scout the best value at their draft position. The top five picks are a complete crapshoot, so draft night should be filled with mystery and excitement.
What isn't a mystery, though, is that hyperathletic NBA prospects have thrived even when falling low in the draft. Tony Allen (25th overall in 2004), Nate Robinson (21st overall in 2005), George Hill (26th overall in 2008) and Kawhi Leonard (15th overall in 2011) played tremendous basketball in the 2013 playoffs.
Of course, for every Leonard or Allen, there have been athletic duds like Gerald Green, Hakim Warrick, Fred Jones and Jeremy Evans.
Finding a diamond in the rough is no easy task, but starting that process by charting athleticism has worked out well for teams in the past. The most athletic prospects preparing to join the NBA in 2013 may not be the best available, but they possess the "wow" factor.
Note: Just to reiterate, this ranking in no way connotes the actual draft order. The following players are ranked strictly by their athletic capabilities. That doesn't qualify them to be a top-10 pick or, in some cases, even a first-round pick.
Begin Slideshow

»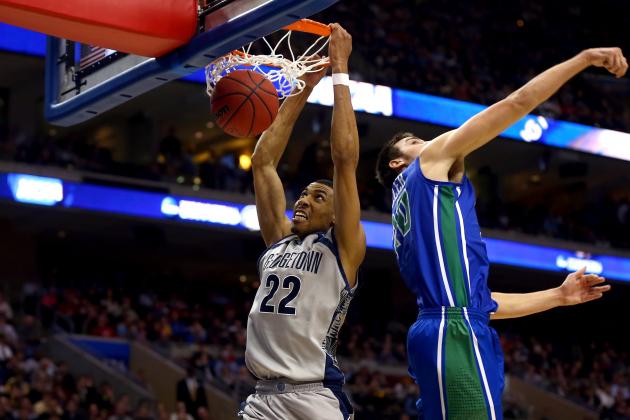 Elsa/Getty Images

Otto Porter, Georgetown
Otto Porter is all but guaranteed be taken in the top three of the 2013 NBA draft.
In fact, Rick Bonnell of the Charlotte Observer seemed to confirm that speculation via Twitter earlier this month: "And as I mentioned last week, Otto Porter doesn't plan to work out for Bobcats (Apparently he's a top-3 lock.)"
As far as being NBA ready with prototypical size and great intangibles, Porter is one of the best prospects in this draft. With that said, he doesn't possess the same athletic explosiveness of a LeBron James, Blake Griffin or young Kobe Bryant. It's one of the few reasons why Porter isn't a can't-miss prospect who must be taken first overall.
He has the tools to be a great NBA player, but he isn't considered an athletic freak of nature.
Alex Len, Maryland
Like Otto Porter, Alex Len should be considered a top-five pick at the very least while having a shot at being taken first overall by the Cleveland Cavaliers.
The 7'1" center from Maryland hasn't been able to work out for NBA teams due to surgery to repair a stress fracture in his ankle. Nevertheless, Len's stock has been on the rise due to his overall potential as a game-changing interior player.
You wouldn't expect a 7'1" center who suffered an ankle injury to be athletic, but Len raises eyebrows in that department nonetheless. He has an uncanny ability to take defenders off the dribble, which is uncommon among players his size.
His ability to take defenders to the hole and finish strong is impressive. However, his coordination and ball-handling skills don't necessarily fall under the definition of "athletic." Those traits simply make him a great basketball player.
Health is already an underlying issue, but Len's upside and coordination as a big man are working in his favor.
Jamaal Franklin, San Diego State
Jamaal Franklin was the engine that made San Diego State run last season. He had a handful of great games with gaudy double-doubles, but his 41.3 percent shooting from the field and 28 percent shooting from beyond the arc were the lowest of his collegiate career.
His inconsistent shooting should raise a red flag among scouts, but his athletic ability has managed to make up for it.
He's a solid offensive player when slashing and cutting to the basket, and his explosive leaping ability allows him to finish at the basket or get to the free-throw line.
The real question mark is his size.
At 6'5", he may not be able to overpower players at the next level like he did in college. In terms of being a reliable rebounder, Franklin translates better as a small forward in the NBA, but his height could reduce his effectiveness if he's playing against bigger opponents.
As a shooting guard, his athletic abilities aren't as impressive as those of NBA players at the same position.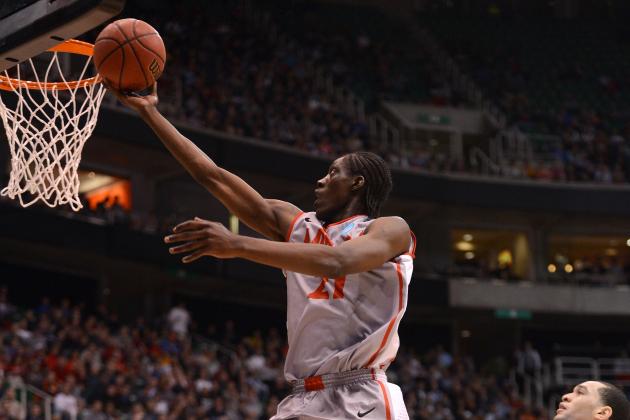 Harry How/Getty Images

If you're looking for the NBA's next lockdown defender taken at the latter end of the first round, look no further than New Mexico's Tony Snell.
At 6'7" with a 7-foot wingspan, Snell has the length to bother opponents. He projects best as a shooting guard until he packs on some more muscle, but once he does that, he should be able to guard multiple positions.
He's been climbing up draft boards recently due to some "terrific workouts," according to ESPN Chad Ford's latest mock draft (subscription required).
Ford wrote, "He's a super athletic wing with NBA length and defensive abilities. He was very inconsistent at New Mexico, but I'm told numerous NBA teams love the talent."
Ford's insight isn't set in stone, but it's worth noting that teams are interested in Snell's skill set. Filling the niche as a pesky defender who can also knock down threes will make him a hot commodity deep in the first round.
Trey Burke's ability to cross up defenders, finish at the basket and knock down outside shots make him the best point guard in this year's draft.
While he doesn't have the jaw-dropping athleticism of Lilliputian dunkers like Nate Robinson, Kevin Johnson or Spud Webb, he's above average athletically.
In an interview with Bill Simmons and Jalen Rose, the Michigan point guard compares himself to current NBA All-Star Chris Paul. While it remains to be seen if he can be the same type of elite talent, the two players share some parallels.
Burke is facing the same types of questions that Paul faced regarding height, and while he may be undersized, the scouts should focus on his skills.
He plays without fear and attacks the basket with abandon. It will be tough for the youngster to adjust to the NBA, but with his athletic ability, he's capable of making a smooth transition.
Giannis Adetokunbo is drawing comparisons to Portland Trail Blazers forward Nicolas Batum. Both are long (7'3" wingspans) with the potential to be lockdown defenders in the NBA.
Adetokunbo is gaining steam as a prospect because of his ball-handling. Despite being a lanky 6'9" with ridiculously long arms, he handles the ball well. However, he shines most athletically with his body control.
Not only can the 18-year-old get to the basket with ease, he can contort his body in midair to get the best shot available. He also finishes well after contact when he gets into the painted area.
As with any 18-year-old prospect, there are sure to be growing pains. The youngster from Greece is still a raw basketball talent, but he's much farther along at his age than many NBA players were when they were teenagers.
Adetokunbo could be drafted anywhere from the mid-first to mid-second round. If he finds the right situation to reach his maximum potential, there's an outside chance he could become a poor man's Kevin Durant.
With international NBA prospects, a team never quite knows what it's getting. Unless that team is the San Antonio Spurs—in which case those prospects always pan out.
Lucas Nogueira is a bit of a gamble, and scouts will understand that he's a project big man. As far as raw NBA talents go, though, the skyscraper out of Brazil could be worth the wager.
He has size and length at 7' with a 7'6" wingspan. While his frame is a huge plus, what stands out most is his ability to run the floor.
His long strides allow him to get out in transition and finish efficiently on the break as well as get back on defense to swat would-be layups. He has the potential to torch other NBA centers in transition.
Of course, there's more to basketball than running up and down the court. By that, I mean basic fundamentals, which Nogueira still has to learn.
Jeff Bottari/Getty Images

If a mad scientist decided to morph former Phoenix Suns Sixth Man of the Year Rodney Rogers with Glen Davis and DeJuan Blair, the result would be Anthony Bennett.
The UNLV standout is a physical beast with broad shoulders, yet he also displays deceiving quickness and athleticism.
Scouts nitpick Bennett's height. At 6'7", he's undersized for a power forward, but he could prove to be a matchup nightmare for opposing 4s. Due to his quickness and ability to knock down outside shots—he drained 36 of 96 three-point attempts in 2012-13—low-post power forwards will be at a disadvantage when trying to defend him.
Unfortunately, Bennett falls into the same category as Alex Len because he's entering the draft process injured. Despite surgery to repair a torn rotator cuff in his left shoulder, Bennett will be one of the most sought-after prospects in 2013.
The reason is his athleticism.
Ronald Martinez/Getty Images

Ben McLemore did himself no favors at the end of his only collegiate season. In the NCAA tournament, McLemore had twice as many turnovers (four) as he had made baskets (two) against Western Kentucky.
In the bout with North Carolina, he went 0-of-9, finishing with two points and two turnovers.
The Kansas Jayhawk finally got back on track against Michigan, scoring 20 points on 53.3 percent shooting, but the red flags had already been raised.
Fortunately for McLemore, his stock didn't take much of a hit because the 2013 draft class isn't stacked. That might be good for NBA teams, though, because he's still an athletic specimen with flawless shooting form.
When McLemore elevates to the basket, it looks like he's unloading springs in his knees. He's a great leaper, can put his head down and get to the basket, and has a fluid shooting stroke.
If he doesn't get drafted in the top three, don't expect him to fall out of the top five.
Nerlens Noel would have ended up higher on this list if he hadn't suffered an ACL tear during his first and only collegiate year at Kentucky. As it stands, Noel is rehabbing from the same injury that sidelined Iman Shumpert and Derrick Rose in the NBA.
For a long period of time, Noel was considered the consensus No. 1 overall pick. Now that may not be the case.
Matt Moore of CBS Sports has him sliding down to No. 3, while NBADraft.net has the injured forward dropping all the way to the Phoenix Suns at No. 5.
The ACL injury has clouded not only Noel's draft future, but also his standing as an athletic freak of nature.
Seeing the wiry frame and flattop sky to block shot after shot could be a thing of the past if Noel doesn't recover from his injury. Considering how athletic he is, I expect him to return to peak form.
Nevertheless, the same injury has derailed many promising NBA careers.
Andy Lyons/Getty Images

When you think of Indiana center Cody Zeller, what comes to mind?
Do you think of his advanced basketball IQ and all-around game?
Maybe you're impressed with his body control and how he runs the floor. Perhaps you're content with his college averages of 16.5 points and 8.1 rebounds per game.
In any case, you probably don't consider Zeller to be an athletic prospect. If that's true, you may not be aware of his stellar combine performance, as detailed by Derek Page of Hoopsworld:
Zeller's no-step vertical jump of 35.5 inches was not only the highest in the draft but set the combine-record for a player 6'9 or above, with Zeller measuring in over 7'0 with shoes. In addition, his modified lane agility time (2.69 seconds) and three-quarter-court sprint (3.5 seconds) ranked as the fastest among both centers and power forwards.
By setting records and ranking No. 1 in a variety of combine categories, Zeller has proved that his footwork is superior than other NBA centers.
When you add the basketball know-how to his rock-solid combine numbers, the Indiana big man may be the safest pick in the first round.
C.J. Leslie has been pinned as a second-round draft choice in every NBA mock draft I've seen. If you go strictly by athleticism, however, the North Carolina State standout has a lot to offer.
Leslie is the definition of a guy who plays above the rim. He ignites the crowd with his explosive, powerful dunks while also disrupting plays on the defensive end from time to time.
He has a ton of untapped potential due to his athletic ability, but you wonder if he's just another dunker who won't acclimate himself to the NBA. It doesn't help that he's received a reputation as a hothead who isn't always engaged with the game.
Leaping ability? Check.
Quickness? Check.
Is he a rubber band? You bet.
He meets all of the qualifications for athleticism, but he needs to tone down the attitude before he can succeed at the NBA level.
Victor Oladipo is in an elite group in terms of athleticism. Not only did he pull off a 360-degree dunk in a game against Illinois, he also generated a ton of humorous Twitter buzz for a dunk that he didn't even convert—see the embedded video.
When fans are impressed with his athleticism on a missed dunk, you know that he's a gifted athlete.
With that said, Oladipo's play above the rim represents a fraction of what he brings to the table athletically.
The Indiana Hoosier is arguably the best on-ball defender in the 2013 draft class. His lateral quickness enables him to stifle even the quickest of offensive talents. He also makes a huge impact on the defensive end without fouling, which is a huge plus in the NBA.
His ability to disrupt passing lanes and make teams pay with highlight dunks on the other end make him an exciting player to watch.
With so many young players focused on the offensive end, it's refreshing to see Oladipo channel his athletic abilities defensively. As a result of that focus, he still has a lot of work to do on offense. However, if he plays alongside the right point guard, he should improve quickly in the NBA.