The NBA season is officially in the books as the Miami Heat commence their championship celebration and the league's other 29 teams begin their quest to claim the crown in 2013-14.
With the 2013 NBA draft just days away, and the always entertaining free agency period set to follow, NBA fans have plenty of reasons to be excited about the season coming to an end.
Here we'll get you up to speed on the latest buzz from the around the league heading into the summer.
Denver Nuggets to Interview Vinny Del Nego for Head Coaching Vacancy?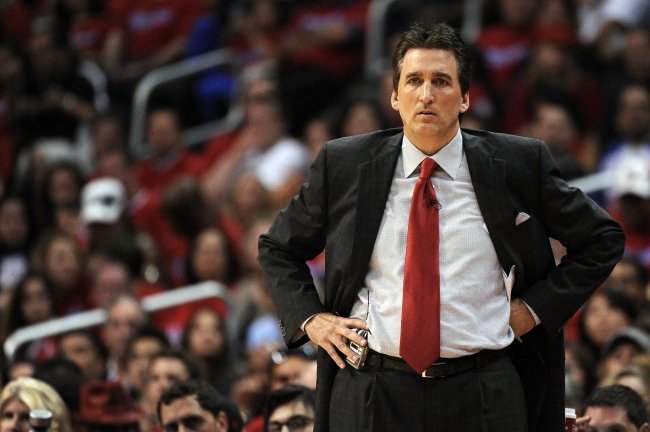 Harry How/Getty Images
According to sources via Yahoo! Sports NBA insider Adrian Wojnarowski, the Denver Nuggets will interview fired L.A. Clippers head coach Vinny Del Negro this weekend.
The team has already met with two other candidates this offseason: Memphis Grizzlies head coach Lionel Hollins and Indiana Pacers assistant Brian Shaw. Both men remain the front-runners to land the job, according to Wojnarowski's sources.
Denver fired reigning NBA Coach of the Year George Karl earlier this month. The decision came as a shock to most around the league considering the Nuggets won a franchise-best 57 games (most since joining the NBA in 1976) under Karl this past season.
Del Negro went 128-102 in three seasons with the Clippers before being fired at the end of the season. The 46-year-old former player is just 10-19 as a head coach in the postseason.
Houston Rockets Looking to Part Ways With Thomas Robinson?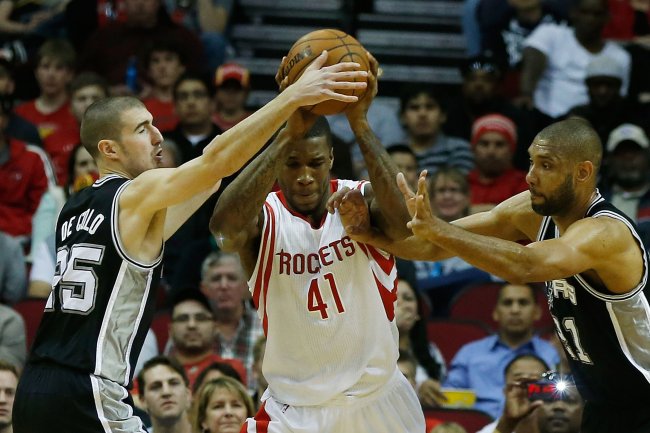 Scott Halleran/Getty Images
A series of tweets from ESPN NBA insider Marc Stein on Friday night revealed that the Houston Rockets may be looking to ship off power forward Thomas Robinson in a deal that would bring back a first-round draft selection and allow them to offer free agent Dwight Howard a max contract.
Here's the rundown from Stein:
Some draft scuttle: Rockets have been offered chance to shed contract of PF Thomas Robinson for first-round pick in next Thursday's draft

— Marc Stein (@ESPNSteinLine) June 21, 2013
ESPN reported in April that Rockets, widely seen as leaders in Dwight Howard chase, planned to shed Robinson so they can offer Dwight max

— Marc Stein (@ESPNSteinLine) June 21, 2013
Rockets, I'm told, have eyes on fistful of international players they'd draft with a first for Robinson to keep overseas and avoid cap hit

— Marc Stein (@ESPNSteinLine) June 22, 2013
Robinson was drafted fifth overall by the Sacramento Kings in last year's NBA draft, but was traded to Houston midway through the season. He averaged just 4.8 points and 4.7 rebounds per game for the Rockets.
Houston currently has only one pick in the upcoming draft, a second-rounder courtesy of the Phoenix Suns.
Did Doc Rivers and the Celtics Plan for an Early Departure All Along?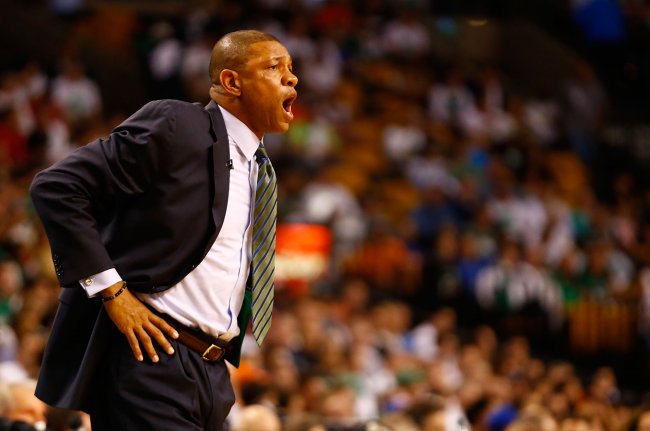 Jared Wickerham/Getty Images
According to a source via the Boston Herald's Steve Bulpett, "Doc Rivers never planned to be a part of the Celtics' rebuilding process."
Bulpett goes on to report that the team was aware of that fact when he signed his multi-year extension.
Also, a person close to the situation via Bulpett says Rivers was in the midst of deciding between a return to Boston next season or stepping away from basketball before the front office gauged his interest in some of the other openings around the league.
The Celtics have scheduled a news conference for Monday according to ESPN.com. Rivers and president of basketball operations Danny Ainge are expected to address the future of the franchise.
Follow Bleacher Report Featured Columnist Patrick Clarke on Twitter.