UFC 162 Preview: Power Ranking Chris Weidman's 9 Professional MMA Fights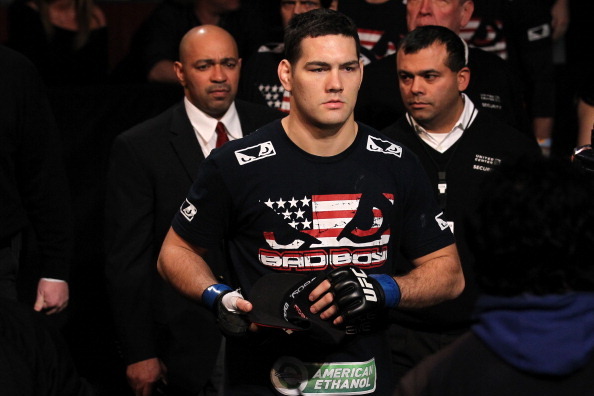 Nick Laham/Zuffa LLC/Zuffa LLC via Getty Images
On July 6, Chris Weidman will attempt what 10 other middleweight fighters before him have failed to accomplish—unseat the reigning UFC middleweight champion, Anderson Silva.
Silva has held UFC gold since defeating Rich Franklin via TKO at UFC 64. Yup, almost 100 pay-per-view cards have passed since Silva defeated Franklin. Oh, and something else: Silva has never lost in the UFC. Silva is currently 16 fights into a run that began with a 49-second knockout of Chris Leben in June, 2006.
Weidman is a solid wrestler with a brown belt in Brazilian Jiu-Jitsu, and many people, including UFC welterweight champion Georges St-Pierre, believe that Weidman has the skill set to defeat Silva.
In preparation for the upcoming bout between Silva and Weidman at UFC 162, I went back and watched each of Weidman's professional MMA bouts, ranking Weidman's performance in each contest.
Begin Slideshow

»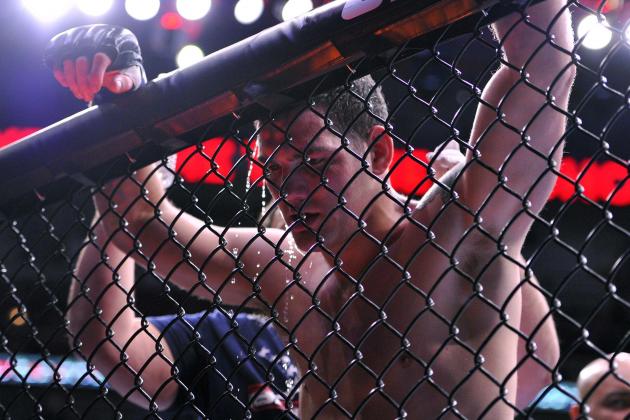 Mike Dinovo-USA TODAY Sports

I know it may be looked at as cold-blooded to rank this fight as Chris Weidman's worst performance as a professional, but with nine fights and nine wins, I had to start somewhere, and this is where we will begin.
Weidman was not supposed to fight Demian Maia on this January 28, 2012 fight card. Weidman got the bout when Maia's original opponent, Michael Bisping, was pulled to face Chael Sonnen in the evening's co-main event after an injury to Mark Munoz.
The upside was Weidman was facing his toughest opponent to date. The downside was Weidman had all of 11 days to prepare for the fight.
Weidman's sole focus in the days leading up to the fight was making weight. Weidman had to cut 32 pounds to make the middleweight limit of 185. He was successful in doing so, but the cut left his gas tank empty early in this bout.
What probably saved Weidman was the fact that Maia was in his "I love striking" phase, and Maia showed no interest in using his top level submission skills.
During the broadcast, UFC commentator Joe Rogan described the fight as such: "This fight has degenerated into a sloppy kickboxing competition. Right now both guys are two drunken dudes outside of the bar."
Sloppy and exhausted, Weidman earned the decision victory.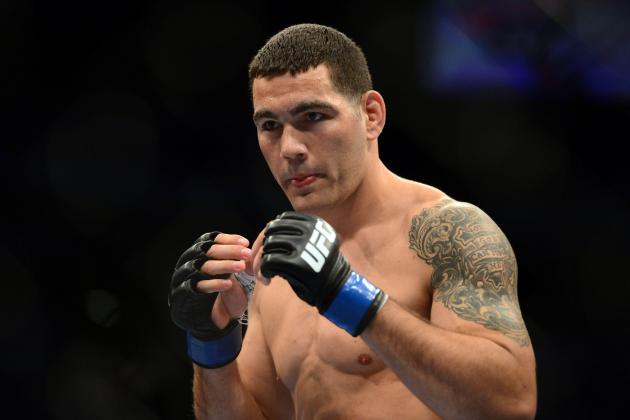 Kyle Terada-USA TODAY Sports

Chris Weidman's second professional MMA bout took place on April 17, 2009. The fight was staged by Ring of Combat and Weidman's opponent was Mike Stewart.
Although it was only Weidman's second fight he had a vocal contingent of supporters at the Tropicana Resort and Casino in Atlantic City, N.J. Weidman's opponent at ROC 24 was the 3-1 Mike Stewart. Entering the bout, Stewart had three first round finishes and one second round submission loss to his name.
Weidman used his wrestling to take Stewart to the ground early. Once on the ground, Weidman transitioned directly into side control. From there Weidman was very heavy on the body of Stewart, looking for submissions.
After a brief scramble, Stewart was able to regain his feet. Once standing, Weidman attacked, winging wild punches that left Stewart cowering on the mat, just waiting for the stoppage that finally came at the 2:38 mark of the first round.
Weidman's striking was effective in this bout, but it was clearly a beginners striking game. For that reason, this fight ranks as number eight in the career of Weidman.
At the end of the bout, the announcer stated, "I'll tell you what, Chris Weidman is going to build himself a following very quickly." It didn't take long for those words to prove true.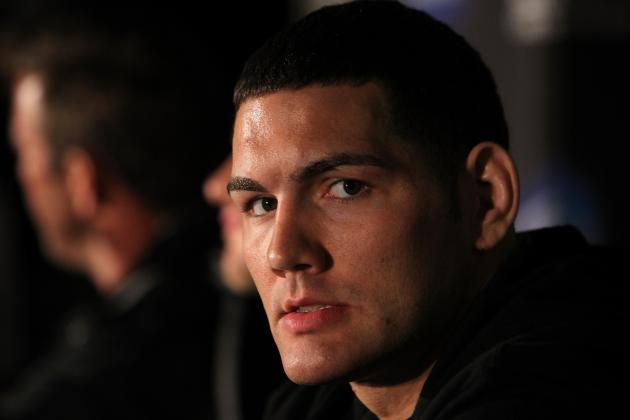 Josh Hedges/Zuffa LLC/Zuffa LLC via Getty Images
Chris Weidman carried a 3-0 record into his December 2010 bout against Valdir Araujo. All three of those wins had come via first-round stoppage. The longest of those bouts lasted 3:06.
Weidman had shown that he had the ability to finish fights early. He had proved that he was patient in his submission game. What Weidman had not shown was how much of a gas tank he had.
This fight answered that question, going the full three rounds. It wasn't a particularly exciting contest. There was a lot of clinch work and Weidman was not terribly effective from in close, but he did show that he could go the distance, an important test for any fighter that hopes to have a future in the MMA.
Chris Weidman made his professional MMA debut on February 20, 2009, facing Reubem Lopes at Ring of Combat 23.
As debuts go, Weidman couldn't have asked for a better performance. He used his wrestling skill to take the fight right to the mat and showed good positional awareness by moving right into side control. From there, Weidman looked for submissions, but he didn't rush things, eventually securing the kimura and ending the bout at the 1:35 mark of Round One.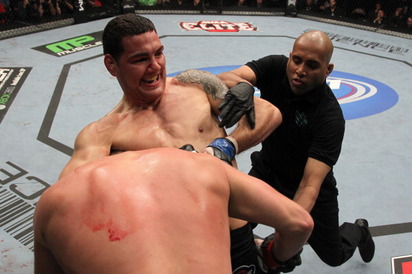 Donald Miralle/Zuffa LLC/Zuffa LLC via Getty Images
Jesse Bongfeldt was originally scheduled to face The Ultimate Fighter winner Court McGee at UFC 131, but an injured ACL knocked McGee from the card and in stepped Chris Weidman.
This fight was the only time we have witnessed Weidman face any type of adversity. It was a very brief, but it happened. Bongfeldt hurt Weidman with strikes and had Weidman backing up, but Bongfeldt was not able to capitalize on the situation. He allowed Weidman to clinch and recover, and from there it was all Weidman.
As the clock ticked down in the first round Bongfeldt went for the takedown, but he left his neck exposed. That opening was all Weidman needed to crank on a standing guillotine and earn himself his first UFC Fight Night bonus when Bongfeldt tapped at the 4:54 mark of the first round.
For his "Submission of the Night," Weidman would earn an extra $70,000.
Not only was the Ring of Combat middleweight title on the line on September 24, 2010, but so were the unbeaten records of the combatants. ROC champion Uriah Hall entered the contest at 4-0, while Weidman sported a 2-0 record.
After 3:06 Hall's record would contain a loss, and Weidman walked out of the cage at the Tropicana Resort and Casino in Atlantic City, N.J. as the ROC champion.
Weidman had the advantage in this fight with his wresting. Hall seemed reluctant to throw combinations, perhaps fearing that they would leave him open for the takedown.
With that in mind, Weidman upped his striking game, tagging Hall and dropping him to the mat where he swarmed and earned the TKO win at the 3:06 mark of the first round.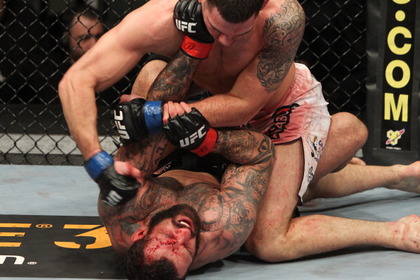 osh Hedges/Zuffa LLC/Zuffa LLC via Getty Images)
When opportunity knocks, it's always best to answer. That's exactly what Chris Weidman did when the UFC called on him to face Alessio Sakara on short notice at UFC on Versus 3. Sakara's original opponent, Rafael Natal, was forced from the March 3, 2011 card with an injury.
Weidman had two weeks to prep for his UFC debut, not ideal conditions. However, he made the best of the position he was in, taking the unanimous decision over Sakara.
The first round of this fight showed that Weidman's standing striking was not fully developed. Weidman was still winging punches, leaving himself open to the counter strikes of Sakara.
The second round showed that while Weidman's standing striking needed help, his ground striking was able to do damage. Weidman badly bloodied Sakara with elbows and kept up the pressure in the second.
A solid UFC debut for Weidman.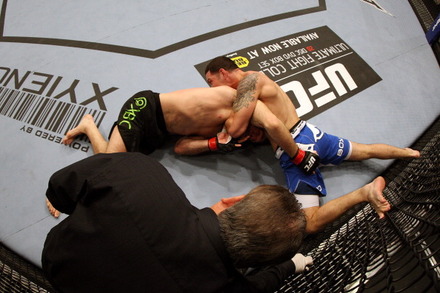 Josh Hedges/Zuffa LLC/Zuffa LLC via Getty Images
Judging by the empty seats that Chris Weidman and Tom Lawlor fought in front of at UFC 139, fans had not yet picked up on the fact that the 6-0 Weidman was growing into a threat in the division.
This fight showed no real development in the striking of Weidman, as he was still throwing his punches very wide and unnecessarily opening himself up to counters, but his wrestling remained solid.
It was that wrestling that allowed Weidman to take the fight to the mat. From there he waited for an opening to work toward a submission, and when he found the opening he slapped on a d'arce and put Lawlor to sleep.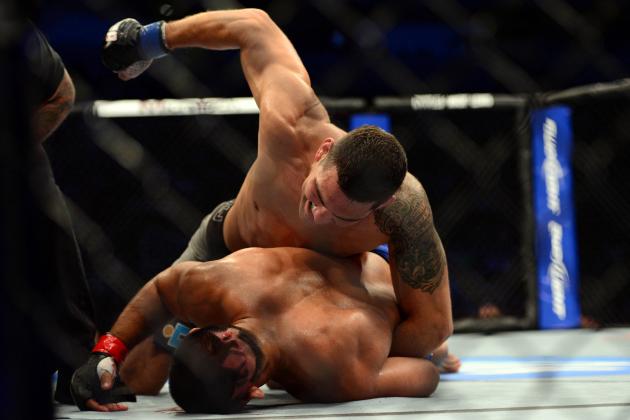 Kyle Terada-USA TODAY Sports

The last time Chris Weidman stepped into the Octagon was July 11, 2012 when he faced Mark Munoz. Many expected this fight to be the launching pad for Munoz to earn a shot at UFC middleweight champion Anderson Silva.
Instead, Weidman walked away the victor, eventually getting his shot at Silva at the upcoming UFC 162.
Weidman used his wrestling in this bout to work toward submissions, but it was an unexpected opening from Munoz that marked the beginning of the end. Munoz stepped into a punch and Weidman countered with a perfectly placed elbow, sending the bloodied Munoz to the mat, where he was finished with a flurry of strikes.
The win showed that if given time and space Weidman will be able to take advantage of mistakes.
A sold win, and a "Knockout of the Night" bonus winner for Weidman.