Manchester United: Rooney or Ronaldo as the Moyes' Revolution Begins?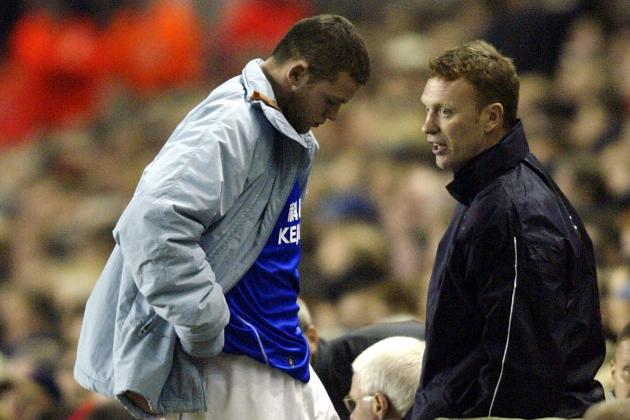 Michael Steele/Getty Images
Rooney & Moyes
With David Moyes returning from holiday on Monday 24 June, he has big decisions to make about Wayne Rooney, Cristiano Ronaldo and Thiago Alcantara.
But these are just a few of the issues that are sitting in his in-tray when he starts work a week before he needs to.
Being the man he is, not only will he not hang around, but he will also have started moves in train before he left for his vacation. And like Sir Alex Ferguson before him, his mobile will have been on 24/7.
We have previously described the 10 things he must do on his return. As the fans fret and the media stirs up the frenzy with United's competitors already doing business, there will be a sense of urgency.
But Moyes is a calm man under pressure and, in consultation with Sir Alex Ferguson before he left for holiday, together no doubt with new Chief Executive Ed Woodward during his absence, he will be clear on his priorities.
Some of those will be under way. Others inevitably have had to wait for his return.
Begin Slideshow

»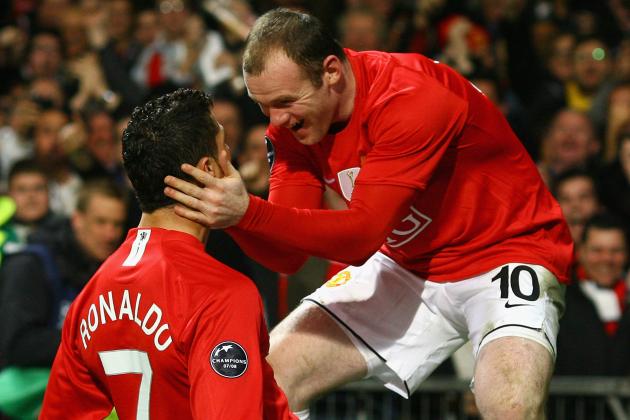 Alex Livesey/Getty Images
Ronaldo & Rooney
If United supporters had to make a choice, who would they choose right now? Surely Cristiano Ronaldo.
And that may well come to pass if the rumours in Spain about a part-exchange become a reality. Rooney plus cash for Ronaldo would surely be one of Moyes' easiest choices.
Other possibilities fall into place if this were to happen. It either assures Javier Hernandez of more game time next season as second-choice striker or it makes room for the signing of Robert Lewandowski.
Ironically, the chances of the Polish striker coming to Old Trafford may increase if Ronaldo does not arrive this summer, especially if Rooney leaves for Arsenal or Chelsea, as The Mail speculates.
Whatever happens, Moyes has a big decision to make. Does he woo Rooney with the promise of a new start if he sorts out his fitness problems?
If the player wants to show his commitment he would sign a contract that binds him to United for the rest of his career, but this may have to be at the same wage he is currently on. That would test his loyalty.
No doubt Sir Alex has marked his successor's card on the problems that Rooney has brought during his nine years at United, from "relationship" issues to his fitness regime. Maybe Moyes won't finally decide until Rooney shows up from his holidays and steps on the scales.
It remains a possibility as to whether Rooney wasn't played against Swansea in United's final home match last season because he may have been booed by some fans, following his apparent wish to leave. The author is certainly not alone in being indifferent to whether he stays or not.
But if Moyes decides to keep him, lets hope the manager employs his "boot camp" tactics to get the lad fit and focused for the new campaign, because a newly re-motivated Rooney can be a trophy-winner.
Also, if he remains willing to play where needed, he gives his new manager many more tactical options, especially where there are injuries among the offensive players.
But a decision must surely be made no later than 1 July so that Moyes can effect Plans A, B or C.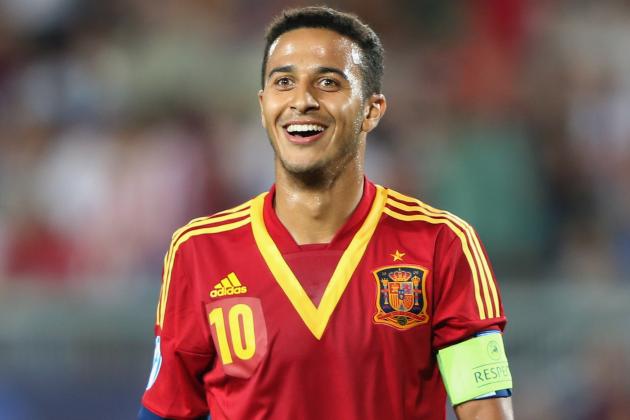 Ian Walton/Getty Images
Thiago Alcantara
The descriptor has been grossly overworked in recent years, but Thiago Alcantara can truly become the new Paul Scholes.
Anyone who saw Spain's journey through the Under 21s tournament cannot fail to have been impressed by the Barcelona player and his fellow-countryman Isco.
Now that would be a double signing to wet the lips of United fans.
When David de Gea wrote "see you in Manchester" on the match ball after the Italy vs. Spain Final, was he really thinking of Thiago, or was it Isco as well? At the moment the odds seem to favour these two ending up on opposite sides of the new English capital of football.
The rumours of Thiago joining United have become so intense as to seem almost certain, having waited only for the end of the tournament and for David Moyes to be back at Old Trafford to welcome this hugely talented young man.
From Graham Hunter's tweet:
"#Thiago and #United close enough for wages to be agreed."
And Guillem Balague to a host of newspapers, including The Mail: "The rumours are strong that a deal is close."
It would be no surprise if Moyes has already spoken to both Thiago and his footballing father, Mazinho, to reassure them that he will build his new team around the Italian-born, Brazilian-descended, young Spaniard.
That would guarantee him the game time he craves at the highest level.
Who would be the other strongest possibilities?
There may be more substance in the rumours that have died down recently than in those that continue to be churned up.
If Moyes is going to sign any defenders, then Ezequiel Garay at centre-back and Leighton Baines coming in to replace Patrice Evra must be the most likely.
Both those rumours have been mooted by The Mirror recently.
Whether or not Thiago arrives, surely Kevin Strootman is nailed on for a place in United's midfield resources, finally helping to fill the gap that supporters have fretted about for years, since the departure of Roy Keane and the impending retirement of Scholes.
And as far as the attacking players are concerned, we have already suggested that the most likely signings are Ronaldo or Lewandowski.
Indeed, despite the various clubs who would no doubt love to sign Ronaldo, including PSG, Monaco, Manchester City and Chelsea, "Revista La Liga" pundit, Terry Gibson (who is plugged into the La Liga scene), seems certain that the player will end up at United if he ever leaves the Bernabeu.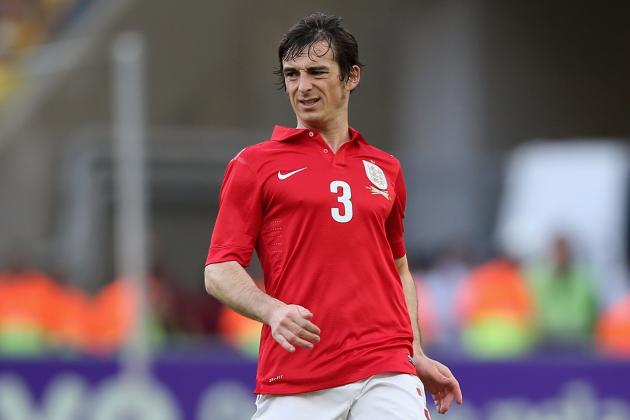 Friedemann Vogel/Getty Images
Leighton Baines
So it may be that Roberto Martinez and Leighton Baines could both "see red" in the next few days.
The Welsh full back was arguably the best in Europe last season. If, as has been rumoured by the likes of The Guardian, Monaco want Patrice Evra, then Baines is by far the best replacement, despite the competing claims of Alex Buttner and the returning Fabio.
Now, there is always plenty of opposition and even United fans who moan that the Red Devils cannot compete in the transfer market with billionaire owned clubs like City, Chelsea and Monaco.
Nevertheless, depending on which paper you read, Moyes will have a transfer budget of between £60 million and £80 million this summer, of which he has so far only spent £1 million (on Guillermo Varela).
And the likelihood surely is that this would be a net sum. The only other question is whether it would be augmented by, say, Nike and/or Chevrolet to expedite the "marquee" signing of Ronaldo.
It is possible that the Portuguese maestro would not arrive at Old Trafford until next season. His contract is running down and the fee would be lower; both he and Carlo Ancelotti (if the latter arrives as Real Madrid manager), may want to look at each other; Ronaldo might wish to see how Moyes gets on in his first season.
But from United's and probably the player's point of view, it would surely be better if the deal is done now or not at all. A £65 million offer was suggested as long ago as March, the reduction on his £80 million fee on moving to Real Madrid being explained by age and the remaining contract life.
Anyone like me, who was at the home leg against Real Madrid, cannot fail to have been as moved as the player at the warmth of feeling towards him. In which case, whatever offer Monaco might put together should be irrelevant.
We should also remember the players that Moyes might be prepared to release. Even if he decides to give Nani another chance (and assuming the player moderates his wage demands), there are other players that United fans would probably not miss, like Anderson, Ashley Young or Antonio Valencia.
That is not to say that either of the latter two will be sold. There are other possibilities. While Bebe would probably command only a nominal fee, Federicho Macheda could be worth a few million.
The truth is that we don't know who Moyes would be happy to part with until we see his signings. Surely he will get that business out of the way first, with two months to sell any players who are leaving.
So what would be the ideal strategy or "Plan A"?
If Ronaldo comes in, United doesn't need another striker, whether or not Rooney stays. In addition to Robin van Persie, Hernandez and Welbeck, they have talented youngsters coming through like Will Keane, Angelo Henriquez, Nick Powell and Wilfried Zaha.
Behind them are James Wilson and Jack Barmby. And don't forget, if Moyes plays Kagawa "in the hole," he only needs to start one striker, especially if Ronaldo is on the pitch.
So whoever leaves the club, the ideal signings would surely be Ronaldo, Thiago, Strootman, Garay and Baines. All of them would be first choice starters.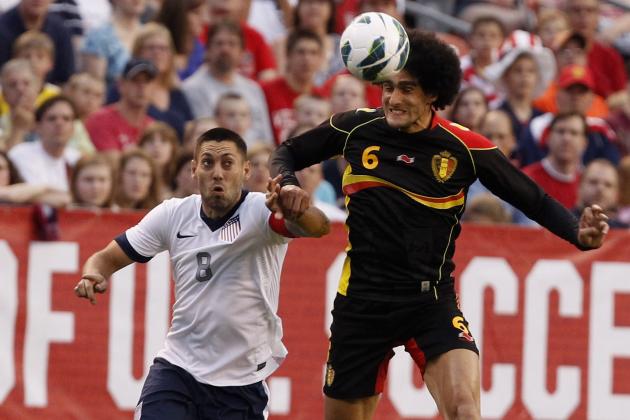 Matt Sullivan/Getty Images
Clint Dempsey & Marouane Fellaini
Some United supporters would like to see a sight like this next season.
If Barcelona somehow manage to persuade Thiago to stay and Ronaldo defers his decision or goes to Monaco, there needs to be a Plan B.
While, as we've said previously, United could manage without Rooney, especially if Kagawa plays behind a central striker, they surely need two new midfielders.
Assuming that Strootman is the most likely, then surely Moyes could pry Fellaini from Everton. While he is a very different player to Thiago, he does add a different dimension altogether.
As well as being one of the taller players in the Premier League (even without his "Afro"), and excellent in the air, he is certainly not shabby on the ground.
Whether alongside Carrick or Strootman, he would bring the strength to midfield that Yaya Toure for example brings to City.
While United may not need another striker, even if Ronaldo doesn't come, the desired signing must surely be Lewandowski. With Dortmund determined not to sell him to Bayern Munich, a speedy offer might just bring him to Old Trafford.
So if Evra stays as well, Plan B could see the signings of: Strootman, Fellaini, Garay and Lewandowski for a combined cost of £80 million, less any outgoing sales.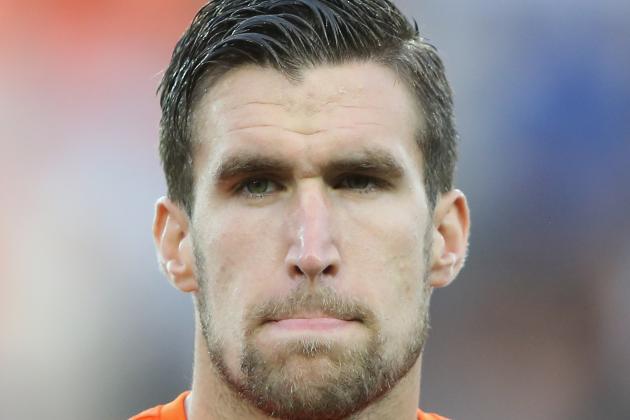 Ian Walton/Getty Images
kevin strootman
There are always going to be disappointments in the transfer market and, with clubs like Monaco seemingly prepared to spend any amount of money, there is no certainty that any of these mooted signings will arrive.
But surely Moyes would not have gone on four weeks holiday if he wasn't confident of the bare minimum of business he is prepared to do.
And if you ask United fans where the need is, they would say as they have done since Keane departed that at least one midfielder is an imperative. Indeed, with Tom Cleverley still developing and Darren Fletcher not guaranteed to fully recover, surely the new manager must buy two midfielders.
So especially if Rooney stays then Plan C must be Strootman and Fellaini as an absolute minimum (although obviously Strootman and Thiago is the dream ticket).
Crossing the I's and dotting T's
Clearly new signings are the No. 1 priority when Moyes sits behind his desk. Then there are players to be sold, if they are not part-exchanged.
United's pre-season tour begins in mid-July. Before then the manager needs to work with the existing players and integrate any new signings if they have arrived (Kagawa, Thiago and Strootman would be late arrivals following their international commitments; Ronaldo, Garay and Baines could come on 1 July if necessary).
He also needs to settle his coaching team as soon as he arrives. Ryan Giggs is completing his coaching badges and Phil Neville has retired from playing and left Everton. While Rene Meulensteen is still on the books at Old Trafford, his future remains uncertain.
So whether he brings in his own choices or uses United personnel, his "new" coaching team will probably be a hybrid between the latter and some he knows from Everton.
It is the start of a new era after two long and hugely successful managerial stints and a series of disappointing managers in between, in the last 60 years or more.
Let's hope David Moyes is successful enough to become the third longest serving United manager of all time.