Adrien Broner Claims Third World Title With Split Verdict Over Paulie Malignaggi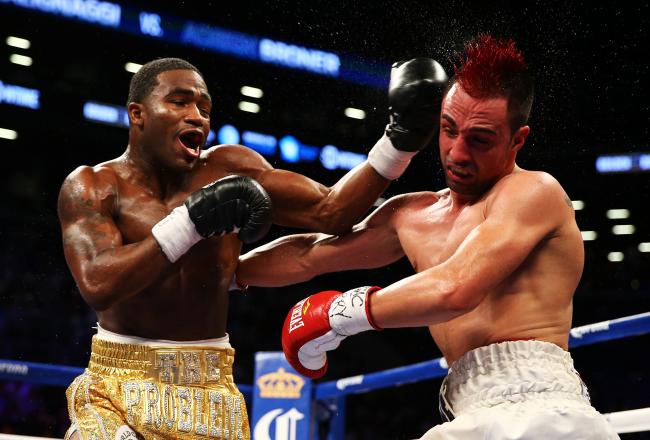 Adrien Broner claimed his third world title tonight by defeating Paulie Malignaggi.
Al Bello/Getty Images
After weeks of trash-talking from both camps, Adrien "The Problem" Broner claimed the third world championship of his young career, winning a split decision over Paulie "Magic Man" Malignaggi at the Barclays Center in Brooklyn, NY.
Scores were 117-111 and 115-113 for Broner, and 115-113 for Malignaggi. Bleacher Report scored the bout 116-112 for Broner.
Malignaggi (32-5, 7 KO) began the fight well, using a high activity rate to keep the stronger, quicker fighter at bay. But as the fight wore on, it was Broner's speed and power that became the decisive factor. He was able to land at will, and his punches had pop on them, unlike those of his opponent.
With the victory Broner (27-0, 22 KO) secures a third world championship, in a third weight division, and further solidifies his position as one of the best young fighters to come along in quite some time.
Malignaggi on the other hand scored a moral victory, displaying his trademark guts and heart, in making the fight much closer, and more competitive than most expected it to be in a losing effort.
That'll do it for us tonight fight fans. We hope you enjoyed our live coverage of Malignaggi vs. Broner. As always, stay tuned to Bleacher Report for all your post-fight coverage!
Well said, Paulie. With one exception: You're not the only one speaking out about this shady #boxing business. #PaulieBroner

— Gabriel Montoya™ (@Gabriel_Montoya) June 23, 2013
Best part of the night.
Malignaggi: "Tom Schreck is a New York judge who was in Al Haymon's pocket, it's that simple."

— Scott Christ (@badlefthook) June 23, 2013
Pretty darn strong accusations there. Very risky move by Paulie to call out the sport of boxing. He made a lot of valid points in there, and you can argue with him all you want. Personally I felt he lost tonight, but he gave us some good food for thought.
I already find Adrian Broner somewhere between annoying as hell and completely loathsome...maybe that's just what boxing needs though...

— Michael Wilbon (@RealMikeWilbon) June 23, 2013
A lot of people feel this way.
Malignaggi really upset about the verdict, railing on about fight fixing, and all thats wrong with boxing. Really interesting stuff. Not saying he's wrong. But a risky move, given his cushy position with Showtime.
Wow that was stunningly close. Guess the judges gave Paulie a lot of credit for his activity rate and heart.
And we go to the scorecards...
We have a split decision...
115-113 (Broner), 115-113 (Malignaggi), 117-111 for the winner...
And the new WBA welterweight champion...
Adrien "The Problem" Broner!!!!
I expect Broner to win by 117-111, 116-112. But this is a MORAL VICTORY for @PaulMalignaggi

— Michael Woods (@Woodsy1069) June 23, 2013
It sure is...sheese what a ton of heart.
Malignaggi all kinds of guts, heart and determination. It just wasn't enough. Broner was the quicker, more powerful fighter. Even though he only fought in spurts, he hurt Paulie when he landed and that was the difference in the fight.
116-112 for Broner on my card as we go to the official judges scorecards...
Paulie is trying his heart out but has nothing on his shots. Doing zero damage. #PaulieBroner #boxing

— Dan Rafael (@danrafaelespn) June 23, 2013
We know this already.
Rd 11 to Broner. 107-102 on my card. The outcome is academic. #PaulieBroner #boxing

— Dan Rafael (@danrafaelespn) June 23, 2013
I got it 106-102 for Broner. Closer than most people think, but he's clearly ahead.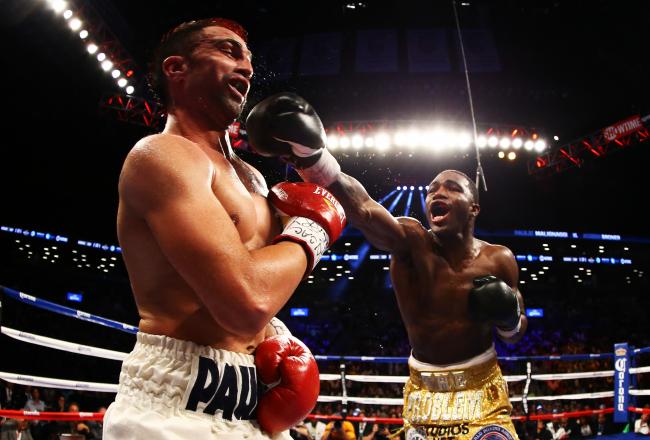 If you could put Adrien Broner's pure boxing talent, into a body with Paulie Malignaggi's heart and determination, what a fighter you'd have.
Gave Paulie the 10th round for his activity. Broner landed some good shots, but was inactive too often in the round. 96-94 for Broner entering the championship rounds.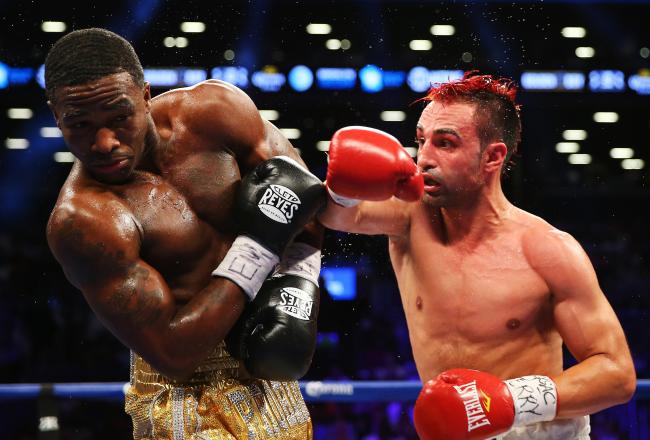 Malignaggi outworking Broner in the opening minute and change of round number 10.
Broner winning, Paulie showing heart!

— Danny Swift Garcia (@DannySwift) June 23, 2013
Got Broner up 87-84 after nine.
Paulie fighting WAY better than many folks expected, eh?

— Michael Woods (@Woodsy1069) June 23, 2013
Ya knew he'd fight with all he had. All guts. But he's just in there with a better fighter. No shame in that.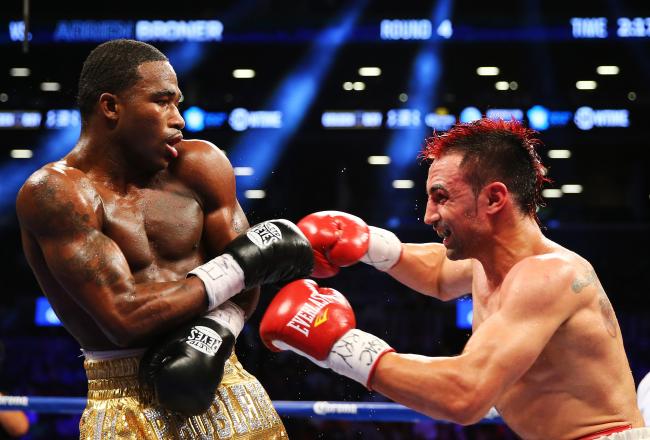 Malignaggi still clowning, still fighting back. Broner very calm, collected. A real cool customer in the ring.
Broner has won the last two round big and has definitely taken over the bout #boxing @SHOsports #PaulieBroner

— Douglass Fischer (@dougiefischer) June 23, 2013
Broner is taking over. He now leads 5-3 on my card. 77-75. Breaking Paulie down.
Malignaggi still working in the eighth, just can't put anything on Broner that hurts him. Meanwhile Broner hurts him whenever he connects clean. Pretty much the way people expected this one to pan out.
A tough guy getting beaten up by a better guy.
Big difference in power: Broner hurts Paulie often, Paulie never hurts Broner

— Kevin Iole (@KevinI) June 23, 2013
Truer words have never been spoke my friend...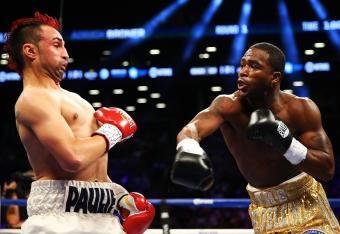 Paulie with a flurry after Broner landed some hard combos. Gets the crowd roaring, but doesn't do any real damage. This fight is going all Broner's way at this point. Malignaggi just doesn't have the activity rate anymore to keep him away.
Broner takes the lead four to three on my card 67-66.
Broner is starting to come downhill on Paulie and shaking him up. Fight is even, but its all going Broner's way now #boxing #PaulieBroner

— Steve Kim (@stevemaxboxing) June 23, 2013
Malignaggi is doing all he can in there, just not as strong or quick as Broner. Bottom line.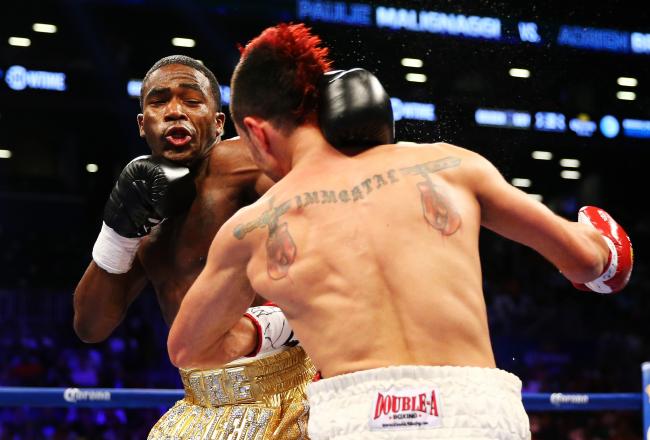 Paulie looks gassed a Broner works him in the corner. Paulie needed such a high activity rate early to keep Broner at bay that he might already be running on empty.
Broner takes the sixth to even the fight at 57-57.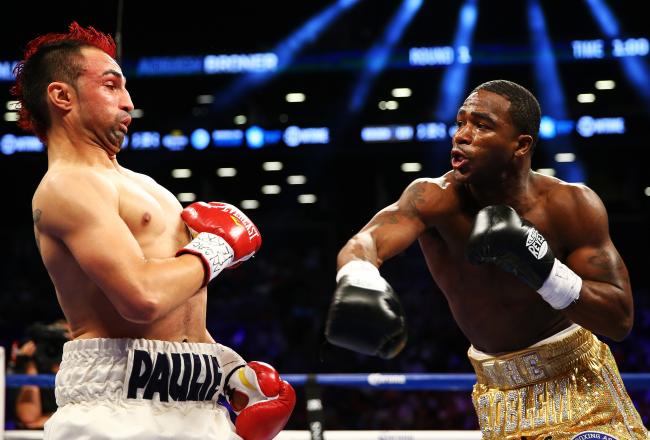 Broner walking Malignaggi down, lands whenever he wants to, starting to close the distance and open up. This is trending in a bad direction for the Brooklyn fighter.
This article is
What is the duplicate article?
Why is this article offensive?
Where is this article plagiarized from?
Why is this article poorly edited?