WWE Main Event and SmackDown: In-Depth Recap and Review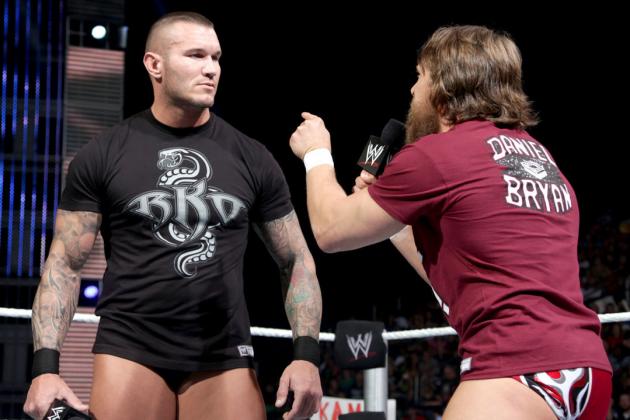 WWE.com
Every week here on Bleacher Report, I will take an in-depth look at Main Event and SmackDown, recapping all the action and offering analysis on everything from the matches to commentary and anything else that takes place on the show.
This week featured all the fallout from WWE Payback, but we also began to see the seeds being planted for the Money in the Bank pay-per-view on July 14.
The only match set as of now is Mark Henry vs. John Cena for the WWE title. But we do have some idea of where things are heading after this week's shows.
Miz is still looking to win the IC title, The Shield have set their sights on Christian, and Ziggler still wants his World title back.
Now that Antonio Cesaro is paired up with Zeb Colter, it is likely that he will enter into a program with someone soon.
The big story right now is obviously Brock Lesnar, but what role Paul Heyman had in his attack on CM Punk is where things will get interesting.
Main Event and SmackDown were on par with recent weeks, though nothing truly interesting happened on either show.
Begin Slideshow

»
Gabriel and Ambrose start things off for this one. Gabriel held his own against Ambrose and Rollins pretty well before tagging in one of the Usos.
Something I never noticed before is that babyface teams always go on the far side from the camera, while heel teams are on the side of the ring closer to the camera. This match is the opposite and that is the only reason that dawned on me.
This match lasted through a commercial break, and the babyfaces got in more offense than I expected given that The Shield have dominated much bigger stars in matches.
The match began to slow down a bit, which you could really see from the crowd reaction to the second half of the match.
Overall, The Usos and Gabriel did about as good as anyone could have expected them to against The Shield. The Usos are likely candidates to challenge for the Tag titles at some point.
This match was nothing special, which is somewhat of a let down since Main Event has been producing many "Match of the Week" candidates in recent weeks.
Winners: The Shield
Cody Rhodes and Miz on commentary together was pretty entertaining.
Cody said something along the lines of "I'm only 27, and I've won the tag team titles like 45 times with 33 different people."
At one point, Jey Uso took a nasty header into the mat when Reigns failed to keep him on his shoulder.
Cesaro controlled the early part of the match, but Sin Cara managed to use his speed to hit a few quick moves that sent Cesaro out of the ring.
This was a slow match for both men. I expected this match to be very high-energy, but Cesaro was in control for most of the match, so Sin Cara was grounded.
Cesaro tried to unmask Cara at one point, which led to Cara getting in some nice high-flying moves. Cody mentioning his previous feud where he was after Cara's mask was nice.
Cesaro ended the match after grabbing Sin Cara by the neck, spinning him around a few times to wear him out, and then hitting The Neutralizer.
Again, nothing special, but some solid work from both men.
Winner: Antonio Cesaro
Cesaro grabbed Sin Cara by the mask at one point and whipped him into the barricade, officially taking the title for "Most creative use of an opponents ring gear against him."
Some of the hits throughout the match seemed a bit stiffer than usual for both guys.
Sin Cara took down Cesaro with a hurricanrana at one point that nearly spiked Cesaro's head right into the mat. Cesaro could have been crippled if the move was any sloppier.
Kaitlyn tried to take control, but Aksana was able to ground the former Divas champ and beat on her for awhile.
Kaitlyn turned things around with a backbreaker that saw her barely bend either one of her legs, causing it to look a bit awkward.
The match was a little better than I expected in terms of how hard these women seemed to be getting hit, dropped and slammed.
Kaitlyn took home the win with a spear in a longer-than-usual Divas match.
Winner: Kaitlyn
Some notes from the match.
Does anyone else wish Aksana would start appearing backstage with Teddy Long again? At least those segments got her on TV pretty often.
Aksana needs to stop the sexy crawling around the ring.
I think Kaitlyn hits the spear better than some of the guys who use it. She always looks like she hits her opponents at full force.
In recent weeks we have been seeing candidates for Match of the Week on Main Event, but tonight felt like a pretty average show.
The six-man match had some excitement, but it did not match up to some of the recent matches Main Event has featured with Cesaro, Sheamus, Sandow and Barrett.
Cody Rhodes and Miz worked a lot better than I ever would have expected on commentary. They portrayed their heel and face characters while not bickering too much.
They had some funny banter back-and-forth, and Rhodes seemed very comfortable at the table for an entire show. Miz and Rhodes could easily be a great duo on commentary if used more in the future.
The show opened with a promo from Daniel Bryan. He explained how upset he was that his match with Randy Orton was stopped on Monday by the officials.
Bryan does his usual song and dance about being the weak link and feeling disrespected by Orton following their match.
Orton came down and told Bryan he shook his hand and lifted him off the ground out of respect, not pity. Bryan didn't buy it and they made a match.
This easily could have been a very boring exchange, but Bryan has become such a great performer that he was able to carry it and make it somewhat interesting.
Being a convincing actor is all in the eyes, and Bryan always has a look in his eyes that makes you feel like he really thinks the things he is saying and is not just acting.
I like this feud because it feels very fresh. Orton is a great wrestler, but with someone like Bryan in the ring with him he is going to look awesome.
Bryan makes people step up their game, usually by being better than his opponents. So seeing him have matches with guys like Orton and Punk, guys who can really do just about anything, is really exciting.
On a final note, some of the WWE universe needs to realize that holding your sign up through an entire segment is bad etiquette, especially if the sign is not even funny.
My original opening sentence to this slide was going to discuss how tired I was of seeing Sheamus beat up both members of Team Rhodes Scholars, but after seeing the match Sheamus and Rhodes put on, I cannot possibly complain.
The match saw Rhodes not only control Sheamus for the majority of the bout, but he also used a variety of unique offense that made the match feel fresh.
He focused on Sheamus' arm throughout the match, but one of the more brutal hits came when he threw Sheamus into the barricade, and the thing actually buckled and moved back about a foot.
I have seen guys bigger than Sheamus run into that thing and it didn't budge an inch.
Sheamus went through his usual flurry at the end of the match to pick up the victory, but using the Cloverleaf to make Rhodes tap out was a nice change from the usual kick in the teeth.
The final exchange integrated Sandow into the match, and everything was timed out and well-executed to make for a nice finish to the match.
Sandow's attack on Sheamus after the match seems to indicate we will see more between these guys in the future. I have no problem with that as long as they keep having matches like this one and the one between Sheamus and Sandow at Payback.
This feud between Sheamus and Rhodes Scholars hasn't been all that interesting outside of Sandow's performances on the mic, but some of the matches these three have managed to put on have been really good.
Winner: Sheamus
The videos for the Wyatt Family have all had a similar feel to them, but somehow they get a little creepier every time we see a new video from them.
I love it.
This is one of the most well-crafted debuts for a group in a long time, and there are endless possibilities for both storylines and feuds for them.
The fact that these guys are being portrayed as crazy gives WWE writers a lot of storyline possibilities for how to have them debut to the WWE universe.
Heel vs. heel matches are always interesting because you can never predict how the crowd will react. Both Axel and Barrett have their fans, it's time to see who has the louder fans.
Barrett started off in control, but Axel took him out with a dropkick and took control until he got a near fall on Barrett. Throughout this whole exchange, both men only used punches, kicks, elbows and knees to hurt each other.
After the initial lockup and headlock, not a single wrestling hold, throw or slam was used until two minutes into the match.
Axel and Barrett seemed to work very well together. They traded offense throughout the entire match, but the end came when Axel hit his signature running neckbreaker to pick up the pin.
The crowd did not really get behind either one of them more than the other, but some of the harder hits certainly elicited some cheers.
The best part about the end of this match is that it had a clean finish. Nobody cheated, they just beat the tar out of each other from start to finish.
Miz was on commentary, and he got in the ring and had a little stand-off with Axel, but Heyman pulled Axel away before it became a physical encounter.
Winner: Curtis Axel
Some notes from the match
I wonder if they will ever use another color for the IC title besides white. They used to use all sorts of colors for the strap of the IC title.
I never thought I would see Paul Heyman this involved with WWE again. Having him on Raw, SmackDown and pay-per-views has been great these past few months.
The announcers seemed to keep quiet on how Heyman factors into Brock Lesnar's attack on CM Punk.
AJ and Natalya had a pretty good match, which went far longer than any TV Divas match I can remember seeing in quite some time.
Natalya got in a few good moves, including a very unique submission hold, but it was AJ who won by submission using the Black Widow.
Layla and Kaitlyn were shown watching the match from backstage, so clearly AJ and Kaitlyn are not done yet, but as soon as they are, Natalya should be the next feud for AJ.
A backstage brawl took place between Kaitlyn and Aksana after the match. The Divas have been getting a lot more attention lately, which is nice to see considering they actually have some talented Divas right now.
Winner: AJ Lee
Some notes from the match.
The Divas belt almost looks too big for AJ to wear around her waist with how skinny she is.
This is a pair I would like to see have a serious feud. Natalya has needed someone with the energy and talent of AJ to feud against.
Does anyone know the last time a Diva's match went long enough to go through a commercial break? I am genuinely curious.
When you put two veterans like Chris Jericho and Alberto Del Rio in the ring together, you know you will get a solid match.
However, the purpose of this match was more to further the heel turn of Del Rio and the babyface turn of Dolph Ziggler.
The match wasn't that long, but both men hit some of their signature moves and they each had a counter for the other's submission hold.
Ricardo being put in the Walls of Jericho is what gave Ziggler the opportunity to pounce on Del Rio.
Even though Dolph Ziggler caused Jericho to get DQ'd by attacking Del Rio, and even though he took a Codebreaker, it looks like WWE is going to turn Ziggler into a face.
It is a smart move. He has been a heel his entire WWE career, and testing him as a babyface is a great way to gauge his potential as a top guy.
Since the crowd already seems to be behind Ziggler, it is really just a matter of having him drop AJ and Big E. Langston soon, which will probably lead to a match between Ziggler and Langston at some point.
Once Jericho left the ring, Del Rio had Ricardo hold Ziggler so he could kick him right in the head. It really made Del Rio's heel turn click into place.
Winner: Alberto Del Rio by DQ
Some notes from the match.
Del Rio should go back to using the luxury cars during his entrance now that he is a heel. It made him stand out.
Del Rio got busted open a little but right above his eye, but it was a very small cut.
Ricardo fell right back into his heel mannerisms. It will be interesting to see if he ever gets cheered during live shows before fans boo Del Rio.
Del Rio is so much better as a heel than as a babyface. He will only get better from here.
It is great to have Christian back, but how WWE is going to use him is a big mystery. WWE has so many new talents who have emerged in the past year that the number of fresh feuds he could be involved in seems huge.
The match with Drew was a typical squash match, but what followed is where it got interesting.
The Shield came down, not through the crowd, but from the ramp and proceeded to attack and lay out Christian.
Could a feud with Dean Ambrose for the US title be in Christian's future? It seems like a good possibility.
Winner: Christian
Some notes from the match.
D-Mac's pants were kind of distracting due to how ridiculous they looked.
I hate the Killswitch. It is a terrible, totally unbelievable finisher. Christian needs to use something else to be taken seriously.
I wonder if The Shield using the ramp was just a way to save a few seconds, or if it means they are going to stop coming through the crowd soon?
Orton and Bryan started in right away with the hard strikes, trading offense a few times before Orton took Bryan down with a big European uppercut.
Throughout the first segment, both men seemed to have an answer for what the other was doing, which led to a pretty even match.
That is, until Orton suplexed Bryan right out of the ring to the floor as the show went to a commercial break.
You have to really trust your opponent when you pull off a move like that. Bryan's feet were 15 feet in the air before they landed on the floor. And the floor is just an inch thick mat over a cement floor.
To pull that off you have to hit it just right, or Bryan ends up taking a bad fall that puts him on the shelf, or worse. This is why I was looking forward to this match. Orton and Bryan are both so good at what they do that they can pull those kinds of things off.
This match was entertaining from start to finish. Both guys really looked like they are at or around their absolute best that they will be in their career.
This match also served as a lesson for anyone who wants to see several examples of a dropkick. Both guys like to use their feet as weapons, but Bryan wins out for having the most ways of taking you out with them.
Bryan ended up beating the count after a suicide dive, but he was not happy about winning the match that way. He got a mic and demanded the ref start the match again.
The ref refused and walked away, leaving Bryan and Orton in the ring alone to end the show.
I am not calling this a five-star match, but it might be match of the week.
Winner: Daniel Bryan
Some notes from the match.
Daniel Bryan is about average height at 5'10", so seeing him next to Randy Orton makes you really realize just how tall Orton is.
Is it me, or does Orton look like he has been enjoying himself more during his matches lately? It's like he snapped out of a funk and now he is back to being his old self.
Daniel Bryan should take back his nickname of "Best in the World" from CM Punk, because he really has earned it.
This was not the best SmackDown in recent weeks, but it was an entertaining show.
The Shield taking out Christian certainly opens up some possibilities for future feuds, but the program between Daniel Bryan and Randy Orton is what took center stage this week.
Kane was nowhere to be seen on SmackDown, so we might have to assume that Team Hell No is over for the most part. Bryan and Kane may have a feud to end their partnership, but right now it seems like Orton and Bryan will continue.
The Divas matches have been improving lately, and the mid-card title scene is more interesting than it has been the past few years.
With all the new faces in WWE these days, it is no surprise that things feel a little more fresh than they did a year ago.
Money in the Bank is just a few weeks away, and with only one match made so far, we should expect to see WWE covering a lot of ground over the next few weeks.
Thanks for reading and follow me on Twitter @BR_Doctor.