The Most Famous Hairdos in Sports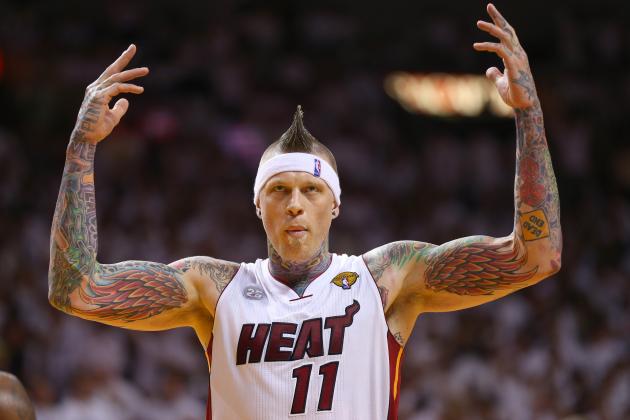 Mike Ehrmann/Getty Images

When it comes to hair, some people go by the mantra, "Shut up, it's just hair." Which is, quite honestly, a pretty fair point. It is just hair.
Most people have it. Plenty of animals have it. Even insects have hair.
It's not like it takes any special powers to grow it or anything (don't tell that to LeBron). It just exists in various lengths, colors and portions on the heads of most of the population. Unless you have the balls to Bic it, even balding people have some remnants.
So what's the big deal then? Well, as mundane as the general existence of hair may be, there's no denying it has the power to make an impression—and a lasting one at that.
If it was "just hair," people wouldn't still be talking about the great mullets, mustaches and memorable hairstyles of athletes from decades past. For some people it's just hair, while for others it's their chief physically defining attribute.
People in sports can make their hair famous, or their hair can make them famous. Sometimes it's a combination of both.
Here are some of the most famous hairdos in sports, past and present.
Begin Slideshow

»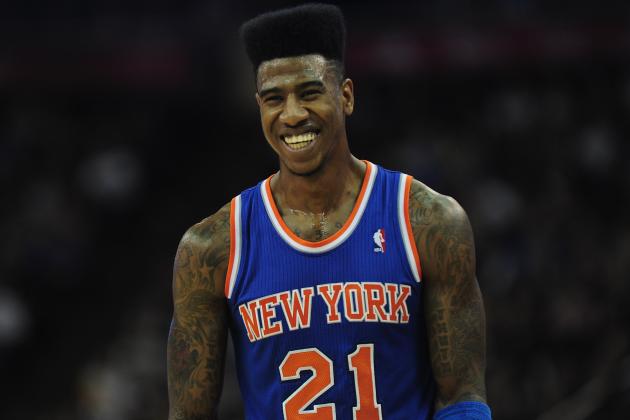 Jamie McDonald/Getty Images

The flat top is making a comeback because it's a haircut that demands attention. I had absolutely no idea who the Knicks' Iman Shumpert was last year.
Now I know he's Iman Shumpert, the guy on the Knicks with the awesome flat top.
His stands out because of the little twists he puts on the classic. You'll notice it's oh-so-slightly asymmetrical, which draws the eye.
Shumpert also likes to periodically change it up with different designs shaved into the side of his dome, and he's even used it as advertising space. I love a man with some vision and creativity.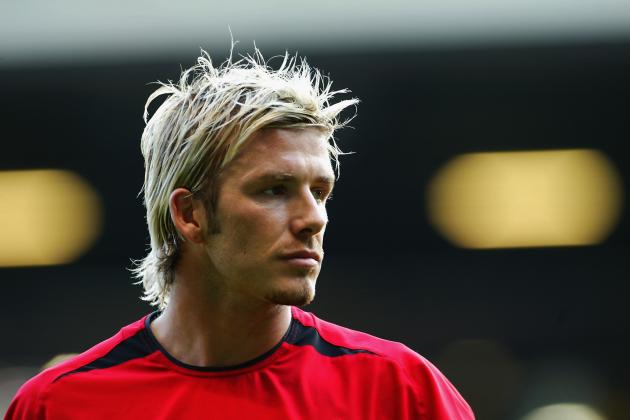 Laurence Griffiths/Getty Images

At the height of his fame and talent, English footballer David Beckham was one of the biggest stars in the world. In fact, even in retirement, he remains one.
Beckham's talent got him a job, but it was his ever-changing look that always kept paparazzi coming back for more. There was a time when it seemed Becks underwent an incredible transformation every six months.
And his hair was a major part of that. It's been long, short and buzzed. It's been spiked, feathered and slicked back. It's been brown, blonde and really blonde.
It didn't matter, though. Beckham always looked good. And he still does.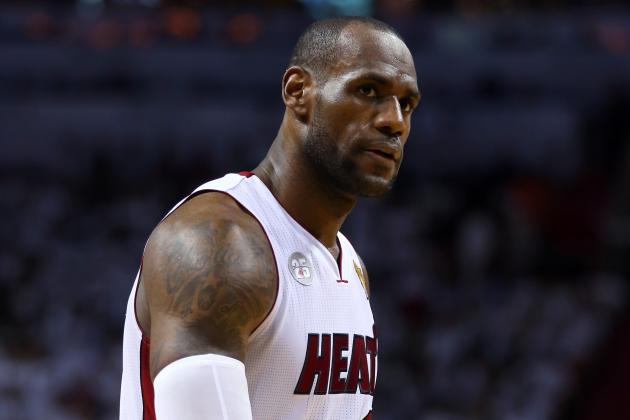 Mike Ehrmann/Getty Images

There is nothing interesting about the hairdo of Heat superstar and two-time NBA champion LeBron James. What little hair he actually has is clearly creeping away from his face slowly.
What makes it so famous is how self-conscious the King's receding hairline makes him.
LeBron has seemingly had a sweatband surgically attached to his skull for years, but it actually came off (and stayed off) for much of Game 6 against the San Antonio Spurs in the 2013 NBA Finals.
It was weird—not his hair, but the fact that you could see his whole head. There are tons of bald ballers; LeBron just needs to embrace it.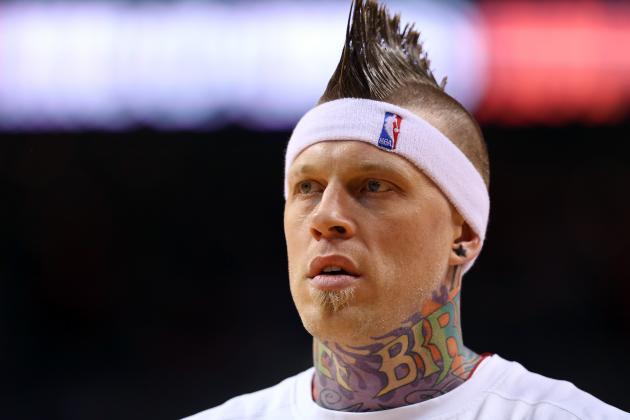 Mike Ehrmann/Getty Images

They don't call the Heat's Chris Andersen "Birdman" for nothin'. He's got some type of bird of prey's wings tattooed on his arms and a hairdo that would make even the fanciest of cockatoos jealous.
Andersen may scare small children everywhere he goes, but I'm sure he'll find everything goes well with a championship ring. Even his notoriously colorful look.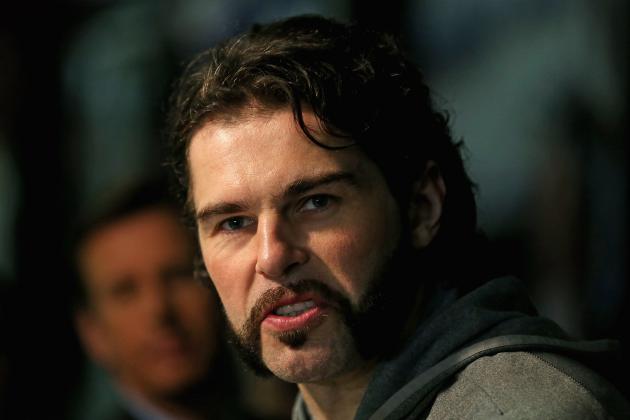 Jonathan Daniel/Getty Images

Boston Bruins forward Jaromir Jagr had one of the most celebrated mullets in the history of hockey when he played with the Pittsburgh Penguins in the '90s. That's no small achievement either.
The annals of the NHL are decorated with the glorious, free-flowing mullets and mean mustaches past. So standing above them, if only by a single strand of feathered hair, is impressive.
Jagr lost his mullet right about the time he lost his soul, when he signed with the Washington Capitals in 2001. Although his latest eye-catching hairstyle is as memorable as anything he ever sported in the '90s—which is a good sign for the B's.
Jagr was still rocking the mildest of mullets during this year's playoffs, but the Fu Manchu distracts from everything.
Thearon W. Henderson/Getty Images

Wow. Looks like someone is giving the corn-fed farmer's daughters of the Midwest exactly what they want. Not that I have any clue about that specific demographic.
I can't imagine there are many premenopausal women in Wisconsin who don't like the sight of Green Bay Packers linebacker Clay Matthews cooling down.
Especially considering it involves a lot of hair tossing, a wet white jersey and includes two tickets to the gun show—if you know what I mean.
Matthews has managed to achieve some level of sex-symbol status as an NFL linebacker, thanks to his lovely blonde locks. He was even once rumored to have been involved with another famous blonde, former ESPN personality Michelle Beadle.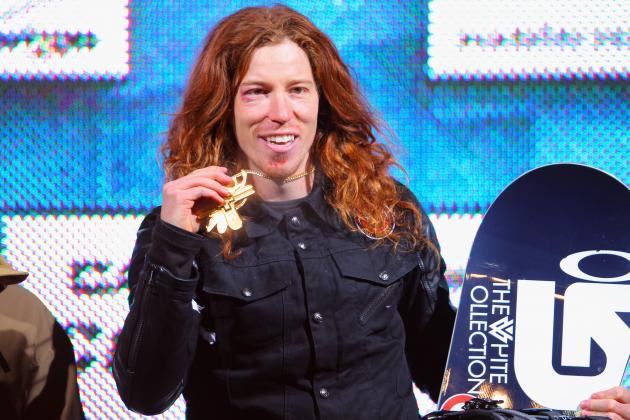 Doug Pensinger/Getty Images

I feel like this is kind of a sensitive issue. Basically, I'm calling out snowboarder Shaun White's hair as "famous" because it's long and red. That's pretty rare in the sports world...and the world in general.
It's just that ever since that whole South Park "gingers don't have souls" thing, it's definitely become a pretty touchy subject for the exceptionally small percentage of the population that actually has red hair and freckles.
So, I'm going to just err on the side of caution here and say that White's hair is famous—he's since cut it for charity, but these long locks are ever popular—and then leave it at that. Although...it's kinda funny that his last name is White but his hair is red.
Okay, maybe it's not that funny. Whatever. Leave him alone.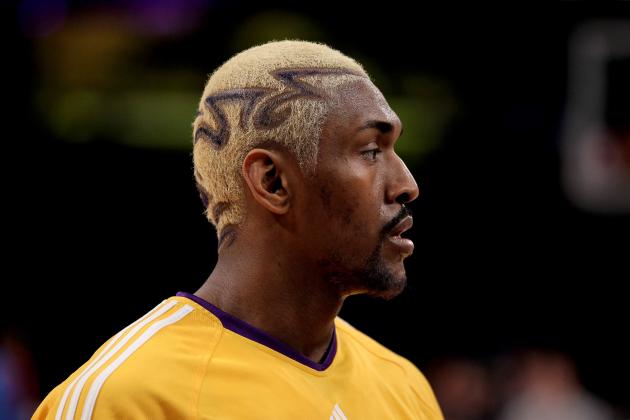 Stephen Dunn/Getty Images

Before Metta World Peace, the Los Angeles Laker formerly known as Ron Artest, got his act together and decided on friendly and crazy instead of violent and mean, he was much more prone to "express himself" through his hair.
Sometimes he'd just switch up the color and have his stylist shave and dye a really weird shape on his dome. While other times he'd be more message-oriented, having a specific team name or Chinese characters shaved into his head.
I'd like to say the Chinese characters actually said something like "Crazy American lunatic," but since he probably knows the person who does his hair pretty well, that doesn't seem entirely likely.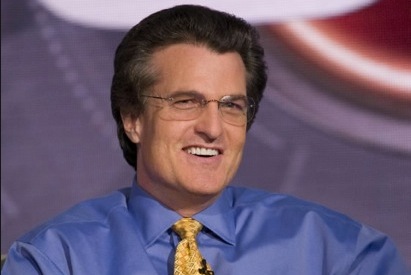 Image via OrlandoSentinel
In April 2011, Esquire magazine did a piece entitled "History of Mel Kiper Jr. Hair." The social hair anthropologist they apparently have on staff put into words what the public has always been thinking about his plastic-looking locks:
It's fake-looking;
It's plastered;
It's so very puffy.
Like his very own Raven-black (with strands of silver) football helmet. So very appropriate, considering he's actually a Ravens fan. Kiper is almost as well known for his hair as his on-air spats with pretty boy Todd McShay, his archnemesis with much better hair.
There are other issues with Kiper's 'do too. His hairline is very strange, and he seems to purposefully accentuate it with the crunchy, slicked back, yet poofy, style that has come to be his signature look.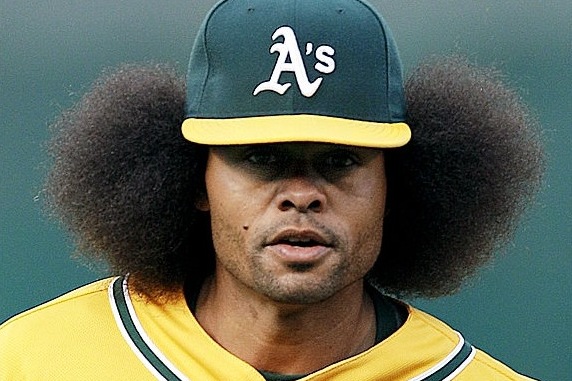 Image via AP
The A's Coco Crisp has had more hairdos over the years than you can shake a stick at. And believe me, you can shake a stick at an awful lot of hairstyles.
The more conservative among us might not be down with the sheer number of Crisp's looks, but I say the more the merrier. As long as you can pull it off, don't be afraid to change it up.
Crisp has rocked the Afro, cornrows, longer braids and shaved head throughout his career—and that's just to name a few. And, frankly, I think he's rocked every one of them.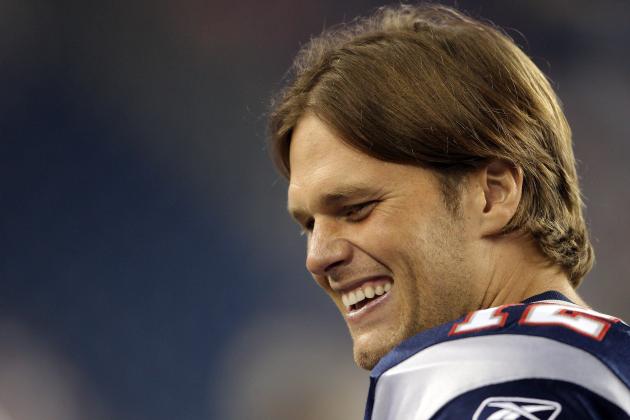 Elsa/Getty Images

For a while there, Patriots quarterback Tom Brady's hair was one of the most talked about "issues" in sports. Seriously—it was addressed on a weekly, if not daily, basis by sports media from all over the country.
In an interview back in November 2010, via Sean Leahy of USA Today, Brady was asked if he had any intentions of cutting it at some point. He responded, "Probably not."
He went on to talk about the extra warmth it provides in the winter, but then he revealed who wears the pants in the Brady household when he suggested questions about his hair be deferred to his supermodel wife, Gisele Bundchen.
Which is ironic, because I don't think I've ever seen that woman in anything but underwear. Brady has since cut his mop-top mane, but just like that photo of him holding a baby goat, the memories will live on forever.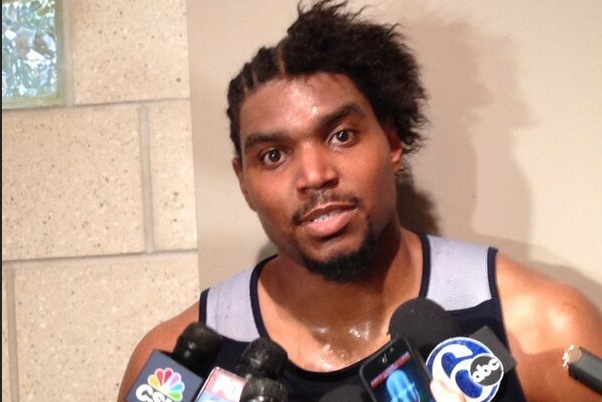 USA TODAY Sports
Image via @JordanRaanan:
Nobody knows what's up with big man Andrew Bynum.
We know he's big. We know he's constantly injured. We know he's seemingly ambivalent about playing basketball. We know he kept the bench warm for the Philadelphia 76ers last season. That's about it.
Except for the hair. We know what's up with Bynum's hair—it's crazy…and getting crazier. Since the Lakers traded him to Philly, Bynum has pretty much stopped playing basketball to focus on freaking people out with his hair.
A number of Bynum's hairdos have made headlines, but in February 2013, he debuted this doozy. A half-cornrowed, half-crazy coif for the ages.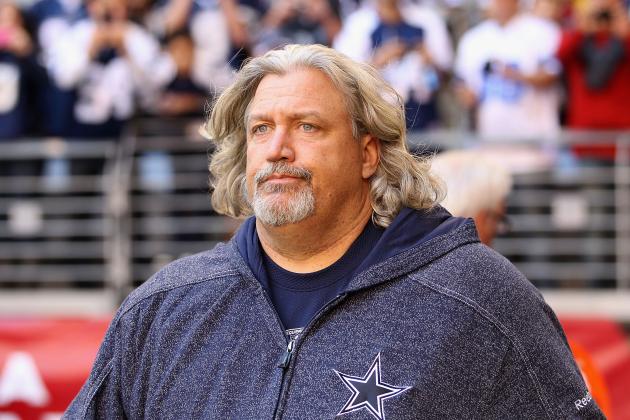 Christian Petersen/Getty Images

If you thought Rex was the Ryan brother most adept at making an unforgettable first impression, well, clearly you haven't seen much of Rob Ryan's antics.
The difference between them is particularly noticeable now that Rex has slimmed down and is trying his best to chill out, because Rob is as large as ever and chilling out is nowhere to be seen on his "to-do" list.
Rob is the bigger, bolder, brasher Ryan brother these days. Somehow he manages to dress like a hobo despite donning official NFL gear, and every time you see him you can't help but think: When was the last time this guy had a shower, a shave and a haircut?
The answer is probably never.
Kidding. He probably showers. He just looks like he doesn't.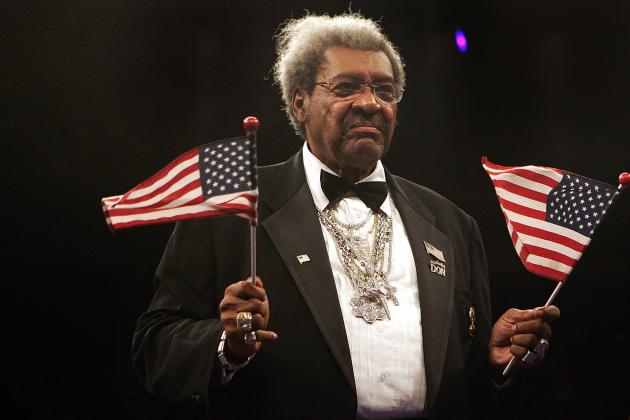 Marc Serota/Getty Images

Don King, boxing's most famous exploitative con artist, is almost as famous for his trademark messy gray crown of hair as he is for ripping off and ruining the careers of athletes like Mike Tyson.
I searched "young Don King" in Google and realized that the 81-year-old convicted murderer seems to have had this exact hairstyle his entire life. It was a little less gray at some point, but essentially the same.
I'd really like to see his baby photos. Just imagine a fussy baby wearing a lot of diamond pendents with that exact same hair. Well, that's what I'm imagining.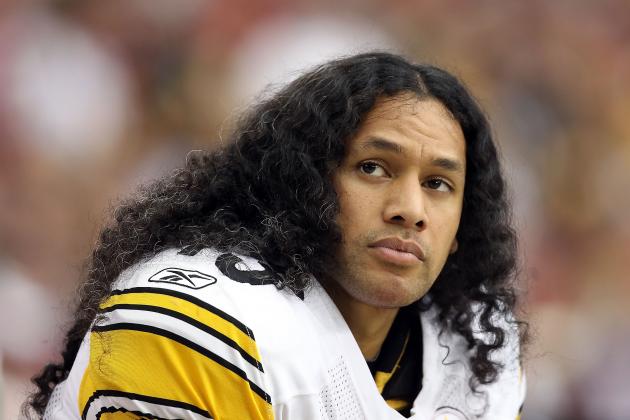 Christian Petersen/Getty Images

Steelers stud safety Troy Polamalu isn't known as a guy who craves the spotlight or displays attention-seeking behavior. He's quite the opposite—he's a beast on the field who basically disappears in the offseason.
Polamalu is soft-spoken, thoughtful and routinely voted as one of the most well-liked players in the NFL by both players and fans alike.
The only thing outside of football that brings Polamalu any significant attention is that hair of his. Those luscious locks were enough to get him an endorsement deal with Head & Shoulders and a lot of airtime in their commercials.
Polamalu has been growing his hair out, probably, for most of his adult life. It's curly, so you can't even see the true length of his hair most of the time—but when it's raining, you can see it reaches well below the bottom of his jersey at the longest point.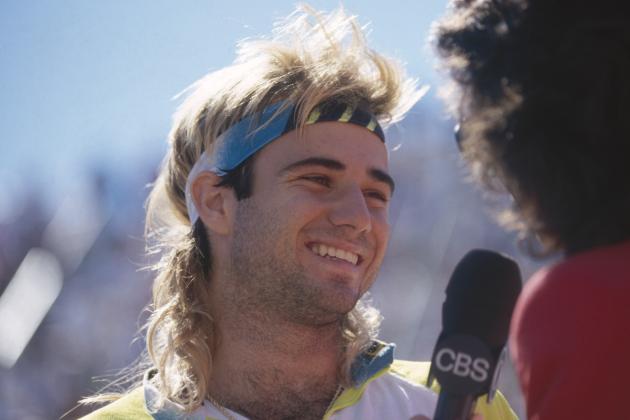 Rick Stewart/Getty Images

Tennis great Andre Agassi revealed himself to be a little less admirable after admitting, in his 2009 autobiography, he used crystal meth in the late '90s.
Good for him for finally being honest, but the details were just a bit too nitty and gritty. I realize he had some pages to fill, but sometimes less is more.
Although, less was never more when it came to Agassi's famed feathered mullet. In fact, the legend of his hair loomed so large in its own time that sometimes he felt he couldn't live up to expectations.
Which is why he often supplemented...with a wig. Sometimes it feels like you just can't trust anyone.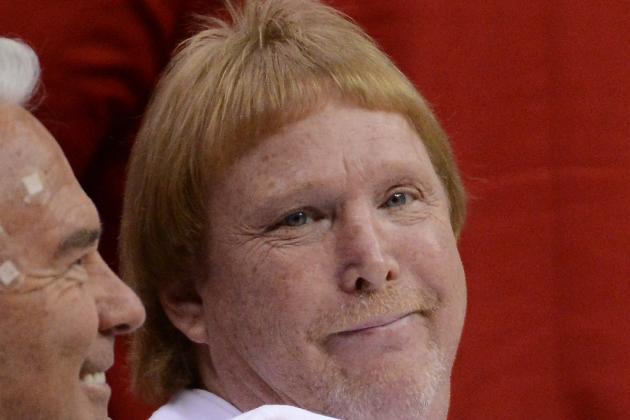 Harry How/Getty Images

There really is no known explanation for the haircut of Oakland Raiders owner Mark Davis. That being said, I've developed my own theory about why he remains steadfastly dedicated to looking like a Three Stooges reject.
You see, before the death of the great Al Davis, most people didn't even know that this guy existed—they certainly didn't know what he looked like. Al was the horrifyingly aged face of the Raiders who reveled in the spotlight his entire career.
So for all we know, Mark could've been locked in a closet all that time in an attempt to avoid power struggles. Or maybe he's just intimidating like his dad and nobody has the stones to have a frank conversation about his hair. You know the Davises have a stubborn streak a mile long.
I believe it's possible at some point that Mark was unaware of how ridiculous he looks, but now that he's the man in charge, there's no way he hasn't read some Internet gossip or stumbled into a conversation about it at some point. I think now he's just keeping it out of spite.
Or maybe it's a toupee? No. No! Right? It couldn't be.
Good lord...we're in too deep. Let's move on.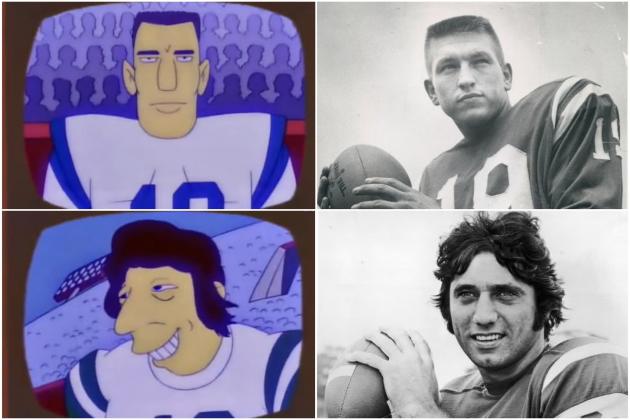 Images via Fox & LIFE
Any Simpsons fans out there know exactly what I'm referring to here.
Hall of Fame quarterbacks Johnny Unitas and Joe Namath actually had quite famous hair before it was contrasted in an episode of the still-running Fox cartoon during the seventh season in 1996.
The contrasting hairstyles of the QBs facing off in Super Bowl III were used as metaphor to explain (Grandpa) Abe Simpson's inability to get with the times.
It was said, via OldManSimpson.com, of Namath that "his wild, untamed facial hair revealed a new world of rebellion, of change."
Said Grandpa Simpson: "Look at them sideburns! He looks like a girl. Now, Johnny Unitas, there's a haircut you can set your watch to."
Now it's been over 15 years since I last saw a crew cut and didn't repeat that exact phrase.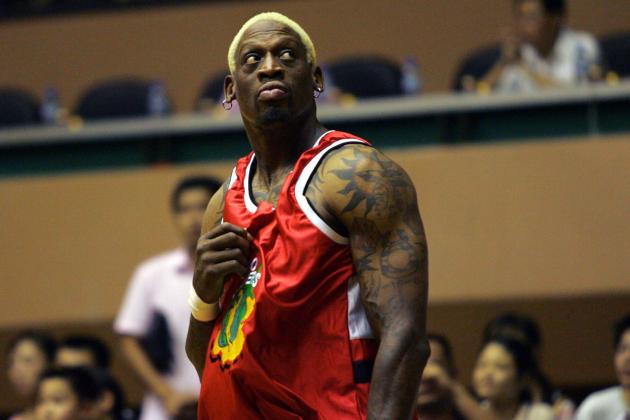 China Photos/Getty Images

These days, retired NBA bad boy Dennis Rodman has been making headlines for far more newsworthy reasons than his hair. Although, how "newsworthy" his trip to North Korea to visit his newest BFF Kim Jong Un is deemed is really up to the individual.
Self-appointed ambassadorships to American enemies will be short lived. However, Rodman's long and rich history of using his body, particularly his noggin, as a canvas? That will live on.
His hair-coloring antics wouldn't receive the same amount of attention today as they did back in the mid-'90s—because everyone does it. Rodman was a pioneer.
**Speaking of pioneers, follow me on Twitter. The actor John Cusack recently blocked me. Follow @blamberr