Texas Rangers vs. St. Louis Cardinals Live Blog: Instant Reactions and Analysis
Jim Rogash/Getty Images
The Texas Rangers (41-32) make their first trip back to St. Louis since the 2011 World Series to take on the St. Louis Cardinals (47-26).
The Rangers will look to keep the momentum from winning three games in a four-game series against the Oakland Athletics.
On the other side, the Cardinals will seek their 48th win, MLB's best record. Tyler Lyons will try to even his record at 3-3.
Derek Holland is 5-4 with a 3.30 ERA for the Rangers and is looking to avoid losing his third consecutive start.
The game can be found on KXAN-21, Fox Sports Midwest, MLB Network, and MLB.TV, but keep it locked here for instant reactions and live in-game analysis.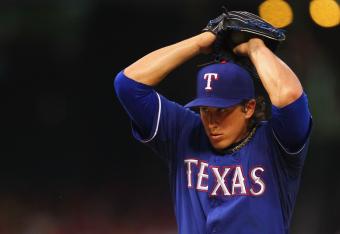 With shades of 2011, Carlos Beltran hits a shot to left-center field.
David Murphy tracks down the ball just in front of the wall.
The second straight day with a great defensive play to end the game.
Rangers win 6-4.
Third win in a row for the Rangers.
Neil Cotts gets the win, Trevor Rosenthal gets the loss. Joe Nathan is credited with the save. Ian Kinsler, Nelson Cruz, and A.J. Pierzynski all had two hits.
The Rangers next take on the Cardinals saturday night at 6:15 Central Time.
Thanks for stopping by.
Matt Carpenter is walked. Now up is Carlos Beltran.
Nathan strikes out Adams with a slider down and in.
Two outs in the bottom of the 9th brings up Matt Carpenter.
Two run lead in St. Louis...this can't be good

— Matt Damiani (@BlockRokin) June 22, 2013
Two-run lead in St. Louis brings flash backs of 2011 for fans.
Currently one out with no one on base. Matt Adams in to pinch hit.
Two runs on two hits with an error, the Rangers on top 6-4.
Now, heading into the 9th inning with Joe Nathan coming in to attempt the save.
Elvis Andrus advances to second after a wild pitch.
Nelson Cruz then delivers with a single up the middle driving in Kinsler and Andrus.
6-4 Rangers.
Kinsler reaches base with a single and Andrus moves him over with a bunt. Andrus is safe at first after running into Carpenter and the ball at first base. The ball dislodged from Carpenter's glove resulting in Andrus safe at first.
Kinsler on third, Andrus on first. Nelson Cruz up to bat.
With the bases loaded Neal Cotts gets a huge ground out from Jon Jay to end the inning.
End of the 8th: 4-4.
Cards up next: Beltran, Holliday, & Craig.
Trevor Rosenthal is bringing the heat as he gets Profar to strike out.
Ron Washington takes out Derek Holland with 91 pitches. In to pinch-hit for him his Jurickson Profar with two outs.
Through 7, still tied. Up for Texas: Murphy, Martin, & Holland.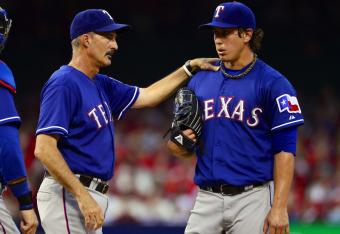 Derek Holland strikes out the side with his third consecutive 1-2-3 inning.
End of the inning as Mitch Moreland grounds out to second.
Pierzynski doubles with two outs down the right field line.
Adrian Beltre is held at third. Rangers fans now hopping Mitch Moreland can deliver with two runners in scoring position.
Joe Kelly's night is over with two outs in the 7th. He went 5 innings giving up 5 hits and striking out 3. He tossed 77 pitches.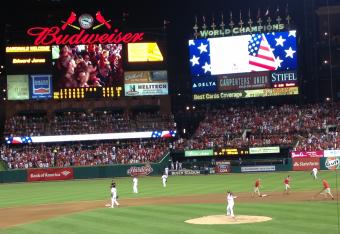 Nighttime here at Busch. The field crew works on the infield between innings.
Another 1-2-3 inning for Derek Holland as the 6th inning is over.
Kinsler strikes out to end the top half of the inning stranding. Leonys Martin left on base from his single through the right side of the field.
4-4 tied.
Derek Holland gets three up, three down on three pop-ups.
4-4 after 5 innings.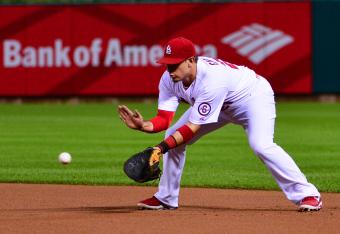 For those who don't know, the St. Louis Cardinals are wearing a #6 patch on the left sleeve in remembrance of the great Stan Musial.
Joe Kelly records his first strike out of the night as Mitch Moreland goes down swinging.
Going to the bottom of the 5th tied 4-4.
Derek Holland goes three up, three down to end the 3rd.
Holland's last visit to St. Louis went very well, striking out seven in 8.1.
Check out the recap from Game 4 of the World Series.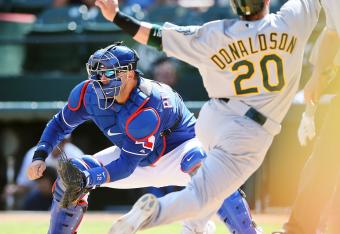 End of the 2nd inning now. Rangers on pace for another long game.
In his last 11.2 innings, Derek Holland has allowed 12 runs.
This article is
What is the duplicate article?
Why is this article offensive?
Where is this article plagiarized from?
Why is this article poorly edited?

Texas Rangers: Like this team?