100 Sports Nicknames You Can't Forget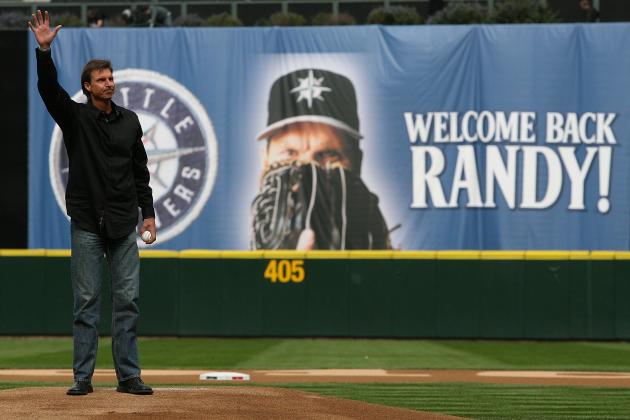 Otto Greule Jr/Getty Images
"The Big Unit"
I know what you're thinking. There is no way that you can possibly make a list of all of the best nicknames in sports without forgetting a couple.
Truth is, I have many more than 100, but I think you might nod off after 150.
So I've decided to use my best judgment in selecting 100 of what I consider the greatest nicknames, mostly in American sports.
I'm a fairly recent fan of futbol, or American soccer for those of you who consider it blasphemy to associate our nation's unofficial pastime with a sport that...is actually played with feet. But I digress.
Order is not important, but I will try to leave the best for last. Honestly, I love the idea of attributing nicknames to our most beloved athletes and I will attempt to do them justice in the following slides. Accompanying each name will be a video and it's my goal to find the most ridiculous clip of each player.
Even after combing my memory, I'm sure there are some that I couldn't remember, so be sure to make me aware in the comments. I shall gladly make a list of the "100 Forgotten Nicknames."
Enjoy!
Begin Slideshow

»
One of the most iconic nicknames in all of sports, "Babe"—otherwise known as the "King of Swing" or the "Sultan of Swat" (thank you, The Sandlot)—is a man of many names.
Ruth was also apparently a comedian, from what I can tell. This video is one of the most telling depictions of the difference in gender roles back in the day.
I'd say people were a lot less sensitive back then.
So here's to "Babe," the most iconic and well-known nickname in the U.S.A.
Maybe this is a reach, but doesn't everyone remember this catchy tune from when you were growing up or had kids growing up?
YouTube tends to agree, because as soon as I typed in "Scruff McGruff", "Chicago, Illinois 60652" filled itself into the search box. I guess others have this embedded into their subconscious like I do.
With no research whatsoever, I've concluded that Fred McGriff got the nickname "Crime Dog" because his name sounds very similar to McGruff. Seems logical.
That, and ol' McGruff took "a bite out of crime" while McGriff took a couple bites out of various baseballs during a career that involved 500-plus home runs.
Alright, everybody just relax. LeBron James is not No. 1 on this list because I honestly don't think his name is iconic...yet.
"The King" is certainly a fitting nickname on the morning after a game in which he crowned himself the champion of the league.
Don't remind Akron. So just for all you Ohio natives, here is LeBreezy losing his "throne," if you will, to some dude in Venice Beach.
I first came across this on some message boards and dismissed it as something I didn't understand.
Then I saw a game on the MLB Network and the announcers proved everything I had heard as correct.
Homer Bailey looks like freaking Batman! Well, Christian Bale...which makes him Batman! Now you know why he notched a perfect game last season. But on the negative side, now Bane, Two-Face and Mr. Freeze know where to find him.
I didn't realize so many people have used this nickname, including some psychotic mafia hitman.
I immediately think of Chuck Liddell, but apparently this ageless wonder has been given to George Gervin, Adam Vinatieri and Val Kilmer.
Go figure.
I'm not sure how you feel about it, but I reserve "The Iceman" for Chuck Liddell because, when he's randomly with you and you're drinking Miller Light, he can allegedly get you front-row tickets.
I've heard this before, and to be honest, it's a little dicey if you think of our current state of culture. Truth be told, it's a nickname James Harrison has embraced. So that being said, let's watch the "Silverback" lay people out.
OK, scratch that, this song is freakin' terrible! I just wanted proof that someone else out there mentions him as the "Silverback."
Colt McCoy is still laying on the turf somewhere.
Jason "JET" Terry was officially grounded recently. This might be a nickname that will fade away, but it's kind of funny to see him act like an airplane running down the court after he hits a three-pointer.
I want to say that NBA talking head and Kenny Smith was also "The Jet," but Jason Terry lives up to it.
"Johnny Football." What an awesome nickname for such a talented kid.
But I'm confused, because it would seem as if these other guys in the video are the best ever at making ridiculous shots.
That, and I feel like I'm at a nightclub at 2 a.m. while I watch it.
"Johnny Football" Manziel is a myth right now in the college football world. In the next slide, we will look at the person who, in my humble opinion, paved the way for this nickname.
Note: OK, there is no way the shots in this video are real. That's impossible, right?
"Teddy Ballgame," one of my personal favorites for a nickname, was coined after Ted Williams, who is the shining example of what a baseball player embodies.
But let's get to the real story. The man with the golden voice....his name is Ted Williams. Therefore, apparently he is "Teddy Ballgame" as well.
Awesome, but beware of going on a YouTube spree whereby you keep clicking suggested videos. Turns out he got famous and went right back to rehab. Tragic.
Am I the only one that loves baseball commercials?
Two things happened to me while watching this commercial. First, now I know that the video with "Johnny Football" was ridiculously fake. Second, I feel very gullible.
Anyway, "Chipper" Jones, otherwise known as Larry Wayne Jones Jr., is an icon around the Atlanta and surrounding Georgia areas.
But we only know him as "Chipper."
His shoes were hideous, but who am I kidding? I owned at least a couple different versions.
Shawn Kemp, better known as "The Reign Man", was an absolute beast for the Seattle SuperSonics. He was overshadowed by several players during his years, but with Jordan in the mix, it's kind of hard to be noticed like you should.
The "Jumpman," "MJ," "The G.O.A.T."
He's known around the world from the name on his jersey, to the emblem on his clothing line. If another player shows brilliance, he is eventually the ultimate comparison.
Other than Magic Johnson, I think Michael Jordan is one of the few to ever retire, come back and be just as good, if not better.
"Air Jordan" makes the list because that is what everyone reffered to his shoes as. Eventually, it stuck once he dunked from the free-throw line.
Stockton to Malone, something that marked some of the first memories of my basketball-watching life.
Karl Malone was known for delivering in the post, but I found some evidence that he also delivered elbows—in this case to Jordan's nose.
I have a nickname for Jeff Hornacek also, but it's probably only something a middle schooler would think is funny.
Legend has it that his original nickname, which was coined before he went to UMASS to play college ball, was somewhat as a joke. Him and his friend, "the professor", started it off as a joke and it transformed into one of the most recognizable nicknames of all time.
Soon after "Dr. J" was born, so too was a new style of play that a lot of current NBA players can credit Julius Erving for starting.
Chuck Person was known for his three-point shot, hence some referring to him as "The Rifleman."
In his interview, he explains that he took the three-pointer because he didn't want to go to overtime. It's all or nothing for Chuck.
Norman Julius Esiason. Bet you didn't know that was his real name. Similar to "Chipper" Jones, we've adopted his new tag of "Boomer," which has become entrenched in the sporting world thanks in part to his Super Bowl runs.
Now he does color commentary for the NFL. He's been around the game since 1984.
"Big Ben" Roethlisberger, who is seen with Shaq in this video, is known for his goofiness, among other less-perfect things.
I actually saw him play golf at a celebrity tournament and he's surprisingly good.
"Golden Boy," "California Cool," "Lord Brady." Tom Brady has a plethora of nicknames among his Patriot faithful, but all that really matters is that he will go down in history as one of the best quarterbacks of all time.
And with wife Gisele Bundchen by his side, it would appear that his life is pretty terrible.
Darrelle Revis was a hot commodity this offseason and it will be interesting to see if he can relocate "Revis Island" down to Florida, where he will be relied upon to add to Tampa Bay's winning ways.
So, if Chris Paul gets traded again and someone doesn't want to give up their No. 3 jersey, "CP3" will be fishing for a new nickname.
Maybe "Cliff" will emerge as the front-runner in such a situation.
I'm not making this up, as I'm sure some of you are thinking. Baron Davis was also known as "B-Diddy" to those of us that grew up in the Bay Area.
I will forever remember his dunk on "AK-47" (Andrei Kirilenko, who didn't make the list because I was planning on mentioning him in this slide).
The definition of polarizing. Floyd "Money" Mayweather makes sure he gets his point across, whether it's to a sports commentator or his opponent.
Since we are on a boxing note, we can't leave out "The Golden Boy" himself, Oscar De La Hoya. However, he's not the only person to grace himself with that nickname.
The former winner of this nickname was Alexei Ramirez, but with his disappearance and relatively short stay, it's time to pass the torch.
Of the options remaining, I believe it's between Aroldis Chapman of the Cincinnati Reds and Yoenis Cespedes of the Oakland Athletics.
One hits like a missile, while the other slings 100 mph missiles. Both are worthy, but for the sake of me being an Oakland homer, I'm going to side with hitting homers as the determining factor in who is known as "The Cuban Missile."
Terrell Suggs has had his share of arguments with ESPN's Skip Bayless and this is one of those moments. Overall, he's a pretty scary guy on the field, so "T-Sizzle" can call himself whatever the heck he wants.
Ball So Hard University is excepting applications.
If you have a moment and you've never heard the comedic stylings of "Tony Plush," then you should probably go on a nice little YouTube spree.
Just the way he talks is funny enough and I wish we had more of him in the league today. Nyjer Morgan is currently playing over in Japan.
In my opinion, "The Big Ticket" is famous for two things in his career.
First, he blocks every shot after the whistle in every game that I've seen. He literally never takes a timeout off.
Second, he will forever be remembered for his post-NBA Finals interview during which he screamed "Anything is possible!!"
Kevin Garnett went from good to legendary because of that.
Do you sense a pattern? I tend to go on runs with teammates, sports and overall relevance of one person to another.
"The Big Ticket" has a counterpart in "The Truth", Paul Pierce.
When something rhymes with your name and describes something that is relevant, it is what I like to call an instant classic.
Sidney Crosby will be a kid forever.
David Robinson got his nickname from serving in the US Navy.
He and Tim Duncan combined were known as "The Twin Towers" and they propelled the Spurs to the playoffs just about every single year they were together.
I decided to attach a historical moment to Roger Clemens' slide because we all know about the other stuff.
To me, the most memorable moment in his career was when he launched pieces of a broken bat at Mike Piazza as he lined out.
Wait, that's not his name? Turns out it's Mirko Filipovic.
I literally didn't know that until I looked it up, but it makes sense. "Cro Cop" would be a weird name indeed.
Coined by Chris Berman—to the best of my knowledge—"My Bironas" is not quite a nickname as much as a parody of a song that is for some reason hilarious.
This guy behind this video took it pretty seriously.
Rob Bironas has been winning fantasy football weeks at breakneck speed.
No surprise here, as boxers and MMA fighters almost always have a nickname—or 20.
Evander "Real Deal" Holyfield is one that will go down in history.
I've only heard this once or twice, so I don't know how credible this is, but Patrick Roy is one of the best goalies of all time and I will give some credence to rumors of his nickname being "Saint Patrick."
BenJarvus Green-Ellis just sounds like a law firm.
These guys in the video seem to think they provide pretty bad customer service.
Shawn Marion gets an awesome nickname as a guy that can pretty much do it all.
"Big Papi" is so fitting for David Ortiz. It's almost too perfect.
Jason Williams, where do I start?
Helping white kids across the country break out of their shell and start throwing passes between their legs, off their elbows and the infamous fake-behind-the-back layup.
A lot of what he did was taken out of the pages of Dr. J, but it was unexpected to see him be such a brilliant player from the start.
I enjoyed watching him play growing up and I'm sure Sacramento remembers the days of "White Chocolate."
John Sterling could probably choose from a list of nicknames for Curtis Granderson that would blow this one out of the water, but he was up to his normal antics with this nickname as well.
Red hair, flies through the air.
Yep, "The Flying Tomato" works just fine for Shaun White.
"The Freak", "The Franchise," "Big Time Timmy Jim," these are all aliases of Tim Lincecum, who hit the scene hard as a rookie.
It would seem that hitters are finally catching on to his stuff, as he's been knocked around pretty good.
Regardless, he's still "The Freak."
Terribly awkward video to watch, but I think we've all seen the one where he destroys a door, so I went with the one you might not have seen.
Quinton "Rampage" Jackson is yet another MMA fighter with the necessary nickname. It fits him quite well.
Chicks dig the long ball, that's for sure.
In one of the more iconic commercials in baseball history, you can't forget that it's Mark "Big Mac" McGwire making them look bad.
The unofficial record-breaking career is overlooked because of steroid use, but his pairing with Jose Canseco on those A's teams of the '80s was a sight to see.
Possibly one of the best commercials ever.
Just when you thought you forgot about Orlando "El Duque" Hernandez, you realize that David Cone used to be relevant and on the Yankees.
"El Duque" mania swept across the country because of the high leg kick, similar to the weird delivery of Hideo Nomo that attracted attention.
One of my favorite players, Ken Griffey Jr. was known simply as "Junior."
I wonder how many hundreds of times I've imitated his batting stance and the way he shook his bat before a pitch.
You can definitely make the argument that Pete Maravich was the lighter-skinned version of Dr. J and the inspiration for Jason "White Chocolate" Williams years later.
Throughout the scouring process, I tried to leave off nicknames that consist of shortening the last name or just using the first initial and portions of the last name, such as "K-Rod" or "D-Will."
However, in some instances, I felt as if they are so well-known that they must be included.
A good example of this is "Ovie" and a better example of why Alexander Ovechkin belongs on this list is the sheer genius of his commercial spot.
OK, this is totally made-up, but doesn't Lil Wayne kind of look like a praying mantis?
Thought so. Now let's watch him berate the Miami Heat and Chris Bosh's wife.
"Yo soy fiesta."
Followed by that laugh? Instant classic courtesy of Rob Gronkowski.
One of the few shortened names that I think deserves to be on this list is that of Andrew McCutchen, especially because "Cutch" and "Gronk" are rarer than most of the others.
"Panda," or "Kung Fu Panda," is known for being a goofy guy.
Here, Pablo Sandoval is channeling his inner Pedro Cerrano from Major League.
Not a huge fan of Chris Andersen, but since his re-emergence in the NBA playoffs, we have to give his nickname some credit.
It's stuck for quite some time and people seem to love it.
Not just a great Yankee moment, this man provided us with one of the best moments in sports history when he belted three bombs in Game 6 of the World Series.
Reggie Jackson will always be "Mr. October."
"Joey Bats," Jose Bautista's nickname, does sound like it belongs to a mobster.
I considered putting his altered nickname, "Oucho-Stinko."
However, Chad Johnson's nickname got a lot of attention. It always bothered me that it's not even the correct way to say "85" in Spanish. I'm pretty sure it's "ochenta y cinco."
Without Charles "The Round Mound of Rebound" Barkley on the panel, I'm not sure anyone would watch NBA on TNT's halftime show.
Can we all just take a moment and watch the greatest rally speech after a victorious NBA Finals campaign?
Mark Madsen nailed it. Probably should have consulted with "Mad Dog" about your Spanish, Ochocinco.
I feel kind of bad putting this in here because I don't think it was ever actually a real nickname, but most people remember George Muresan for his role in the blockbuster, My Giant, with Billy Crystal.
Marred with controversy, Joe Paterno will still go down as one of the best of all time.
In this specific clip, I think what they are saying is that...well, you get the idea.
An icon in the Bay Area, Dennis "Eck" Eckersley is known for his shaggy appearance and unique name.
In tribute to Joe DiMaggio, this is probably one of the best songs about a player of all time!
Let's all take a moment and remember the XFL.
OK, that was quick.
The San Francisco Demons had a guy named Mike Pawlawski and he was "The Polish Rifle." I honestly just wanted to bring up the XFL because ESPN analyst Ron Jaworski, or "Jaws," is also known by this nickname.
Apparently there's more than one Polish rifle!
Rod Smart went on to be pretty good in the NFL.
A lot of his publicity came from his nickname, "He Hate Me." Not the greatest sentence grammar-wise, but maybe that's why it stuck.
Sam Cassell took his famous dance from Major League's Pedro Cerrano. I am aware that is the second time we are referencing a Charlie Sheen movie.
"Sam I Am" was created early in his career and has stuck ever since.
This ESPN commercial explains why Adrian Peterson goes by "All Day."
Be careful, you'll probably end up watching the entire montage.
I've heard of this nickname a couple of times and I think it fits Troy Polamalu perfectly.
"The Glove" was coined because of Gary Payton's lockdown defense.
Darrell Griffith's nickname, "Dr. Dunkenstein," got a lot of play in the media, as it was quite the indication of what kind of player you were about to see.
Some people just sound cooler when their initials flow together like those of "MJD." Probably because we are conditioned to attribute "MJ" with greatness.
"Linsanity" swept the nation in its madness. It's not just a nickname, it's something that created such a buzz that Jeremy Lin was forced into an alter ego.
It's possible that many of you may not recognize this one, but I assure you that local coverage often refers to Stephen Curry as "The Human Torch."
He and Klay Thompson are also known as the "Splash Brothers"—like the "Bash Brothers" in Oakland.
"The Human Highlight Reel" and "The Human Highlight Film" refer to the slammer-jammer himself, Mr. Dominique Wilkins.
Shaquille O'Neal has so many nicknames that it's not even worth listing them all, but one that I've always liked is "Shaq Diesel."
Apparently, he made this song after Kobe lost in the NBA Finals and there were rumors that Bryant played a part in Shaq's divorce.
Oh, the irony!
Tim Duncan, the bank shot legend, wasn't very fundamental on this trip up the court.
Just another one of those nicknames where it's a play on words in three ways.
Darren McFadden is a running back, his initials are DMC and when you put it all together, it's a legendary rap group. Perfect.
Remember Michael Olowokandi? This was probably the most notable thing he did in his short NBA career.
You can't really have a better nickname than "Tiger." It's completely entrenched in the golf world and isn't going anywhere because it's basically replaced his first name, Eldrick.
Something tells me Matt Ryan got his nickname from a frat house.
Welp, Calvin Johnson looks like a freakin' transformer and he's gigantic, so I see no reason for "Megatron" not to be a perfect fit.
One of the deadliest snakes on the planet, Kobe Bryant got his nickname with several buzzer-beater shots over his illustrious career.
Ladies and gentlemen, Joe Namath. Wasted on live television.
I remember this one vividly, but only upon looking through some videos did I remember that he was twice an MVP.
Pretty impressive for Frank Thomas.
The "Bash Brothers" consisted of Jose Canseco and "Big Mac."
But it was far more entertaining in The Mighty Ducks, especially when they reunited.
I honestly had my thoughts on whether we should put Alex Rodriguez's altered nickname on here, but once the reporter said it on the air, it became media gold.
Not often do you get a nickname from something that you're as big as. Not only was William Perry bigger than the fridge, he probably could clean it out in no time.
Wearing yellow, running dull speed, with some black pants...yeah, that pretty much looks like a bus.
It's fun to watch Jerome Bettis get all cheesy in this Super Bowl ad.
Dang, Pete Rose went off!
If it happened today, I can only imagine the type of fines and punishment handed out. It's also ironic that "Charlie Hustle" got busted for gambling.
Whether you're attributing the nickname to Todd Frazier or Todd Helton, it's still an awesome nickname.
Similar to "Tiger," "Magic" completely manifested itself as Earvin Johnson's first name.
Can't really get much cooler than that.
"Living up to that nickname," said SportsCentre's Dan O'Toole in reference to Glen Davis.
Priceless.
Maybe "Shoeless Joe" Jackson is Denard Robinson's hero.
He secretly hates this nickname, but Doug Martin is a very powerful running back.
Here he is appealing to ESPN's SportsNation for a new sobriquet.
"Iron Mike," one of the most classic nicknames of all time. Kind of like how Mike Tyson Punch-Out!! was one of the best video games of all time.
The video itself gets a lot of credit, but the man that embodies the nickname was on the path for success until some run-ins with the law and the team code got him into some trouble.
It's weird because the first thing I think about when seeing this nickname is The Rock.
However, Wayne Gretzky is indeed "The Great One."
I love this nickname and Clyde Drexler was one hell of a player.
Now, if only someone would adopt the nickname "The Question." In my opinion, "The Answer" is one of the best nicknames in sports.
What is not to love about Christian Okoye and his cultural nickname?
"The Nigerian Nightmare" pretty much explains everything in one little phrase.
"The Big Unit," aka Randy Johnson.
Best. Nickname. Ever.