NHL Bruins vs. Blackhawks: 3-Year Projection for the 2013 Stanley Cup Finalists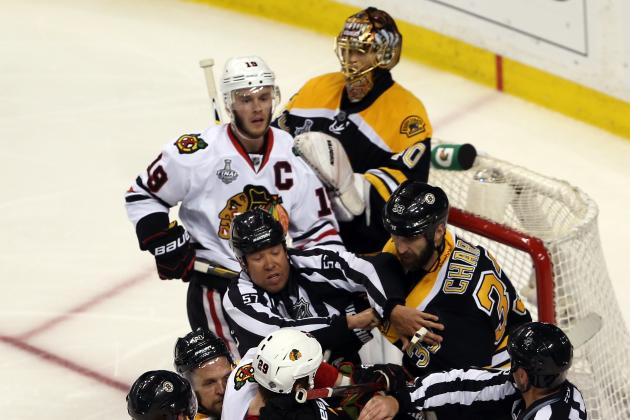 Bruce Bennett/Getty Images
We will analyze what the future holds for this year's Stanley Cup Finalists
As the Boston Bruins and Chicago Blackhawks battle for NHL supremacy in the Stanley Cup Final, it's time to take a look at what the future holds for both of these franchises. We will look ahead three years for each of the conference winners.
With the salary cap going down this summer and the salary pressures that normally come with winning a championship, it may be tough for these two teams to keep all of their star players on the roster.
We will project some of the keys to the next three years for both the Blackhawks and Bruins and what they will need to do to continue being among the elite teams in the NHL.
Feel free to add your opinion or comments about either team and what the future may hold for them. Please indicate why you feel the way you do.
Begin Slideshow

»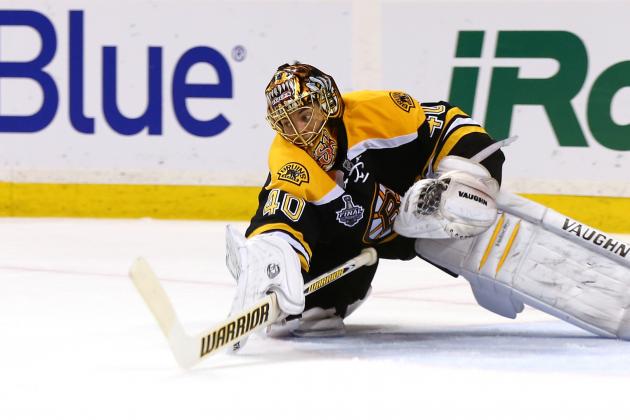 Elsa/Getty Images
Tuukka Rask needs to be locked up long term.
The Bruins have a few issues to take care of before the start of next season.
The biggest key is to get their goaltending situation settled. Tuukka Rask clearly showed he is a franchise goalie, and his outstanding performance this year is a big reason why Boston reached the Stanley Cup Final.
He finished the regular season with a 2.00 GAA and a save percentage of .929 and got even better in the postseason.
Rask will be a restricted free agent this summer, and the Bruins need to sign Rask to a long-term deal if they hope to remain among the league's elite.
Other issues the Bruins can expect to face this summer include the future of potential free agents like Nathan Horton, Andrew Ference and Jaromir Jagr. While it would be nice to bring back some of those players, finding the cap room to retain Rask is the key for the Bruins this summer.
Scott Stewart-USA TODAY Sports
Patrice Bergeron will be an unrestricted free agent in 2014.
The biggest potential unrestricted free agent for the Bruins in the summer of 2014 is Patrice Bergeron.
Bergeron has been a key contributor for the Bruins this season, finishing third on the team in scoring during the regular season and adding 15 points in the first 20 postseason games this year.
In addition to his offensive contributions, Bergeron is one of the best defensive forwards in the league and won the Selke Trophy in 2011-12.
He will be 29 next summer when free agency begins, and the odds are he will be looking for one more big, long-term contract while he is still in his prime.
Defenseman Dennis Seidenberg will also be an unrestricted free agent next summer and the Bruins would love to be able to retain his services as well. The German-born defenseman doesn't score a lot of points, but he is a strong player in his own zone and plays valuable minutes opposite Zdeno Chara.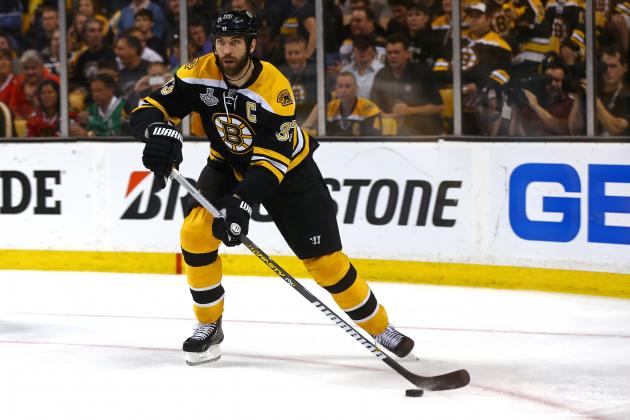 Elsa/Getty Images
Zdeno Chara will be 38 in two years.
Zdeno Chara is the captain of the Bruins and the cornerstone of the team's defense.
Chara has played an average of 29:59 per game during the playoffs, second only to Ryan Suter, who played in only five games.
The fact is, however, that the Bruins have to realize that Chara will not play at this high level forever. The big Slovak is 36 and will be 38 by the summer of 2015.
While he is under contract to the Bruins through the end 2017-18, the club's management needs to understand that over time, Chara's role will be more complementary and less dominant. By this summer, the Bruins need to have another established No. 1 defenseman in their lineup.
David Krejci is also scheduled to be a UFA during the summer of 2015, and the Bruins certainly want to lock him up and keep him in a Boston uniform for the long term.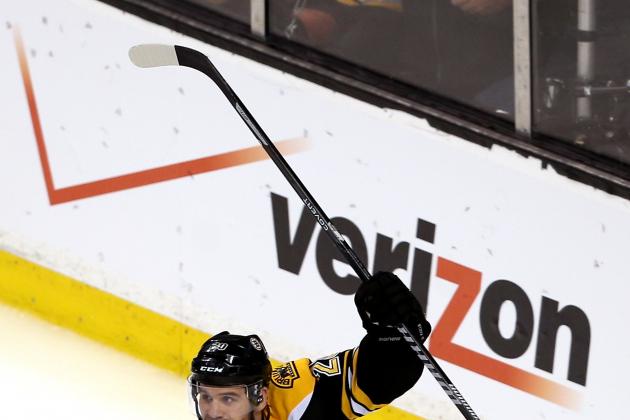 Bruce Bennett/Getty Images
The future is bright in Boston.
The overall outlook for the Bruins over the next three years is a positive one.
As long as they keep Rask happy and healthy, the core of this team is young and should be able to contend for the next three seasons.
Look at many of its key players: Brad Marchand is only 24, David Krejci is 26, Milan Lucic is 24 and Patrice Bergeron is 27. All of these players will still be in their primes in three years.
On defense, the development of youngsters like Dougie Hamilton and Torey Krug will be important to the future of the club as players like Zdeno Chara and Dennis Seidenberg get older.
With the right moves and some luck with regard to health, the Bruins have the potential to contend for some more Stanley Cups in the next three years.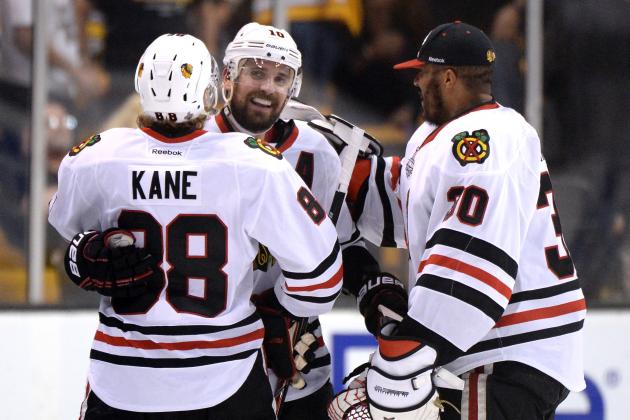 Harry How/Getty Images
Ray Emery is among the potential free agents in Chicago this summer.
The core of the Blackhawks' lineup is signed beyond next year although there are a number of key role players who will be either restricted free agents or unrestricted free agents this summer.
Backup goalie Ray Emery had a stellar year for Chicago, going 17-1 with a 1.94 GAA and a .922 save percentage.
The Blackhawks would love to keep Emery, but he may want a chance to start somewhere else if the money is right.
Key RFAs include defenseman Nick Leddy and center Marcus Kruger.
Viktor Stalberg and Bryan Bickell are the key UFAs. Neither are core players, but they are valuable role players who make Chicago such a deep team. It would do the team well to try to re-sign both, but as of now, general manager Stan Bowman has only a little more than $2 million left in cap space to keep these players.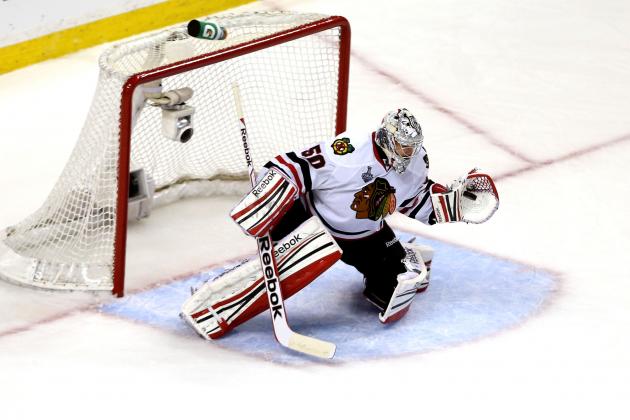 Bruce Bennett/Getty Images
Corey Crawford has been a key reason for Chicago's success.
Goalie Corey Crawford has been outstanding in net for the Blackhawks. He has started every playoff game for the team and came up big throughout the postseason.
Crawford's performance in the last three games of the Detroit series were a huge reason why Chicago overcame a 3-1 series deficit to advance to the Western Conference Final.
But Crawford will be a UFA next summer unless the Blackhawks can ink him to another contract. That is a huge key to keeping the Blackhawks among the league's elite.
Other potential UFAs in 2014 include defenseman Niklas Hjalmarsson and forward Dave Bolland.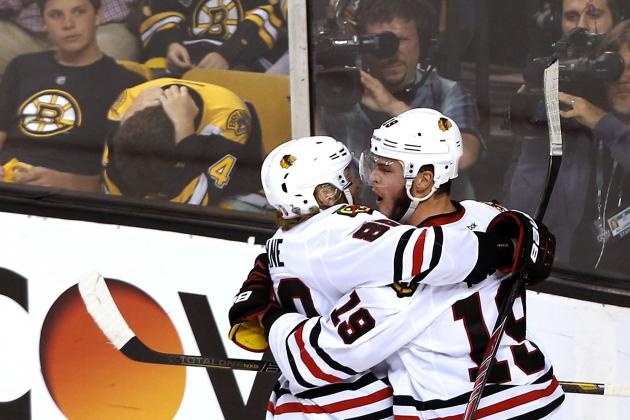 Bruce Bennett/Getty Images
Patrick Kane and Jonathan Toews are potential UFAs in 2015.
The summer of 2015 may very well mark the end of Chicago's window of opportunity to win another Stanley Cup. Unless they sign extensions before then, both Patrick Kane and Jonathan Toews are eligible for free agency that summer.
The Blackhawks would ideally like to keep both of them, but depending on what the salary cap is at that time, they may have difficulty signing both stars.
Toews is Chicago's captain and leader, and he would be priority No. 1.
Kane rededicated himself to the game this past season and had his best campaign since 2009-10. The result was a second trip to the Stanley Cup Final in four years for the Blackhawks.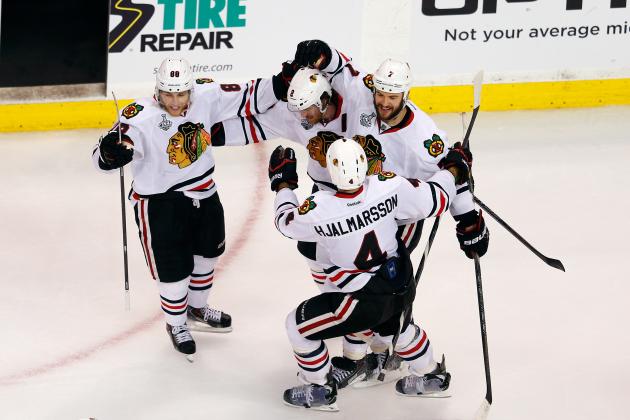 Jim Rogash/Getty Images
The Blackhawks still have a few years left to contend.
Chicago's window of opportunity to contend for another title appears to be a bit shorter than Boston's.
With a tougher cap situation and Corey Crawford, Jonathan Toews and Patrick Kane all up for unrestricted free agency by the end of 2015, the Blackhawks will be hard-pressed to keep the nucleus of this team together.
Stan Bowman is a shrewd general manager. While he had to lose some key players after winning the Cup in 2010, he kept Kane, Toews, Patrick Sharp and Marian Hossa together and then rebuilt the role players around them. Look for him to try something similar in the next few years when cap space becomes an issue.
Even with these issues, the Blackhawks should have a couple of seasons left as top contenders if they avoid major injuries and keep the right players.