UFC: Who Should Michael Bisping Fight in His Return to the Octagon?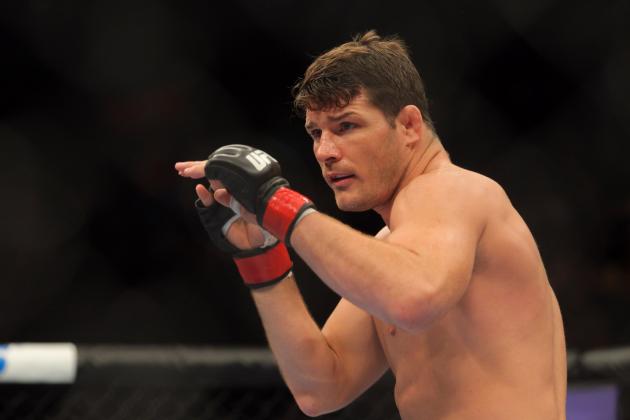 Brad Penner-USA TODAY Sports

A middleweight contender? Michael Bisping would like to think himself one, but one thing he's never been is a top contender.
The biggest British star in the UFC has long embodied the idiom "always a bridesmaid, never a bride." Well, that is if the bride symbolizes the role of a top contender, while the bridesmaid is just another solid middleweight.
But Bisping is trying to change all that; he's talented, experienced and popular enough to get a title shot. Trouble is, he has to earn one first, and he's had nothing but problems in acccomplishing that previously.
AT UFC on Fox 2, "The Count" met former top contender Chael Sonnen in Chicago, bringing a four-fight winning streak with him. Sonnen, however, smothered Bisping, along with the Brit's title aspirations, en route to a unanimous decision.
Then, just one year later, Bisping had another opportunity to earn a title shot when he met Vitor Belfort in the main event of UFC on FX 7. Again, Bisping hit a major roadblock on his path to Anderson Silva, tumbling down the ranks after a knockout loss to "The Phenom."
One fight, and one win, later—he defeated Alan Belcher by technical decision at UFC 159—the 34-year-old is looking to take the next step towards what could be his last chance at a run for the 185-pound title, currently held by Silva.
Here are the best options for Bisping moving forward.
Begin Slideshow

»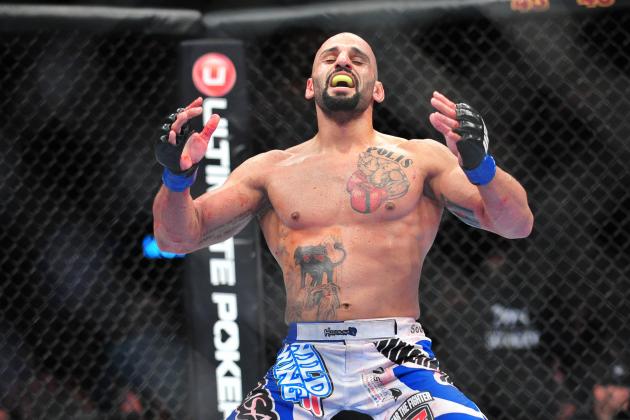 Gary A. Vasquez-USA TODAY Sports

Fun fact: Costa Philippou has never lost at middleweight.
He lost to Nick Catone in his UFC debut at 195 pounds. He lost to Ricardo Romero in his professional debut at 205 pounds.
At 185? Never.
And his 5-0 middleweight record in the UFC has placed him squarely in the hunt for the gold.
Of course, Philippou is yet to fight a man of Bisping's caliber, and, of his five UFC middleweight opponents, only one, Tim Boetsch, was a top-10 middleweight. The others—Riki Fukuda, Court McGee, Jared Hamman and Jorge Rivera—fall well short of the official rankings.
Speaking of rankings (and reasons to match these two up), Philippou currently stands as the sixth-ranked contender at 185 pounds. Bisping is fourth.
The guy separating the two, Ronaldo "Jacare" Souza, would be an ideal matchup for either fighter—he and Philippou were originally set to meet at UFC on FX 8. However, he is already expected to fight No. 3 contender Yushin Okami later this year.
Philippou has quietly climbed into middleweight contention since his first UFC win, at UFC 133, and his five-fight winning streak should be enough to get him in the cage opposite a top-five guy.
A win for Bisping, meanwhile, likely puts "The Count" one or two wins from that ever-elusive title shot.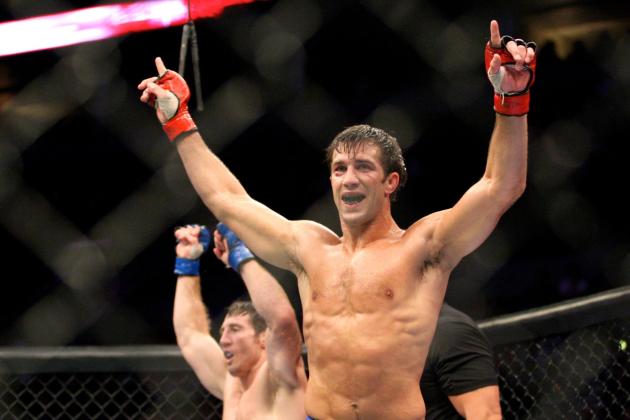 Scott Olmos-USA TODAY Sports

The quickest way to link Michael Bisping and former Strikeforce middleweight champion Luke Rockhold is through Vitor Belfort.
"The Phenom" filed a pair of victories against the two middleweight contenders just this year, topping both by way of brutal knockout—and in front of Brazilian crowds no less.
Bisping's loss to Belfort set him back to a spot he is fairly familiar with, just outside the division's top contenders, while Rockhold's loss brought up question marks as to how effective he will be post-Strikeforce—questions that won't be answered until he fights again.
Why not let Bisping and Rockhold formulate answers to those questions in the Octagon?
The matchup, though not the biggest for Bisping, could complement a weak main card this fall, while a win would get the winner of Anderson Silva vs. Chris Weidman on his radar. Of course, a win over Rockhold wouldn't secure him a title shot, but you have to start somewhere.
There's just one problem: Rockhold challenged Bisping shortly after his UFC debut loss, to which Bisping responded negatively.
"I say you go win a fight in the UFC first then we talk," Bisping tweeted to Rockhold and UFC President Dana White.
The beef began after Bisping stated in an interview with MMA Uncensored Live that he sparred with Rockhold previously and was "the unofficial Strikeforce champion," insinuating he would defeat Rockhold in a match.
As the No. 7 and No. 4 middleweights, respectively, Rockhold and Bisping ought to settle this the best way they know how, in the Octagon.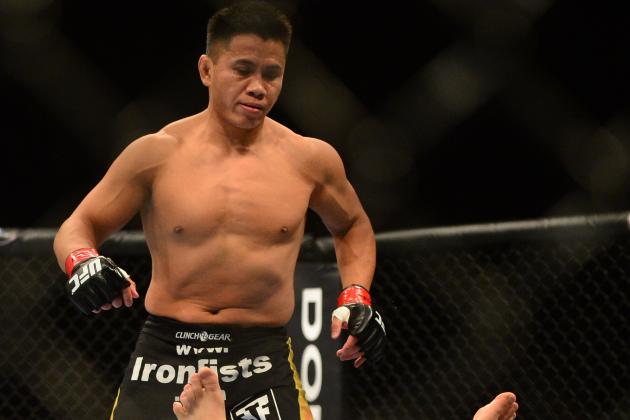 Mark J. Rebilas-USA TODAY Sports

Cung Le may not own a slot in the middleweight top 10, but the striking master remains one of the more dangerous fighters at 185 pounds.
And he wants Bisping in his fourth Octagon appearance.
Le last fought on the inaugural UFC on Fuel event, defeating Rich Franklin via first-round knockout, moving his UFC record to 2-1. Prior to the devastating knockout, Le defeated Patrick Cote at UFC 148, while losing to Wanderlei Silva at UFC 139.
Now on a roll in his new home, Le is looking for a bigger challenge to help catapult him into contention.
"That would be a great fight for the fans," Le told ESPN, according to Franklin McNeil. "That would be a big fight. But I'm not the one to make that decision. Whether I'm at the top of that list for the fight or on the bottom, it ultimately comes down to who Joe Silva and the UFC decide who we fight."
Bisping certainly has the name value to put Le into the top 10 if the Brit failed to top the former Strikeforce champion. However, a win over Le, who also has good name value—the guy's an actor now—would serve as a nice addition to the "W" column for "The Count."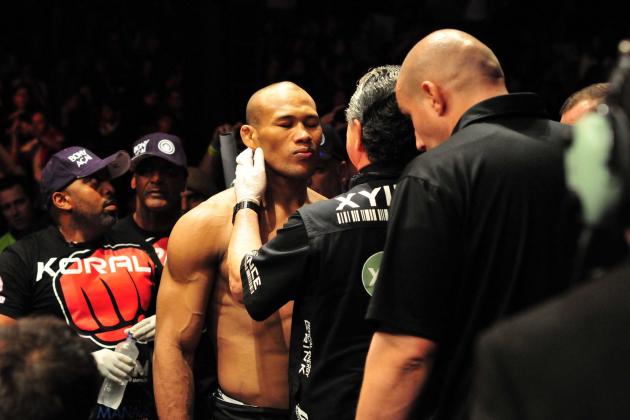 Jason da Silva-USA TODAY Sports

Ronaldo "Jacare" Souza and Yushin Okami are expected to meet later this year, but the fight that should happen is "Jacare" vs. Bisping.
Sure, Okami called out Souza, and I give the Brazilian every right to accept that challenge, whether he feels disrespected, like he needs to prove something, or that Okami is the quickest route to the Silva-Weidman winner.
But that's a big step—and hardly the path of least resistance.
Okami tends to grind guys down, which is what earned him enough wins a few years back to challenge for the title. Souza, as talented as a grappler he is, may have a difficult time against that top-notch wrestling, and the two will probably find themselves in a lackluster affair.
A fight against Bisping would be different.
"The Count" is a strong striker with good enough grappling. "Souza" is a strong grappler with an ever-improving stand-up game. And they're ranked No. 4 and No. 5, respectively.
Send Okami in against Belfort. Souza-Bisping is the match to make.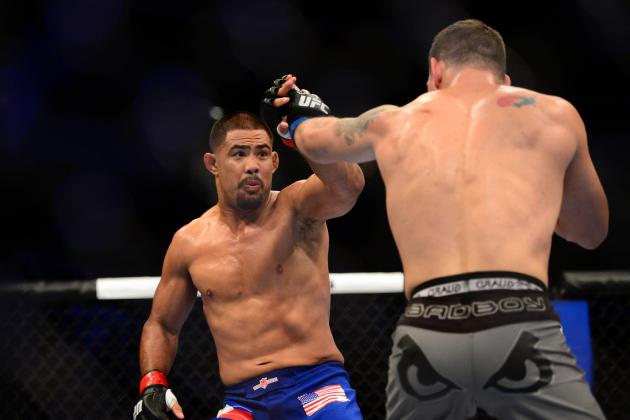 Kyle Terada-USA TODAY Sports

Bisping's win over Belcher came at the end of April, meaning he's due for a booking anytime now. But the UFC may elect to see what goes down at UFC 162 before committing to anything.
Alongside a middleweight championship fight between Anderson Silva and Chris Weidman, the event features a main card middleweight bout between Mark Munoz and Tim Boetsch, along with Tim Kennedy vs. Roger Gracie.
If Dana White and Joe Silva are willing to wait until July 6 before making a move with Bisping, there are a few options.
Anderson Silva vs. Chris Weidman Loser
If Okami and Souza get tied up in a bout, and if Vitor Belfort is given the next title shot, Bisping is the only top-five middleweight available for a booking.
A Chris Weidman win would give the UFC an opportunity to finally match up Bisping and Silva, which would be a mismatch, but at least an interesting one. Meanwhile, a Silva win would give Bisping a shot at a top middleweight in Weidman.
"The Count" has never been able to get through a top 185-pound contender. He might get that chance again, and perhaps for the final time, if the UFC takes this route, though it seems unlikely.
Tim Kennedy vs. Roger Gracie
Neither Strikeforce import is ready for a shot at Bisping, but if either puts on a dominant performance at UFC 162, the winner may get a shot at the British star anyway—their fight is scheduled for pay-per-view after all.
But it will have to be dominant.
Gracie doesn't hold any signature wins as a professional, while Kennedy has failed to come through against middleweights on Bisping's level, as his losses to Luke Rockhold and Ronaldo Souza display. I don't see Kennedy or Gracie getting Bisping next, unless one of them can do something special this July.
Tim Boetsch vs. Mark Munoz
Out of all the middleweight fights at UFC 162, the winner of Boetsch vs. Munoz would be the best fit opposite Bisping this fall.
Munoz, currently the No. 8 middleweight contender, was, not long ago, on a four-fight winning streak and closing in on a title shot. Then Weidman erased all that success. Boetsch, too, was on a recent four-fight winning streak, but Philippou canceled his ticket to the top.
Still, that was Boetsch's only loss at middleweight in the UFC, and Munoz's only losses at 185 pounds have come against Weidman and Yushin Okami. Both guys are deserving of a top-10 spot, and either would at least challenge Bisping.
If the UFC can make the time frame work, this matchup could get the green light.