Italy vs. Brazil Live Blog: Reactions and Analysis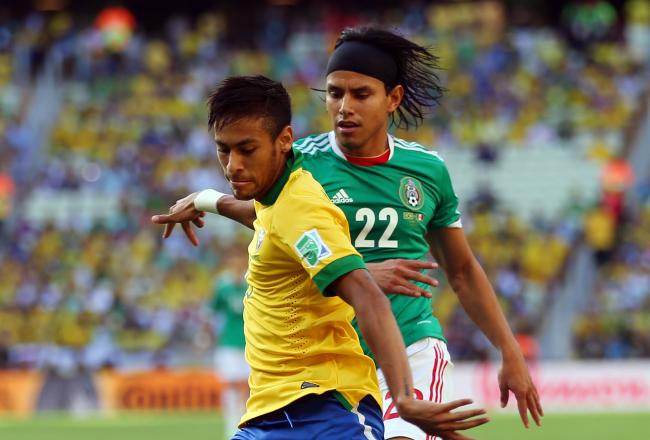 Neymar scored two goals in Brazil's first two games of the 2013 Confederations Cup.
Clive Rose/Getty Images
Three-time Confederations Cup champion and host team Brazil will face Italy at 3 p.m. ET to decide which team will win Group A.
Both teams enter the match with a 2-0 record in group play and will advance to the next round of the final four teams.
Brazil defeated Japan 3-0 and Mexico 2-0. Neymar and Jô have led the scoring attack for the Brazilians with two goals apiece.
Italy has relied on late-game heroics to remain undefeated in the 2013 Confederations Cup.
Mario Balotelli scored in the 78th minute against Mexico to break a one to one tie.
Japan led Italy 2-1 at halftime, but allowed two goals in the first seven minutes of the second half. Japan's Shinji Okazaki tied the game in the 69th minute before Sebastian Giovinco scored the game-winner for Spain in the 86th minute.
While both teams have the same record in group play, Brazil sits in first place due to its better goal differential. The Brazilians will win the group with a draw or a tie. Italy only wins Group A by beating Brazil.
The winner will avoid a matchup against Spain, the only undefeated team in Group B, in the round of four.
Uruguay and Nigeria are both 1-1, but Uruguay will likely advance as the second team from Group B after defeating Nigeria 2-1. Uruguay's final match in group play is against Tahiti, who has been defeated by a combined 15 goals in two matches.
While a Confederations Cup championship is on the line in the soccer stadiums of Brazil, civil unrest is spreading rapidly throughout the country. According to Reuters, more than one million people protested in the streets of Brazil on Thursday.
The Confederations Cup games are expected to be played as scheduled despite the protests.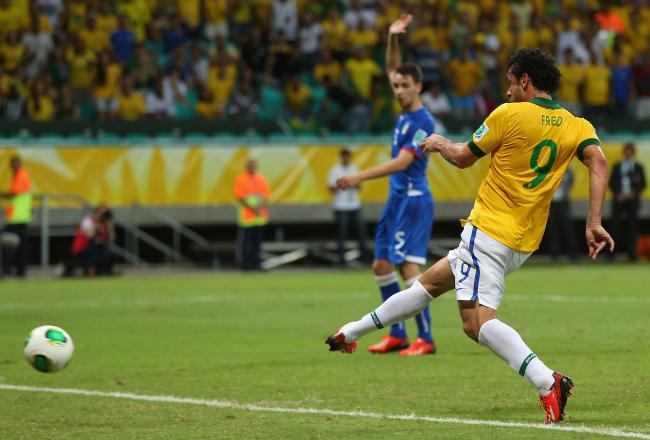 Brazil and Italy both advanced to the 2013 Confederations Cup before the start of their match on Saturday because of their 2-0 records in Group A. Brazil would win the group with a win or a draw and Italy needed on win to win the group.
The first half was filled with action as four players were booked with yellow cards and three players were injured.
Brazilian defender David Luiz suffered a dead leg and was replaced with Dante. In the first minute of stoppage time, Dante scored off of a rebound to give Brazil a 1-0 lead. A freeze frame camera angle showed that Dante was offsides but the referees did not call it.
Italy fought back in the second half and tied the match in the 51st minute. Italy's defense drew Fred offsides on a Brazilian free kick and Gialuigi Buffon kicked the ball downfield before Brazil's defense was set. Mario Balotelli flicked the ball to Emanuele Gianccherini, who scored with his right foot.
Neymar gave Brazil a 2-1 lead when he scored on a well-placed free kick in the 55th minute. Ten minutes later, Fred split Italy's defenders to receive a pass and scored to put Brazil up 3-1.
Italy capitalized on a corner kick in the 70th minute. Giorgio Chiellini scored off after one of the referee's blew his whistle but the referee changed his mind and allowed the goal to count.
Brazil secured the win when Fred scored his second goal in the 89th minute off of Marcelo's rebound.
With the victory, Brazil won Group A and will likely play either Uruguay or Nigeria in the semifinals. Italy will likely play Spain.
And it's final, Brazil defeats Italy 3-2 to conclude group play in Group A.
Brazil will win Group A with a 3-0 record. Italy will also advance to the semifinals with a 2-1 record. Brazil will likely face Uruguay and Italy will likely face Spain.
There will be three minutes of injury time added to the game.
89'--Fred scores off of Marcelo's rebound to increase Brazil's lead to 4-2! Fred may have been offsides but got the benefit of the doubt. Buffon should have secured Marcelo's shot attempt.
Italy needs to go full throttle on offense. The game is in the 84' and Italy needs to score twice without allowing any goals in order to win Group A.
Balotelli gets a decent look on a free kick but misses. He shoves Luis Gustavo after Gustavo taunted him.
The referees are letting both teams play on as Marcelo nearly steps on Maggio as he was on the ground. Italy gets a free kick in the 82nd minute.
Brazil has controlled the ball for 58 percent of this match, according to a graphic on ESPN.
79'--Balotelli kicks a free kick from 30 yards out but it is knocked down at the line by Fred's arms. Italy follows up with a corner kick but Maggio's header hits off the crossbar.
Players to score in all 3 group games at #ConfedCup: Ronaldinho, Riquelme, David Villa, Neymar.

— Paul Carr (@PCarrESPN) June 22, 2013
Neymar's goal this afternoon puts him in an elite group.
That was a horrible blunder by the referee. He can't change his mind. Brazil stopped playing defense once they heard the whistle and then Chiellini scored after that. He better be reprimanded once that play is reviewed by FIFA after the Confederations Cup is over. He change his mind based on what happened after he blew the whistle.
70'--Chiellini scores to bring Italy within one goal as Brazil leads 3-2. One of the referees completely changed his mind in the middle of a corner kick. Brazil committed two fouls and the referee blew the whistle, which should mean that play stops. However, Giorgio Chiellini scored and the referee allowed it to count.
I love the fans who are painted from head to toe in green paint in support of Brazil's striker Hulk. That's a serious commitment and very creative.
68'--Bernard comes in to replace Neymar.
66'--Fred scores to put Brazil up 3-1! Fred splits Italy's defenders and uses his left foot to put the ball into the back of the net.
65'--Dani Alves makes a run down the right side of the pitch into the box but lost control of the ball.
This is a different Italy squad in the second half. They're much more aggressive and have controlled the ball better.
63'--Diamanti saved the ball from going out of bounds and Balotelli received the ball eight yards out but the ball was cleared.
61'--Mario Balotelli had a hard strike on a free kick but the shot was saved by Julio Cesar.
I completely agree that players shouldn't be suspended for the Confederations Cup final because of getting booked in consecutive games. Players should have the opportunity to play in the biggest games of their careers. Soccer is a physical sport and yellow cards on separate occasions shouldn't sideline some of the best players in the world.
Here is a video of Neymar's goal against Italy.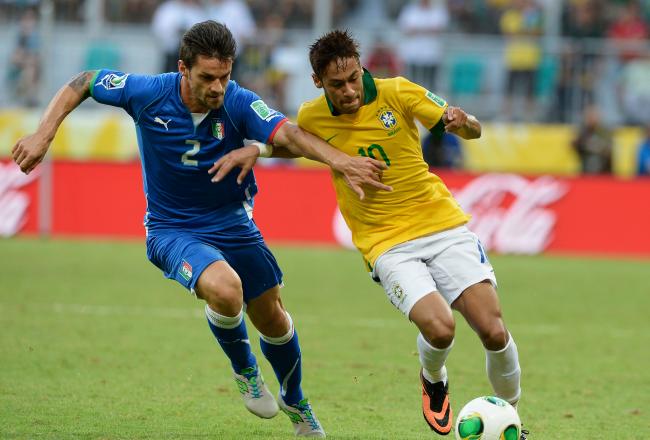 55'--NEYMAR SCORES OFF OF A FREE KICK TO GIVE BRAZIL A 2-1 LEAD! He went around the wall and placed the ball in the upper 90 degrees on the right side of the goal. Buffon didn't stand much of a chance to block the shot. That is his third goal in the Confederations Cup.
54'--And just like that, Brazil has a chance to re-take the lead. Neymar was fouled just outside the box. Neymar and Hulk are having a long discussion about how to play this kick.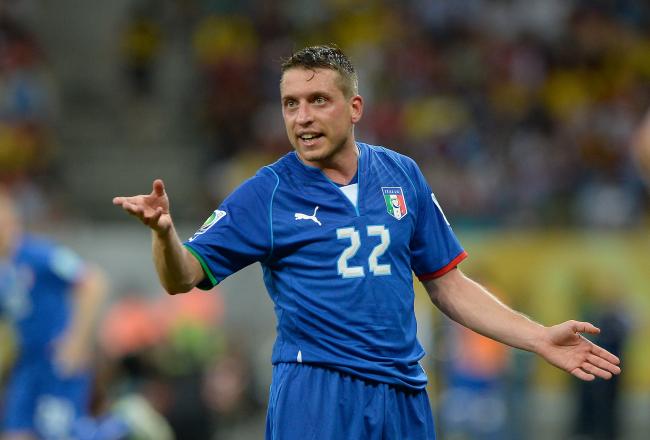 51'--A LONG kick from Buffon, a great flick from Balotelli and Giaccherini scores the equalizer!!! The Brazilian defense was caught off guard and let Giaccherini shoot withou contesting him.
This article is
What is the duplicate article?
Why is this article offensive?
Where is this article plagiarized from?
Why is this article poorly edited?