Cleveland Indians Biggest Winners, Losers of the First Half of the Season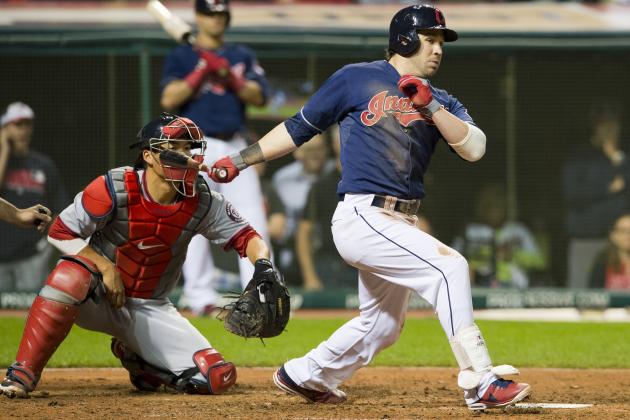 Jason Miller/Getty Images

The Cleveland Indians have been one of the more pleasant surprises in the first half of the 2013 MLB season.
Through their first 78 games, the Tribe sits just 2.5 games out of first place in the AL Central with a 40-38 record. Though two games over .500 is nothing to chirp about, it looks much better when you're within striking distance of the division lead.
The Indians current situation looks even better when you consider that they've been without several key players, including Asdrubal Cabrera and Chris Perez, for prolonged periods of time. Even so, the Indians are treading water and staying in contention for the playoffs.
Let's take a look at those winners and losers from the first half of the Indians season.
All stats courtesy of Baseball-Reference.com and are current through June 27, 2013.
Begin Slideshow

»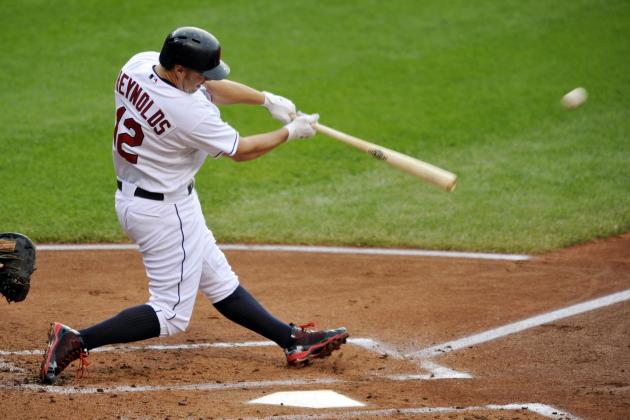 David Richard-USA TODAY Sports

Mark Reynolds looked like a steal in the season's early goings. Through his first 23 games, the 29-year-old posted a .301/.368/.562 triple-slash line (BA/OBP/Slugging) with eight home runs, 22 RBI, and 17 runs scored. He even exhibited improved plate discipline boasting a 22:10 K/BB ratio and a decreased 23.2 percent strikeout rate.
Since that time though, Reynolds has fallen off severely. Reynolds has played 52 games since that hot start and owns a slash line of just .198/.296/.311. He's hit just six home runs over that span as well and has collected only 22 RBI.
What's most discouraging about Reynolds though is the deterioration of his plate discipline over his last 51 games. In said games, Reynolds owns a 69:23 K/BB ratio and a strikeout rate of 34 percent.
Reynolds has always been somewhat of a streaky hitter and his .231 batting average this season is just four points lower than his career mark of .235. The issue here though is that Reynolds is spiraling out of control as the Indians near the midway point of the 2013 season.
Reynolds is on pace for a whopping 192 strikeouts which would give him a strong shot at leading the league in the category.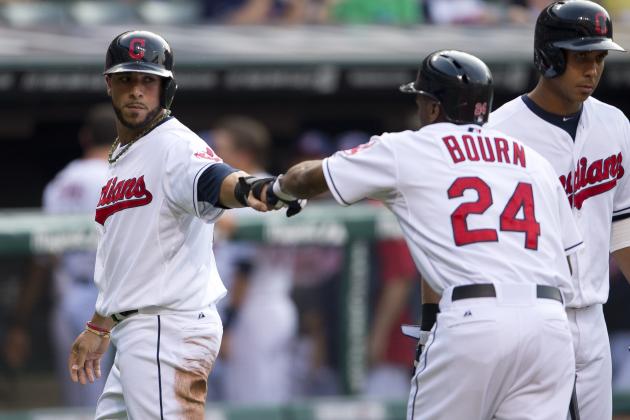 Jason Miller/Getty Images

Let's give a nod to the entire offense here.
Despite having played through injuries to star players like Asdrubal Cabrera, the prolonged slumps of Reynolds and Drew Stubbs, and a sub-par starting rotation, the Indians find themselves within reach of first place in the AL Central.
The Indians own just a plus-13 run differential on the season, but have managed a 40-37 record on the back of a strong offensive showing over the first 78 games of their season.
The Tribe currently ranks in the AL's top 10 in AVG., OBP., SLG., OPS., OPS+, runs scored, RBI, stolen bases, doubles, triples and home runs.
With a team ERA of 4.24 and a starter's ERA of 4.35, the Indians are consistently bogged down in a slugfest. Fortunately for them, they've come out on top more often than not.
Obviously, some players have performed better than others. The offensive load has been carried by the likes of Michael Bourn, Jason Kipnis, Carlos Santana and Michael Brantley.
Together, those four players have combined for a .281/.355/.433 slash line with 61 doubles, five triples, 28 home runs and 36 stolen bases over 1013 at-bats.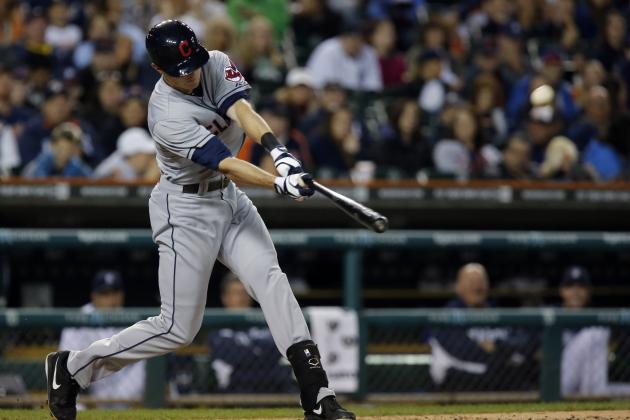 Duane Burleson/Getty Images

If you thought it couldn't get worse than Reynolds, think again. Drew Stubbs is struggling mightily in the 2013 season.
Stubbs was acquired from the Reds in the three-team deal that also netted them Trevor Bauer this past offseason. Stubbs became a starter almost instantly but has yet to reward the Indians trust in him with any sort of enhanced performance.
Stubbs, like Reynolds, shows flashes of being a plus-player. Through 73 games, the 28-year-old is on pace for a 13 home run/17 stolen base season, but he has the tools to compile a 20-30 season.
Again, like Reynolds, Stubbs struggles with his plate discipline and owns a despicable 78:19 K/BB ratio with a 29.8 percent strikeout rate. Stubbs has never struck out less than 166 times over a full season and even fanned 205 times in a season.
This year, Stubbs is back at it and is on pace for 167 strikeouts.
Between Stubbs and Reynolds, the two will net somewhere in the neighborhood of 350-400 strikeouts. Yikes.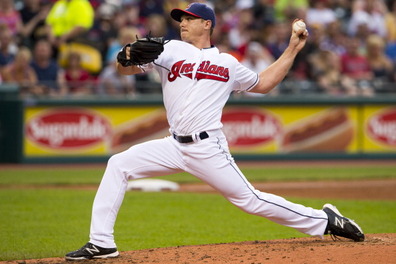 Jason Miller/Getty Images

The Indians picked Scott Kazmir off the scrap heap prior to the 2013 season. Although he hasn't been great this season, a bit of rust was to be expected given his not having thrown a pitch since April of 2011.
Through his first 13 starts this year, Kazmir boasts a 4.83 ERA, a 1.42 WHIP and ratios of 8.6 K/9, 3.1 BB/9, 2.75 K/BB and 9.7 H/9. Kazmir may not have a sexy ERA or WHIP but his ratios are decent.
The good thing about Kazmir is that he's gotten better as the season has progressed. In his past seven starts, the 29-year-old owns a 3.76 ERA, a 1.28 WHIP and ratios of 8.0 K/9, 3.1 BB/9, 2.57 K/BB and 8.4 H/9.
In those seven starts, Kazmir has functioned as one of the better starters on the Indians roster and has come as a welcome surprise to fans and management.
Kazmir has been serviceable for the Indians and that alone should earn him another chance, either with the Indians, or another team in 2014.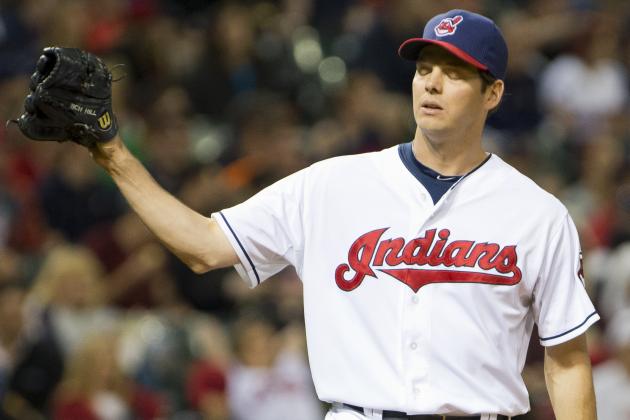 Jason Miller/Getty Images

The Indians pitching staff as a whole has been dismal over their first 78 games. Through that stretch, the team owns a 4.24 ERA and a 1.35 WHIP, both of which rank 11th in the AL.
In addition to those already disappointing statistics, the Tribe's pitching staff also allows the third most HR/9, and most BB/9 in the AL.
To be fair, the starting rotation hasn't been much worse than the bullpen. Take a look at this stat comparison between the team's rotation and bullpen.
| | | | | | | | | | | | |
| --- | --- | --- | --- | --- | --- | --- | --- | --- | --- | --- | --- |
| Splits | IP | ERA | WHIP | BAa | OBPa | SLGa | K/9 | BB/9 | K/BB | H/9 | HR/9 |
| Rotation | 451 | 4.35 | 1.36 | .254 | .329 | .417 | 8.0 | 3.5 | 2.31 | 8.8 | 1.2 |
| Bullpen | 234.2 | 4.03 | 1.32 | .239 | .322 | .400 | 9.1 | 3.9 | 2.37 | 8.1 | 1.2 |
So, the team has had some pitching struggles. Among Indians starters who meet the minimum qualifications for the ERA title, the lowest ERA is Justin Masterson's 3.76 mark.
With all due respect to Masterson, that's not a good sign. However, Scott Kazmir, Corey Kluber and Zach McAllister have all been pleasant surprises and things are looking up for the Indians starting rotation.
The bullpen, however, is slightly better than advertised. The numbers above are really dragged down by only a handful of players. Relievers like Bryan Shaw, Cody Allen, Joe Smith and Matt Albers have been quite good and the team is due to get closer Chris Perez back at any time now.
Even so, 2013 has been an all-around struggle for the Indians pitching staff.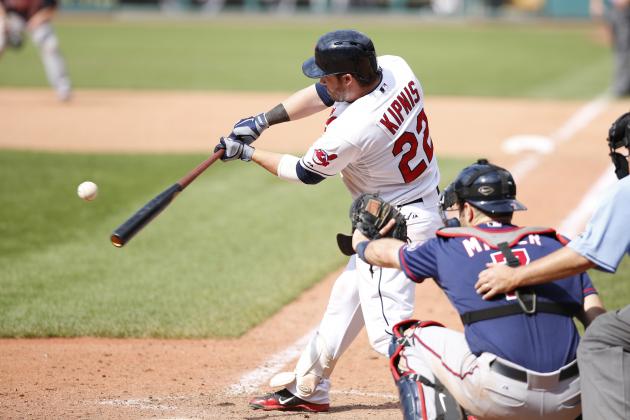 Joe Robbins/Getty Images

Jason Kipnis has been the best player on the Indians roster this year. As of today, Kipnis leads the Indians in hits, doubles, triples, RBI, runs, stolen bases and slugging percentage—see almost all offensive categories.
Currently, Kipnis owns a .288/.368/.508 triple-slash line with 11 home runs, 19 doubles, three triples, 45 RBI, 38 runs scored and 17 stolen bases.
The only two categories in which Kipnis isn't leading all other Indians players is batting average and on-base percentage—he trails Michael Bourn and Carlos Santana respectively.
Kipnis is worth an impressive 3.1 WAR and he's chipped in above-average defense at second base.
Kipnis is just 26 years old and isn't even eligible for arbitration but he's certainly done a lot to stake his claim as one of the game's top second basemen. He could earn himself a big contract prior to becoming a free agent after the 2017 season.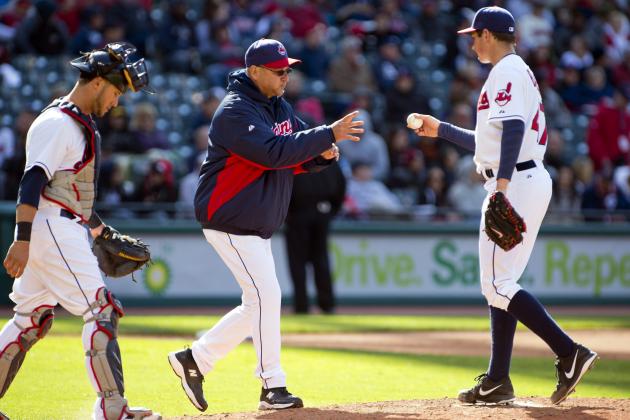 Jason Miller/Getty Images

Trevor Bauer has only made three starts at the big league level in 2013 and while his 2.76 ERA over those starts looks great on paper, the rest of his stats tell a much different story.
Bauer has struggled with pitch location and that has really killed his ability to work late into games. Over his three starts with the Tribe, the 22-year-old righty has averaged just over 5.1 innings pitched per start.
To go along with that, Bauer has posted other disappointing ratios including a 1.47 WHIP, 6.1 K/9, 8.3 BB/9, 0.73 K/BB and 5.0 H/9.
Bauer has even been struggling in his time with the Tribe's Triple-A affiliate in Columbus.
In his 12 starts at Triple-A, Bauer owns a 4.13 ERA which he pairs with a 1.45 WHIP and ratios of 9.2 K/9, 5.0 BB/9, 1.86 K/BB, 8.1 H/9 and 1.2 HR/9.
According to Baseball America, Bauer was the No. 14 ranked prospect in baseball headed into this season. With that ranking, and the fact that the Indians gave up Shin-Soo Choo for him, came high expectations for the young hurler in 2013.
Bauer has failed to live up to all those expectations thus far and, even with the mediocre state of the Indians starting rotation, he has also failed to earn himself a regular spot in the rotation.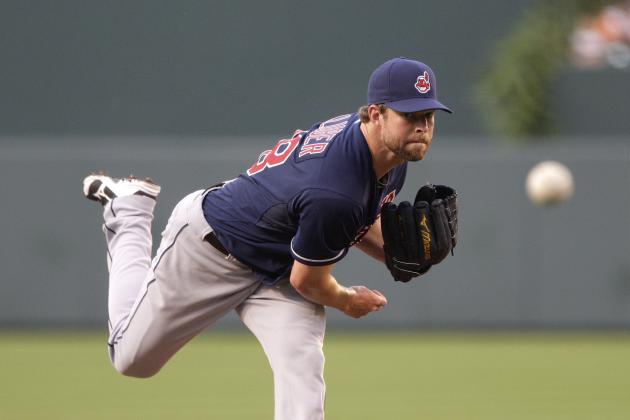 Jonathan Ernst/Getty Images

Zach McAllister and Corey Kluber were virtually unknown prior to the 2013 season. Need proof? Take a look at their career statistics prior to this year.
| | | | | | | | | | | |
| --- | --- | --- | --- | --- | --- | --- | --- | --- | --- | --- |
| Name | GS | IP | W-L | ERA | WHIP | K/9 | BB/9 | K/BB | H/9 | HR/9 |
| Kluber | 12 | 67.1 | 2-5 | 5.35 | 1.53 | 7.9 | 2.8 | 2.81 | 11.0 | 1.2 |
| McAllister | 26 | 143 | 6-9 | 4.47 | 1.43 | 7.8 | 2.8 | 2.76 | 10.0 | 1.3 |
Kluber and McAllister both struggled in their first appearances with the team between 2011 and 2012. 2013 has been a totally different story however and the two have completely reinvented themselves.
Now, through the Indians' first 78 games, both have made 11 starts with impressive results.
| | | | | | | | | | | |
| --- | --- | --- | --- | --- | --- | --- | --- | --- | --- | --- |
| Name | GS | IP | W-L | ERA | WHIP | K/9 | BB/9 | K/BB | H/9 | HR/9 |
| Kluber | 12 | 75.2 | 6-4 | 4.16 | 1.30 | 8.7 | 1.7 | 5.21 | 10.0 | 1.1 |
| McAllister | 11 | 65.2 | 4-5 | 3.43 | 1.37 | 6.2 | 3.0 | 2.05 | 9.3 | 1.0 |
Excluding Kluber's most recent start on June 28th, he had worked to a 3.68 ERA with a 1.21 WHIP and ratios of 8.7 K/9, 1.6 BB/9, 5.31 K/BB and 9.3 H/9.
Overall though, Kluber has done better than McAllister at limiting his walks. However, outside of that, these two have nearly identical numbers and it appears that the Indians may have found solid pieces for the middle of their rotation moving forward.