Updating Each MLB Contender's Biggest Need Before the Trade Deadline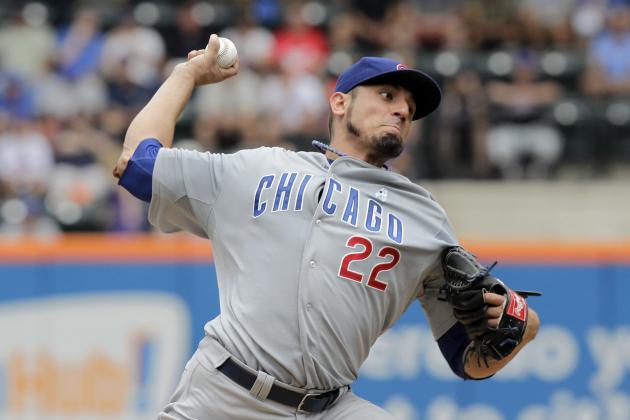 Jason Szenes/Getty Images
Matt Garza is atop the wish list for several teams who need to upgrade their starting pitching.
With 10 playoff spots up for grabs, the vast majority of MLB teams feel like they still have a chance at contention. The 2013 trade deadline will be a stampede of wildebeest at a kiddie pool, fighting to satisfy their needs with a limited supply of veteran talent.
Of the 19 teams featured on this list, several aren't even above .500! And the entire AL East is included! It's more than one month until July 31, so you can't blame organizations for being a bit delusional.
Starting pitching always consumes the trading season, but the Cincinnati Reds and New York Yankees, for example, care more about filling holes in their lineups and benches.
Enjoy peeking into the minds of MLB front offices, including hints as to whom these teams might pursue.
Begin Slideshow

»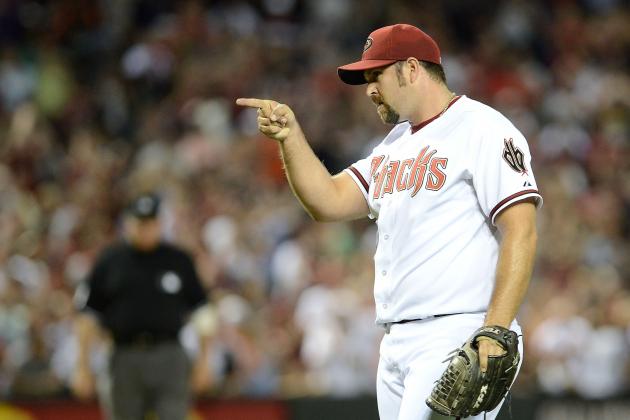 Jennifer Stewart/Getty Images
Manager Kirk Gibson trusts "proven closer" Heath Bell. Not sure why.
Josh Collmenter, Matt Reynolds and Brad Ziegler have been genuinely excellent for the Arizona Diamondbacks.
Problem is that the bullpen graybeards—Heath Bell and, when healthy, J.J. Putz—frequently put their hard work to waste. Bell, in particular, has served up home runs in five straight appearances, one that blew a save and another that ruined a tie game.
Among all the obvious sellers, the Chicago White Sox arguably present the best solution with Jesse Crain. On the other hand, let's not overlook Steve Cishek of the Miami Marlins. Courtesy of Baseball-Reference.com, look at what he's done since the second week of June:
| Date | Tm | | Opp | Rslt | IP | H | R | ER | BB | SO | HR | ERA | Pit | GB | FB |
| --- | --- | --- | --- | --- | --- | --- | --- | --- | --- | --- | --- | --- | --- | --- | --- |
| Jun 8 | MIA | @ | NYM | W,2-1 | 1.0 | 0 | 0 | 0 | 0 | 1 | 0 | 4.32 | 7 | 1 | 1 |
| Jun 9 | MIA | @ | NYM | W,8-4 | 1.0 | 0 | 0 | 0 | 0 | 2 | 0 | 4.15 | 11 | 1 | 0 |
| Jun 11 | MIA | | MIL | W,5-4 | 1.0 | 0 | 0 | 0 | 0 | 0 | 0 | 4.00 | 12 | 0 | 3 |
| Jun 14 | MIA | | STL | W,5-4 | 1.0 | 0 | 0 | 0 | 0 | 1 | 0 | 3.86 | 9 | 2 | 0 |
| Jun 16 | MIA | | STL | W,7-2 | 0.1 | 0 | 0 | 0 | 0 | 1 | 0 | 3.81 | 5 | 0 | 0 |
| Jun 17 | MIA | @ | ARI | W,3-2 | 1.0 | 0 | 0 | 0 | 0 | 0 | 0 | 3.68 | 12 | 1 | 2 |
| Jun 20 | MIA | @ | SFG | W,2-1 | 1.0 | 1 | 0 | 0 | 0 | 2 | 0 | 3.56 | 15 | 0 | 2 |
| Jun 21 | MIA | @ | SFG | W,6-3 | 1.0 | 2 | 0 | 0 | 0 | 1 | 0 | 3.45 | 23 | 3 | 1 |
| Jun 25 | MIA | | MIN | W,4-2 | 1.0 | 0 | 0 | 0 | 0 | 2 | 0 | 3.34 | 11 | 0 | 1 |
| Jun 26 | MIA | | MIN | W,5-3 | 1.0 | 0 | 0 | 0 | 0 | 1 | 0 | 3.24 | 19 | 1 | 1 |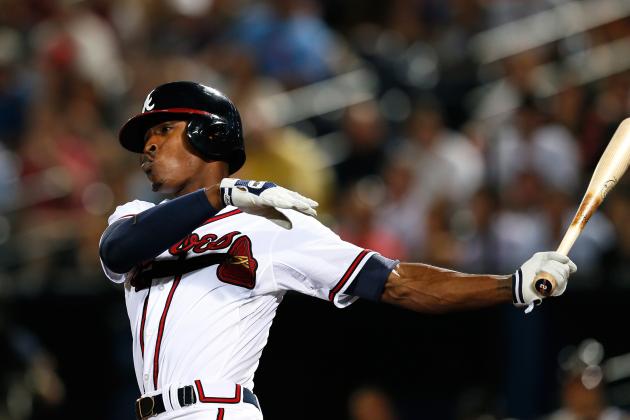 Kevin C. Cox/Getty Images
Atlanta must light a fire underneath its disappointing outfielders.
The Atlanta Braves did a smooth bit of business with the Chicago Cubs last summer, acquiring Reed Johnson and Paul Maholm.
Perhaps it's time to go back to that watering hole.
Atlanta's young trio of outfielders are not living up to their immense potential. In between flashes of brilliance, Jason Heyward, B.J. Upton and Justin Upton have all endured brutal slumps. Jordan Schafer has done an admirable job when given opportunities to start in their places, but absolutely nothing about his recent history suggests his numbers are sustainable.
Chicago's David DeJesus, meanwhile, also bats left-handed and has thousands of innings of experience at each of the outfield positions. More importantly, he puts the ball in play much more frequently than Schafer and is nearly a decade into a very consistent career.
Or, as Matthew Pouliot of HardballTalk suggests, the Braves could pursue infield help, someone to spell Dan Uggla and Chris Johnson. Both of them have been strikeout-prone, too. Utility man Ramiro Pena found a cozy niche on this roster until suffering a shoulder injury that will require season-ending surgery.
If the Los Angeles Dodgers completely crash and burn, either Nick Punto or Juan Uribe would make sense in that role.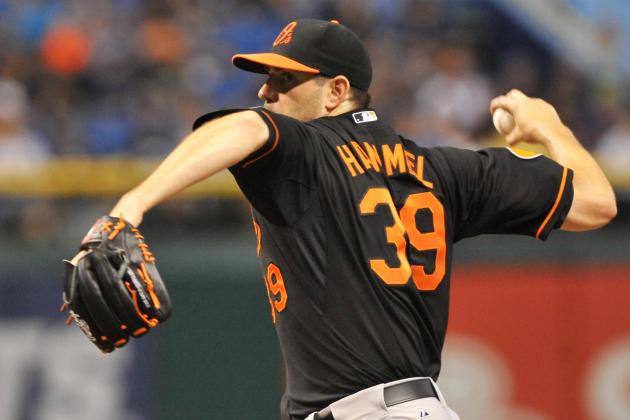 Al Messerschmidt/Getty Images
Jason Hammel hasn't progressed the way Baltimore hoped he would.
Already 10 different pitchers have started games for the Baltimore Orioles. As of June 27, three of them possess sub-5.00 earned run averages.
Miguel Gonzalez and Chris Tillman are the only trustworthy active members of the rotation. We can stick the "dependable" label on Wei-Yin Chen, too, who will return in July.
Unfortunately, Baltimore's eye-popping talents (e.g. Jake Arrieta, Kevin Gausman) haven't been able to sustain success in the big leagues. Although Jason Hammel also has great, pure stuff, his performance through the first half of 2013 is very discouraging.
The Orioles must seek outside help, perhaps from the Windy City. Assuming Matt Garza and Jake Peavy find themselves at full strength around the trade deadline, the front office should seriously pursue them.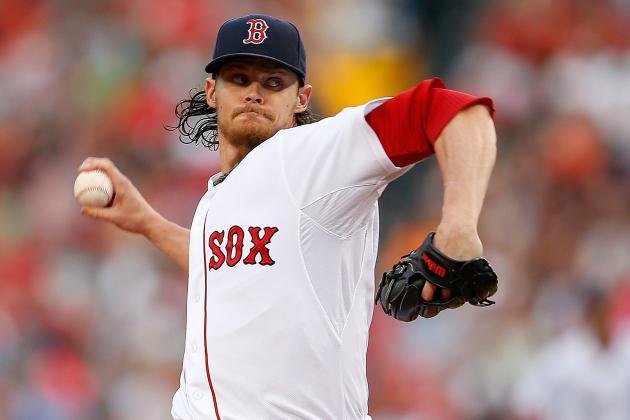 Jim Rogash/Getty Images
There's no timetable for Clay Buchholz to return from injury.
Nobody pities the Boston Red Sox, who have been the most complete team in the American League so far (and, not surprisingly, the most successful record-wise).
The lineup is stacked, and a handful of position players also contribute elite defense. Andrew Bailey can struggle all he wants, because Craig Breslow, Andrew Miller, Junichi Tazawa and Koji Uehara give manager John Farrell safe options to choose from.
Despite these bragging points, Clay Buchholz's strained trapezius has Boston as nervous as any contender on this list. According to Peter Abraham of The Boston Globe, the undefeated ace—who's already on the disabled list—"still feels some restriction" in the muscle. Even if the latest MRI reveals nothing serious, he'll probably remained sidelined through the All-Star break.
Rookie replacement Allen Webster is grossly underachieving in the majors, while Felix Doubront and Jon Lester have quietly been very mediocre.
The Red Sox won't necessarily make a big splash prior to July 31, but if they do, it should be to fortify the rotation.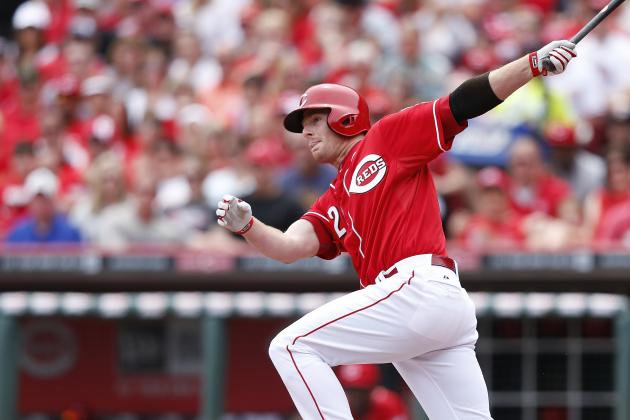 Joe Robbins/Getty Images
Zach Cozart struggles to get on base or cause trouble for the opposition once he does.
MLB.com's Mark Sheldon has a disappointing update for the Cincinnati Reds:
When Jonathan Broxton first went on the 15-day disabled list with a right elbow injury on June 15, the hope was he'd be back when eligible on Saturday.

Don't expect that to happen, however.

"Very unlikely," Reds pitching coach Bryan Price said on Wednesday.
Even so, don't get the wrong idea that Dusty Baker's bullpen needs bolstering. Lefty reliever Sean Marshall (shoulder sprain) is nearing a return, and closer Aroldis Chapman is healthy.
The Reds have a more pressing need for a speedy reserve player to jump-start an offense that has averaged barely three-and-a-half runs per game in June. Ideally, this reinforcement would have shortstop experience and be able to push Zach Cozart to improve his .243/.273/.378 batting line.
Cesar Izturis doesn't quite fit that description.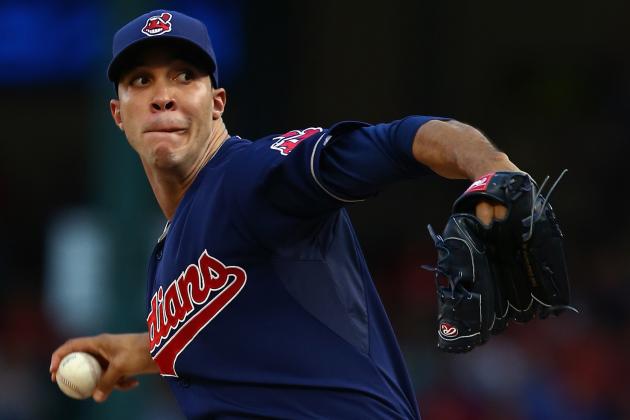 Tom Pennington/Getty Images
Ubaldo Jimenez continues to be obnoxiously inconsistent.
The Cleveland Indians seem resigned to putting up with Ubaldo Jimenez, Scott Kazmir and their volatility. That's only going to work for them if the rest of the starting rotation is rock solid.
With so many potential MLB pitchers coming up through the farm system, someone on an expiring contract makes the most sense. More specifically, the Tribe would benefit from an efficient veteran who can take some strain off the bullpen.
MLB Trade Rumors cites several media reports that insist Ricky Nolasco won't stay long in a Miami Marlins uniform. Scott Feldman and Matt Garza of the Chicago Cubs both fit the above description, too.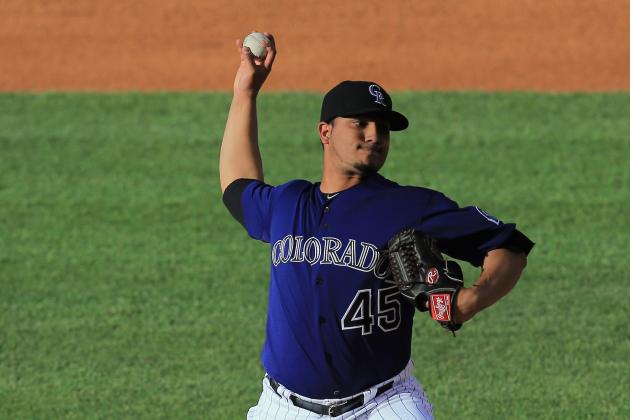 Doug Pensinger/Getty Images
Only Jhoulys Chacin is giving the Rockies more than 6 IP/GS.
It's good that the Colorado Rockies have positioned themselves ahead of the San Francisco Giants and on the coattails of the NL West-leading Arizona Diamondbacks.
It's not so good that Matt Belisle, Wilton Lopez and Adam Ottavino all remain on pace to throw 80-plus innings out of the bullpen. Pitchers to reach that mark in recent years (Scot Shields, Scott Proctor, Alfredo Aceves, etc.) typically slump the following year.
To lessen the workload on those guys, the Rockies must squeeze more innings out of their starters.
Jeff Francis, for example, hasn't been up to the challenge. He could find himself out of a job soon if Colorado secures one of the available ground-ball specialists.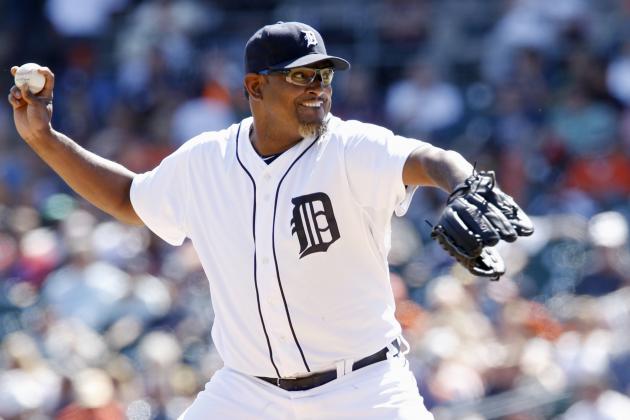 Duane Burleson/Getty Images
The Tigers DFA'd Jose Valverde earlier this month.
Yikes, we've come to a point where even Drew Smyly is imploding during close contests. Who can blame the filthy Detroit Tigers reliever, who has worked 47.2 IP in less than half a season?
Running away with the AL Central will require another reputable arm, an All-Star of Jonathan Papelbon's caliber. ESPN's Jayson Stark insists that the Philadelphia Phillies have already discussed him with the Tigers.
The Tigers definitely have luxuries: a deep lineup—anchored by the 2012 AL Triple Crown winner—and one of the most intimidating starting rotations of this generation.
A dependable dude to handle the ninth inning is their key to potential world domination.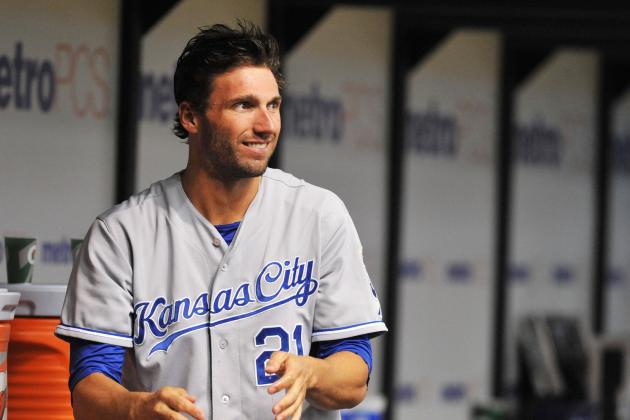 Al Messerschmidt/Getty Images
Jeff Francoeur hasn't been productive since 2011.
Even though the Kansas City Royals woke up on June 27 with a losing record, it's impossible to overlook them. Pitching can take you far when both the starting rotation and bullpen rank among the league's best.
However, the whole "our team leader has seven home runs" thing cannot continue. If the Royals want George Brett to succeed, they'll need to fetch him another veteran bat.
Their right fielders have the second-lowest OPS in the American League, according to MLB.com. Unlike at other positions, bringing in someone new wouldn't be stepping on the toes of any high-ceiling, long-term building block.
Giancarlo Stanton is an unrealistic target for the time being, but Bleacher Report's own Jason Martinez came up with Nate Schierholtz. Amid a career year, the left-handed swinger is already being shopped by the Chicago Cubs.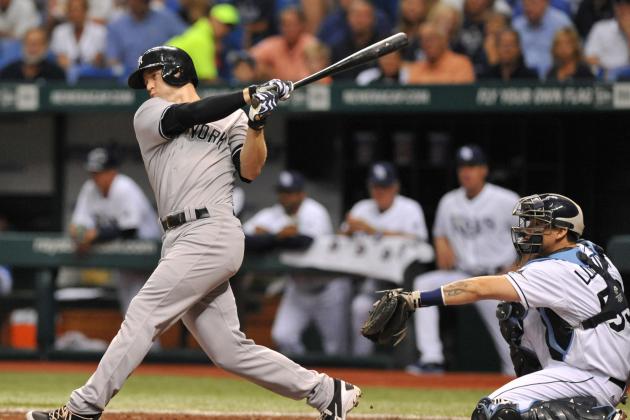 Al Messerschmidt/Getty Images
David Adams ought to be sent down to the minors immediately.
It's official: The New York Yankees will battle down the stretch without Mark Teixeira. After being urged by team doctors, the first baseman has agreed to undergo season-ending wrist surgery.
There's even more drama on the other side of the infield. Anonymous sources tipped off Wallace Matthews of ESPNewYork.com to a conspiracy theory that the Yankees don't want Alex Rodriguez rejoining them at the hot corner after the All-Star break.
From a baseball perspective, at least, nothing could be further from truth. With David Adams slashing an embarrassing 185/.227/.283, and Eduardo Nunez (oblique) and Kevin Youkliis (lower back) disabled, the Yankees crave power.
They dream of adding an affordable right-handed bat to fill either void. More realistically, improving in the short term probably means sucking up salary from Mike Morse or Aramis Ramirez.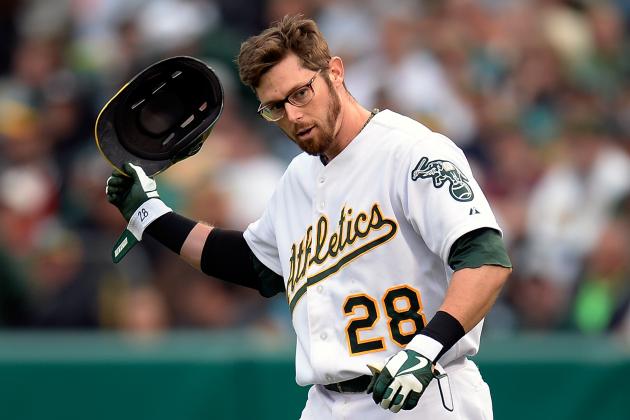 Thearon W. Henderson/Getty Images
No offense, Eric Sogard, but you shouldn't be an everyday player.
Despite considerable middle infield depth, the Oakland Athletics don't have any great options to pair with Jed Lowrie down the stretch.
Eric Sogard has justified his roster spot with solid on-base skills and smooth defense. On the other hand, his blatant lack of pop and past struggles suggest that he shouldn't be a regular in the lineup.
Still, it's unlikely that Hiroyuki Nakajima or Jemile Weeks leapfrogs him on the depth chart. The former, a free-agent acquisition from this past winter, hasn't gotten a grasp on Triple-A life. Stashed at the same minor league level, Weeks continues to fall out of favor with the organization, evidenced by all the starts he's getting at designated hitter (rather than in the field), reports Susan Slusser of the San Francisco Chronicle.
Conveniently for Billy Beane's crew, this is a summer where Chase Utley could be had, or possibly Gordon Beckham, writes Jon Heyman of CBS Sports. Both can be far above average when healthy.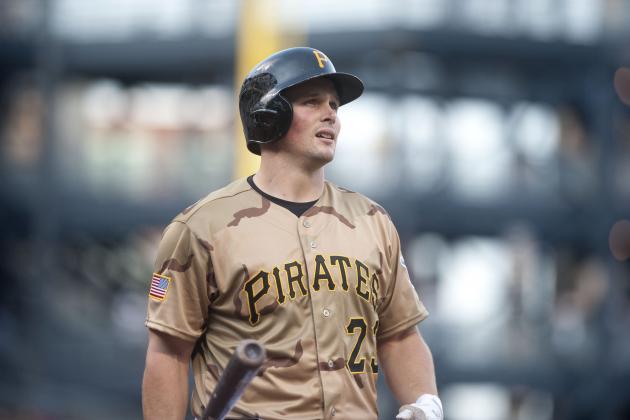 Vincent Pugliese/Getty Images
Travis Snider.
For a few weeks after the Pittsburgh Pirates added Travis Snider, he really showed signs of being someone who had unlocked his potential. If nothing more, they saw him as a solid platoon player who could be around for several years.
In an unlikely twist, he's already on the hot seat. Snider's 2013 batting average and on-base percentage are in line with his underwhelming career norms, while his slugging has fallen to new depths.
Last season taught the Pirates a harsh lesson about the elusiveness of a postseason berth.
Alex Rios could be a top target.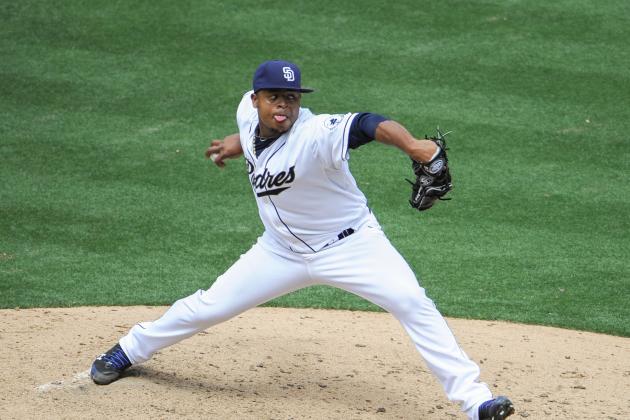 Denis Poroy/Getty Images
Despite near-unhittable stuff, Edinson Volquez has plenty of forgettable outings.
The only two stable members of the San Diego Padres rotation are the guys nobody talks about, Andrew Cashner and Eric Stults.
Jason Marquis' win total is totally misleading, and it doesn't take sabermetrics to see that Edinson Volquez is a mess (5.67 ERA, 87.1 IP in 16 starts).
It would be understandable yet passive for the Friars to wait on Cory Luebke to recover from Tommy John surgery. Upgrades need to come immediately if this team plans to surge atop a tight division.
Stephen Brashear/Getty Images
Bud Norris would fit in nicely with San Francisco's rotation.
Above all, the San Francisco Giants need starting pitching.
Run that statement through your head a few times and it still doesn't seem possible. Earlier this year, there was nothing further from the truth, actually.
Back to reality. The Giants rotation is comprised of Madison Bumgarner, Matt Cain and question marks. The pixie dust has blown off of playoff heroes Tim Lincecum and Barry Zito, and it wouldn't be wholly surprising if either was demoted to the bullpen following a significant acquisition.
Bud Norris sounds like he would do naughty things to pitch for the reigning champs every fifth day, reports Jon Paul Morosi of Fox Sports. Surely, an agreement can be reached with the rebuilding Houston Astros.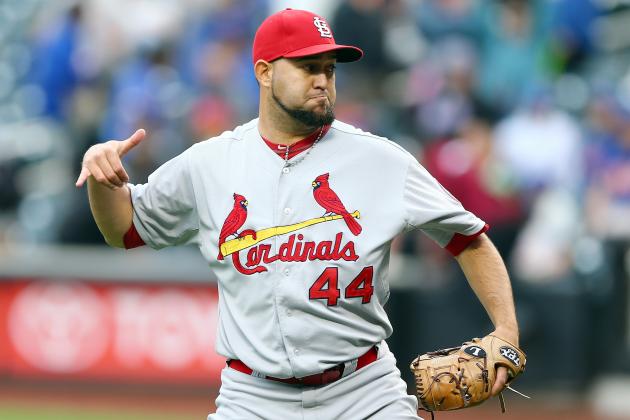 Elsa/Getty Images
Fortifying the bridge to Edward Mujica ought to be a top priority.
No one is threatening the St. Louis Cardinals in the eighth or ninth innings with Trevor Rosenthal and Edward Mujica on the bump. They own two of the strongest strikeout-to-walk ratios in the sport.
Still, on days when the starters aren't in cruise control, the softies deeper in this bullpen have been bullied.
It wouldn't hurt to inquire around the league for help, rather than looting unprepared talent from the high minors.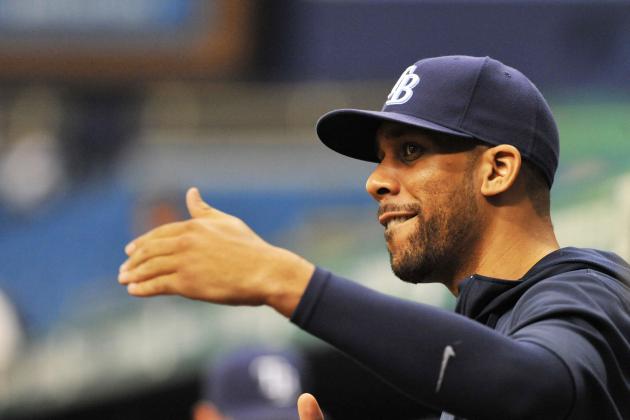 Al Messerschmidt/Getty Images
Even when David Price gets back into action, the Rays rotation will remain incomplete.
Nearly every influential starter in Tampa Bay Rays history was either homegrown or acquired before establishing himself in the majors.
Here's a great opportunity to break from tradition.
Milwaukee Brewers GM Doug Melvin tells Sporting News that right-hander Yovani Gallardo isn't untouchable anymore. His appeal to Tampa Bay includes multiple seasons of control and a skill set that should translate to the American League.
Considering their stunningly productive lineup, the Rays would be set up for success if they acquire Gallardo (or someone of equal caliber).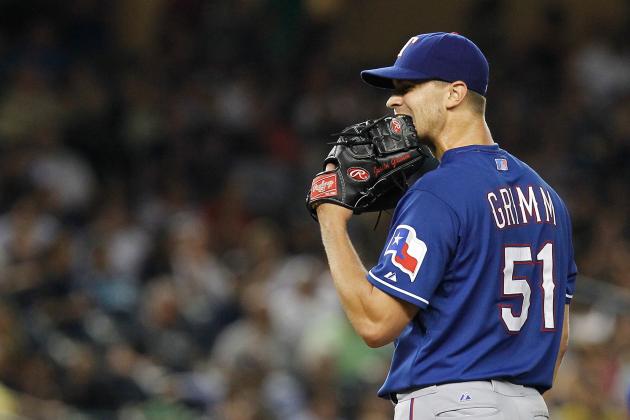 Mike Stobe/Getty Images
Justin Grimm has surrendered three or more runs in 10 of his past 11 starts.
The rehabbing Neftali Feliz is no longer viewed as a starter by the Texas Rangers. They may very well come to the same conclusion about Alexi Ogando, who has returned to the disabled list with another arm injury.
With Matt Harrison and Colby Lewis out of the picture until the very end of summer, it's time to be aggressive. Beyond Yu Darvish and Derek Holland, the rotation is gradually dissolving, and the Oakland Athletics aren't fading at all.
A beefy farm system gives the Rangers the full attention of every seller out there.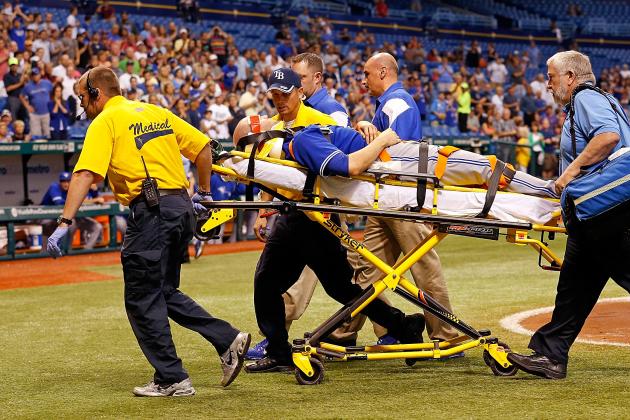 J. Meric/Getty Images
J.A. Happ's rehab is progressing, but the Blue Jays need extra depth in case he experiences a setback.
An awesome offense is in place for the Toronto Blue Jays.
There's not another top third in the majors that compares to Jose Reyes, Jose Bautista and Edwin Encarnacion. In terms of lineup depth, the Blue Jays also have a lot to be grateful for.
On the pitching side of things, however, Toronto isn't built for the long haul. Esmil Rogers and Chien-Ming Wang—five years past his prime—hardly constitute a stable back end of the rotation. Though J.A. Happ and Brandon Morrow have made progress in their respective rehabs, neither return is imminent.
Specifically, a left-handed starter would fit in, someone to neutralize Chris Davis, David Ortiz and the southpaw-laden New York Yankees crew.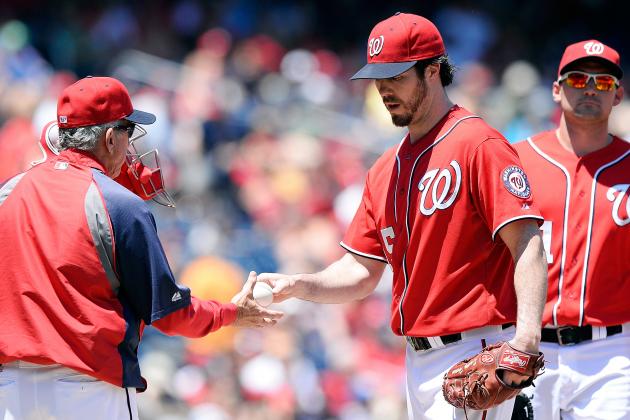 Patrick McDermott/Getty Images
Talk about flushing $13 million down the drain! The Dan Haren signing hasn't panned out.
Once a starting bum, Dan Haren is now an injured bum. Within the next few weeks, he'll be a bullpen bum.
Over the past 13 months, he has epitomized mediocrity. Prior to landing on the disabled list, the 32-year-old surrendered the most earned runs of any NL pitcher. On the Washington Nationals, who have lots of ground to make up, there's no alternative but to hide him in low-leverage situations.
This preseason juggernaut also happens to be the lowest-scoring non-Miami Marlins team in the majors (3.55 runs per game). The strategy there seems to be getting Bryce Harper and Wilson Ramos back, playing Anthony Rendon and keeping all fingers crossed, reports Adam Kilgore of The Washington Post.
Thankfully, as we've thoroughly explored, GM Mike Rizzo has plenty of avenues to explore in his pursuit of an experienced, innings-eating rotation addition.