10 Prospects Who Will Soar Up Big Boards for 2013 NBA Draft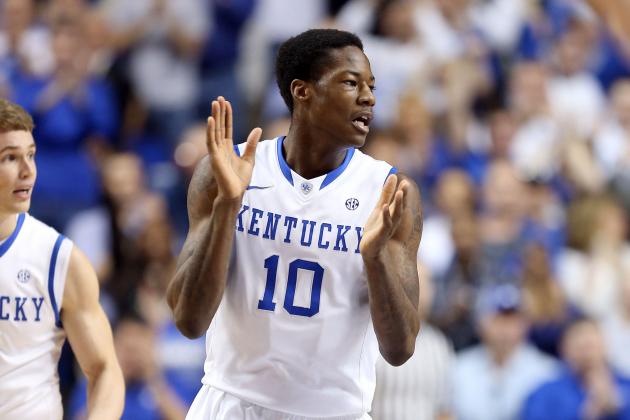 Andy Lyons/Getty Images
Archie Goodwin is one of 10 NBA draft prospects who will pick up steam before June 27.
Most of the 2013 NBA draft prospects can soar through the air while dazzling crowds with their athletic prowess, but not all of them can soar up the draft boards in the week before the selections start happening.
Some players are already too high to start soaring. It's tough for Nerlens Noel, Ben McLemore, Victor Oladipo, Otto Porter and Alex Len to go anywhere but down at this stage. Others just aren't going to impress teams enough to drastically alter their stock in the final days leading up to the draft.
However, these 10 players all possess the unique ability to make previous mock drafts look silly by rising higher and higher up the pecking order. They have the room and the talent to do so.
Archie Goodwin is one of these players, but the 18-year-old Kentucky product is joined by nine more young guns whose names you'll need to be familiar with before David Stern takes the stage on June 27.
Note: All stats, unless otherwise indicated, come from DraftExpress.com.
Begin Slideshow

»
Team: Filathlitikos
Position: SF/PF
Age: 18
Vitals: 6'9", 196 pounds
2012-13 Per-Game Stats: 9.5 points, 5.0 rebounds, 1.4 assists, 0.7 steals, 1.0 blocks
It happens every year.
During each and every draft since the NBA has become more of a global game, scouts latch on to a foreign prospect and hype him up. It doesn't matter that he's only been on the radar for a handful of months; he's the next big thing because he has ridiculous physical tools and is raw enough that he can be molded.
Think back to Bismack Biyombo in 2011.
One day, no one had ever heard of the Congolese big man. A day later, he was a potential first-round pick. Then he became a lottery prospect and was ultimately drafted at No. 7 by the Sacramento Kings and immediately traded to the Charlotte Bobcats.
Don't be surprised when a similar story unfolds for Giannis Adetokunbo.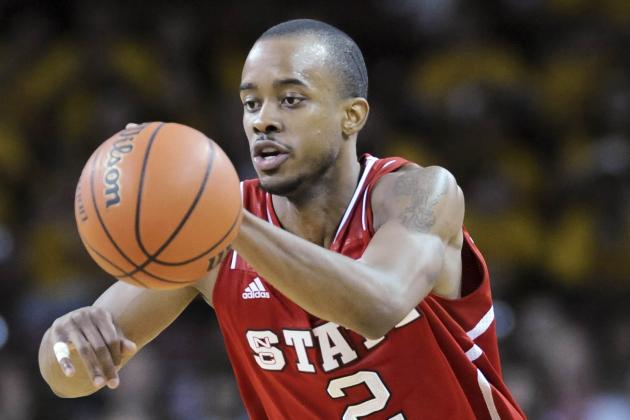 USA TODAY Sports

School: N.C. State
Position: PG
Age: 22
Vitals: 6'5", 189 pounds
2012-13 Per-Game Stats: 12.4 points, 4.3 rebounds, 7.2 assists, 2.0 steals, 0.6 blocks
Lorenzo Brown's athleticism won't wow anyone leading up to the draft, but game tape certainly will.
The 6'5" floor general doesn't blow anyone away with remarkable hops or a quick first step, but he's a heady player who tends to make the right decisions both with and without the ball. Averaging 7.2 assists per game is always impressive at the collegiate level, especially during a season in which only five players recorded more.
Brown has the unique combination of height and court vision. He's able to see plays develop long before the X's and O's actually fall into place, and defenders don't typically obscure his sight.
The N.C. State product already did a good job penetrating into the paint while playing the more compact NCAA game, so he should be able to put together even more looks for his teammates at the next level when the expanded three-point arc thins out the defense.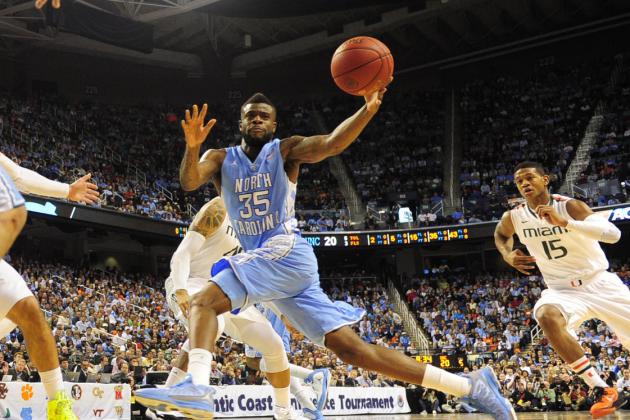 Bob Donnan-USA TODAY Sports

School: North Carolina
Position: SF
Age: 22
Vitals: 6'7", 200 pounds
2012-13 Per-Game Stats: 13.9 points, 6.6 rebounds, 2.8 assists, 1.2 steals, 0.3 blocks
Reggie Bullock doesn't have much star potential.
However, that's not what teams are looking for at the tail end of the first round, and that's almost certainly where the North Carolina small forward will work up to.
Many first-round picks outside of the lottery are of the high-risk variety, but Bullock has one of the higher floors in this range of the drafting process. At best, he'll become a mid-level starter, but at worst, he'll be a valuable role player.
Bullock isn't much of a threat with the ball in his hands, but he's one of the better catch-and-shoot players in this draft. He has the ability to become a deadly spot-up perimeter shooter in the Association, especially after scoring 1.29 points per shot on catch-and-shoot jumpers, per DraftExpress.com.
The former Tar Heel has been a steady riser lately, and don't expect that trend to stop anytime soon.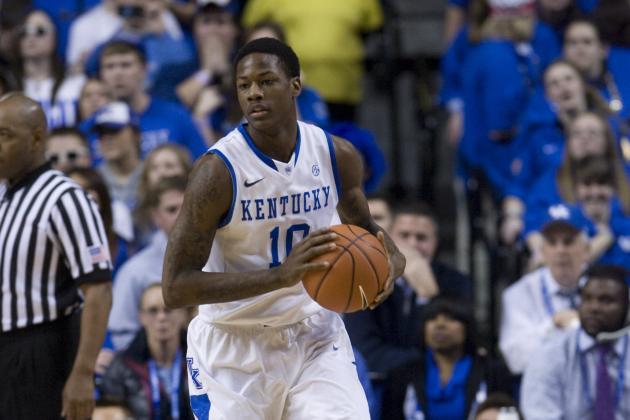 Mark Zerof-USA TODAY Sports

School: Kentucky
Position: SG
Age: 18
Vitals: 6'5", 189 pounds
2012-13 Per-Game Stats: 14.1 points, 4.6 rebounds, 2.7 assists, 1.1 steals, 0.5 blocks
One of the most intriguing aspects of Archie Goodwin's status as a prospect is his age. Still only 18 years old, the Kentucky 2-guard won't turn 19 until August, making him one of the younger prospects in this draft class.
Giannis Adetokunbo is the only other 18-year-old who should be drafted this year, and the Greek forward is a few months younger than Goodwin.
Age matters. It might seem like just a footnote on a draft prospect's resume, but it's so much more than that to NBA general managers. Two years ago, I ran a statistical analysis that showed exactly that.
Goodwin has a number of appealing aspects to his game: his size, athleticism and transition game in particular. However, it's that "18" that matters most here, and that's the primary reason he'll rise back into the first round, which is where he began his college career.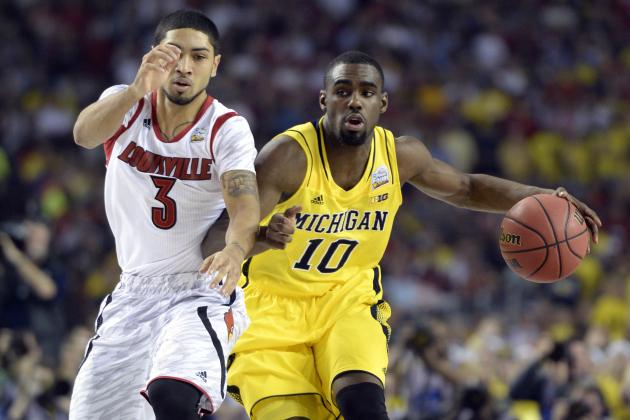 Robert Deutsch-USA TODAY Sports

School: Michigan
Position: SG
Age: 21
Vitals: 6'6", 185 pounds
2012-13 Per-Game Stats: 14.2 points, 4.5 rebounds, 2.4 assists, 0.7 steals, 0.5 blocks
Tim Hardaway Jr.'s overall efficiency has never been particularly impressive. Although he scored 14.5 points per game during Michigan's 2012-13 campaign, he missed far more shots than he made. His field-goal percentage makes him seem like more of a volume shooter than a dynamic scorer.
What's intriguing about the 21-year-old shooting guard, though, is the diversity of his game.
Throughout his career at Ann Arbor, Hardaway looked like an incredible transition finisher, a great spot-up shooter and a terrific isolation player—just never at the same time. Whenever he improved in one area, it was subsequently joined by a decline in another.
Hardaway has shown flashes of potential in each offensive area, and that gives NBA scouts and general managers the hope that he can someday put it all together. If he does, that will be followed by an assault on the scoreboards.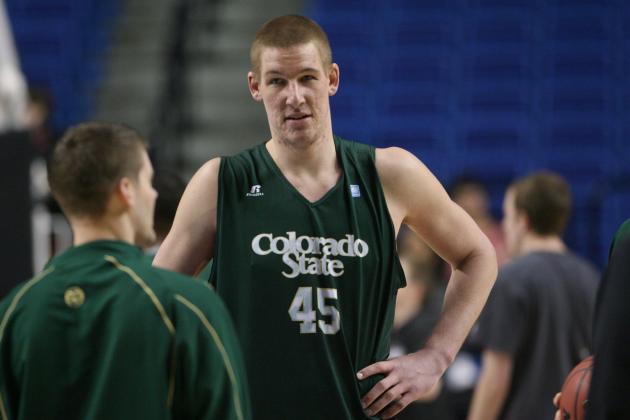 Mark Zerof-USA TODAY Sports

School: Colorado State
Position: C
Age: 23
Vitals: 7'0", 263 pounds
2012-13 Per-Game Stats: 14.0 points, 9.9 rebounds, 1.3 assists, 0.5 steals, 0.7 blocks
There are a lot of big players in this draft class, but none of them are quite as large as Colton Iverson. This 7-footer outweighs every other prospect who you can reasonably expect to get drafted.
That would be problematic if Iverson's weight was the result of an excessive buildup of fat, but it's legitimate muscle. He's been cutting some pounds to improve his speed and quickness, but this Colorado State product is one strong big man.
As the saying goes, you can't teach size. Or weight, for that matter.
Iverson has thrived banging around with smaller players in a lesser conference, but his physicality is going to translate to the next level. It's tough to find bigs who you know can fit into the rotation, and that's where Iverson will find himself down the road. He's not an end-of-the-bench player.
Now we just need to get over the irony of a player named Iverson being the biggest in the draft class.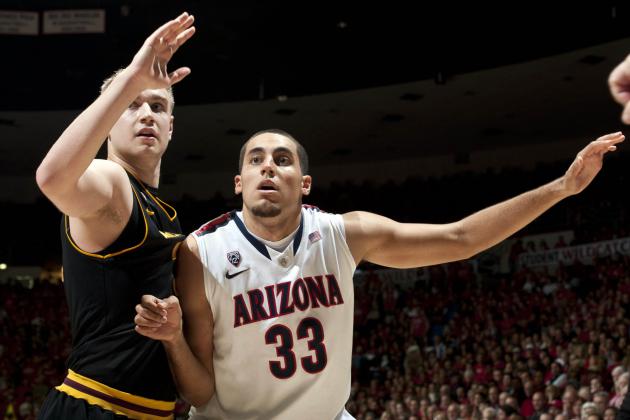 Casey Sapio-USA TODAY Sports

School: Arizona
Position: PF
Age: 19
Vitals: 6'10", 232 pounds
2012-13 Per-Game Stats: 5.2 points, 3.6 rebounds, 0.5 assists, 0.5 steals, 1.0 blocks
Grant Jerrett never earned much playing time at Arizona during his freshman season, and he chose to spurn the Wildcats for the NBA draft rather than battle it out with the stellar incoming class of recruits.
He simply never had a chance to show off his skills in college, so he automatically started out pretty low on the draft boards. Now that he's getting a chance to strut his stuff for NBA teams, expect him to start moving up in the order—possibly to the early portion of the second round.
Jerrett's primary asset is his jumper, which is far more effective than that of most 19-year-old power forwards who spent the vast majority of a season on the bench. He has impressive range and a nice, consistent shooting stroke.
Plus, the 6'10" former Wildcat has a 7'2" wingspan that will help him out in a variety of ways.
Jerrett entered the draft process as a mysterious prospect, but the shroud over him is being lifted little by little.
School: Providence
Position: SG
Age: 20
Vitals: 6'6", 197 pounds
2012-13 Per-Game Stats: N/A
Speaking of mysterious prospects, Ricky Ledo seems to fit the billing.
Lately, the Providence shooting guard—who never actually played at Providence—has been elevating up the draft boards rather quickly, despite some lackluster shooting days during workouts.
Ledo is a great athlete and an even better scorer, particularly when the ball is in his hands. He can shoot the lights out of a gym, and he creates shots for himself with remarkable fluidity. His long-term upside is tremendous, and that's what teams have steadily been realizing.
At 6'6", Ledo possesses the size to play shooting guard and a bit of small forward in smaller lineups as well. Oh, and he can also play a little point because he's tremendously adept handling the rock.
As teams uncover more and more about this project player, they like him more and more.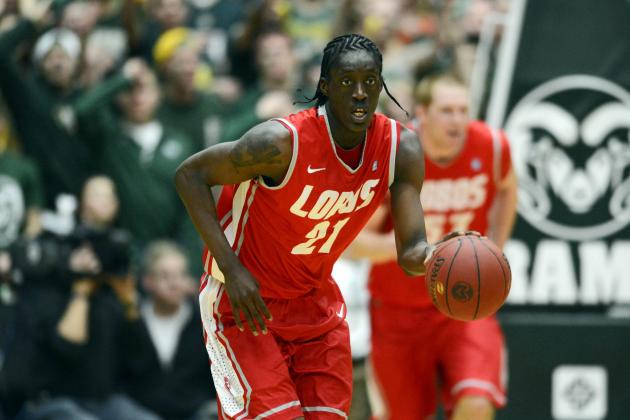 Ron Chenoy-USA TODAY Sports

School: New Mexico
Position: SF
Age: 21
Vitals: 6'7", 198 pounds
2012-13 Per-Game Stats: 12.5 points, 2.6 rebounds, 2.9 assists, 0.8 steals, 0.5 blocks
A month ago, Tony Snell was a prospect set to be drafted in the middle of the second round. Not many people were too familiar with his game, but now he's been called a sleeper so many times that he's most assuredly awake.
In fact, ESPN's Chad Ford has the New Mexico Lobo at No. 22 in his latest mock draft (subscription required): "Snell quietly is flying up the draft boards after a series of terrific workouts. He's in play now with Chicago, Utah, Brooklyn and Indiana. The appeal? He's a super athletic wing with NBA length and defensive abilities. He was very inconsistent at New Mexico, but I'm told numerous NBA teams love the talent."
I have to admit that I don't usually agree with Ford. He's great at coming up with rumors and telling what's on the minds of NBA teams, but his player-assessment abilities leave a lot to be desired.
That said, I'm in concurrence with him here. Expect most other mock drafters out there to follow in Ford's footsteps and have Snell rising well into the first round.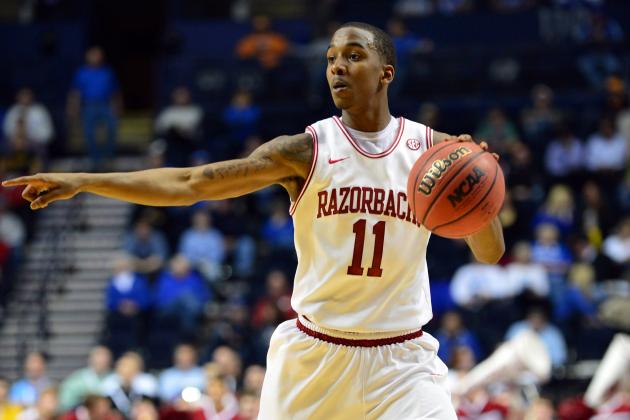 Don McPeak-USA TODAY Sports

School: Arkansas
Position: SG
Age: 20
Vitals: 6'3", 179 pounds
2012-13 Per-Game Stats: 15.2 points, 3.5 rebounds, 3.4 assists, 0.7 steals, 0.3 blocks
B.J. Young shot 41.3 percent on his three-point attempts during his first season at Arkansas and then only 22.7 percent from downtown as a sophomore. It proved both that his freshman year was fluky and that his release was completely broken.
The dynamic shooting guard is still only 20 years old, and NBA teams have plenty of time to fix his mechanics and give him a more consistent shooting stroke. His scoring potential is through the roof—if that's possible.
Even in an athletic conference like the SEC, Young was able to average 15.2 points per game despite defenders showing a complete lack of respect for his perimeter shooting. He's unbelievably fast with the ball in his hands and can't be stopped in transition. Plus, he can get his 6'3" frame high enough that he sometimes plays above the rim.
Young is a project player, but he's one with a large pot of gold waiting at the end of the rainbow. He's already proven that he can be effective without hitting from the outside, after all.
The Arkansas product is set to be drafted at the end of the second round, but there are bound to be a few teams willing to take a chance on him far earlier.