5 Reasons the SEC Will Be Better Than the Big Ten in 2013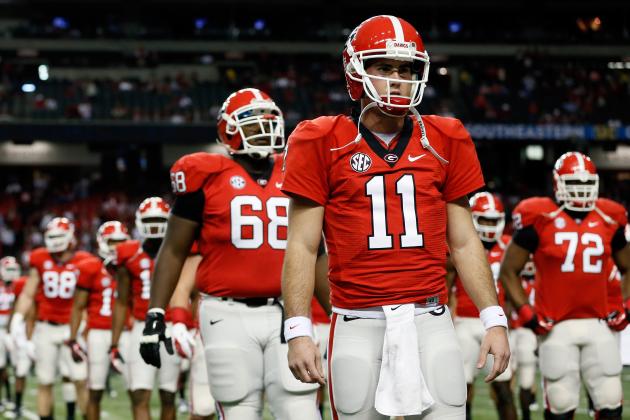 Kevin C. Cox/Getty Images

The Big Ten will not inch out of the SEC's shadow in 2013.
No siree, the SEC will, once again, trump the prestigious conference. Let's take a look at the scorecards from 2012 season, shall we?
The Big Ten went 2-5 in bowl games (1-2 against the SEC), while the SEC went 5-3, including another national championship win (its seventh consecutive).
The SEC showcased a Heisman winner, something the Big Ten hasn't done since Troy Smith won in 2006. Four SEC players have held the trophy since. And in the 2013 NFL draft, the SEC had a record-shattering 63 players drafted versus the Big Ten's 22. That's nearly three times as much for those who struggle with math.
Granted, it was a down year in the Big Ten, so improvement is expected. Still, the Big Ten will be inferior to the SEC, and this is why.
Begin Slideshow

»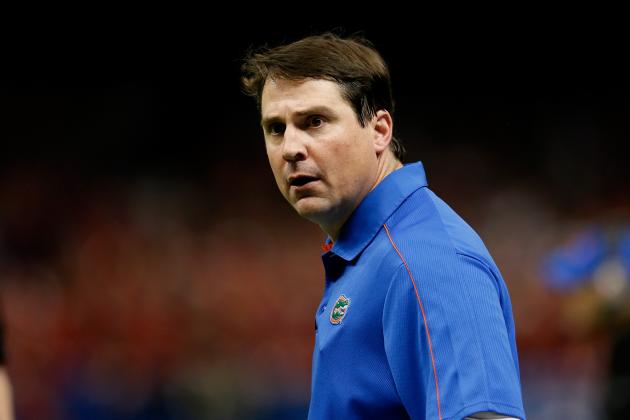 Kevin C. Cox/Getty Images

Alabama, Georgia, Florida, LSU, South Carolina and Texas A&M. These are true national title contenders.
Ohio State and Michigan...well, it's generous to put Michigan there. Devin Gardner, Fitzpatrick Toussaint and Amara Darboh are all talented individuals, but let's not forget that this is the same team Alabama beat 41-14 and South Carolina beat 33-28 in the 2013 Outback Bowl.
Ohio State, led by Heisman candidate Braxton Miller, will be very good and acquired an easy path to the national championship, so don't be surprised to see the Buckeyes in California next January.
Nebraska and Northwestern will have solid clubs, but it's a stretch to say they have championship-caliber teams. Wisconsin should experience a drop-off after losing head coach Bret Bielema as well. So at best, possibly two teams have a viable shot for a national title next season in the Big Ten.
As for the SEC, well, Alabama reloaded under Nick Saban, LSU's overall talent won't drop off, despite losing most of its defense to the 2013 NFL draft and Texas A&M still has a guy named Johnny Manziel.
In the SEC East, Georgia poses a high-octane offense under Aaron Murray and "Gurley," Florida's defense gives them an opportunity and South Carolina's Jadeveon Clowney headlines another solid Steve Spurrier-led club. Those six SEC clubs have enough talent and leadership to win the SEC its eighth straight national title.
Stacy Revere/Getty Images

Now that we've established the elites in the conference, let's take a look at "the other guys."
No not Will Ferrell and Mark Wahlberg, I'm talking about the Ole Miss' and Vanderbilt's of the world. The SEC's Ole Miss, Vanderbilt and Mississippi State are slightly better than the Big Ten's Michigan State, Penn State and Iowa.
Last season, those three SEC schools combined for a 24-15 record in a much more tougher conference, while those three Big Ten schools amassed a combined 19-18 record.
Michigan State should pose a tremendous defense once again, with Max Bullough and Denicos Allen returning, but Ole Miss and Vanderbilt are two programs on the move. Hugh Freeze and James Franklin have anchored down their programs and won the day on multiple Saturdays in 2012.
Franklin's defense will possibly be even better in 2013, while Freeze's offense should improve, despite being the fifth-ranked offense in the SEC, with the additions of Laquon Treadwell and Laremy Tunsil.
Penn State and Michigan State should still be respectable, but Ole Miss, Vanderbilt and a veteran Mississippi State team, plus the elite six, make the SEC the deepest conference in the country.
Ronald Martinez/Getty Images

Normally, a good talking point for the SEC's superiority would involve its defensive prowess or stable of running backs.
In 2013, the SEC boasts the best quarterbacks in the nation to go along with all of those great defensive players and offensive skill players.
This quarterback class includes a Heisman-winning quarterback (Manziel), a two-time national champion (AJ McCarron) and a quarterback who's thrown for over 10,000 yards and 95 touchdowns (Aaron Murray).
No other conference can make that claim.
Manziel has the flash, McCarron has the rings and Murray has the stats. Overall, the SEC has the best quarterback collection in the country.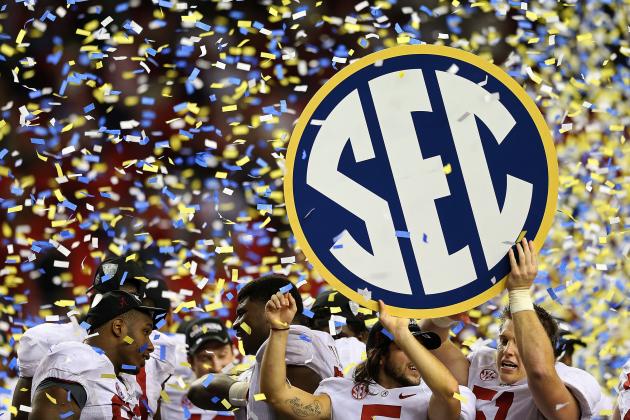 Mike Ehrmann/Getty Images

Perception is a big deal in college football.
Because the SEC has been the most dominant conference in the BCS era, the conference is viewed as the best in the country. So a one-loss SEC club is never truly out of the title hunt, assuming of course that there's no undefeated teams remaining.
And it doesn't matter if there's another SEC team already in the championship game—see the 2012 BCS National Championship Game.
So knowing that, let's play with a scenario. An undefeated Alabama team has solidified its spot in the championship game, and there are no other undefeated teams left.
A one-loss Texas A&M team and a one-loss Ohio State team campaign for a spot against Alabama. Because of perception, Texas A&M would most likely get the spot, furthermore not allowing the Big Ten a chance to even play for a national title.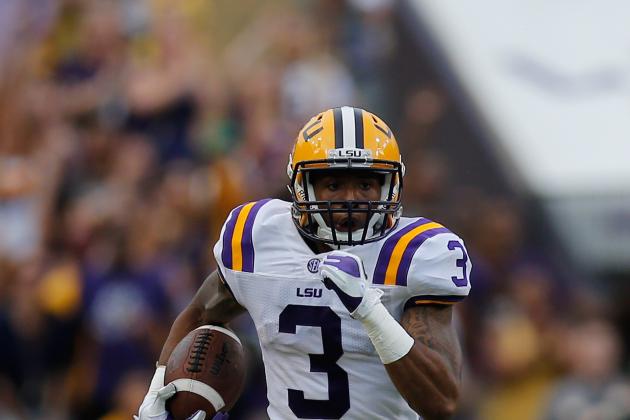 Chris Graythen/Getty Images

This is the argument Big Ten fans have been anticipating—speed kills.
They heard it for years. Time and time again, the Big Ten represented strong powerhouses, while the SEC showcased its speed and dazzled the country with it.
The SEC beat the Big Ten twice since 2006 in the national championships with that speed. So in 2013, once again, speed will be the SEC's tool for success.
The Big Ten is getting quicker, though. Both Ohio State and Michigan are running offenses that try to utilize the speed and quickness of its players.
But so is the SEC. Texas A&M, Ole Miss, Auburn, Tennessee and maybe even LSU will use uptempo offenses to its advantage. Quickness, depth and six true championship-caliber clubs makes the SEC an overall better conference than the Big Ten again.