As the FIFA Confederations Cup continues, so do the protests. And as the tournament progresses, the demonstrations are becoming bigger and more violent.
But are the protests enough of a problem that FIFA would call off the Confederations Cup? Or, worse, would FIFA take next year's World Cup away from Brazil?
Both are unlikely, but FIFA would be wise to monitor the situation closely.
Front pages of 2 Brazilian papers say violence on streets now "out of control" pic.twitter.com/lh6cNM19Aj

— Rob Harris (@RobHarris) June 21, 2013
Anti-government demonstrations in Brazil intensified on Thursday as an estimated one million people took to the streets, per Reuters. At least 80 witnessed protests, according to Sky News, but organizers said the event will go on.
Most of the demonstrations were peaceful, but some were not. Reuters reported one death in Sao Paulo, as well as looting in Rio de Janeiro, minor injuries across the country and homemade explosive in Brasilia, the capital.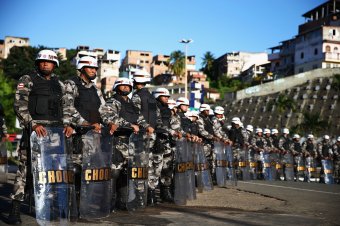 Robert Cianflone/Getty Images
Despite the violence, FIFA said it has no plans to cancel the event. Such a step would be unlikely, as would moving next year's World Cup. Even so, the protests must be troubling for world football's governing body.
Such an outpouring of free expression is a healthy part of a working democracy, but for FIFA it also qualifies as an embarrassment. For FIFA, a senior international tournament like this one is supposed to be about spreading the gospel of football and making loads of money. The Confederations Cup has seen some good football—notably the match between Italy and Japan—but the biggest story so far has been the protests.
No publicity is bad publicity, as the saying goes, but FIFA would obviously prefer not to deal with something like this. So how long will FIFA put up with it? Per Forbes, FIFA has boasted that the 2014 World Cup will pump at least $70 billion into Brazil's economy. But with civil unrest making headlines around the country this summer, some fans might prefer to stay home next summer.
But would that really mean FIFA would move the World Cup?
Probably not. Brazil has invested heavily in building stadiums for the event—which is part of the reason protesters are angry—and the logistics of moving the event only a year in advance would be a nightmare.
FIFA built up $1.3bn+ in cash reserves in case of unforeseen circumstances. For now FIFA insists no discussion of Confeds being called off

— Rob Harris (@RobHarris) June 21, 2013
The World Cup changed hosts once, in 1986, but that situation was different. Colombia voluntarily gave up the event for financial reasons, and did so four years in advance. In 1983, Mexico won the right to host the event after a unanimous vote in Stockholm, Sweden, per the AP.
That tells us a couple of things. First, if FIFA wants to make a change, it must happen quickly. Second, widespread support for the idea is probably necessary.
I am afraid that these protests might drive FIFA further into the arms of countries where dissent is not allowed. In fact, FIFA must change.

— John Brewin (@JohnBrewinESPN) June 20, 2013
With so little time between now and the 2014 World Cup, a change is unlikely. But if FIFA were to act, a country with an established infrastructure would be an ideal candidate. Several European countries would obviously qualify, but if FIFA wanted to keep the event in the Western Hemisphere, the United States—or Mexico again—would fit the criteria.
That's all speculation, though. What's important for now is that the Brazilian government deals with the protests peacefully so that the 2014 World Cup can avoid similar scenes.