Miami Football: 10 Players We Are Most Excited to Watch in 2013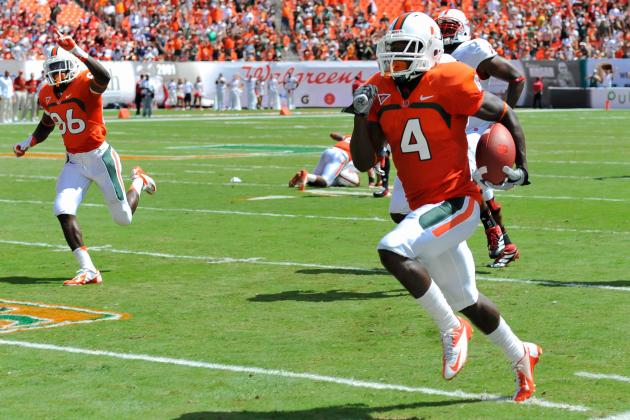 Steve Mitchell-USA TODAY Sports

When you think of some of the most exciting players in Miami Hurricanes history the names Ray Lewis, Ed Reed, Sean Taylor, Devin Hester etc. jump out of your mouth.
This upcoming season you will be able to rattle off a few more.
This 2013 'Canes squad should be one of the most exciting Miami teams we have seen since 2002. when quarterback Ken Dorsey was at the helm.
The Hurricanes are absolutely loaded—especially on offense—with talented, soon-to-be superstars, and there is no one more excited than I am for August to roll around.
Here are the top 10 players we are most excited to see on the field this season for the 'Canes.
Begin Slideshow

»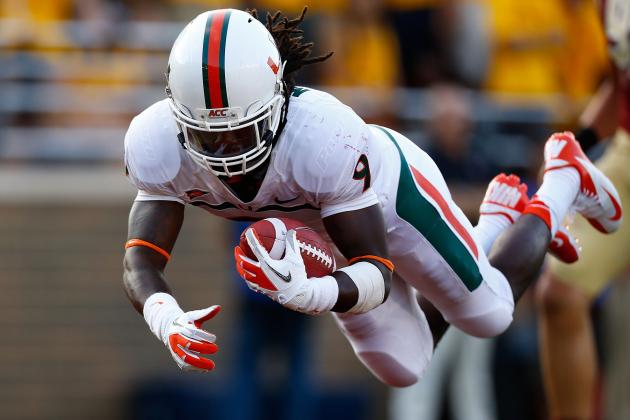 Jared Wickerham/Getty Images

Nothing ripped my heart out more last season than seeing wide receiver Malcolm Lewis go down with a gruesome ankle injury against Georgia Tech in the fourth game of the season.
Before the injury, Lewis stood out to me by catching everything thrown his way. I understand he only had eight catches for 73 yards last season, but he showed such great athletic ability and route-running skills that I had no doubt in my mind that he would be an everyday starter soon.
Now he is on his way to a comeback season and I honestly can not wait to see what's in store for us.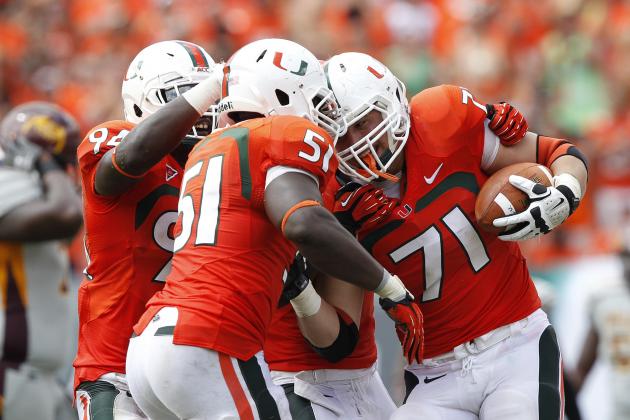 Joel Auerbach/Getty Images

During Anthony Chickillo's true freshman season in 2011, I thought that he was going to leave Miami as the greatest defensive end in school history.
But after a sub-par sophomore season, he has to be careful not to lose his starting position.
Now, I don't see him losing the starting nod because he is one of the hardest workers on the team, but if he doesn't learn to shed blockers, he will lose a lot of playing time to up-and-coming sophomore Jelani Hamilton.
I believe that Chickillo with bust his butt off this fall and have the breakout season we expected from him last year.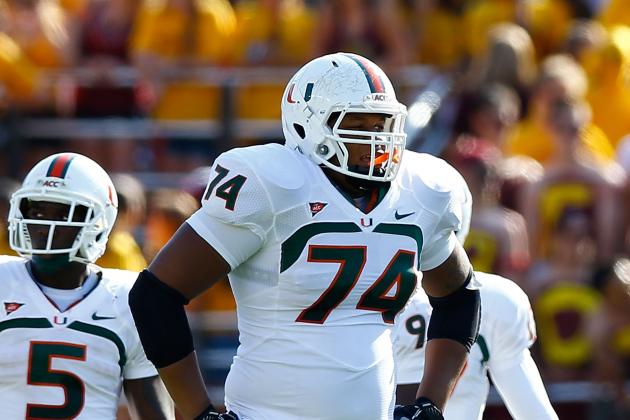 Jared Wickerham/Getty Images

Normally I wouldn't put an offensive linemen on a list like this, but I am truly excited about watching sophomore Ereck Flowers this upcoming season.
Flowers is one of the best offensive linemen on the team, and could finish his career at Miami as the school's greatest.
Flowers had an amazing true freshman season last year and I expect even better things this fall. He finished spring ball on top of the depth chart, and I expect him to stay on top all season long.
I know a lot of you are only interested in skill players, but if you want to see a man-child destroy defensive linemen, watch Flowers this year.
You will be amazed at how exciting he is to watch.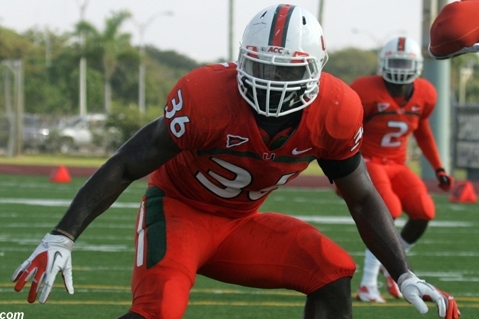 Alex Figueroa, courtesy of 247sports.com
Normally, a true freshman wouldn't make this list; but after an amazing spring, linebacker Alex Figueroa was a no-brainer pick.
Figueroa did so well this spring that head coach Al Golden listed him as a starter on his post-spring depth chart.
Figueroa was so impressive that you would have thought there were two of him out there. He plays hard on every play and knows how to wrap-up ball carriers—a huge problem over the years at Miami.
He may not be the starter on day one, but you better believe he will be in every Hurricane game this season.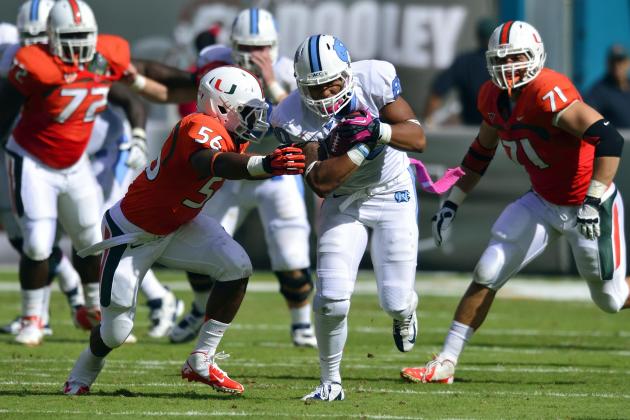 Steve Mitchell-USA TODAY Sports

We only saw linebacker Raphael Kirby in seven games last season—mostly on special teams—but he showed glimpses of a bright future.
Kirby is a tremendous athlete and a spitting image of fellow linebacker Denzel Perryman. He has great vision, and when he hits opposing ball carriers the play is over.
Kirby had a tremendous spring and is poised to have a breakout season. With safety Deon Bush, Perryman and Kirby, the Hurricanes may have one of the hardest-hitting defenses in the country.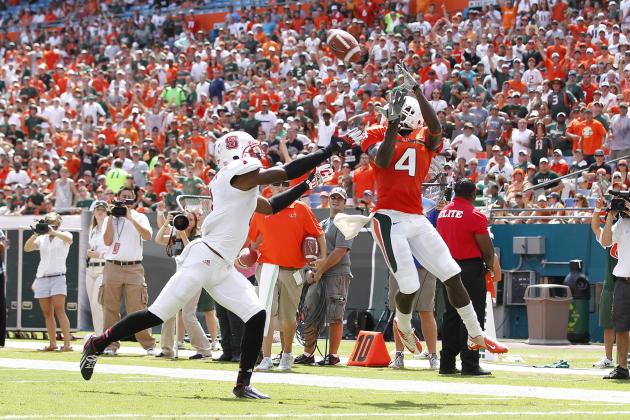 Joel Auerbach/Getty Images

If last year was any indication of how wide receiver Phillip Dorsett's career is going to be at Miami, we may see Santana Moss' school receiving yards record get shattered in two years.
Dorsett already has 986 receiving yards, and once he gets over 1,000 this year—yes, I'm calling it now—he will need just over 500 in his senior year to break Santana's school record of 2,546 receiving yards.
With the amount of receivers that Miami has, opposing teams can't double cover him which will allow him to explode for more than the 842 yards he had last season.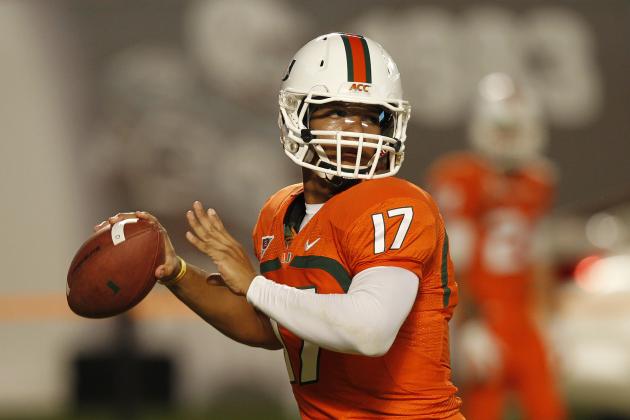 Joel Auerbach/Getty Images

Last season, quarterback Stephen Morris threw for 3,345 yards, 21 touchdowns and just seven interceptions. Before the season started, Morris had thrown more interceptions (nine) than touchdowns (seven).
Heading into his senior season, and just his second as a starter, Morris will have an excellent opportunity to throw for over 4,000 yards and 30 touchdowns.
Morris has one of the strongest arms in all of college football, and is surrounded by playmakers and one of the best—and deepest—offensive lines in the country.
If the defense allows as many yards and points as they did last season, we could easily see Morris near the top in every passing category in college football.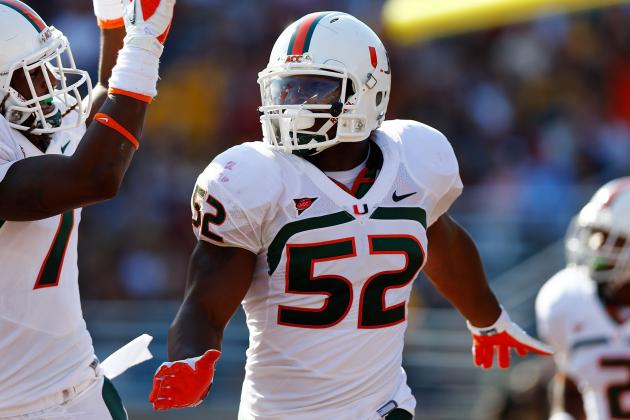 Jared Wickerham/Getty Images

Every time I see linebacker Denzel Perryman take the field all I can think about is ex-Hurricane great Ray Lewis.
Perryman has the same physical abilities that Lewis had, and absolutely destroys any ball carrier that comes his way.
Last season, Perryman struggled through some injuries ( he only played in 9 games) yet finished with 64 tackles, six of them for losses, and was an All-ACC team member.
I expect a lot more from Perryman this season, and if he stays healthy, he will surely be an All-American selection.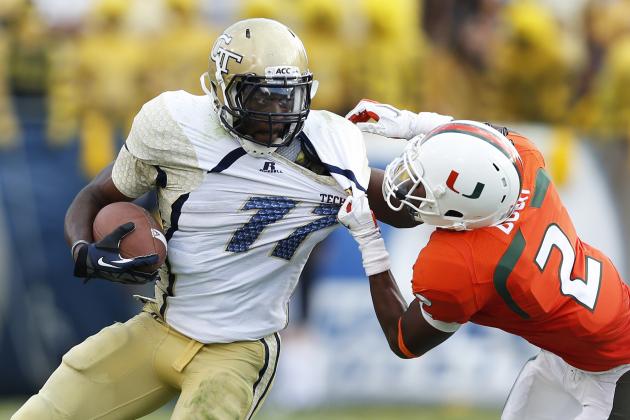 Joe Robbins/Getty Images

Safety Deon Bush is one of my favorite current Hurricanes for a reason—he loves to make the big hits. Much like Perryman, Bush struggled through injuries last season playing in just 10 games, but he still recorded 34 tackles, three forced fumbles and about 20 bone-jarring hits.
I haven't been this impressed with a safety since Sean Taylor was at Miami.
Once Bush becomes more comfortable in coverage he could be one of the best safeties in college football.
It is even more amazing to think he is only a sophomore.
Joel Auerbach/Getty Images

There isn't much I can say about Duke Johnson that hasn't already been said.
Duke was a complete monster last year, finishing with multiple awards including landing on numerous All-ACC and All-American teams.
Duke finished the season with a freshman school record of 947 rushing yards and 10 touchdowns, while totaling 2,060 all-purpose yards—second in school history.
With a more experienced offensive line and a great quarterback to take some pressure of him, Duke will have a great opportunity to break Willis McGahee's school rushing record of 1,753 yards.
Not bad considering he was the backup for seven games last season.