The 2013 NBA Finals series between the San Antonio Spurs and Miami Heat should go down as one of the best finals series of all time.
On one hand, you had LeBron James, the most talented player in the world, back-to-back regular season MVP trying to up his overall title count to two.
On the other, you had the San Antonio Spurs. The consummate team, reaching the end of its window with an aging Tim Duncan, Manu Ginobili and Tony Parker trying to take advantage of an unlikely run to the NBA Finals.
The contrasting teams ended up going seven games, with both teams looking like they were certain to win the series multiple times.
LeBron ended up stealing the show by winning his second straight NBA Finals MVP award, but he wasn't the only one who shined. Here were the top three individual performances from a memorable finals.
3. Danny Green Catches Fire in Game 3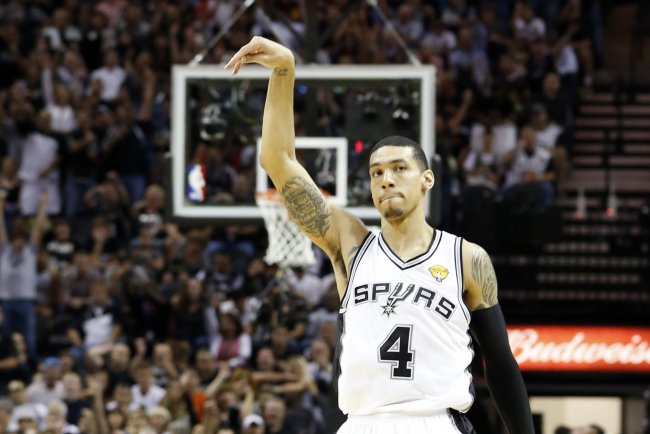 Derick E. Hingle-USA TODAY Sport
Although the big three of Duncan, Ginobili and Parker have been the faces of the San Antonio Spurs franchise, Danny Green stole the spotlight for the Western Conference champions in Game 3.
As Gregg Doyel of CBS Sports tweeted, Green wasn't necessarily on James' and the Heat's radar after Game 2, but he certainly was in Game 3. He nearly doubled LeBron's output for the game.
LeBron before Game 2, asked about Danny Green: "Is that a serious question?" Game 3: Green 27 points, LeBron 15.

— Gregg Doyel (@GreggDoyelCBS) June 12, 2013
Green went for 27 points to lead the way for San Antonio as the Spurs blew out Miami 113-77 to take a 2-1 lead in the series. Green was an incredible 7-for-9 from three-point range as the Spurs connected on 16-of-32 shots from long distance.
As Alex Kennedy of Hoopsworld tweeted out, Green's three-point barrage in Game 3 capped a historic three-game stretch for the sharpshooter.
Danny Green's 16 three-pointers in Games 1, 2 and 3 is most threes made over a three-game span in the Finals for any player in NBA history.

— Alex Kennedy (@AlexKennedyNBA) June 12, 2013
2. LeBron Secures His Second Title with Series-High 37 Points in Game 7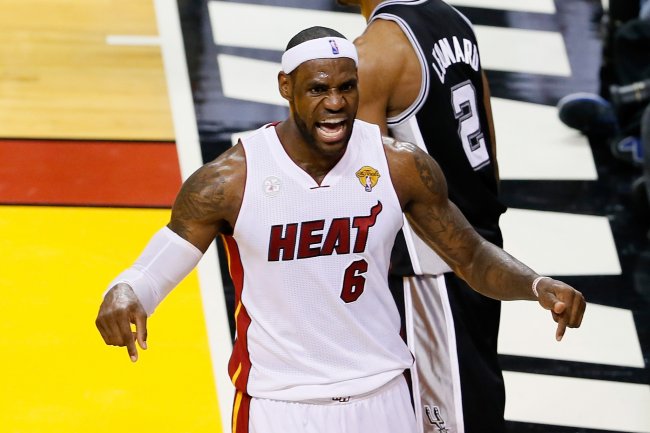 Kevin C. Cox/Getty Images
James has one of the most complete games in NBA history, but sometimes he just has to take over as a scorer. With everything on the line, James put the team's offense on his back and went to work.
The Finals MVP hit five three-pointers on the way to a 37-point performance that saw LeBron score the most points in a Game 7 since Shaquille O'Neal in 2000, per ESPN's Numbers Never Lie.
Hail King James! LeBron's 37 points are MOST in NBA Finals clincher since @Shaq in 2000 (41 points).

— Numbers Never Lie (@ESPN_Numbers) June 21, 2013
While LeBron is an excellent distributor, the Heat needed him to take over in Game 7. As Jason Patt pointed out, only five players scored for Miami, and one of them was Chris Andersen with only three points.
Only 5 players have scored for the Heat. And one of those players has 3 points.

— Jason Patt (@Bulls_Jay) June 21, 2013
James' Game 7 performance will definitely go down as one of the best in his career.
1. LeBron Posts Triple-Double to Stave off Elimination in Game 6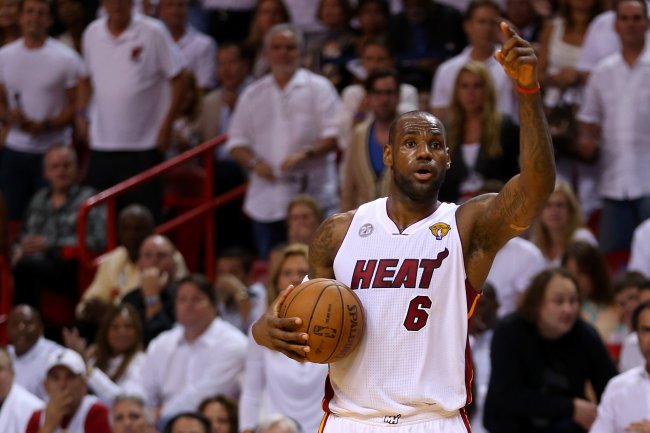 Mike Ehrmann/Getty Images
Before James put his second NBA title on ice with a great performance in Game 7, he posted a triple-double to keep his team alive in Game 6.
The Heat needed every single one of his 32 points, 10 rebounds, 11 assists and three steals to topple the Spurs. Miami ultimately won the game in overtime, 103-100.
James was impressive in each of the Heat's wins, but he took over this game down the stretch like everyone knows that he's capable of doing. According to ESPN Stats & Info, James was much more intentional about scoring in the paint at the conclusion of Game 6 then any game before it.
LeBron James: 14 points in the paint in 4th qtr/OT of Game 6, hadn't scored more than 14 points in the paint in an entire game in series.

— ESPN Stats & Info (@ESPNStatsInfo) June 19, 2013
While Game 7 will be memorable for clinching the title, James' triple-double with his team's back against the wall stands out as the best performance of the finals.