The San Antonio Spurs will be a force in the Western Conference as long as Kawhi Leonard is on the roster. The 21-year-old small forward was a revelation throughout the entire 2013 NBA playoffs, and his performance in Game 7 of the NBA Finals was an emphatic reminder of better things to come.
As CBS Sports' Gregg Doyel aptly put it, "Kawhi Leonard has arrived as a star":
Kawhi Leonard has arrived as a star. Been great all series. This carries over to next season. Role player no more.

— Gregg Doyel (@GreggDoyelCBS) June 21, 2013
Playing with poise beyond his years, Leonard proved to be more than a test for the greatest player on the face of the earth. As ESPN's Tom Haberstroh noted, Leonard averaged a double-double while guarding LeBron James in the finals:
Kawhi Leonard, while guarding LeBron James, is averaging a double-double in the Finals.

— Tom Haberstroh (@tomhaberstroh) June 21, 2013
The way Leonard rose to the occasion when his team needed him the most was even more impressive. In a losing effort in Game 7, the youngster scored 19 points and hauled in 16 rebounds, giving the Spurs a fighting chance on the road.
His performance on the boards was exemplary, but it wasn't the first time during the postseason that Leonard played bigger than his 6'7'' size. He put together nine double-digit rebound performances during the playoffs after pulling off the feat just eight times during the regular season, as noted by ESPN Stats & Info:
Tonight is Kawhi Leonard's 9th double-digit rebound game of the playoffs. He had 8 in the regular season.

— ESPN Stats & Info (@ESPNStatsInfo) June 21, 2013
The future couldn't be brighter for Leonard, though he and his teammates are certainly not thinking about it right now. As Tim Duncan, Tony Parker and Manu Ginobili are waning, Leonard is not-so-quietly becoming the team's next superstar.
Perhaps the most impressive aspect of Leonard's game is his demeanor.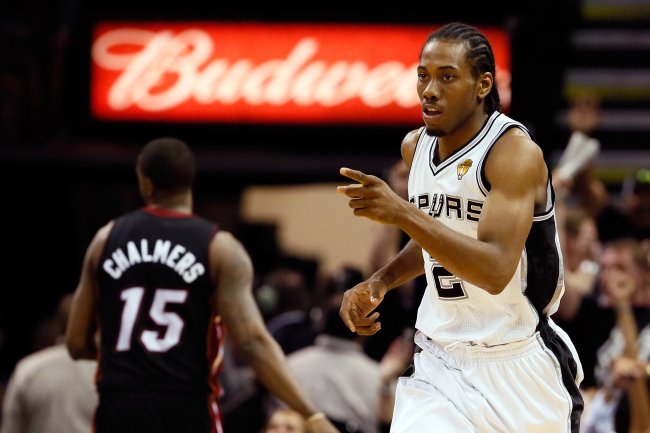 Kevin C. Cox/Getty Images
Forget for a moment that he had a chance to win Game 6 with one more made free throw. That's a failure he will undoubtedly learn from.
For the most part, Leonard didn't flinch in the face of incredible pressure. He went toe-to-toe with James and came out smelling like roses.
Leonard's impressive Game 7 performance proves...
After holding James to just 18 points in Game 1, Leonard told reporters, "I guess it's a lot of pressure but it's just a basketball game. I've been defending the best players throughout the whole year."
Rest assured, this won't be Leonard's final NBA Finals appearance. San Antonio builds around its stars better than any team in the league, and it will find a way to build another dynasty around this young warrior.
Leonard's best days are surely ahead of him, and there is no doubt how much he means to San Antonio's future.
Follow me on Twitter @JesseReed78