9 Ways You Know You're a Minnesota Vikings Fan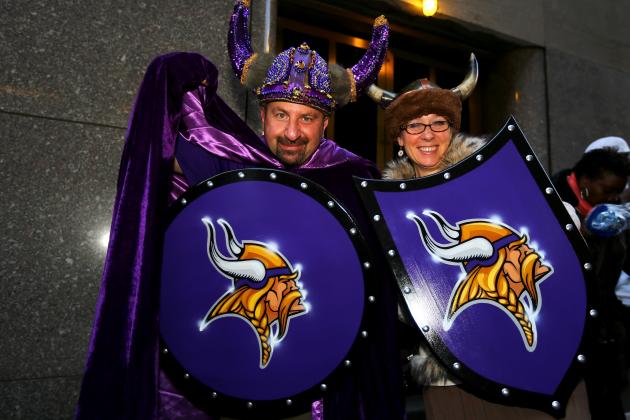 Al Bello/Getty Images
These Minnesota Viking fans sport their colors before the 2013 NFL draft.
No fan base is exactly the same as another.
All fan bases have similarities, like undying passion for their team. But that's boring.
What makes each fan base interesting are the differences that make it unique.
In that respect, the Minnesota Vikings are no different than anyone else.
The Vikings' fan base possesses many unique traits. Some are based on the Minnesota region while others are based on the franchise's history. Still others are based on some of the team's top players.
Regardless, if you possess more than one of these next nine traits, then you may be a fan of the Minnesota Vikings.
Begin Slideshow

»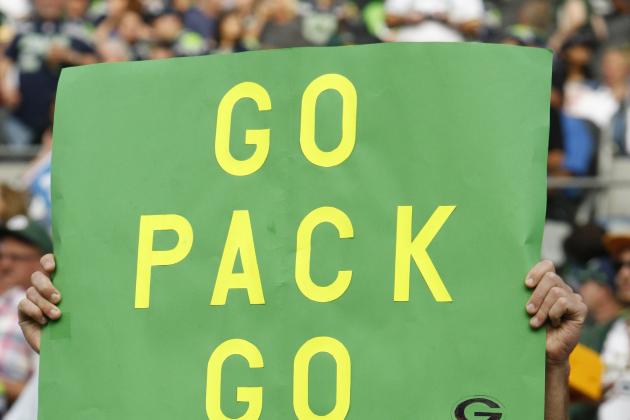 Kevin Casey/Getty Images
Minnesota Viking fans have difficulty associating with Green Bay Packer fans.
As long-time division foes who share a lengthy border, the Minnesota Vikings and Green Bay Packers also share a mutual disdain for the other side.
While the Packers also own a heated rivalry with the Chicago Bears, which many Packers fans proclaim as more intense than their rivalry with the Vikings, there is no bigger rival than the Packers for Viking fans.
Packers games are always circled on the calendar of a Vikings fan and they're starred, too.
It doesn't get any bigger for a Vikings fan than when the Vikings and Packers are both competing for positions in the postseason, as was the case in 2012. It's even better when the Vikings can keep the Packers from reaching their goals or when the Vikings can achieve their goals at the expense of Green Bay.
Although the two fan bases have a strong dislike for one another and their respective players, Minnesota fans have had no trouble accepting former Green Bay players as their own in recent years: Darren Sharper, Ryan Longwell, Greg Jennings and a certain No. 4.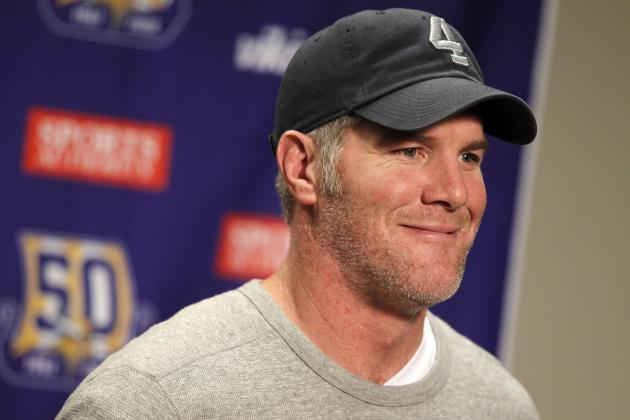 Gregory Shamus/Getty Images
Brett Favre gave the Vikings a magical 2009 season but also tormented them for 16 years (1992-2007).
Toward the end of his playing career, there wasn't a more polarizing player in the NFL than Brett Favre.
Ya either loved him or hated him.
Whether it was the over-the-top media attention, obnoxious offseasons filled with "will he or won't he retire" discussions or off-field troubles (hello Jenn Sterger), Favre was in your face all the time.
That drove some people to resent him while it drove others to love him. Still others still were influenced for different reasons altogether.
Ironically enough, this is one area where Vikings and Packers fans are on the same page. Both sides are divided on the former NFL star.
Most Vikings fans had the time of their lives when Favre generated an MVP-caliber season in 2009 (68.4 completion percentage, 4,202 yards, 33 touchdowns, seven interceptions). For that, Favre moved into the good graces of many in Minnesota.
For others Vikings fans, it's tough to let go of the 16 years he tormented the franchise while sporting green and gold. Time and time again he was the thorn in Minnesota's side and that will never be forgotten.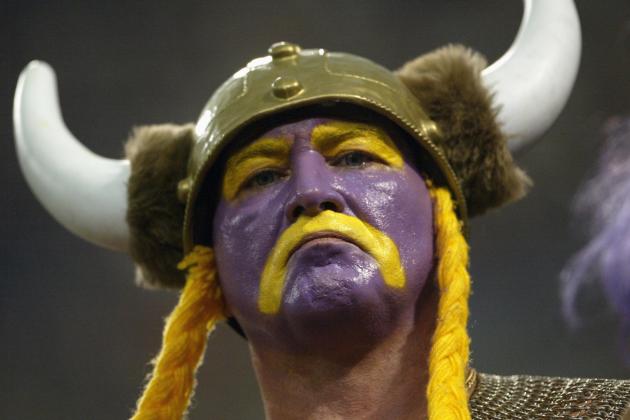 Jeff Gross/Getty Images
For some, it's not a positive fashion statement. But Viking fans embrace sporting horns.
Walk down the streets of any major city in the United States and you'll see folks in suits and ties, dresses, skirts, blue jeans, T-shirts, etc.
What you won't see are horns.
Now, you won't see them on most days in Minneapolis either, but on Sunday afternoons during football season—game or no game—you can bet on seeing Minnesotans walking around with their favorite set of Vikings horns.
Like the cheeseheads in Green Bay, horns are everywhere on game days in Minnesota.
Don't believe me? Visit the Minneapolis downtown area on a Vikings' game day for yourself.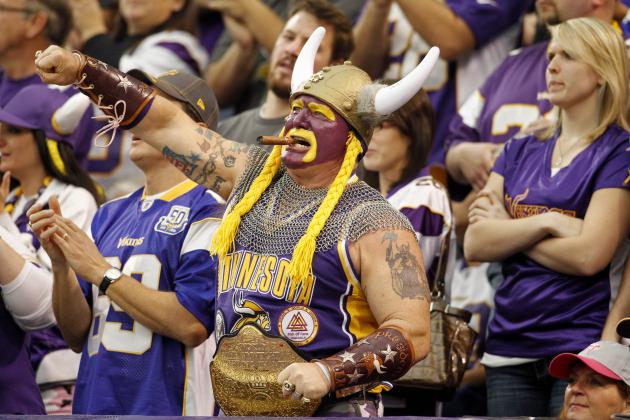 Bruce Kluckhohn-USA TODAY Sports
Purple isn't an overwhelmingly potent color in today's society. That's not the case for Minnesota fans.
Ask a friend or family member about their favorite color or about what color they painted the walls of their house.
Most will likely lean on green, blue or red for their favorite colors or beige, brown, black and white for the walls of their house.
However, many Vikings fans have purple in their blood and—for many—blood is thicker than anything else.
Vikings fans aren't afraid to paint the interior of their homes purple or admit that purple is their favorite color. It's just what they do.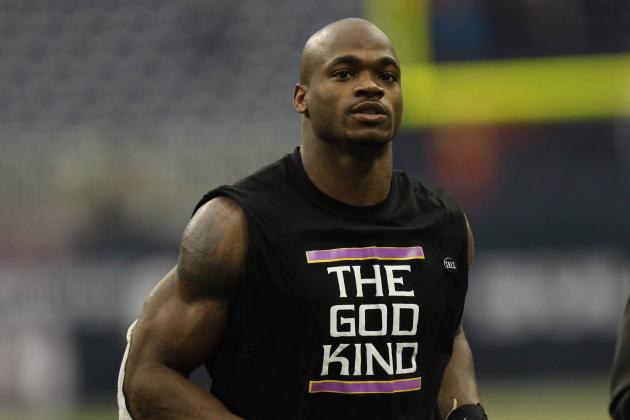 Thomas Campbell-USA TODAY Sports
Adrian Peterson has had run-ins with the law but Minnesota fans were quick to defend and forgive.
As is the case in most situations, the relationship between the Vikings' star player and the team's fan base is as strong as it can be.
Minnesota fans adore Adrian Peterson, even moreso after his 2012 campaign, and they will do anything they can to defend him should others go out of their way to criticize him on or off the field.
"What was with that shove by Peterson after the play?" an opposing team's fan may ask.
"The other player started it!" will inevitably be the Vikings fan's response.
That's the way it goes. Have to protect your own.
Despite some off-field incidents in recent years, including two noteworthy speeding tickets and an incident at a Houston night club, Minnesota fans consistently view Peterson with a halo over his head.
As for those looking to criticize Peterson on those fronts, a Vikings fan would have a quick reply.
"That's nothing compared to what your player did last Saturday!"
That's the way it goes.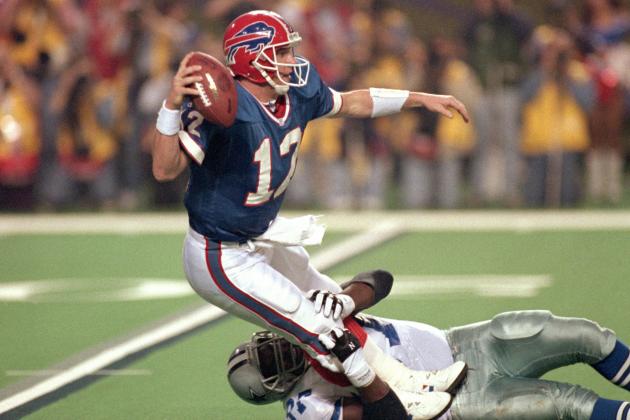 George Rose/Getty Images
The Buffalo Bills and Minnesota Vikings are both 0-4 in their Super Bowl appearances.
The Minnesota Vikings are cursed by the fact they won their lone NFL title in the last year before the NFL/AFL merger.
They won the last NFL Championship Game, or the last year that the NFL title game wasn't known as the Super Bowl.
Since then, the franchise has gone 0-4 in Super Bowls.
In a division with teams like the Chicago Bears and Green Bay Packers, who both have multiple NFL championships and at least one Super Bowl, it's tough for the Vikings to compete.
But should a Vikings fan meet up with a Buffalo Bills fan, the two can sulk over their 0-4 record in Super Bowls.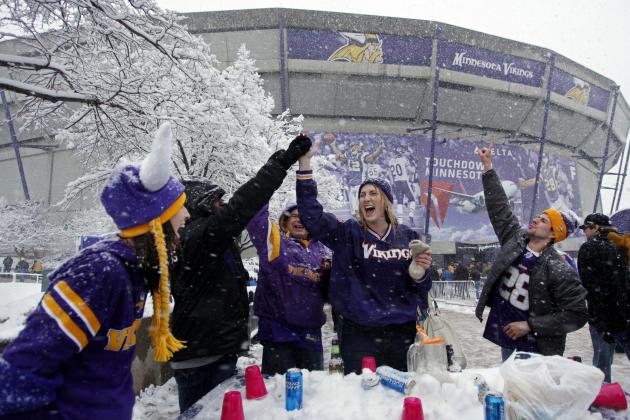 Bruce Kluckhohn-USA TODAY Sports
The Minnesota Vikings have played home games outdoors and indoors.
It's a hot-button issue for many NFL fans, and it's an issue that generates more discussion come the postseason.
For the Minnesota Vikings, it really doesn't matter.
While the franchise has struggled in outdoor games in recent memory, it has its roots in outdoor football at Metropolitan Stadium, although the Vikings have played their games at the Metrodome—now known as Mall of America Field—since 1982.
Minnesota fans have had it both ways, and with the team set to play outdoors at TCF Bank Stadium while its new home is being built, the Vikings will be outside once again in 2014.
Moreso than even Brett Favre, Randy Moss is a polarizing athletic figure.
Most in the sports world rip on him for his lack of effort on the field and for his off-field issues.
Prior to joining the NFL, Mossed faced assault charges that cost him a scholarship to Notre Dame and after he was caught smoking marijuana, he had to transfer from Florida State to Marshall.
During his NFL career, Moss collected numerous league fines, faked mooning Green Bay Packer fans, sprayed a ref with a water bottle on the sidelines and claimed to play when he wants to play, among other things.
Unless Moss was on your team, he probably wasn't a beloved figure. In fact, you likely hated him if he wasn't on your team for two reasons. First off, his talent was unbelievable and he probably burned your team. Second, his ego and attitude were also off the charts in a not-so-subtle way that made many want to smack Moss upside the head.
Vikings fans were fortunate enough to have him on their team for seven-plus seasons and they adopted him (faults and all) as one of their own. Why wouldn't they?
His first seven years as a Viking were among the best years ever had by a wide receiver. Winning and success enable people to look past the other faults.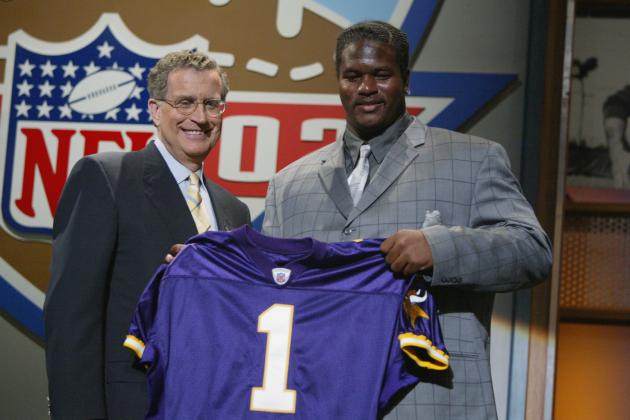 Doug Pensinger/Getty Images
Prior to selecting Bryant McKinnie No. 7 in 2002, the Minnesota Vikings thought they orchestrated a deal to move up to No. 6.
It's something that fans of most NFL franchises take for granted, and they should.
Submitting your draft pick or official trade to the proper authorities in a timely manner at the NFL draft really shouldn't be that hard.
But it apparently was for the Minnesota Vikings during the 2002 and 2003 NFL drafts.
In 2002, the franchise believed the clock had run out on the Dallas Cowboys at No. 6, allowing it to jump in and select North Carolina defensive tackle Ryan Sims. Instead, the NFL ruled the Cowboys had struck a deal with the Kansas City Chiefs, allowing them to swoop in and select the player who Minnesota coveted.
Instead of Sims, the Vikings got "stuck" at No. 7 with Bryant McKinnie, who went on to a much more productive career.
In 2003, Minnesota was again slated to pick seventh and allegedly targeted Oklahoma State defensive tackle Kevin Williams. Believing he'd be available later in the draft, Minnesota began to talk trades with teams just behind it in an attempt to acquire more picks and still be able to pick Williams.
The Vikings thought they had struck a deal with Baltimore to trade down, but the NFL didn't receive the proper paperwork from both teams, leaving the deal incomplete as the clock expired on Minnesota and two teams jumped in to make their picks before Minnesota finally selected Williams.
Since then, Vikings fans have annually been on edge until their official pick is announced.